Ranking All 5 AL Playoff Teams in Every Key Category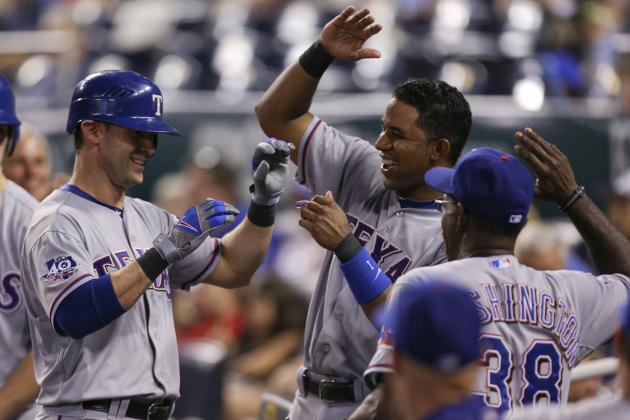 Ed Zurga/Getty Images
Are the Rangers the strongest team in the AL bracket once again?
We no longer have to speculate about which teams are going to represent the American League in the 2012 postseason. The field finally became set on Monday night.
It's still up in the air as to exactly how each of the five AL representatives are going to go into the postseason, but at least we know who they are: the Texas Rangers and the Oakland A's from the AL West, the Detroit Tigers from the AL Central, and the New York Yankees and Baltimore Orioles from the AL East.
It's been oft-noted in recent days that the AL has no clear favorite for the World Series, and this is a notion that I find hard to argue. No one team stands out as head-and-shoulders above the rest.
But if we break these five teams down by their various components, we might come close. Here's how the AL's five playoff teams stack up in regards to their bats, their arms, their benches and all that good stuff.
Note: Stats are current as of the start of play on Tuesday, October 2, and they come from Baseball-Reference.com and MLB.com unless otherwise noted.
Begin Slideshow

»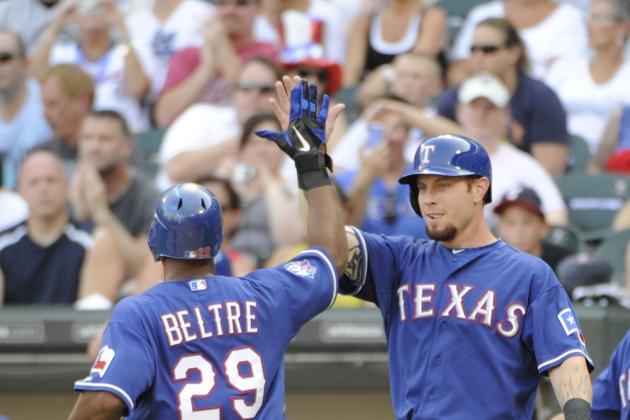 David Banks/Getty Images
Adrian Beltre and Josh Hamilton lead a very strong Rangers offense.
1. Texas Rangers
2. Baltimore Orioles
3. New York Yankees
4. Oakland A's
5. Detroit Tigers
No, the Rangers offense hasn't been that explosive ever since the All-Star break, as it went from leading the league in runs in the first half to being tied for fourth in runs in the second half.
But we're still talking about an offense that's leading all of baseball in runs scored, and it features a little bit of everything. Josh Hamilton and Adrian Beltre are an excellent middle-of-the-order duo, Ian Kinsler and Elvis Andrus bring versatility to the top of the lineup, and the Rangers have quality hitters elsewhere in players like David Murphy, Michael Young and Nelson Cruz. Mike Napoli was a liability for much of the season, but he appears to be back with seven homers in his last 14 games.
The Orioles may seem like an odd choice for the second spot in these rankings, but their situation warrants a closer look. They lead the AL in runs scored and home runs since the start of September. Their lineup is clicking at the right time.
There are complaints to be made about the versatility of the Yankees offense, but they've hit more homers than any other team in the AL by a mile and they're finally getting to be at full strength. Mark Teixeira is back, Ichiro is spraying the ball all over the field, Nick Swisher is out of his slump, and you know things are going good when you have Curtis Granderson no higher than sixth most days.
Yes, Oakland's offense checks in ahead of Detroit. That's because Yoenis Cespedes is healthy and Josh Reddick is no longer slumping, and the A's as a whole lead the AL in homers since the All-Star break. Their lineup is deeper than it gets credit for.
The Tigers have a potential Triple Crown winner in Miguel Cabrera, the league's second-leading OBP man in Prince Fielder, and the underrated Austin Jackson, but the rest of their lineup is very thin. They lean a little too heavily on three guys to be considered a top offense.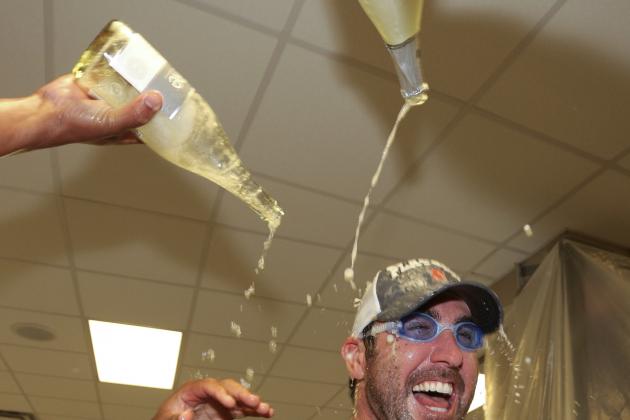 Ed Zurga/Getty Images
The Tigers have the AL's top ace in Justin Verlander.
1. Detroit Tigers
2. Oakland A's
3. Texas Rangers
4. New York Yankees
5. Baltimore Orioles
The Tigers are going to go into the playoffs with the worst record of the field, but they could be dangerous because of their starting pitching.
We all know what Justin Verlander is capable of. Doug Fister has a 2.51 ERA and a .213 opponents' batting average in the second half. If his shoulder is healthy, Max Scherzer is as nasty as any pitcher in baseball. Anibal Sanchez has a 2.15 ERA in his last eight starts.
It's a really, really tough call for the No. 2 spot on this list, but I went with the A's because you just can't ignore the numbers. Young as it is, their starting pitching staff ranks third in the AL in ERA, and it may get Brett Anderson back for the playoffs. Even if they can't enjoy his services, they'll still have a budding ace in Jarrod Parker and a steady lefty in Tommy Milone to turn to. A.J. Griffin, meanwhile, has quietly put together a 2.71 ERA in his 14 starts.
It was also a very tough call for No. 3. I went with the Rangers because Yu Darvish has figured things out to the tune of a 2.13 ERA and a .167 opponents' batting average in his last seven starts. Matt Harrison is one of the steadiest lefties in the business, and Ryan Dempster has a solid 3.33 ERA in his last eight starts.
Regarding the Yankees, they have to be very excited from what they've seen out of CC Sabathia in his last three starts. He looks like he's back. However, Hiroki Kuroda hasn't been the same pitcher in his last seven starts, and Andy Pettitte hasn't proven to me that he can handle a top offense.
Baltimore brings up the rear on this list because, well, I honestly don't know who's going to be taking the mound for the Orioles on a daily basis these days. They have guys in Miguel Gonzalez, Wei-Yin Chen, Joe Saunders and Chris Tillman who will provide five or six good innings, but for the most part their success will hinge on their bullpen.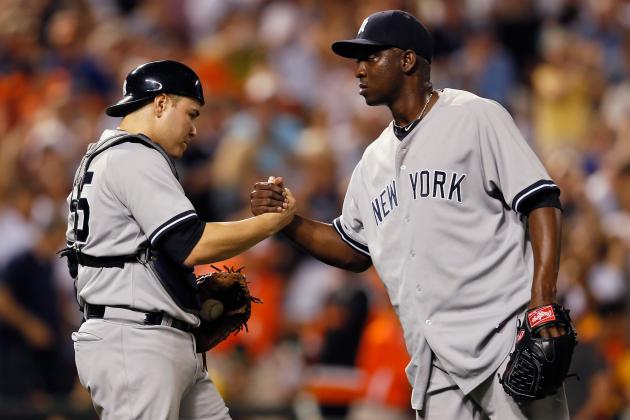 Rob Carr/Getty Images
Rafael Soriano heads a strong Yankees bullpen.
1. Oakland A's
2. Baltimore Orioles
3. New York Yankees
4. Texas Rangers
5. Detroit Tigers
The A's and Orioles are practically interchangeable on this list, as both clubs feature very, very strong bullpens.
The A's get the edge because their relievers have logged almost 40 fewer innings than Baltimore's relievers, which means Oakland's bullpen has a little bit more gas in it at this stage of the game. I also like that they have two of the AL's three leaders in opponents' batting average in Ryan Cook and Grant Balfour. Though he's had issues with the long ball recently, Sean Doolittle is one of the best-kept secrets in baseball.
Baltimore's bullpen may have a lot of mileage on it, but there's no lack of talent in it. Jim Johnson is one of the league's elite closers, and he has excellent setup men in guys like Darren O'Day, Luis Ayala and Brian Matusz. If Pedro Strop finds his form again, look out.
The Yankees are third on this list, but their bullpen is also quite strong. Rafael Soriano made everyone forget about Mariano Rivera. David Robertson has been human this year, but he's still a fine eighth-inning option. Joba Chamberlain has really come around in recent weeks, and Derek Lowe looks like he's going to be a weapon in October.
Texas' bullpen is strong on paper, but it's been beatable this season. Rangers relievers have a merely decent 3.42 ERA, and they've posted a 4.24 ERA since September. Joe Nathan, Koji Uehara, Alexi Ogando and Robbie Ross are all reliable, but Mark Lowe is a disaster and Mike Adams isn't healthy.
Detroit's bullpen is an entirely different headache. Jose Valverde hasn't come close to being automatic this year, and the bridge to him isn't very strong. Ever since September started, Octavio Dotel, Joaquin Benoit and Phil Coke all have ERAs over 6.00.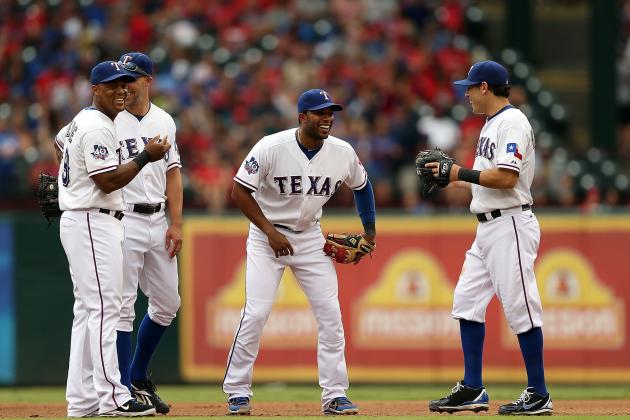 Ronald Martinez/Getty Images
The Rangers play very strong defense.
1. Texas Rangers
2. Oakland A's
3. New York Yankees
4. Baltimore Orioles
5. Detroit Tigers
The Rangers haven't had a great season defensively, but I like that they have above-average fielders at third base, shortstop and second base. If they have Craig Gentry in center field and David Murphy in left field, their outfield is close to being impenetrable.
There's no clear choice for the second spot on this list, but I like the A's because their outfield defense is very good when they have Coco Crisp in center field and Josh Reddick in right field. They're not missing much with Josh Donaldson at third base instead of Brandon Inge, and Cliff Pennington can pick it regardless of where he's playing.
The Yankees worry me because Alex Rodriguez and Derek Jeter make for a very poor defensive tandem, but having Robinson Cano and Mark Teixeira on the right side of their infield helps balance things out. Curtis Granderson doesn't rate very well in center field as far as the advanced stats are concerned (see FanGraphs), but on most days he's going to be flanked by a solid right fielder in Nick Swisher and a good left fielder in Ichiro.
The Orioles have gotten a lot better defensively in recent weeks, in part because Manny Machado has been a revelation at the hot corner and because Mark Reynolds has gotten a lot better at first base. As a whole, though, they're a team with a couple very good defensive players (Machado, J.J. Hardy) and a bunch of average defensive players.
As for the Tigers...yeesh...
Austin Jackson is an above-average center fielder, and I don't think Jhonny Peralta and Omar Infante get enough credit. The trouble is that the Tigers have liabilities at the corners in Miguel Cabrera and Prince Fielder, and both corner outfield spots leave a lot to be desired defensively most days.
The Tigers rate as one of the worst defensive teams in the league in terms of both UZR and DRS, and that's no accident.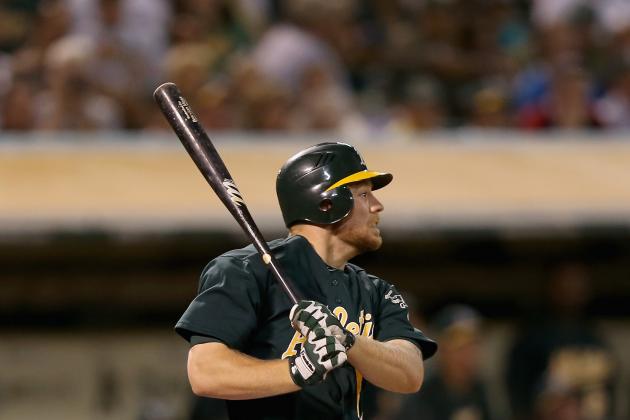 Ezra Shaw/Getty Images
Any team that can bring Brandon Moss of the bench is doing pretty well.
1. Texas Rangers
2. New York Yankees
3. Oakland A's
4. Baltimore Orioles
5. Detroit Tigers
There probably is no right order when it comes to these rankings. Part of the reason there is no clear favorite in the American League is that there is no team that's particularly deeper than all the others.
But the Rangers are pretty deep. They're going to be able to bring Craig Gentry off the bench most days, and he's likely to be joined by a solid backup catcher in Geovany Soto and two young studs in Jurickson Profar and Mike Olt. If Olt is too hurt to play or the Rangers opt to go for more versatility, super-utility man Brandon Snyder could join the club for the postseason.
The Yankees are next up because they're going to have one or two solid lefty hitters to call on in Eric Chavez and Raul Ibanez, and indications are that they could carry Brett Gardner as a pinch-runner and defensive replacement. They could also carry a solid righty bat in Casey McGehee, a versatile outfielder in Chris Dickerson, or a super-utility man of their own in Eduardo Nunez.
The A's could conceivably be ranked up at the No. 1 spot, but I've lowered them to No. 3 because some of their key "bench" players are guys who are locked into platoons at various positions. On any given day, you could find guys like Brandon Moss, Seth Smith, Jonny Gomes, Adam Rosales and Jemile Weeks on the bench, and they could be in the game by the fifth inning. It's more of a trading post than a bench.
The Orioles are kind of in the same boat as the A's, but their bench isn't quite so strong now that it looks like Jim Thome is going to be their everyday DH. Without him, their bench features names such as Endy Chavez, Ryan Flaherty, Lew Ford and Taylor Teagarden. These guys have roles to play, but they're not quite game-changers.
In Detroit, I like Jim Leyland's decision to carry Avisail Garcia on his postseason roster. What I worry about with Detroit's bench, however, is the versatility. The Tigers have some decent outfield depth, but their depth elsewhere is questionable. Leyland isn't going to be able to mix and match as well as the other managers in the field.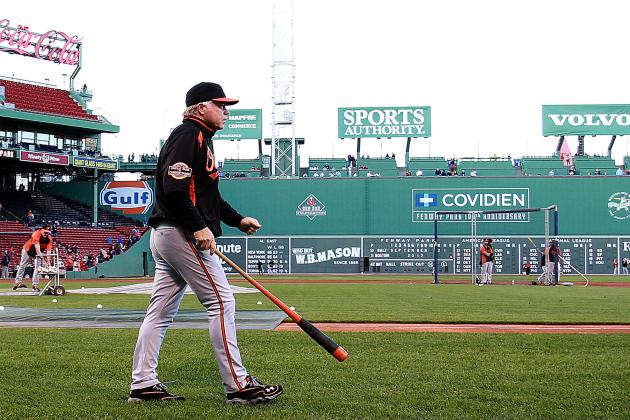 Jim Rogash/Getty Images
Buck Showalter is a leading candidate for AL Manager of the Year.
1. Baltimore Orioles
2. Oakland A's
3. New York Yankees
4. Texas Rangers
5. Detroit Tigers
Again, there's probably no right order here. This is an area where one is forced to basically rely only on subjective interpretation.
The Orioles get the nod for the top spot because Buck Showalter has been pushing the right buttons all year long, particularly when it comes to his bullpen. Pitching coach Rick Adair has worked wonders with an unspectacular starting pitching staff, and Jim Presley's work as the team's hitting instructor is definitely paying off these days.
The A's could occupy the top spot as well. Bob Melvin has been just as good as Showalter at knowing what pieces to use and when, and pitching coach Curt Young has done a truly excellent job with the team's young staff. Chili Davis has gotten guys like Josh Reddick and Brandon Moss to turn into feared sluggers. Nuff said.
Joe Girardi can make odd decisions sometimes in New York, but he deserves credit for the way his guys all fall in line behind him. Larry Rothschild has had his hands full as the club's pitching coach this season, but he's done well considering the circumstances. Hitting coach Kevin Long doesn't have to do much with the hitters he has at his disposal.
The same could be said of Rangers hitting coach Scott Coolbaugh, though he probably doesn't get enough credit for the work he's done with Texas' hitters. Pitching coach Mike Maddux, on the other hand, has been getting plenty of well-deserved credit for years now.
I have the Rangers down in the No. 4 spot because I'm not overly fond of Ron Washington's in-game managing. He's a good leader, but he makes some odd lineup choices and pitching changes every now and then.
Meanwhile in Detroit, it doesn't reflect very well on hitting coach Lloyd McClendon that the Tigers are forced to revolve so heavily around three hitters. Pitching coach Jeff Jones has done pretty well with his starting rotation, but one wonders if he's been neglecting the team's bullpen given its season-long struggles.
One sympathizes with Jim Leyland because he hasn't had a ton of talent to rely on this season, but that same problem hasn't stopped the Orioles and A's from becoming elite teams.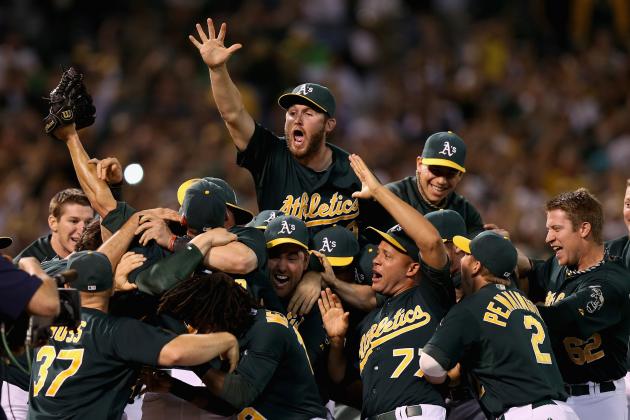 Ezra Shaw/Getty Images

1. Oakland A's
They can pitch, they can hit, they can field, and they're very well-run. What's not to like?
2. Texas Rangers
Their offense is fearsome and their pitching is solid enough from top to bottom. The Rangers aren't quite as strong as they were last year, but a third straight trip to the World Series is in the cards.
3. New York Yankees
They're not perfect, but the Yankees aren't the total disaster that people want them to be.
4. Baltimore Orioles
They can swing the bats, they have a great bullpen, and they're in the hands of great coaches. However, their starting pitching depth is a big-time concern. If it wasn't for that, I'd have them ahead of the Yankees and maybe even No. 1 over all.
5. Detroit Tigers
They have a very good starting pitching staff and three very good hitters, but the rest of the big picture in Detroit leaves much to be desired.
Even saying that, I wouldn't rule them out for the World Series. They're as capable of a run as any.
If you want to talk baseball, hit me up on Twitter.