MLB Trade Rumors: Breaking Down the League's Top Trade Assets This Offseason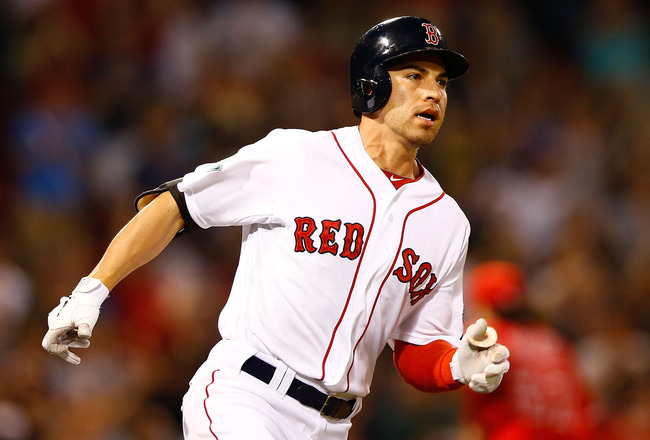 Jared Wickerham/Getty Images
The 2012 MLB regular season will be ending in the next two days, and while's there's still close to four weeks of playoff baseball left, many teams will be focused on upgrading their rosters for next season.
With a decidedly weaker free agent class than last year, many teams will also be looking at the trade market to make necessary upgrades.
We will take a look at the names of some players who could come become available, and who could net their teams a tidy package in return as well.
Justin Upton: Arizona Diamondbacks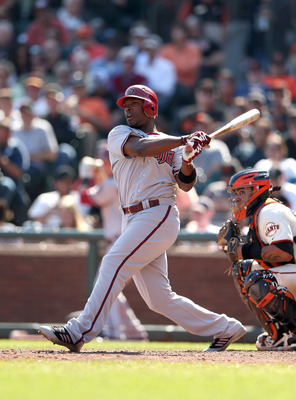 Ezra Shaw/Getty Images
The Arizona Diamondbacks right fielder is working on putting the finishing touches on a nice bounce-back from a disappointing first half.
Upton finished the month of September strong, hitting .301 with six homers and 14 RBI. Upton currently has a .279 average with 17 HR and 67 RBI on the season, definitely a down year considering his breakout 2011 campaign.
Upton was the source of several trade rumors throughout the season, and rumors persist that he will be made available this winter as well.
Nick Piecoro of the Arizona Repbulic spoke with several league executives who still believe that Upton's trade value will be high this winter despite his diminished production.
"If they decide to move him," said an assistant GM with an AL team who spoke with Piecoro. "They'll get a fairly robust return. Maybe not like before, but there's still a lot of upside."
Upton hurt his thumb in mid-April, opting to play through the injury and limiting his swing for several weeks.
Chris Young: Arizona Diamondbacks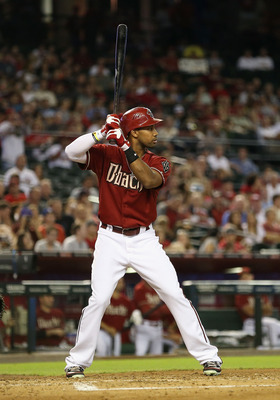 Christian Petersen/Getty Images
Along with right fielder Justin Upton, it's also been rumored that Arizona Diamondbacks center fielder Chris Young will be made available this winter as well.
Buster Olney of ESPN.com alluded to that fact early in September, saying that the Diamondbacks might be motivated to move Young if they can get a quality shortstop in return.
With Texas Rangers prospect shortstop Jurickson Profar now logging time in the majors, Elvis Andrus could well be that shortstop that fits the Diamondbacks' needs.
Jacoby Ellsbury: Boston Red Sox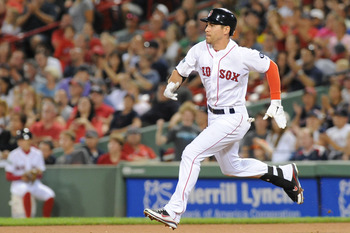 Bob DeChiara-US PRESSWIRE
At just 29 years of age, Jacoby Ellsbury is literally in the prime of his career, just one year removed from a spectacular season that saw him finish second in balloting for the AL MVP Award.
Ellsbury missed three months this year with a shoulder subluxation, hitting just .273 with four homers and 26 RBI in 72 games.
Ellsbury is arbitration-eligible next season after making $8.05 million this year. Given his injury history, the Red Sox could make Ellsbury available if they feel he's not worth a long-term extension.
Ellsbury would be an attractive option for teams searching for great speed, solid defense up the middle and a bat that certainly has the potential to be potent.
Jon Lester: Boston Red Sox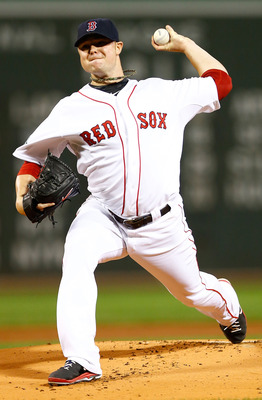 Jared Wickerham/Getty Images
Boston Red Sox starting pitcher Jon Lester will make his final start of the season on Tuesday against the New York Yankees.
For Lester, an end to this season couldn't come any faster.
Easily in the worst season of his career, Lester has posted a 9-14 record and 4.94 ERA. Certainly a stark contrast to his previous four seasons when he averaged 16 wins with a 3.33 ERA.
Lester will make $11.625 million next season, with the Red Sox holding an option for the 2014 season at $13 million.
The Atlanta Braves had inquired about Lester's availability this summer only to be rebuffed by the Red Sox. Lester was also claimed off waivers by an unknown team before the Sox pulled him back.
GM Ben Cherington will definitely listen to offers for Lester if he can get a package in return that suits his needs.
Matt Garza: Chicago Cubs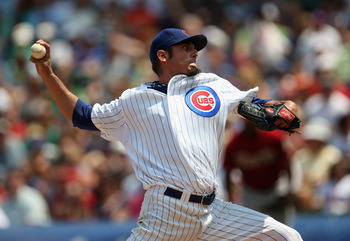 Jonathan Daniel/Getty Images
If it weren't for a stress reaction in his right elbow that shut him down, Chicago Cubs starting Matt Garza would likely already be elsewhere.
Garza was one of the most talked-about pitchers in the weeks and months leading into the non-waiver trade deadline. However, Garza has been shelved since July 21, and no team was willing to bite.
This winter may be a different story. Garza has not thrown a baseball for two months, but he has been rehabbing and expects to be fully healthy by spring training.
Back in early August, Cubs GM Jed Hoyer said that Garza would be a Cub in 2013.
"He's likely to be a member of the Cubs in 2013," Hoyer said. "And we're excited to have him. (Trading him) is the last thing we're thinking of. We're just trying to get this guy healthy."
Yes, healthy enough to trade him.
Shin-Soo Choo: Cleveland Indians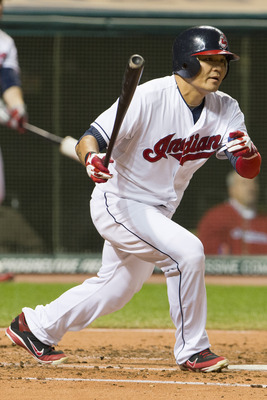 Jason Miller/Getty Images
The Cleveland Indians are battling to stay out of the cellar in the American League Central division, already on the hunt for a new manager.
GM Chris Antonetti will likely be looking to remake his current roster as well.
One piece he can use to accomplish that is right fielder Shin-Soo Choo.
Choo has put together a solid campaign, hitting .284 with 15 HR and 66 RBI. He also comes rather cheaply at $4.83 million and with a year of arbitration remaining.
At 30 years old, Choo can be of value to the Tribe as a trade asset. Enough to remake a roster badly in need of repair? No, but you need to start somewhere.
Chris Perez: Cleveland Indians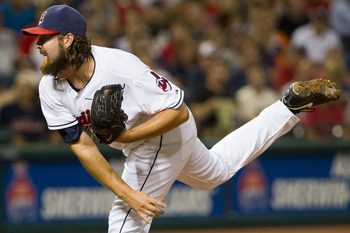 Jason Miller/Getty Images
It's probably pretty apparent by now that Cleveland Indians closer Chris Perez may have talked his way out of town.
Perez can throw a high, hard one. And we're not talking about over the plate, either.
Perez has hurled his wrath at fans and management alike, and while the man has shown a knack for closing games (75 saves in two seasons), he's also shown known a knack for not being able to close his mouth.
Perez has two years of arbitration eligibility remaining, and for teams looking for help at the back end of the bullpen, Perez' $4.5 million value this season won't be a huge financial burden.
If they can stomach the mouth along with the talent, that is.
Jed Lowrie: Houston Astros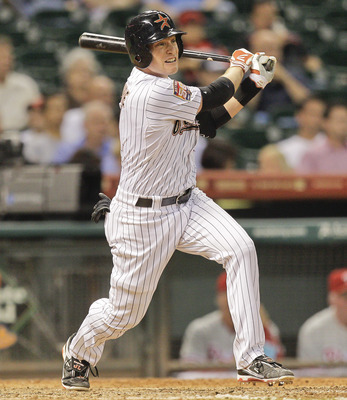 Bob Levey/Getty Images
He may be injury-prone, but he still has value.
Houston Astros shortstop Jed Lowrie represents one of the highest-paid players on the team. He also represents a constant source of concern.
Lowrie has yet to play 100 games in any one season, this year missing well over two months with an ankle injury. When healthy, he can produce—16 HR and 42 RBI in 94 games.
Still with two years of arbitration eligibility and only making $1.15 million this season, Lowrie could be a piece for GM Jeff Luhnow to use in furthering his cause to remake his Astros as they head to the AL West Division next season.
Peter Bourjos: Los Angeles Angels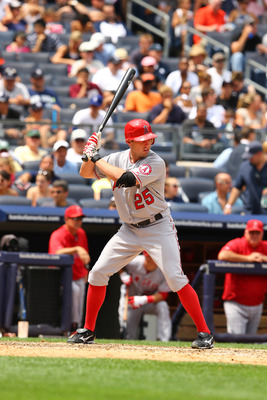 Al Bello/Getty Images
Los Angeles Angels outfielder Peter Bourjos can pretty much consider the 2012 season as lost.
Bourjos is hitting just .226 with three homers and 19 RBI, essentially serving as a late-inning defensive replacement. Bourjos' job in center is now handled by a young man who is putting together a season for the ages—Mike Trout.
Earlier this season, GM Jerry DiPoto emphatically stated that Bourjos would not be dealt and that he was considered an asset to the team.
Bourjos may now be better served as an asset for trade. With fellow outfielders Trout, Mark Trumbo, Vernon Wells, Kole Calhoun and possibly Torii Hunter, Bourjos' future in Anaheim is iffy at best.
Josh Johnson: Miami Marlins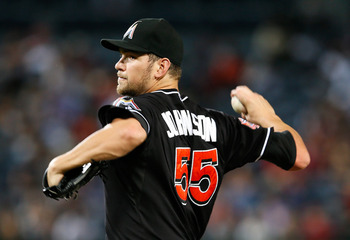 Kevin C. Cox/Getty Images
While the market for free-agent pitchers is relatively weak, teams may have more opportunities via trade to bolster their pitching staffs.
They might want to consider looking south.
Miami Marlins pitcher Josh Johnson is currently 8-14 with a 3.81 ERA in 31 starts. The important stat to note is the 31 starts. Johnson's balky shoulder has held up all season long.
Johnson has one more year remaining on his contract at $13.75 million. Considering the relative dearth on the free-agent market this winter, the Marlins could fetch a nice package in return if Johnson was in fact available.
Jose Reyes: Miami Marlins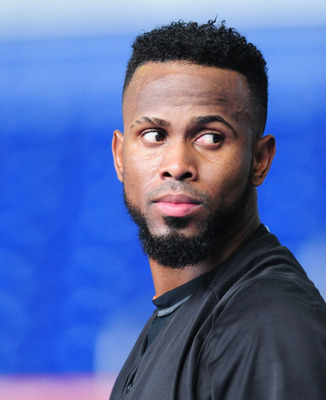 Jason Arnold/Getty Images
About two weeks ago, Joe Frisaro of MLB.com intimated that the Miami Marlins could be looking to cut their payroll to $80 million next season.
If that's the case, could shortstop Jose Reyes be on the chopping block?
There's no question that everything will be looked at this offseason in Miami. Frisaro also stated that president of baseball operations Larry Beinfest could be on his way out as well.
No player, with the exception of Giancarlo Stanton, could be considered safe at this point for the Marlins.
Reyes is only owed $10 million next season, but the contract gets a lot more expensive after that—$16 million in 2014 followed by three years at $22 million each.
The trading pool will be shallow with a back-loaded contract for sure, but at just 29 years of age, Reyes will be tempting for at least a few teams.
Corey Hart: Milwaukee Brewers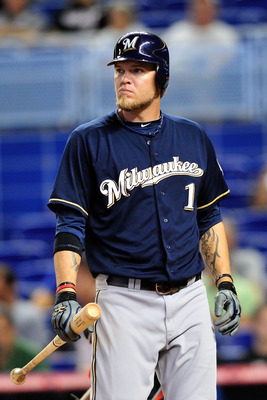 Steve Mitchell-US PRESSWIRE
Milwaukee Brewers right fielder/first baseman Corey Hart put up solid numbers this season, hitting .270 with 30 HR and 83 RBI.
However, Hart is entering the final year of his contract next season. At 30 years old and making $10 million, the Brewers may not be inclined to extend Hart beyond next year.
A power bat that can play well at two positions will certainly have value on the open market.
Minnesota Twins: Denard Span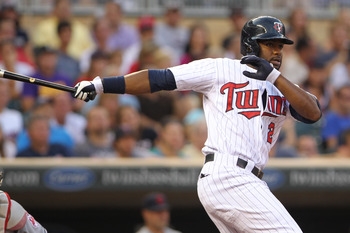 Brace Hemmelgarn-US PRESSWIRE
Minnesota Twins center fielder Denard Span doesn't do any one thing particularly well. He's never won an award, never been selected for an All-Star team and hasn't been rewarded with a Gold Glove Award.
However, the whole package is still pretty good. Good enough to be a constant source of trade rumors.
Bill Mackey of ESPN1500.com believes that Span will be offered up for a package of pitching prospects, moving Ben Revere to center in the process.
Makes sense, considering the woeful state of Twins' pitching.
Elvis Andrus: Texas Rangers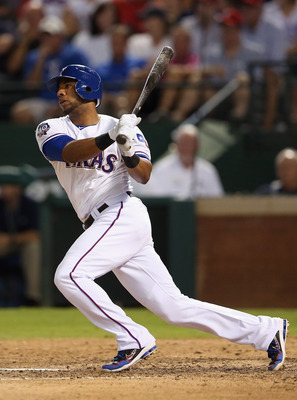 Ronald Martinez/Getty Images
The future has arrived in Texas. Well, sort of.
Rangers prospects Mike Olt and Jurickson Profar clearly represent the future for the team, and both have debuted in the majors this season. Profar is the No. 1 prospect in all of baseball, according to MLB.com.
Elvis Andrus is currently in Profar's way, however.
Andrus has put together another nice season, hitting .289 with three homers, 61 RBI and 21 stolen bases. At just 23 years of age, Andrus obviously has a nice future ahead of him.
That's exactly why the time might be ripe for the Rangers to offer him up during the winter. With the uncertainty surrounding free agents Josh Hamilton and Mike Napoli, the Rangers could use Andrus to restock with youngsters that can continue to keep the Rangers viable long into the future.
Jason Vargas: Seattle Mariners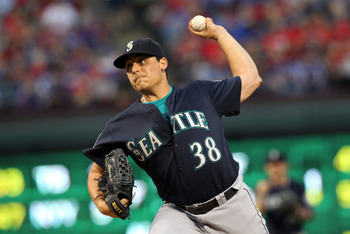 Layne Murdoch/Getty Images
Seattle Mariners starting pitcher Jason Vargas is putting the finishing touches on a very nice season in the Northwest.
In 33 starts, Vargas has posted a 14-11 record with a 3.86 ERA. On a team with any kind of decent offense, Vargas could easily have 18 wins.
Vargas has one more year of arbitration eligibility remaining. At $4.85 million this season, Vargas will be a very attractive option on the open market.
With youngsters Danny Hultzen, Taijuan Walker and James Paxton waiting in the wings, Vargas' departure won't be all that upsetting, especially considering the type of return the Mariners can receive.
Doug Mead is a featured columnist with Bleacher Report. His work has been featured on the Seattle Post-Intelligencer, SF Gate, CBS Sports, the Los Angeles Times and the Houston Chronicle.
Keep Reading