Looking Back at the Most Memorable Moments of the 2012 MLB Regular Season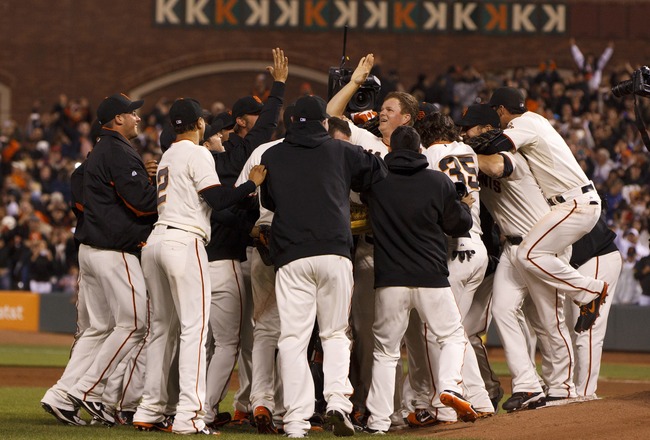 Jason O. Watson/Getty Images
With just three games separating us from the postseason, there's still plenty at stake for a number of teams as wild card positions and some division crowns still hang in the balance.
This season has afforded baseball fans a plethora of moments that we won't forget (for better or worse), and while the next month will no doubt provide just as many memories, it's never too early to take a look back at everything the 2012 season had to offer.
Here are just 20 of the many moments that we can take away from this season, and as always, if you have any of your own, feel free to chime in.
Marlins Christen Brand-New Ballpark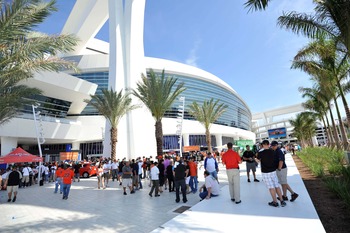 Steve Mitchell-US PRESSWIRE
The Miami Marlins' 2012 season hasn't gone nearly as well as planned, with the acquisitions of Heath Bell and Jose Reyes prior to the season failing to lead to the success they had hoped.
But the Marlins did make one big step this season, as they made the move into their brand-new ballpark, ridding themselves of their former home and entering confines that don't also cater to the football crowd.
Let's just hope 2013 is more friendly to the Fins in the NL East standings.
Ozzie Being Ozzie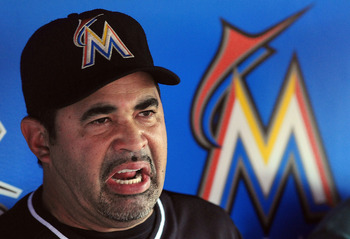 Jason Arnold/Getty Images
Along with the acquisitions of Bell, Reyes and a ballpark, the Marlins also added one of the fieriest managers in baseball in Ozzie Guillen.
Everyone knew that he was good for a soundbite or two when he signed on for the job, but it's hard to believe he'd take it to the extent he did.
In April, Guillen was handed a five-game suspension from MLB after telling Time magazine that he loved Fidel Castro and made a number of other pro-Castro remarks.
Knuclkeballer R.A. Dickey Fans 13 Orioles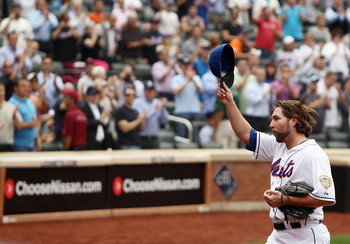 Alex Trautwig/Getty Images
The ascent of knuckleballer R.A. Dickey into the sphere of baseball's best pitchers has been nothing short of remarkable this season.
With one of baseball's best winning percentages for the majority of the season, the All-Star's best performance came against the upstart Baltimore Orioles when he punched out 13 batters.
Humber Is Perfect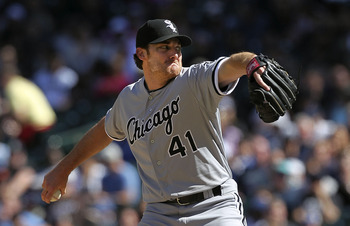 Otto Greule Jr/Getty Images
In a season that has seen its share of no-hitters, an early one came to the surprise of many, as Phillip Humber, who had only 11 career wins entering the season, pitched a perfect game for the Chicago White Sox on April 21 against the Seattle Mariners.
Humber wouldn't show much after that point, however, as he's found himself taken out of the rotation since his peak and has won only five games this season.
Jaime Moyer Becomes Oldest to Ever Win a Game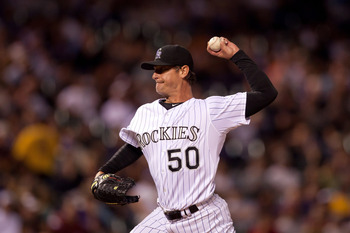 Justin Edmonds/Getty Images
With such a youth movement taking over the league, it's easy to get lost in the shuffle as a seasoned veteran.
Then again, the case of Jamie Moyer may extend beyond being just a seasoned veteran. The seemingly ageless pitcher has been in the league for more than a quarter of a century, and in April, became the oldest pitcher to ever win a major league game, beating the San Diego Padres as a member of the Colorado Rockies.
Josh Hamilton's 4-Home Run Outburst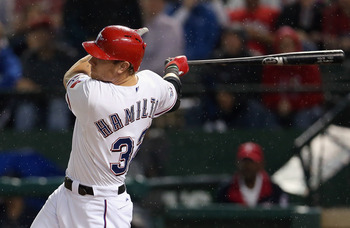 Ronald Martinez/Getty Images
As Miguel Cabrera aims to become the first triple crown winner in over 40 years, we might be able to look back at Josh Hamilton's historic outburst earlier this season if he comes up just short.
During a game against the Baltimore Orioles in May, Hamilton went deep four times, driving in eight of the Rangers' 10 runs.
He would slump a bit after that game, but has returned to form and is fighting Cabrera for the AL Home Run title heading into the season's final week.
Mets Finally Notch a No-No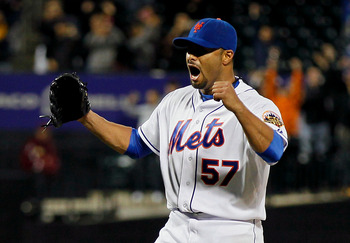 Mike Stobe/Getty Images
With more than 8,000 games under their belt as a franchise and a number of high-caliber pitchers coming through town, the New York Mets still had somehow never thrown a no-hitter during their history.
That all changed in early June, as Johan Santana became the first Met to throw a no-no, with a 134-pitch effort that included eight strikeouts and five walks.
Pudge Says Goodbye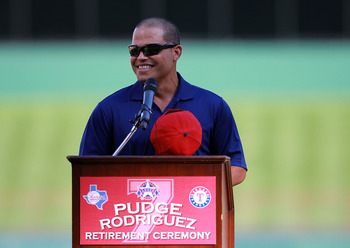 Ronald Martinez/Getty Images
When we look back at the best catchers to ever play the game, the discussion can't be had without mentioning Ivan Rodriguez's name.
The longtime Texas Rangers finally hung up his cleats this spring after catching nearly 2,500 games during his career, a major league record.
His offense was nothing to overlook, either, as he finished with a career .296/.334/.464 line and drove in over 1,300 runs.
Youk Says Goodbye to Boston
Winslow Townson/Getty Images
Baseball can be a cruel game at times, and while he likely already knew it, Kevin Youkilis found out the hard way this summer, as the Boston Red Sox pushed him out of Fenway, trading him to the Chicago White Sox.
As he told the Boston Herald upon being traded, the business of baseball can be a cruel thing:
"It was definitely very surreal. It hit me like a ton of bricks when I got pinch-ran for."
Spending nearly a decade in a Red Sox uniform, the fanbase in Boston will always remember everything he meant to the franchise as it shook off the curse and became an American League powerhouse once again.
Matt Cain's Perfect Game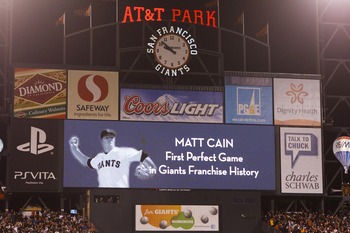 Jason O. Watson/Getty Images
It'll become a broken record before this slideshow is all said and done with, but history was once again made on the mound in San Francisco, when Matt Cain became the first San Francisco Giants pitcher to ever toss a perfect game.
Needing only 125 pitches to get the job done, Cain sent down all 27 Astros he faced, though he did get some great defensive help in the outfield, as is seemingly always the case when a no-hitter comes to fruition.
Monster Trade Shakes Up Two Franchises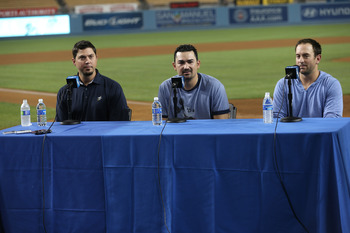 Stephen Dunn/Getty Images
When the Boston Red Sox look back on their 2012 season, it will no doubt be hard to consider the year a success. They're currently sitting 16 games under the .500 mark and have seen a number of their best players head west in a blockbuster trade that was completed in August.
Players frequently hit the waiver wire, and while nothing usually comes of it, that wasn't the case when the Los Angeles Dodgers pulled off a trade nobody saw coming, taking on nearly a quarter billion dollars of salary.
Billy Hamilton Just Keeps on Swiping Bases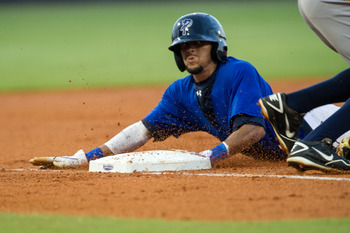 Michael Chang/Getty Images
He may not be in the major leagues yet, but Cincinnati Reds prospect Billy Hamilton is already making headlines from down on the farm.
In 132 games with the Reds' Single-A and Double-A outlets, Hamilton stole a record 155 bases, eclipsing Vince Coleman's 145 stolen base mark.
Melkman Has the Hammer Dropped on Him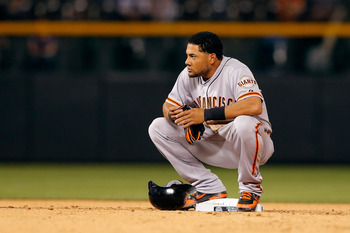 Doug Pensinger/Getty Images
When the dust settled on this year's All-Star game in Kansas City, the National League had earned themselves home-field advantage in the World Series, and the San Francisco Giants put on a show, as Matt Cain, Pablo Sandoval and Melky Cabrera showed just what a force the team could end up being in the NL West.
On a more individual basis, Cabrera had solidified himself as a clear candidate for a huge contract this offseason when he was set to enter free agency, thought that would change when he was handed a 50-game suspension after testing positive for testosterone.
It's hard to imagine that any team will hand out a long-term contract worth upward of the $50 million he could have very well signed. As we've seen in the past, though, a positive test for PEDs isn't always a death penalty.
Delmon Young Is an Idiot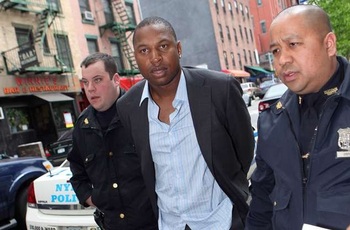 MLBreports.com
It's not usually a good thing for a baseball player when your name is in the media for something you've done off the field instead of on it, and Delmon Young's new-found fame is no exception.

This spring in Manhattan, Young was arrested following an altercation outside of the Detroit Tigers' hotel and was later charged with third-degree assault.
This isn't Young's first boneheaded incident, however, as in 2006, he was handed a 50-game suspension after throwing a bat at a home plate umpire after being ejected for arguing a called strikeout.
The Big Lights Hit K.C.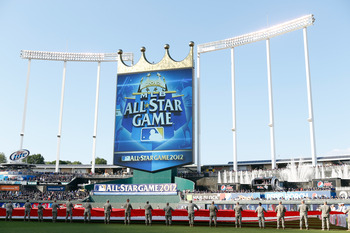 Jamie Squire/Getty Images
The midsummer classic is always a big event for any host city, but with the lack of success that Kansas City has seen in recent years, the All-Star Game's appearance at Kaufman Stadium came at a great time for the fanbase.
The game itself may have been a bit of a yawner, as the National League dominated all night long, winning 8-0 and holding the American League stars to six hits, but the week-long festivities brought the attention back to a franchise that will no doubt be heard from as stars in the making like Wil Myers emerge.
Nationals Clinch a Return to Postseason
Rob Carr/Getty Images
With all the offseason activity surrounding the Washington Nationals, we all knew that they were serious about making a push for postseason play, and doing it now.
Trading for Gio Gonzalez and signing Edwin Jackson to complement Stephen Strasburg gave the team one of the best 1-2-3 punches in baseball, and though Strasburg has since been shelved for the season, the Nats are still in great shape heading into October.
This postseason appearance will likely resonate for a couple of markets, as the Nationals have not made a playoff appearance in more than three decades, losing the NLCS in 1981 when the team was still located in Montreal.
King Felix Is Perfect
Otto Greule Jr/Getty Images
Not to look past pitchers like Homer Bailey and Jered Weaver, who also threw no-hitters this season, but King Felix is the last pitcher we'll be talking about in this slideshow, as he tossed a perfect game for the Seattle Mariners in August, further solidifying his place as one of the best pitchers in the game.
Hernandez needed only 113 pitches to take care of the Tampa Bay Rays, who seem to be on the losing end of no-hitters more often than any other team in baseball.
New Era of Sluggers Emerge
H. Darr Beiser-USA TODAY
By now, we all know about what Mike Trout has to offer, as the Los Angeles Angels star has emerged in a huge way during his rookie season and may very well be on his way to MVP honors.
Trout wasn't the only future star to get the call in late April, however, as Bryce Harper's long awaited call-up came on the very same day, giving baseball fans a chance to see two of the games biggest stars of the future make their debuts in sync with each other.
There's no doubting that Trout's season has gone better than Harper's, but with the Nationals already entrenched in postseason positioning, Harper will have his chance to shine when the stakes are raised.
Fenway Turns 100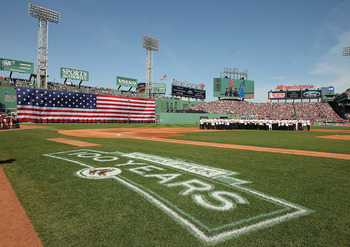 Jim Rogash/Getty Images
In April, one of baseball's most historic locations celebrated its centennial, as Fenway Park held its 100th anniversary celebration against a fitting opponent in the New York Yankees.
A who's who of former Red Sox greats were on hand for the festivities, and while the game didn't end up going in Boston's favor, as New York managed to go deep five times in a 6-2 win, the day was a memorable one for everyone in Red Sox nation.
(Insert Final Day Theatrics Here)
Looking back at last year's final day of the regular season, it's hard to believe that this year's edition could possibly bring with it so much drama, with the fate of teams hanging on the balance and changing seemingly every hour.
However, with the Yankees and Orioles tied atop the AL East and a number of teams still jockeying for wild card spots, the final day of the regular season will certainly be worth watching.
Keep Reading