3 Reasons Weeden and Richardson Can't Bring the Browns a Winning Culture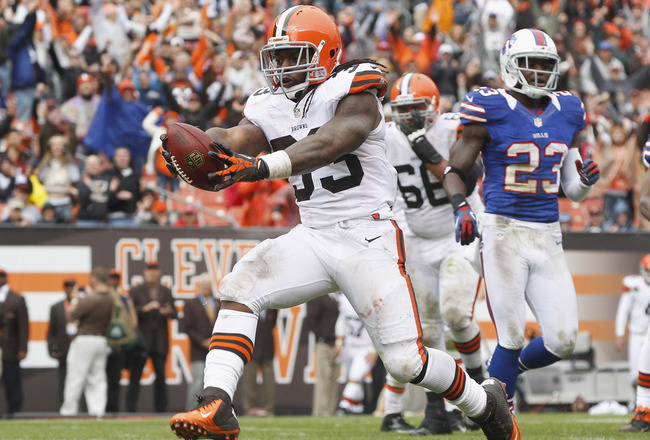 Richardson is good, but not good enough
Matt Sullivan/Getty Images
Quarterback Brandon Weeden and running back Trent Richardson were the Cleveland Browns' first-round draft picks in the 2012 NFL draft. These unlucky two have the improbable task of trying to bring the word "win" to the Browns culture, but it just will not happen.
Richardson was the No. 3 pick overall, and Weeden was the No. 22 pick. They are the key components of the future of a Cleveland team that sports the league's youngest team.
These rookies should be able to inspire the team and the city, but they are in over their heads.
The Browns and the city of Cleveland are in disarray. Add the fact that Weeden and Richardson are only rookies, and the result will continue to be a culture of losing and disappointment.
There are three main reasons the rookies will just not be able to turn this historic franchise around.
Brandon Weeden Doesn't Scream "Franchise" Quarterback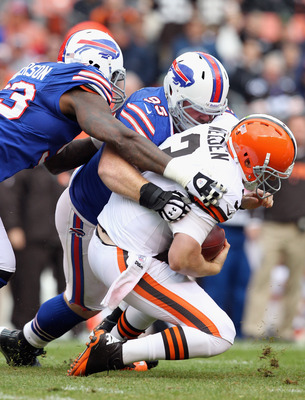 Weeden seems no different than any other Browns QB
Matt Sullivan/Getty Images
Quarterback Brandon Weeden is a guy who played a little baseball, and he was successful in college playing football at Oklahoma State. But Weeden is not a guy that brings energy and a spark. He does not feel like a "franchise" quarterback, and he has not played like one.
Cam Newton, Andrew Luck and Robert Griffin III all provide a spark and bring energy to their teams. There does not seem to be a new life in the Browns, and there is little excitement.
Weeden's play shows the lack of spark, and so do his numbers.
Weeden threw four interceptions in his first career game against the Philadelphia Eagles. He was also 11-of-35 passing.
Then he had a great game against the Cincinnati Bengals. He threw for 322 yards and two touchdowns.
But just when the offense showed a little life, he tempered the feeling with a mediocre day against the Buffalo Bills. He threw for 237 yards, one touchdown and two interceptions.
Overall, he has not been horrible for a rookie, but he needs to show more. As Steve Doershschuk of SportingNews.com wrote, "Quarterback Brandon Weeden needs to start playing like a mature 28-year-old rather than a rookie finding his way."
Weeden is older than most rookies, but he needs to show it. And at the same time, he needs to bring the spark that a rookie is supposed to bring.
It is hard to judge based on "feel," but when looking at Newton or Luck play, do you get the same feeling when you look at Weeden play?
Trent Richardson Can't Do It All on Offense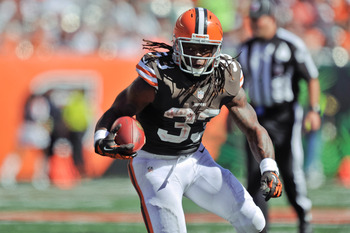 Richardson can't run, pass, block and catch every play
Jamie Sabau/Getty Images
Trent Richardson, unlike Weeden, has that "feel." He brings that excitement, and he could have a great career. Unfortunately, Richardson cannot bring winning back to Cleveland by himself.
Richardson had a slow start against the Eagles with only 38 yards on 19 carries. But even then, he ran so hard that he knocked a player's helmet off on one of his runs.
The No. 3 pick went on to dominate against the Bengals.
The former Alabama running back earned his first 100-yard game against Cincinnati. He had 109 yards rushing along with 36 receiving yards and two touchdowns.
Against the Bengals, he looked unstoppable. On his touchdown reception, he broke tackle after tackle, and he would not be denied the touchdown. Richardson also had two rushes of over 30 yards.
Knocking a player's helmet off, big run plays and breaking multiple tackles on the way to a touchdown is how he provided a spark. Whenever he touches the ball, players and fans alike think Richardson could score.
The problem comes with the rest of the offense.
There has been no receiver that has claimed the No. 1 job. Greg Little has had trouble catching the ball. One of Weeden's interceptions came because the pass hit Little on the hands, but he could not handle it. The Browns selected WR Josh Gordon in the second round of the Supplemental Draft, and he has been ineffective.
The offensive line is still trying to build cohesion. It has allowed more than two sacks in only one game, but Richardson's two yards-per-carry average is not because Richardson can't run the ball.
Cleveland needs more, but until it gets more it will just be Richardson. If it is just going to be Richardson, it will be hard for the offense to play at a level that will win football games.
Too Much Cleveland History to Fight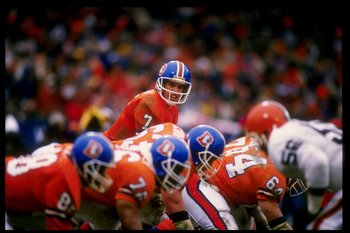 "The Drive" is just one of many Cleveland sports tragedies
Bob Martin/Getty Images
The biggest reason Weeden and Richardson won't be able to create a winning culture is Cleveland's history.
This is something bigger than one play or even a particular unit.
Some may argue that history has nothing to do with the present, and argue that things change. In Cleveland, though, the sports history of this city may just be too big to overcome.
It is hard to imagine a city that has been on the wrong side of sports for so long. The shadow is bigger than just Browns football, but it includes all Cleveland sports.
Just look at the history of Cleveland sports.
The Cleveland Cavaliers have never won a championship. The Cleveland Indians have not won since 1948. The Cleveland Browns have never won a Super Bowl.
Then there are the individual moments that have hindered Cleveland sports.
There was "The Drive" that occurred in the 1987 AFC Championship game. John Elway leads the Denver Broncos on a 98-yard touchdown drive to tie the game, and Denver won in overtime.
There was "The Shot" that occurred in Game 5 of the 1989 playoffs. Michael Jordan hit a game-winning shot as time expired to eliminate the Cavaliers
Most recently, there was "The Decision." LeBron James went on national television to say that he would be joining the Miami Heat, and two years later he wins a championship.
These are only a few of the many events that have happened that have damaged Cleveland sports.
Two rookies cannot change a culture of losing, because it is more than just the Browns culture. Losing has become an identity for all Cleveland sports, and nothing may be able to change it.
Keep Reading

Cleveland Browns: Like this team?