NFL Fans Find New Respect for Regular Officials in Wake of Lockout Debacle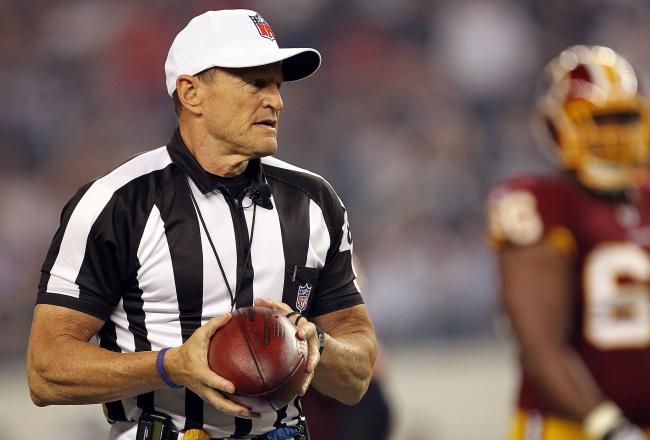 Ronald Martinez/Getty Images
You don't know what you've got till it's gone.
NFL fans have learned that lesson the hard way after dealing with the NFL's replacement referees for three grueling weeks.
Sure, fans will still curse officials, throw things at their television, swear that the refs are out to get their team and claim that Ed Hochuli's shirt is two sizes too small, but it can't be any worse, right? Right.
Watching the officiating in the first three weeks of the NFL season was like watching a bad standup comedy routine. The refs knew what they were supposed to do, but they didn't know how to execute it. Their endgame was obvious, but the nuances of the task were beyond their grasp.
Thankfully, it's over. Now, professional football fans can get back to focusing on the game.
That's not to say that the regular refs are perfect; of course they aren't. But at least they're qualified to do their job. Yelling at them makes sense; screaming at replacements was just tiring.
Being an NFL referee couldn't have been easy. The replacements entered a tense situation, and a tremendous weight was placed upon their shoulders.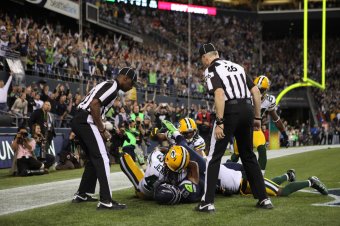 Otto Greule Jr/Getty Images
These average joes held high-stakes football games in the palms of their hands. Some of these guys had never sniffed football beyond a Division II collegiate level. Calling their circumstances tough would be an understatement, but it was their job nonetheless.
Berating officials comes with the territory of being an obsessive sports fanatic, but this created something completely different. Every fan that yells at his or her TV from now on will do so with reservation.
Can't you hear it? Someone will yell, "How could you call that, Hochuli?" In the back of their head, though, they'll be thankful that Hochuli made that ridiculous call, and not Joe Schmo referee from Week 2.
Fans will never be happy with every call. Even if the NFL rulebook was followed to a tee, someone would feel like their squad got the short end of the proverbial stick nine times out of 10.
That's just how it works. It would feel even more weird if it didn't work that way.
Either way, you're going to be happy to see the old familiar faces working your team over. No one wants a stranger to cause a loss, but if it's Jeff Triplette doing the job, at least you can say, "Hey, I'm used to this."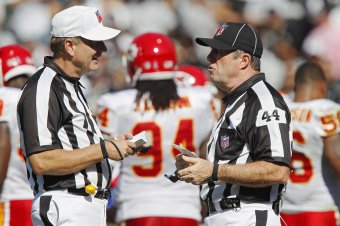 Brian Bahr/Getty Images
Established referees can be wrong, but they have an established reputation one way or the other. The NFL's replacement referees were the new kids on the block, making a mockery out of everything they could get their hands on.
This was a situation that was only going to get worse. NFL fans wouldn't have respected replacement referees, no matter what calls they did manage to get right.
Every single football fan who turns on his/her TV this Thursday and Sunday will do so with a smile. Bitter rivals sometimes find a way to respect each other, and that's how this relationship works.
If a team is going to get shortchanged, fans would rather know who is doing the shortchanging.
In that case, welcome back, NFL referees. I, and everyone else, have never been so excited to see you.
This article is
What is the duplicate article?
Why is this article offensive?
Where is this article plagiarized from?
Why is this article poorly edited?