A Former Player's Take on Superstition, Rituals in the NFL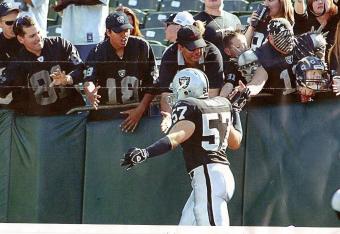 Victories in the National Football League can be tremendously difficult to come by, so it seems only fitting both players and coaches are willing to do whatever it takes to achieve success. If that means stuffing a lucky rabbit's foot down your game pants or putting a picture of your wife and kids in your helmet, so be it. After all, when you play a sport that, on any given play, can end your ability to walk, you naturally want to swing the odds of survival in your favor whenever possible.
We've all heard the stories of the football player who refuses to wash his lucky jock strap, or the guy who refuses to cut his hair for fear that it may deplete his strength like Samson from the Bible. Perhaps many of you are aware of Urlacher's pregame cookie ritual. These are the types of stories that repeat themselves throughout locker rooms across the league.
I remember the magic of the 1994 Super Bowl run by the San Francisco 49ers. This was the first year the NFL unveiled what we now know as throwback jerseys, a fairly new concept for the NFL at that time. In honor of the NFL's 75th anniversary, each team was expected to wear its throwback jersey a few times throughout the year.
But could it be that the 49ers had tapped into some winning magic with their throwback uniform?
Let us take a brief look at the 49ers 1994 season courtesy of Wikipedia.org:
Photo courtesy of wikipedia.org

The team first donned the 1955 throwback uniforms during a week 3 match against the Los Angeles Rams and the following week at home versus the Saints. Both games ended in victory (coincidentally, these were also the first two games Deion Sanders played with the 49ers after signing as a free-agent after week 2). The team then suffered an embarrassing 40-8 loss to the Philadelphia Eagles at home wearing their regular red uniforms with gold pants.

For the subsequent three games until their BYE week, the team again was scheduled to play games wearing the throwback uniforms with white pants and drop-shadows, and all three games resulted in wins. During the following weeks the 49ers embarked on a 10-game winning streak. The team, prompted both by the superstition of coach George Seifert, and the preference of players, petitioned the NFL to wear the throwback uniforms for the rest of the season. The league granted the request and the switch to solid red socks after the BYE week marked this occurrence. In all, the team went 15-1 (including the playoffs) wearing the 1955/1994 throwback uniforms.
Unfortunately my NFL career didn't lend itself to many winning streaks, so the locker rooms I was a part of spent more time searching for that good luck charm than maintaining established ones.
Even losing teams have no hesitation complying with more historically prosperous rituals believed to have majestic powers in determining the outcome of a football game.
One of the most cliché team rituals in football that is in fact a reality is the tapping of some team mantra often hanging above the locker room door. This is a tradition that has made its way into the weekly practice of many teams throughout the decades.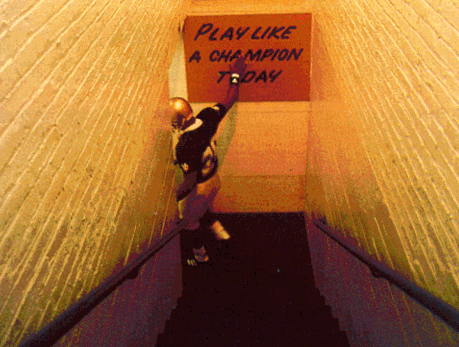 image courtesy of chiefparenting.com
However, I doubt most players who participate in this ritual actually believe in its effectiveness toward shaping the outcome of the game. It becomes more of a symbol of compliance to the team and a personal acknowledgment to one's self that he is fully committed to a unified agenda—obviously one that involves a victory.
I wonder if Super Bowl MVP Aaron Rodgers has carried his college tradition into the NFL of wearing a lucky, old Joe Montana T-shirt under his shoulder pads for every game. If he has in fact kept this tradition going, I may begin to believe in the powers of voodoo.
One of the most practical applications of keeping a winning tradition going from a team standpoint comes from the weekly practice schedule and or travel schedule.
One week in particular, head coach Eric Mangini brought in boxing commentator and renowned trainer Teddy Atlas, who happened to also be a New York Jets fan, as a guest speaker to share some general knowledge on the mindset of competition during a team meeting a few nights before the game. He gave a unique speech touching on the heart and mind of a boxer, fear, determination, and the importance of preparation.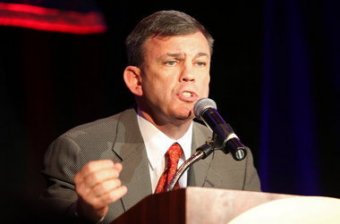 image courtesy of silive.com
I remember the impact he made on the team afterward as the guys seemed lifted to a higher level, almost enlightened. Anyhow, after sound execution and inspired play for four quarters, we were victorious in our next game.
Needless to say, Mangini was beginning to see Atlas as a really useful good luck charm. He had him return to give another speech a few weeks later in hopes to reproduce past results. Unfortunately, it appeared the magic of Atlas' words had quickly run its course.
Mangini embraced rituals that perceived to be connected, no matter how loosely, to winning football games. One of the more noteworthy examples of this came when the Jets began to fall into a bit of a slump after starting the season off 2-1 (it's important to note that Mangini was hired away from New England. where he coached for five seasons).
During his time with the Patriots he experienced a significant amount of success, winning multiple Super Bowls. So in an attempt to get the Jets out of their midseason slump, Mangini decided to sign an aging Patriots' veteran with depleted physical skills all because, according to Mangini, the guy was a good luck charm who manages to somehow win games wherever he goes.
Mangini even explained this reasoning to the team as he was announcing the new addition. The guy's name was Hank Poteat; he was the first example I'd heard of an actual NFL player being signed primarily because he was perceived to be a good luck charm.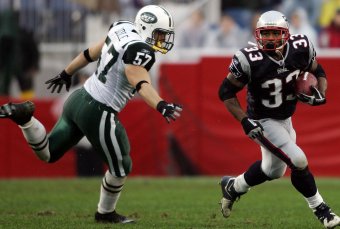 Elsa/Getty Images
Personally, I remained fairly grounded in terms of superstitions but would definitely adhere to the occasional tradition or ritual. NFL players are highly dependent upon the predictability and repetition brought on by the team schedule. Players' pregame preparation rituals are a uniquely personal thing and often times quite interesting.
Here are a couple articles by two Bleacher Report columnists who happen to be former NFL players. These articles further detail what it's like in the hours leading up to the game, including several pregame rituals and traditions. The first article is written by featured columnist Stephen White, who does a great job letting fans into the game-day experience. The second article is one I wrote, which talks in detail about some unique pregame preparation rituals from both myself and the guys around the league.
This article is
What is the duplicate article?
Why is this article offensive?
Where is this article plagiarized from?
Why is this article poorly edited?