Breaking Down the Top 2012 Minor League Player of the Year Candidates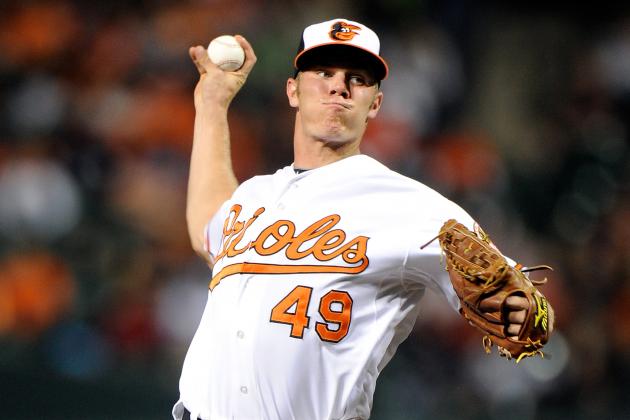 Greg Fiume/Getty Images

After writing about the all-stars from each minor league level earlier today, I thought that I'd expand on some of those players. I chose not to name either an MVP or Pitcher of the Year for each level with the hope of facilitating a discussion on the top overall players in the minor leagues.
So, given all of the tremendous performances by top-ranked prospects this season, who should take home the Minor League Player of the Year honor?
In my opinion, the field should be comprised of only five prospects: Wil Myers, Oscar Taveras, Billy Hamilton, Jurickson Profar and Dylan Bundy.
Here's a look back at each player's respective 2012 season.
Begin Slideshow

»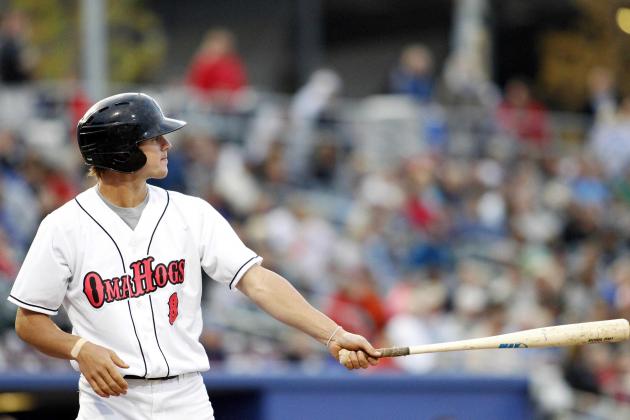 Matt Ryerson-US PRESSWIRE

Myers struggled through a down year in 2011 at Double-A Northwest Arkansas, missing time with a infected gash on his knee (I know, gross), and he never got comfortable at the plate as a result.
However, he elected to play in the Arizona Fall League and batted .360/.481/.674, proving that he was both healthy and a very special hitter.
Repeating Double-A to open the 2012 season, Myers absolutely assaulted Texas League pitching. The 6'3", 205-pound outfielder posted a line of .343/.414/.731 with 25 extra-base hits (13 home runs) in 35 games.
The right-handed hitter received a quick and well-deserved promotion to Triple-A Omaha, where he only continued to thrive. One of the youngest players at the level, Myers posted .304/.378/.554 with 24 home runs and 79 RBI.
Between the two levels, Myers turned in a monstrous offensive season: .314/.387/.600 with 26 doubles, 37 home runs (the second-highest total in all of the minors) and 109 RBI in 134 games.
It's worth noting that he did strike out 140 times compared to 60 walks. However, after receiving knocks for his seemingly complacent approach in 2011, Myers clearly swung with a purpose in response; the strikeouts were a sacrifice for showcasing his robust power.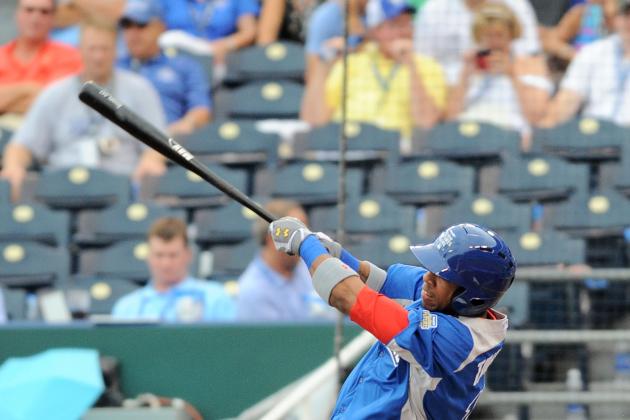 Denny Medley-US PRESSWIRE

Despite Myers' ridiculous production this season, I believe Oscar Taveras is the purest hitter in the minor leagues. After posting a 1.028 OPS at Low-A Quad Cities as a 19-year-old in 2011, there were inevitably high expectations for the left-handed hitter headed into the season.
Not only has he exceeded all expectations by exhibiting an even more impressive hit tool, his power has developed in the face of advanced competition.
Playing in 124 games for Double-A Springfield, the 20-year-old posted a line of .321/.380/.572 with 37 doubles, 23 home runs and 94 RBI and posted a ridiculously good 56-42 strikeout-to-walk rate.
If there's one prospect who I believe can handle major league pitching right now, it's Taveras. His hand-eye coordination is something special, and his ability to barrel the baseball is something that simply cannot be taught.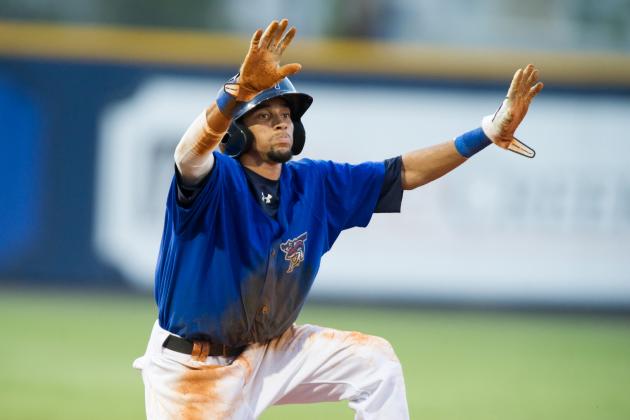 Michael Chang/Getty Images

Headed into the 2012 season, Hamilton was regarded as the fastest player in the game. But with baseball skills that lagged well behind his overall athleticism, there were relevant concerns regarding his potential development.
For a player with one of the most exciting tools in the minor leagues (his speed, obviously) and the potential to be a dynamic, top-of-the-order hitter, the switch-hitter's 133-52 strikeout-to-walk rate in 2011 was concerning.
This season, however, Hamilton's plate discipline was as improved as any young hitter in the game. Oh yeah, he also broke the modern stolen-base record with 155 stolen bases in 132 games.
The 22-year-old began the season at High-A Bakersfield, where he posted a line of .323/.413/.439 with 50 walks and 104 stolen bases in 82 games. Following a great performance at the XM Futures Game, he was promoted to Double-A, where he further showcased improved on-base skills and continued his torrid pace on the base paths.
Between two levels, Hamilton posted .311/.410/.420 with 112 runs, 38 extra-base hits, 86 walks and 155 stolen bases in 132 games.
Whether he's able to remain at shortstop is the only question. But with his speed, mediocre defense at any position should be easily outweighed by offensive contribution.
J. Meric/Getty Images

After emerging as one of the game's most exciting prospects in the South Atlantic League (Low-A) in 2011, Profar has developed into the top prospect in the game.
Only 19 years old, he played well above his age this season, his first at Double-A, in every facet of the game. The switch-hitting shortstop can do it all, as his five tools are displayed on a nightly basis. Most importantly, he demonstrated the ability to make regular adjustments at any advanced level—the true sign of an elite prospect.
In 126 games for Double-A Frisco, Profar posted a stat line of .281/.368/.452 with 26 doubles, 14 home runs, 16 stolen bases and a 79-66 ratio of strikeouts to walks.
Although it was a bit of a surprise that the Rangers promoted him directly to the major leagues in early September, with his advanced skill set and enormous upside, you can't blame their aggressiveness.
Profar is that special of a player and has shown that the more he's challenged, the better he becomes.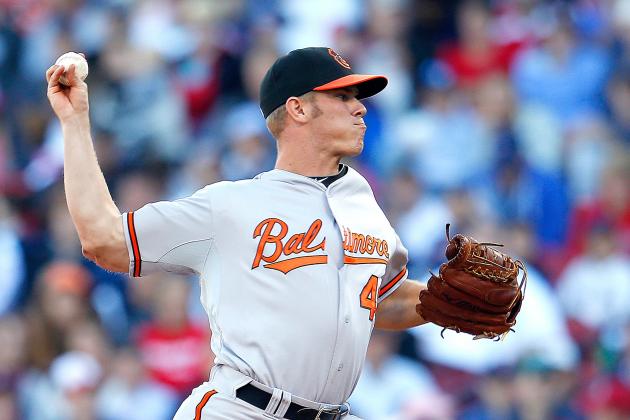 Jim Rogash/Getty Images

Even though he's the only pitcher on this exclusive list, Dylan Bundy, the top pitching prospect in the game, deserves the nomination. Making his professional debut this season as a 19-year-old, Bundy is now pitching in the major leagues after beginning the season at Low-A Delmarva.
The right-hander began his 2012 campaign in a historic fashion, firing 30 scoreless innings for Delmarva while only allowing five hits and two walks and registering 40 strikeouts. Bundy was a man among boys and clearly in need of a greater challenge.
Well, the Orioles offered him just that with a promotion to High-A Frederick after only eight starts. Although he wasn't nearly as unhittable as he was at Low-A, Bundy was still incredibly impressive at the higher level. In 12 starts spanning 57 innings, he posted a 2.84 ERA and 1.16 WHIP with a 66-18 ratio of strikeouts to walks.
The promotions didn't end there, obviously, as the Orioles promoted him to Double-A Bowie to finish the 2012 season. While he wasn't as effective, Bundy held his own at the level as he registered a 3.24 ERA in three starts and even started a postseason game on Sept. 5.
Despite claims that he would not pitch in the major leagues this season, a depleted bullpen forced the Orioles to call him up on Sept. 19. Since then, Bundy has thrown 1.2 scoreless innings for the O's in two appearances.