San Francisco 49ers: Grading the Week 3 Loss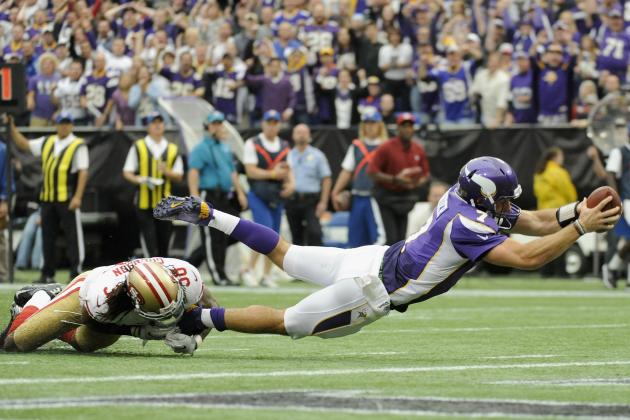 Hannah Foslien/Getty Images

I really thought I'd be cruising through these next two weeks of report cards with lots of words relating to "win" and "undefeated." But, things happen. Luckily, nothing like last night's Monday Night Football officiating debacle happened in the 49ers game.
A loss is a loss, and we have to deal with it. I'm sure Jim Harbaugh is all over the guys for their overall lackadaisical effort, but for now, it's my turn.
Alex Smith had his worst game of the season (though still better than a lot of haters were giving him credit for), the defense looked confused, and even David Akers failed us in a 24-13 loss to an inspired Minnesota Vikings team.
So, here we go. The first, hopefully last, awful report card for your San Francisco 49ers:
Begin Slideshow

»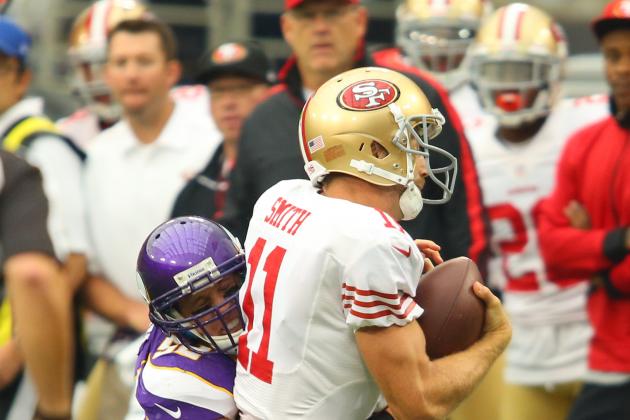 Adam Bettcher/Getty Images

If you were to grade Alex Smith's game simply based on Twitter feedback, you'd think the dude flunked out of school on the first day or something.
Let's break it down the good, bad and ugly way for Smith this week:
The Good
His actual stat line.
Smith went 24-of-35 with 204 yards and a touchdown before throwing his ill-advised interception.
Yes, he lost a fumble near the end of the game, but that's Joe Staley's fault. You try holding on to a football as your spine is being snapped by Jared Allen.
And the touchdown to Vernon Davis was absolutely perfect accuracy.
The Bad
Smith's decision-making wasn't the sharpest on Sunday.
Granted, he seemed to be getting bull-rushed on every play because the Vikings' blitz packages were driving the offensive line crazy. However, there were still a few times Smith made the wrong choice as far as scrambling or forcing a bad pass.
The Ugly
That silly interception.
We can give Smith a break since he hasn't thrown one to another team in about 387 games, but it was still pretty ugly. The pass was about three yards behind the intended target and right into the arms of Josh Robinson.
Let's hope this doesn't start an interception string for Smith.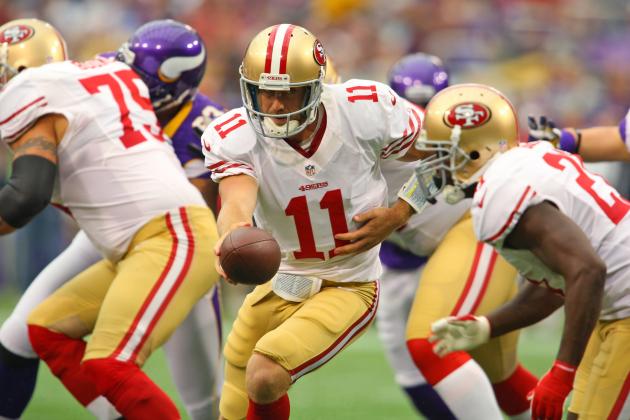 Adam Bettcher/Getty Images

WHAT? A B+ when we only got 89 yards on the ground all day?! WHAT?
Relax, people. Whenever Frank Gore was actually given the ball, he did damage. On the day, Gore went for an average of 5.3 yards on just 12 carries and 63 yards overall. He did lose a bad fumble, and that's why he lost points.
But unless you fully expect a back to just break off a 20-yard run every time he gets the ball, there was no way Gore was getting to 100—or into the end zone. The play-calling just didn't allow for it.
The offensive line was very good in running schemes on Sunday; there just weren't enough of those plays. I have no problem with the running game aside from the lost fumble, but I wouldn't worry.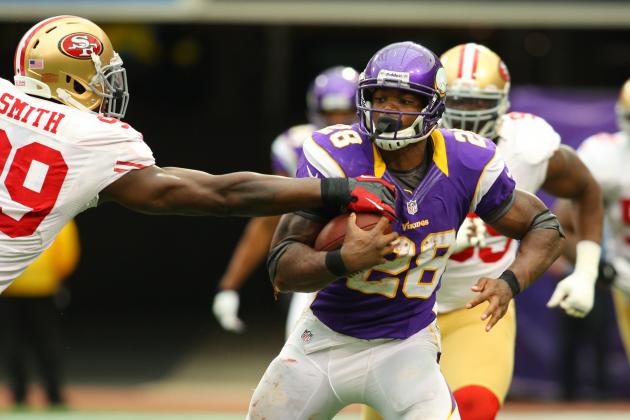 Adam Bettcher/Getty Images

I really never thought I'd see the day where the front seven received anything other than an A. It's incredibly disappointing, but the defensive linemen and linebackers were not at their sharpest against the Vikes.
Where do I even begin? Christian Ponder's touchdown scramble through the heart of the most ferocious, hard-hitting defense in football? The zero sacks? Adrian Peterson bowling people over at the end of the game?
At least we can point to the two forced fumbles that gave the Niners a fighting chance at the very end of the game. Still, the reason they got beat is largely due to the fact that the linebackers couldn't stick with tight end Kyle Rudolph or pick up the passes on check downs.
And don't even get me started on the lack of a pass-rush by this unit. It was painful to watch.
All this withstanding, the 49ers have the best front seven in the NFL, and I'm sure they intend to prove as much against the Jets this weekend.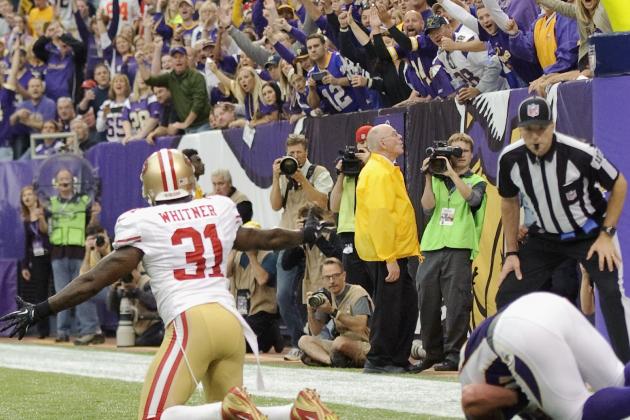 Hannah Foslien/Getty Images

The first touchdown pass was the fault of the linebackers failing to adjust and cover on Rudolph. The second one was arguably one of the luckier throws-and-catches I've ever witnessed.
Still, the secondary wasn't its usual self on Sunday.
Dashon Goldson and Donte Whitner looked flat, and Carlos Rogers was hardly a factor until recovering a late, meaningless fumble.
I don't know what it was, but the energy just didn't seem there for the 49ers secondary. Maybe that's why Percy Harvin was able to burn them for 89 yards on just nine catches.
And I know Christian Ponder had a grown-man game on Sunday, but it's still Christian Ponder—make him force a throw or two.
I'm shocked there wasn't even a deflected pass in this game against a young quarterback like him.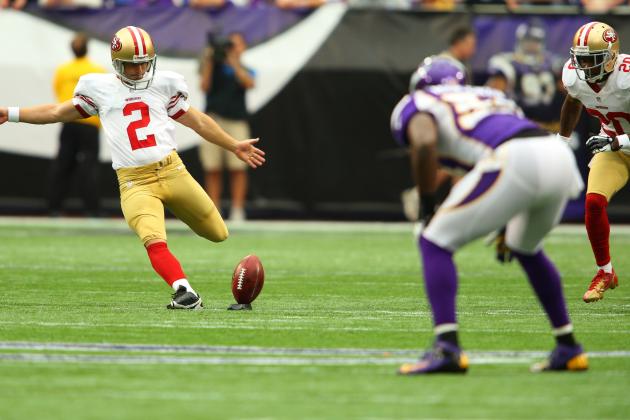 Adam Bettcher/Getty Images

This unit would have gotten an A if not for a blocked field goal on an attempt by Akers. It was a great play by the Vikings defender, but Akers looked like he kicked it a little low too.
Either way, we'll focus on the positives:
1. Percy Harvin was contained on returns. He's one of the most electric returners in the game, and the 49ers completely shut him down.
2. Andy Lee, like usual. It was just another day at the office for the Pro Bowler, who surprisingly only punted three times, but booted it huge every time.
3. Kyle Williams. Yep, you know that name. He averaged 72 yards on two kickoff returns and had some nice punt returns, too. Williams did his darnedest to keep the Niners in the game late, but they weren't able to convert.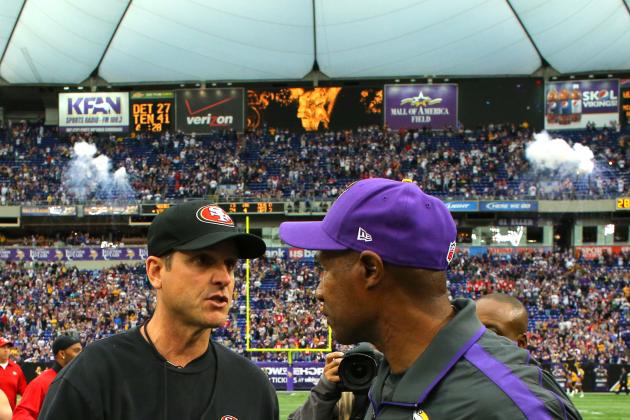 Adam Bettcher/Getty Images

This is one of those times when you can definitely place blame on the coaching staff. Sure, the players came out flat and executed poorly, but honestly, the game plan on both sides that was put in place was really awful.
It's the coaching staff's job to get the players hyped each week, which the 49ers usually have no problem with. But trying to execute a game plan that revolved around never handing the ball off to a premiere running back seems ridiculous. And it was.
On defense, the story was the same: not enough blitzing, the wrong coverage packages in many situations and completely ignoring the fact that getting a couple hits on Ponder could have changed the entire game.
Don't even get me started on Harbaugh's two magical challenges and extra timeouts. Yes, the referees didn't know what they were doing, but I'm pretty sure Harbaugh didn't, either.
This whole team has a lot to work on before Sunday.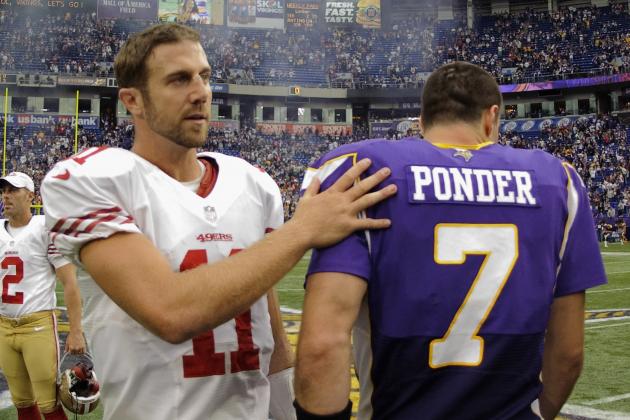 Hannah Foslien/Getty Images

The offense was actually pretty good—well, Alex Smith and Frank Gore were pretty good.
The game plan is what killed this team against Minnesota. Give the ball to Gore as many times as usual, and it's a whole different ball game.
That being said, Joe Staley had another rough game, and Smith threw an awful interception.
On defense, the lack of energy was pretty alarming and evident. The linebackers were getting beat on most passing routes, and the blitzes got absolutely zero pressure on a young quarterback.
To top if all off, Gore fumbled, Akers had a field goal blocked and the secondary got burned on a scramble by Ponder. Altogether, it was a poor effort by the 49ers. I was worried about the trap game, and it happened.
Now all we can wait for is to see how the team responds in New York this Sunday. Here's to hoping it's a good bounce-back!