The Top 5 Fantasy Football Waiver Wire Adds at Every Position for NFL Week 4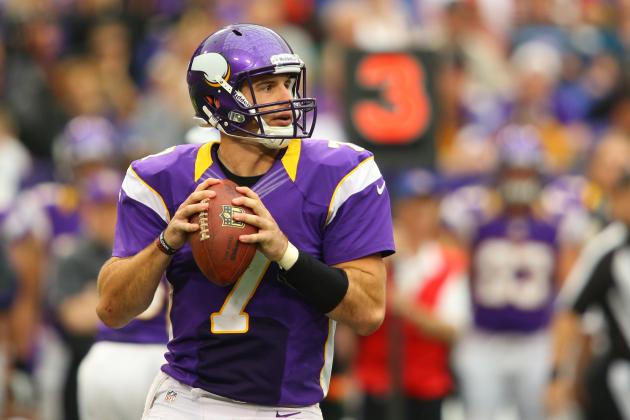 Adam Bettcher/Getty Images

Another week of fantasy football has passed, and it's now time to scour the waiver wire in order to improve your roster heading into Week 4. While the wire in many leagues is certainly thinning out, we saw some players step up their game to become valuable pickups.
Today we'll break down the top five fantasy football waiver-wire adds at every position as we head into Week 4.
Please note that any percentages used in this article come from Yahoo! Sports.
Begin Slideshow

»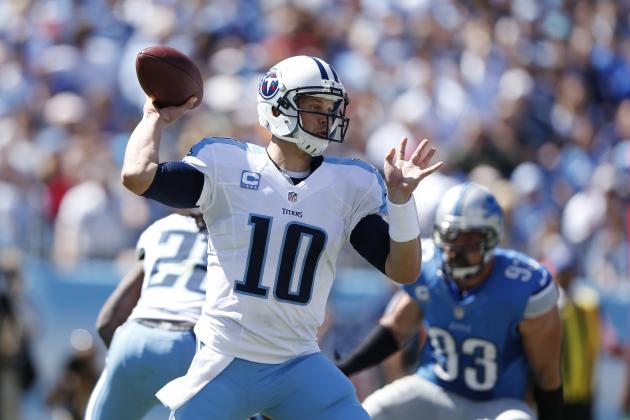 Joe Robbins/Getty Images

1. Christian Ponder, Minnesota Vikings
Whenever you go off for three touchdowns and zero interceptions against the best defense in the league, you become an instant pickup off the waiver wire.
While Ponder didn't throw for a ton of yards against the San Francisco 49ers (only 198), he was efficient moving the ball through the air. He also picked up 33 yards and a touchdown on the ground while showing off his athleticism.
Ponder has been quietly moving up the waiver-wire rankings, and this week he gets the porous defense of the Detroit Lions. Look for him to put up huge numbers this week.
2. Ryan Fitzpatrick, Buffalo Bills
Despite starting the season slowly, Ryan Fitzpatrick is finally starting to put everything together. He finished Sunday's game against the Cleveland Browns with 208 yards and three touchdowns.
The big reason that Fitzpatrick needs to be picked up off the waiver wire this week is because of the injuries to C.J. Spiller and Fred Jackson. With Tashard Choice likely to take the majority of snaps next week, the Bills should be relying on Fitzpatrick to carry the offense.
With the New England Patriots on the schedule in Week 4, Fitzpatrick should have no problem posting better numbers this week than he did last week.
3. Jake Locker, Tennessee Titans
Through the first two weeks of the season, it appeared as if Tennessee had made the wrong choice by naming Locker. However, in Week 3 Locker had a huge game, including 378 passing yards and two touchdowns.
While he does face a much better defense in the Houston Texans this week, Locker should still be able to put up quality numbers. He's become more confident in his weapons as the season has progressed and finally looks like a starting fantasy football quarterback.
4. Andy Dalton, Cincinnati Bengals
The fact that Dalton is only owned in 52 percent of leagues is just ridiculous. It isn't just the fact that Dalton threw for 328 yards and three touchdowns in Week 3, either.
Dalton is quickly improving and becoming more than just a game manager for the Bengals. Of course, it helps to have a wide receiver like A.J. Green to throw to.
Don't be surprised if Dalton continues to have games like the one he did in Week 3 as the season continues.
5. Nick Foles, Philadelphia Eagles
This waiver-wire pickup is rather risky, but it has the potential to have a huge payoff.
While there is little doubt that Michael Vick is the starter in Philadelphia, if he continues to play as poorly as he has through three weeks, I can't see how the Eagles can continue with him as the No. 1 quarterback.
With Foles looking spectacular in the preseason, the Eagles could decide to go to the rookie sooner than later. If they do that, he would likely become the waiver-wire pickup of the year.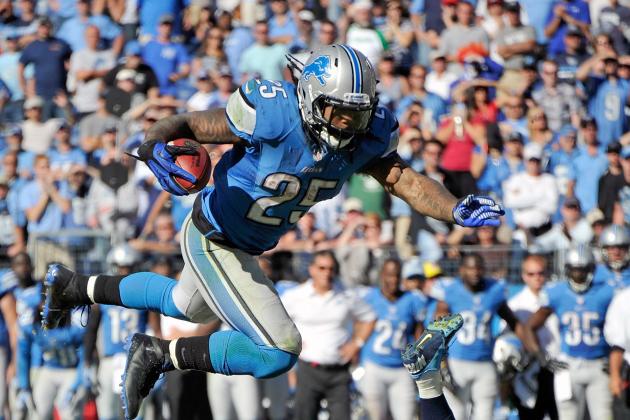 Frederick Breedon/Getty Images

1. Mikel Leshoure, Detroit Lions
Coming off his two-game suspension, everyone knew Leshoure was going to see some touches in Week 3. However, no one knew that he was going to become the Lions' No. 1 back this quickly.
On Sunday, Leshoure had a total of 30 touches for 134 total yards and a touchdown. Those aren't just starting running back numbers, those are top-10 running back numbers for fantasy football.
If Leshoure is still available in your league, you need to do everything in your power to pick him up. He is going to be a huge part of the offense in Detroit moving forward.
2. Bilal Powell, New York Jets
Shonn Greene had another terrible performance for the Jets on Sunday. In fact, Powell received nine fewer carries (10 to 19) but had five more yards than Greene (45 to 40).
Look for Greene to continue to lose carries to Powell in the upcoming weeks. While Powell may never become a legitimate starter in many leagues, he could become a solid flex option as we get into the thick of bye weeks in the NFL.
3. Daniel Thomas, Miami Dolphins
Even though Reggie Bush doesn't have a serious injury, Thomas is still a quality pickup off the waiver wire this week.
He was seeing plenty of touches before Bush was injured, and after he left the game, Thomas became the No. 1 back for the Dolphins. While Thomas could ultimately be overtaken by rookie Lamar Miller, for the time being he appears set as the No. 2 running back on the depth chart.
That should make him a viable flex option while Bush is trying to get back to 100 percent.
4. Ronnie Hillman, Denver Broncos
After struggling to move up the depth chart, Hillman finally saw some extended action on Sunday against the Houston Texans. He appears set as the third-down back for Denver, and that gives him some value in fantasy football.
While he only received three touches this week, those numbers should continue to increase little by little in the coming weeks.
5. Tashard Choice, Buffalo Bills
With both C.J. Spiller and Fred Jackson sidelined with injuries, Choice becomes the main man for the Bills.
The reason he ranks so low as a waiver-wire addition is because once Spiller or Jackson returns he'll be worthless in the majority of leagues. Get him while you can, but be ready to drop him once Buffalo's backfield gets back to full strength.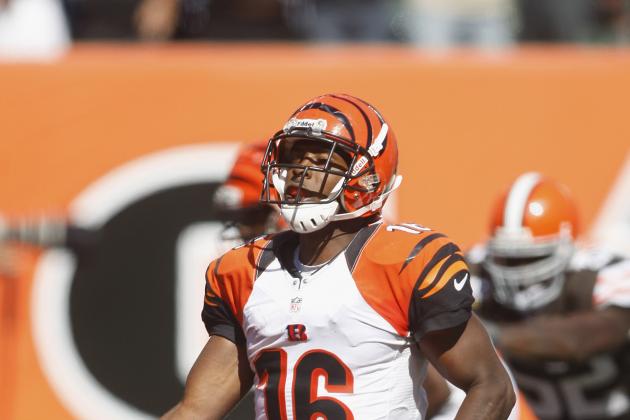 John Grieshop/Getty Images

1. Andrew Hawkins, Cincinnati Bengals
Not only has Hawkins established himself as one of Andy Dalton's favorite targets, but he has also become quite the deep threat for Cincinnati.
Through three games, Hawkins has 208 receiving yards and two touchdowns. While those aren't mind-boggling numbers, they're good enough to warrant being the top addition off the waiver wire this week.
2. T.Y. Hilton, Indianapolis Colts
The rookie out of Florida International had a huge game on Sunday to the tune of 113 yards and a touchdown. With Austin Collie out for the season, Hilton has quickly become a dynamic playmaker for Andrew Luck.
Hilton's speed and ability to make plays with the ball in his hands makes him a threat to score every single time he touches the ball. If he can continue to improve his chemistry with Luck, he could become a solid starting option in many leagues.
3. Jerome Simpson, Minnesota Vikings
Simpson is coming off a three-game suspension and should instantly take the role as the No. 2 receiver for the Vikings.
With opposing defenses honing in on Kyle Rudolph and Percy Harvin, Simpson could see himself in single coverage quite often throughout the season. He has the abilities to become a dangerous weapon for Minnesota and quite the steal off the waiver wire in fantasy football.
4. Andre Roberts, Arizona Cardinals
Last week I would have told you to stay away from any Cardinals receiver not named Larry Fitzgerald, but after Sunday's performance, it looks like Roberts could become a solid flex option.
He only had three receptions for 55 yards, but he is at least getting targeted some by Kevin Kolb. He'll be a risky starting option, but if he can string together a few solid performances he could make a decent option during bye weeks.
5. Cecil Shorts, Jacksonville Jaguars
This is the riskiest of the pickups this week, simply because it is hard to trust Blaine Gabbert.
However, Shorts has gotten some touches this season and has proven capable of making big plays when needed. He'll need to show some consistency in order to even be considered as a flex option, but he is definitely capable of having a huge week every now and then.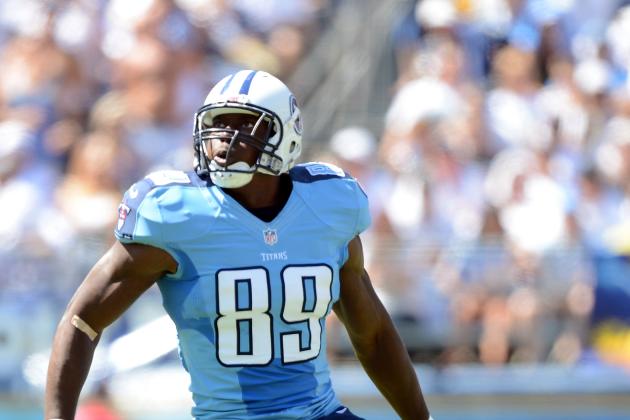 Harry How/Getty Images

1. Kyle Rudolph, Minnesota Vikings
If you are in one of the 58 percent of leagues that Rudolph isn't currently owned in, he is a must-have for your roster.
Rudolph has established himself this year as the top red-zone threat for the Vikings and Christian Ponder. Through three games, he already has 138 receiving yards and three touchdowns. While those aren't stellar numbers, the fact that he is averaging a touchdown a game is huge for fantasy football.
The best part about Rudolph is that he'll likely see more targets as the season progresses. Don't be surprised if he ends up being one of the top scoring tight ends this year.
2. Jared Cook, Tennessee Titans
After weeks of being a waiver-wire letdown, Cook finally reached his potential with Jake Locker last week. He went off against the Detroit Lions with 77 receiving yards and a touchdown.
Considering that Locker is continuing to improve his game and beginning to look more towards Cook, it is now time to pick up this ultra-talented tight end.
3. Heath Miller, Pittsburgh Steelers
Despite being one of the better overall tight ends in the NFL, Miller has never been much of a fantasy football option. However, that might finally be changing this year.
With the Steelers lacking much of a run game, the team has been forced to throw more than we're used to seeing. Last week was a huge week for Ben Roethlisberger, and Miller was the biggest beneficiary, with eight receptions, 60 yards and two touchdowns.
While he might not always have this huge of a week, he could finally become worthy of a start on your roster.
4. Brandon Myers, Oakland Raiders
The Raiders offense continues to look good, and Myers continues to get targets from Carson Palmer.
In Week 2 he had six receptions for 86 yards, and this past week he had four receptions for 55 yards. Neither of those numbers are worth starting, but if he continues to gel with Palmer he could have some major upside later in the season.
5. Anthony Fasano, Miami Dolphins
It's hard to trust Ryan Tannehill at this point, but the rookie quarterback has shown progression and appears to like Fasano.
At this point, Fasano is nothing more than a replacement during bye weeks, but there is plenty of potential for him to become a starter in fantasy football.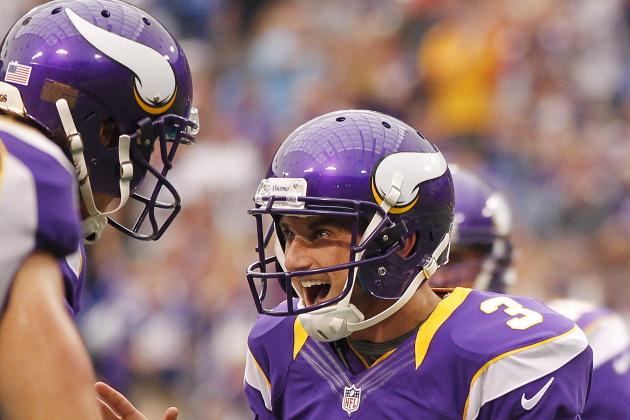 Andy King/Getty Images

1. Blair Walsh, Minnesota Vikings
The Vikings get the Detroit Lions this week, meaning that there will be plenty of points coming from Walsh's foot this week.
Pick him up now, because there is a good chance he outscores every other kicker in the league.
2. Lawrence Tynes, New York Giants
It's surprising to find Tynes only owned in 11 percent of leagues right now considering the potency of the Giants offense.
If he is available in your league, he's probably a better option than who you currently have as your kicker.
3. Ryan Succop, Kansas City Chiefs
After looking terrible in the first two weeks, the Chiefs finally put some offense on the board against the New Orleans Saints.
While his matchup with the San Diego Chargers isn't ideal, as long as Jamaal Charles can pound the ball on the ground, Succop could have a big week.
4. Connor Barth, Tampa Bay Buccaneers
This week, Tampa Bay gets the Washington Redskins, who gave up 38 points last week. Even with the Buccaneers struggling offensively, they could put up some major points against a weak Washington defense.
5. Jay Feely, Arizona Cardinals
The Cardinals seem like a legitimate threat to contend after destroying the Philadelphia Eagles on Sunday. While Kevin Kolb is still questionable, it appears as if this team will be able to put points on the board.
That makes Feely a quality pickup off the waiver wire heading into Week 4.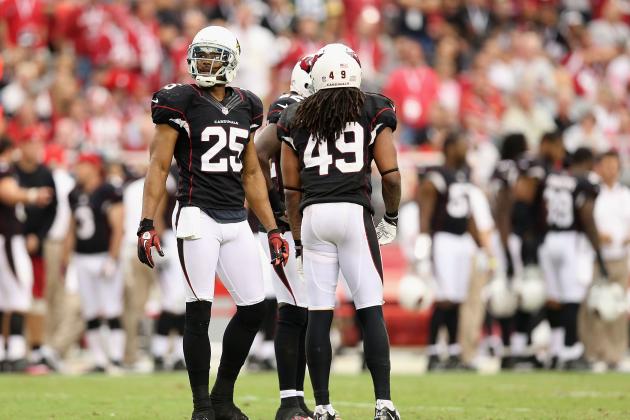 Christian Petersen/Getty Images

1. Arizona Cardinals
Not only does Arizona have one of the best defenses in the NFL, but their defense is extremely friendly to fantasy football. They create turnovers and do a great job of keeping teams out of the end zone.
They're only owned in 48 percent of leagues, but you can guarantee that those percentages will rise heading into Week 4. Snatch this defense up, and you can be confident that they'll be a quality starting defense from here on out.
2. Cincinnati Bengals
Cincinnati hasn't been very good on defense this year, but this week they get to play against the Jacksonville Jaguars. As long as they can slow down Maurice Jones-Drew, they should have no problem being a top-scoring defense this week in fantasy football.
3. Dallas Cowboys
While the Chicago Bears have the ability to put points on the board, they also have the ability to give up double-digit sacks in a game.
Considering how talented the Cowboys are at getting after the quarterback, their defense is certainly worth a pickup off the waiver wire this week.
4. St. Louis Rams
Anyone who watched the Seattle Seahawks struggle offensively against the Green Bay Packers on Monday night saw just how bad the Seahawks offense can be.
This week the Rams get that Seattle offense at home, and it wouldn't be surprising to see them shut down the Seahawks much like Green Bay did.
5. Washington Redskins
I know it is risky picking up a defense that just gave up 38 points the previous week, but the Redskins get the Tampa Bay Buccaneers this week.
Tampa only managed 10 points in Week 3, so Washington certainly has a good chance at being successful this week on defense. If your regular defense is on a bye this week, the Redskins defense could be a good one-week pickup.