5 Minor League Baseball Prospects Who Made the Biggest Leaps in 2012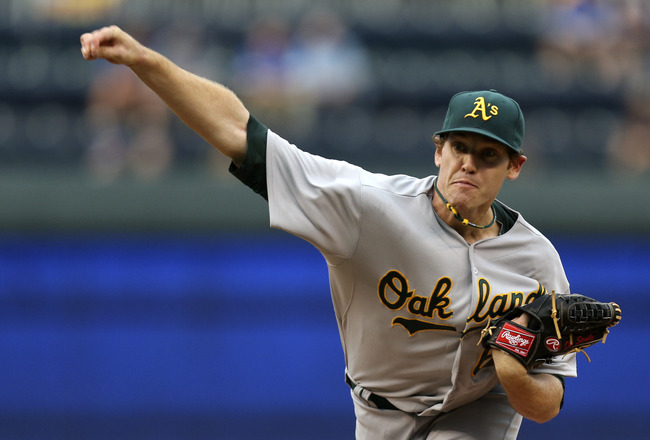 Ed Zurga/Getty Images
The 2012 minor league season featured breakout prospects at nearly every level, as strong performances, whether on the mound or at the plate, propelled them up their organization's respective depth chart.
However, not every impressive season was a breakout campaign, per se; some prospects simply significantly improved relative to their previous season.
Here is a look at five prospects who showed vast improvements in 2012, many of whom did so in the face of greater competition at a more advanced level.
Xander Bogaerts, SS, Boston Red Sox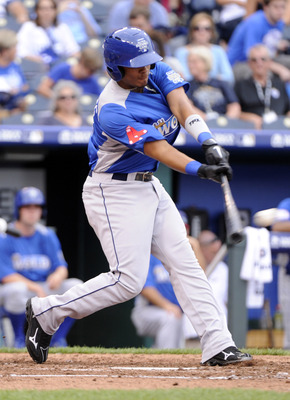 H. Darr Beiser-USA TODAY
After belting 16 home runs and posting a 120 wRC+ in 72 games (via Fangraphs) last season as an 18-year-old at Low-A Greenville, Bogaerts proved to be more advanced than expected this season at High-A.
In his age-19 season, Bogaerts lowered his strikeout rate (19.6%), improved his walk rate (9.9%) and, in general, was substantially more productive (143 wRC+). His performance ultimately earned the right-handed hitter a late-season promotion to Double-A where he showed no signs of slowing down, posting a 157 wRC+ in 23 games.
Tyler Austin, OF, New York Yankees
Courtesy of MiLB.com
Left off nearly every prospect list headed into the 2012 season despite posting a .997 OPS between two levels last season as a 19-year-old, Austin established himself as a legitimate top-50 prospect in 2012 with an even better performance at higher levels.
Beginning the season at Low-A, the right-handed hitting outfielder posted a 1.002 OPS in 70 games before a midseason promotion to High-A Tampa. Although his plate discipline was challenged, Austin adjusted quickly to the improved competition and registered an .864 OPS in 36 games.
His breakout campaign as a 20-year-old earned him a late-season promotion to Double-A in time for the Eastern League playoffs.
Billy Hamilton, SS, Cincinnati Reds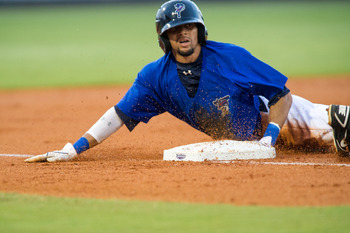 Michael Chang/Getty Images
Even though Hamilton stole 103 bases and posted a .700 OPS last year in his age-20 season at Low-A Dayton, the speedy switch hitter's plate discipline was unimpressive. In 135 games, Hamilton fanned 133 times compared to only 52 walks.
This season, however, Hamilton came into his own—and I'm not just talking about setting the modern stolen base record with 155 in 132 games. Beginning the 2012 season at High-A, he vastly improved his on-base skills, drawing 70 walks and fanning only 50 times in 82 games. And, as expected, his increased presence on the base paths led to a significantly higher stolen base total (104 in 82 games).
The Reds offered Hamilton an aggressive promotion following the XM Futures Game, and, somewhat surprisingly, he maintained his new-and-improved plate discipline, coaxing 36 walks and striking out only 43 times in 50 games.
Tony Cingrani, LHP, Cincinnati Reds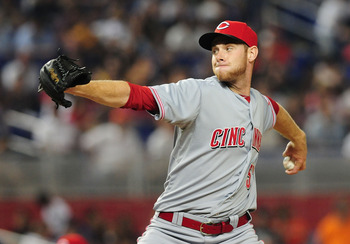 Jason Arnold/Getty Images
Selected by the Reds in the third round of the 2011 draft out of Rice University, Cingrani made a quick, immediate impact by registering a 1.75 ERA, 14.0 K/9 and 1.1 BB/9 in 51.1 innings in the rookie-level Pioneer League.
A closer in college, the Reds remained steadfast in their development of the left-hander as a starting pitcher, assigning him to High-A Bakersfield—skipping two levels—to begin the 2012 season. Cingrani didn't miss a beat, posting a 5-1 record, 1.73 ERA, 10.6 K/9 and 3.2 BB/9 over 10 starts (56.2 innings).
He was then challenged at the midseason poll with a promotion to Double-A Pensacola where, unsurprisingly, he continued to deal. The southpaw logged 89.1 innings for the Blue Wahoos and registered 2.12 ERA, 10.2 K/9 and 3.9 BB/9 before he was called up to the major leagues in early September.
So, in a little over a year since he was drafted, Cingrani went from an older player dominating a rookie-level league to a September call-up.
Dan Straily, RHP, Oakland Athletics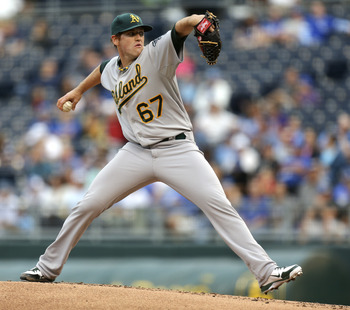 Ed Zurga/Getty Images
After an 11-9 season at High-A Stockton in which he registered a 3.87 ERA, 8.6 K/9 and 2.2 BB/9, Straily was, at best, a pop-up prospect headed into the 2012 season.
The 23-year-old right-hander began his third full professional season at Double-A Midland and quickly established himself as one of baseball's top pitching prospects thanks to a 1.09 WHIP, 11.4 K/9 and 2.4 BB/9 over 85.1 innings.
His performance at Midland earned him a promotion to Triple-A Sacramento where his four-pitch mix of above-average offerings was equally effective. The right-hander registered a 2.02 ERA, 11.1 K/9 and 2.6 BB/9 and was subsequently recalled by the A's to make his big league debut on August 3.
Keep Reading