New York Yankees: 4 Reasons It Wouldn't Be Smart to Replace Joe Girardi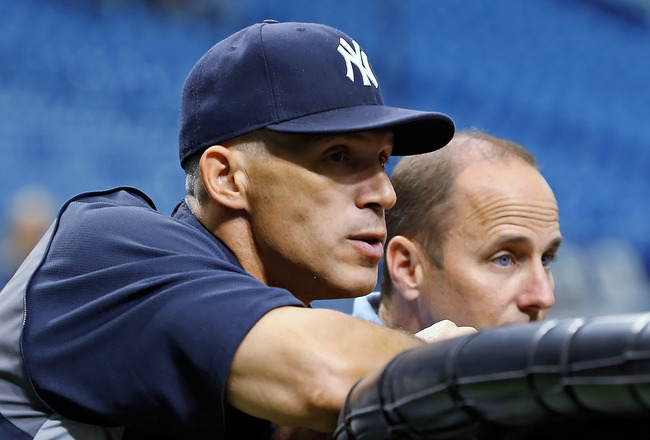 New York Yankees manager Joe Girardi sits next to GM Brian Cashman.
J. Meric/Getty Images
Joe Girardi's report card for the 2012 season is obviously incomplete.
We've seen the Yankees play some extraordinary baseball this season, but there have also been times when the team appears uninspired.
Although Girardi's incessant need to micromanage every aspect of the game has led some pundits to call for his firing (pending a disappointing conclusion to the Yankees 2012 campaign), the team would be wise to stick with him for at least one more season.
If the Bombers fail to make noise in the playoffs this October, Yankees brass will have a decision to make.
There are certainly benefits and drawbacks to having Joe Girardi as the manager of the team going forward. However, the risks of firing a World Series winning player and manager could far outweigh the benefits of cutting him loose.
Let's take a look at four specific reasons why the Yanks should keep Joe Girardi for the 2013 season.
Continuity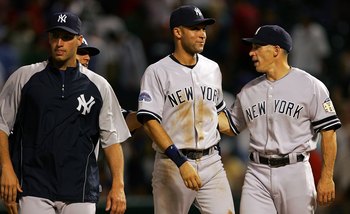 Yankees' players Derek Jeter and Andy Pettitte walk with manager Joe Girardi.
Ronald Martinez/Getty Images
The Yankees have never been known to panic, and firing Joe Girardi after this season would come off as a desperate attempt to squeeze a little more life out of an aging roster.
Sure, his tendency to over manage has flustered many outsiders, but Girardi has a strong relationship with his players, coaches and front office.
Bringing in a new candidate to replace him would bring about a large degree of uncertainty heading into next season. Not only would it reek of desperation and distress, but firing Joe Girardi would be setting up his replacement for failure.
This is an aging roster, with a limited amount of time to win another title.
With that, the team has Mark Teixeira signed through the 2016 season, Alex Rodriguez signed through 2017, along with a 38-year old shortstop that makes over $17 million a year. If the Yankees fall flat on their face with an old, cash strapped, lackluster team with a replacement at the helm, all hell would break loose in the Bronx.
Joe Girardi provides continuity, championship-caliber experience as well as the ability to manage aging superstars as their careers begin to tail off.
The Yankees could not ask for anymore than that right now.
Track Record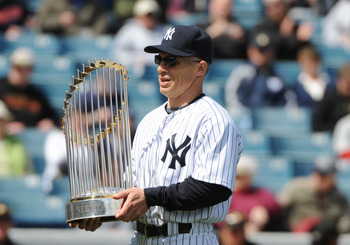 Yankees manager Joe Girardi hoists his 2009 World Series Trophy.
Al Messerschmidt/Getty Images
Save for his first season as manager, Joe Girardi has always had the Yankees in a position to succeed.
Although he has not assembled a Joe Torre-like dynasty, Girardi has won at least 95 games for each of the last three seasons, including a World Series title in 2009. This year, he has the Yankees in prime position to win their third AL East title in four years.
Not only does Girardi have rare experience that can only be matched by a select few, but he has developed good relationships with the people around him. While some delight in questioning his in-game strategy, Girardi undoubtedly possesses an elite knowledge of the game.
Not just anybody can manage the New York Yankees.
It takes a guy with thick skin, an unbelievable resume and the ability to manage superstar players. There is a short list of people who can do this job, and Joe Girardi has proven he can be extremely successful at it.
It doesn't make sense to replace a guy that has an impressive track record, outstanding relationships with his players and who continually puts his team in positions to succeed.
Managers Don't Play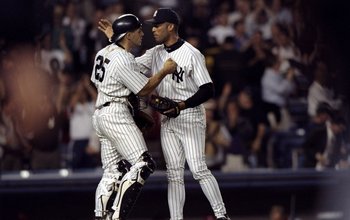 Former New York Yankees catcher Joe Girardi embraces Mariano Rivera.
Ezra Shaw/Getty Images
Joe Girardi was a good player back in the day.
He won three titles as a catcher with the Yankees and caught two no-hitters (Dwight Gooden in 1996, David Cone's perfect game in 1999) throughout his career. However, those days are long gone.
With that, it's time to stop attributing all the Yankees shortcomings on the field to his managerial skills.
The Bombers have serious deficiencies on their roster.
Despite being the oldest contending team in the league, the Yankees offense relies heavily upon the home run ball. When the bats are hot, the Yankees generally win. However, against improved playoff pitching, the Yanks have had trouble producing runs with the long ball.
On top of that, the starting-pitching rotation has been a patchwork job over the last two seasons.
While the Yankees undoubtedly possess elite talent, the reason they haven't won a championship since 2009 is because they have never been the best team. It's as simple as that. Blaming Joe Girardi because his players got old and injury prone doesn't make any sense.
He should be commended for the job he has done so far, not fired for it.
Who Would Replace Him?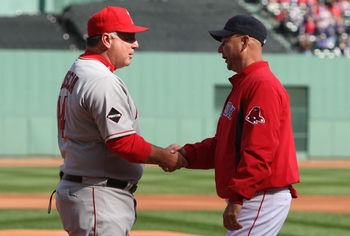 Mike Scioscia and Terry Francona shake hands.
Elsa/Getty Images
Calling for Joe Girardi to be fired is one thing.
Figuring out who would replace him is a whole different ball game.
There is an extremely short list of candidates that are capable of effectively managing the New York Yankees. If the Los Angeles Angels fail to make the playoffs it's possible that Mike Scioscia gets fired. With that, former Boston Red Sox manager Terry Francona is on the market.
But is there really anybody out there that is worth firing Joe Girardi over?
You can't just fire a qualified, successful manager like Joe Girardi and not know who you're going to bring in to replace him.
Although fans are understandably becoming upset with the Yankees inability to win a World Series with a $200 million payroll, the changes have to come from the players on the field, not from the coaching staff.
Keep Reading

New York Yankees: Like this team?