Dallas Cowboys vs. Tampa Bay Buccaneers: 5 Things We Learned About Big D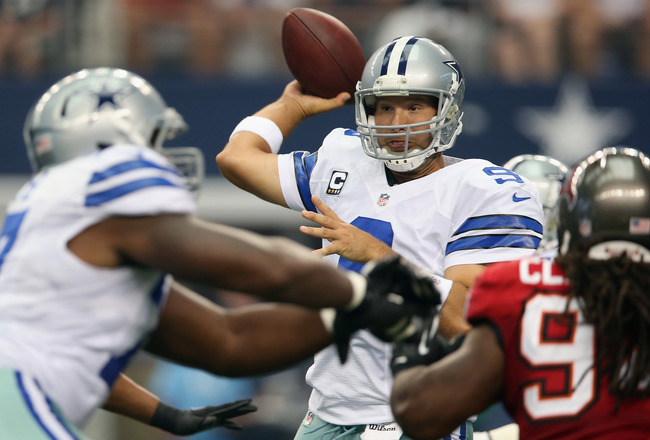 Ronald Martinez/Getty Images
The Dallas Cowboys earned a rather messy win in their home opener against the Tampa Bay Buccaneers, and there were more than a few noticeable themes throughout this contest.
Dallas won by just six points against a team that ranked No. 32 in the NFL against the pass heading into the game, but somehow, Miles Austin had a big day receiving. Let's look at the five things we learned about the Cowboys during this Week 3 matchup.
Costly Mistakes Aren't Going Away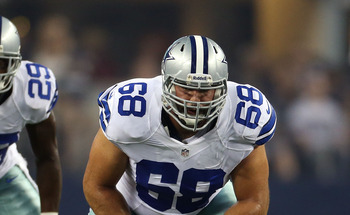 Ronald Martinez/Getty Images
The Cowboys have been no strangers to penalties in recent years, and this game was full of them. That, paired with a few other offensive mistakes, are part of the reason Dallas didn't light up its 60-yard-long scoreboard.
You'll notice I chose Doug Free as the cover boy for this slide. That decision was made because he counted for four of the Cowboys' 15 penalties on the day.
While not all of those penalties happened on the offensive side of the ball, giving away field position is never a good trait for a team to have.
Outside of the penalty problem, the Dallas offense saw Tony Romo throwing high to his receivers much of the first half of this ballgame. I took to Twitter to ask Bleacher Report NFL Draft Lead Writer Matt Miller about Romo's shaky throws, and he had this to say:
@alexkhall Flipped over to the Dallas game, see what you mean. Romo looks high on everything I've seen.

— Matt Miller (@nfldraftscout) September 23, 2012
No. 9 was able to get back on track through out the second half of this ballgame, but there were points left on the table due to this early play from Romo.
Defense Came to Play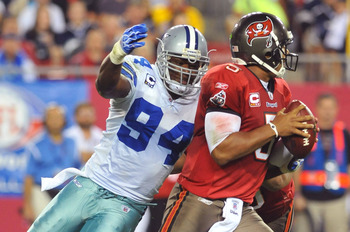 Al Messerschmidt/Getty Images
Dallas came into Week 3 with the No. 3 passing defense in the NFL but just the No. 23-ranked rushing D. Those rankings might just see a positive change after this week is in the books, considering how dominant Rob Ryan's unit was against the Bucs.
DeMarcus Ware and Co. harassed Josh Freeman and Doug Martin all day long, keeping both players to a combined total of just 163 total yards. Wide receiver Vincent Jackson had just one catch in garbage time despite being targeted by Freeman over five times in the contest.
Jenna Laine of Sports Xchange shared a great statistic about the Bucs' passing game on Twitter, tweeting:
Bucs receivers targeted 27 times. Came away with only 10 catches. More observations: sassysideofsports.com/2012/09/buccan…

— JennaLaineBucs (@JennaLaineBucs) September 23, 2012
Ryan's defense allowed Tampa Bay's offense to march into Dallas territory just once all first half, and that comes with an asterisk when you consider it came thanks to a Tony Romo interception.
Freeman looked hurried and flustered almost from the start of the game, while Martin was only able to come up with 53 yards on almost 20 carries. The starting running back averaged just 2.7 yards per carry in his first trip to Dallas Cowboys Stadium as a Buccaneer.
This defensive unit for Dallas created two turnovers and found a way to fight through the injury to Barry Church in the secondary.
Brandon Carr was placed in the safety position quite a few times thanks to injuries to Church and Gerald Sensabaugh in the secondary and played surprisingly well.
The Bucs were unable to take advantage of Carr's unfamiliarity with the position, surprising considering Fox Sports' Joe Buck reported during the game it was his first time playing the position since the 11th grade.
Cowboys Can Indeed Create Turnovers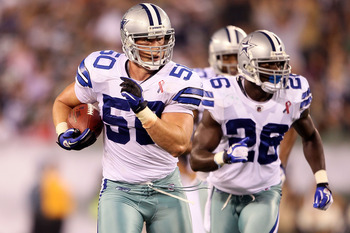 Elsa/Getty Images
Dallas hadn't exactly been the greatest at creating turnovers through the 2012 season's first two games, but the team did their best to change that against Tampa Bay.
Sean Lee was the first to get in on the action when he intercepted Freeman in the first quarter and set the Cowboys offense up with prime field position. From there, DeMarcus Ware decided to get in on the fun.
The multi-time Pro Bowl linebacker forced Freeman to cough up the football two times in the game, both times earning himself a sack and even recovering one fumble all by himself.
Dallas also forced new Buccaneers player Jordan Shipley to fumble during a punt return during the first half. The Cowboys were able to recover the aforementioned fumble, posting a total of three forced fumbles and one interception on the day.
Offense Unable to Get Fully Rolling for Second Straight Game
Christian Petersen/Getty Images
From Romo's high throw to Jason Witten's two costly drops, the Cowboys offense looked more like the unit that played against Seattle than the one that played against the Giants Week 1.
Austin was able to record over 100 yards on the day, but 45 of those yards came on the one long pass of the day from Romo.
Dez Bryant and Kevin Ogletree were able to grab a total of 11 passes between the two of them, but the unit as a whole never really had a drive that made you say "wow, that's what the Cowboys can do when things are going right."
The Cowboys won this game in spite of the fumble Romo gave away, the interception he threw to start the game and the three hard-hitting sacks he took from Michael Bennett.
The Cowboys offense were basically put into the red zone on two occasions thanks to Lee's interception and Bryant's long punt return, yet still posted under 20 points.
Sure, there were flashes of the Dallas offense that shocked the Giants in the Meadowlands, but those great plays were followed by false starts, holding calls or turnovers.
Running Game Struggles Once Again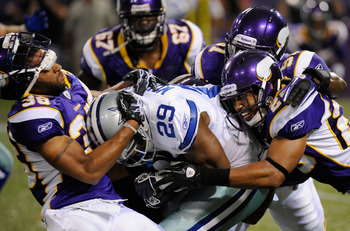 Hannah Foslien/Getty Images
Running back DeMarco Murray came back from his 2011 season-ending injury with a bang against the Giants in the 2012 season opener, but has not been able to reach those heights since.
New York allowed Murray to rush for 131 yards in the first meeting between the NFC East rivals, but it's been all downhill since then for No. 29.
The Seahawks stuffed Murray for just 44 yards on 12 carries up in Seattle in Week 2, and the Bucs were able to do pretty much the same on Murray's home turf in Week 3.
For all the talk about how underrated and stingy the 'Hawks defense is, the Buccaneers actually held Murray to fewer yards than their NFC West counterparts. Tampa Bay only allowed Murray to find 38 yards on 18 carries despite his one touchdown. Keep in mind, 11 of Murray's 38 yards came on one run, so those other 27 were earned on the other 17 carries.
Taking away his 11-yard run, Murray averaged just 1.5 yards per carry on the ground against the Bucs. Dallas needs to find a way to get more out of Murray in the running game, because history shows you can't win the Super Bowl with an offense that's essentially one-dimensional.
To head coach Jason Garrett's credit, he never gave up on the run game during the Week 3 contest, but he needs to spend a long time in the film room before Week 4 and find what is working and what clearly isn't for Murray.
Keep Reading

Dallas Cowboys: Like this team?