Fantasy Football Rankings 2012: 10 Early-Round Picks Who Have Disappointed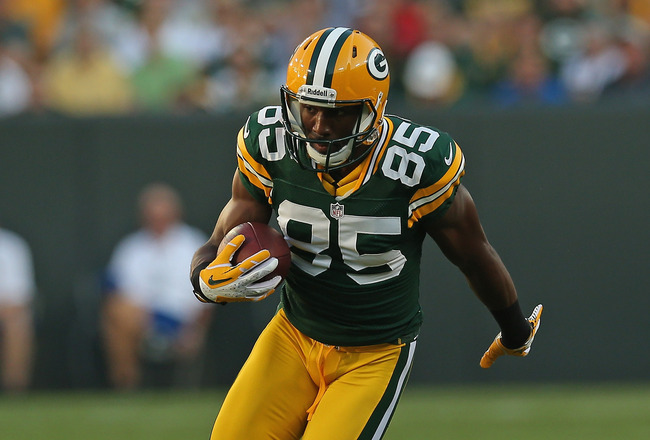 Jonathan Daniel/Getty Images
Fantasy football owners are constantly checking their rosters and looking for the right players, especially early in the season. If you are running a team in 2012, chances are there is someone whom you took with a high draft pick that is not currently performing up to a stellar level.
Fantasy football is full of surprises every year. There are players who come out of nowhere to help a fantasy owner win their league and players who make an owner look silly for taking them so early in the draft.
This list looks at 10 players who are currently leaving owners wishing for more. These players were likely drafted in the first few rounds of most fantasy drafts. Because of the players being picked in early rounds, expectations for fantasy points are high.
The guys on this list were all ranked highly going into the season but as of now are not at the top of their position rankings.
If you have a player on this list, don't panic just yet, it's still very early in the 2012 season. Several of the following players actually had solid performances in Week 3 and will look to build on that success.
Note: This list uses ESPN standard league pre-draft rankings and current position rankings
*Position ranking do not reflect Week 3 statistics, but will be updated on Tuesday.
Players Who Almost Made the List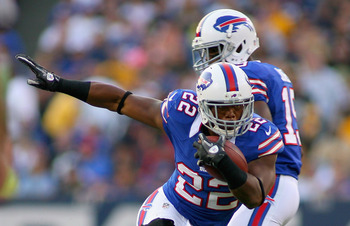 Rick Stewart/Getty Images
1. Tony Romo, QB
Romo was close to landing on this list due to his lackluster performance so far in 2012. Romo started off with a 23-point night in Week 1, only to follow it up with 12 in Week 2 and only 5 in Week 3. Owners likely did not waste a high pick on Romo, which tempers expectations for him.
2. Fred Jackson, RB
Jackson is a disappointment to owners due to the fact that he once again went out with a significant injury. Jackson had registered on one point before leaving the Week 1 game with an injury. If Jackson does return, he should be able to put up solid numbers and help out his owners later in the season.
3. Matt Forte, RB

Forte was off to a great 2012 when he left the Week 2 game against Green Bay with an injury. Forte dazzled owners with an 18-point performance in Week 1. He had earned seven points before going out with the injury in Week 2.
4. Greg Jennings, WR

Jennings was still among the first few receivers drafted by fantasy owners this year. Unfortunately, Jennings had only three points in Week 1. He is currently injured, and owners hope that he can recover soon and provide them with the expected fantasy production.
10. Steven Jackson, RB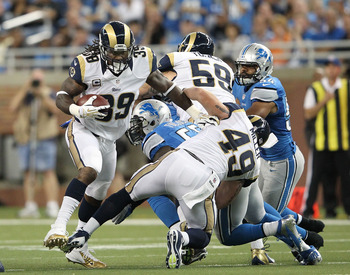 Leon Halip/Getty Images
Projected Position Rank: 13
Current Position Rank: 31
When owners select Steven Jackson, they always know it's a risk. Jackson is almost sure to be banged up and possibly miss time at some point throughout the year.
Jackson is currently limited with a groin injury and has failed to reach double-digit fantasy points in any of his first three games. While owners no longer expect giant numbers from Jackson, a No. 1 running back in the NFL should be able to produce better numbers.
Jackson was likely taken in the third round or later with mild expectations, which lands him at the bottom of this list.
9. Wes Welker, WR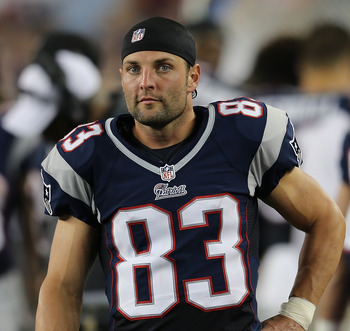 Jim Rogash/Getty Images
Projected Position Rank: 7
Current Position Rank: 55
With the emergence of tight ends Rob Gronkowski and Aaron Hernandez in New England, it's getting tougher for Welker to be a huge part of the New England passing game. Welker gave owners only one point in Week 1 and nine points in Week 2. Welker saw his role increase in Week 2 when Hernandez went out with an injury.
Welker had only managed eight receptions and had yet to find the end zone heading into Week 3. He had a solid performance against the Ravens, gaining 142 yards and 14 points.
With Hernandez expected to miss 4-6 weeks, Welker should continue to see his targets increase.
Owners who took Welker should not have been expecting WR1 numbers. However, Welker's current numbers barely make him worthy of a fantasy start at this point in the season.
Welker's Week 3 performance was outstanding and will go a long way to getting him off of the disappointment list.
8. Dez Bryant, WR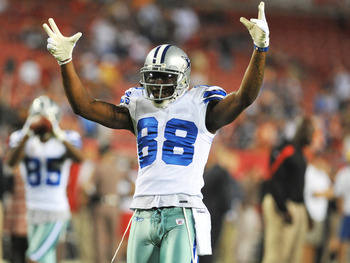 Al Messerschmidt/Getty Images
Projected Position Rank:15
Current Position Rank: 59
Dez Bryant has the talent to be a legitimate No. 1 fantasy receiver. That's not the case so far in 2012. Bryant has been held under 100 yards in each of his first three games and has also failed to find the end zone.
Bryant put up a one-point performance in Week 2 against Seattle. That kind of performance is enough to drive owners mad. The inconsistent play of the Dallas offense has not helped Bryant's value. Bryant followed up Week 2 with a mere six points against Tampa Bay.
Bryant is yet to score in 2012 and has only 15 points in three games.
Bryant is sure to have some big games in him, but it probably won't be enough to keep his owners happy. Bryant was ranked as a WR1 to start the year, but he is yet to put up anywhere near to those numbers.
7. Brandon Marshall, WR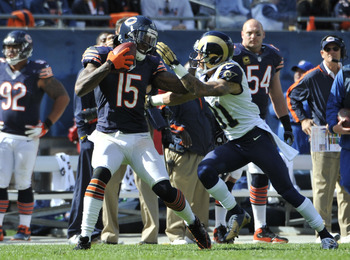 David Banks/Getty Images
Projected Position Rank: 12
Current Position Rank: 25
Marshall was a popular pick among fantasy owners due to the fact that he is reunited with quarterback Jay Cutler. Marshall started 2012 with a bang, earning 17 fantasy points against the Colts. Since that game, Marshall has scored only nine fantasy points and has also failed to find the end zone.
Marshall has all the skills to be a stud fantasy receiver, he has just been inconsistent so far. Marshall dropped a touchdown pass in the Week 2 loss against Green Bay.
Marshall and Cutler have shown in the past that they can be a lethal combination. Fantasy owners will want to see that become true once again.
Marshall lands near the middle of this list for now.
6. Marques Colston, WR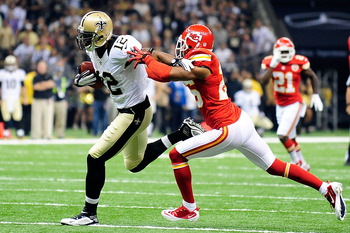 Stacy Revere/Getty Images
Projected Position Rank: 16
Current Position Rank: 59
One would think that having Drew Brees throwing the ball to one of your fantasy receivers would be a great thing. It can be, but Brees likes to spread the ball around to all of his weapons, limiting the fantasy value of some.
Colston has been a popular pick over the years, still landing in the first half of fantasy drafts. Colston has just 13 points in three games this year. More importantly, he has been kept out of the end zone so far in 2012.
The big knock on Colston is that he always seems to be banged up, as is the case already this year. Colston has yet to deliver solid fantasy numbers and has to be considered a disappointment thus far.
5. Maurice Jones-Drew, RB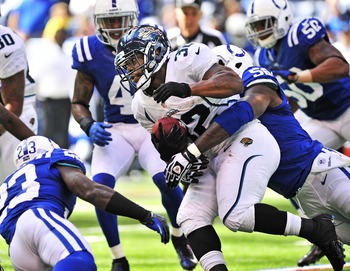 Thomas J. Russo-US PRESSWIRE
Projected Position Rank: 5
Current Position Rank: 20
MJD had the dreaded holdout this year. Chris Johnson held out last year and saw his production drop. Jones-Drew has been a disappointment to those who took a chance on him in either the first or second round this year.
MJD had zero touchdowns heading into the Week 3 game against Indianapolis. Someone with the talent and fantasy potential of MJD should be producing double-digit fantasy points each week.
Now, Jones-Drew did have a monster Week 3, rushing for 177 yards and a touchdown, totaling 24 fantasy points.
If he keeps those numbers up, he will quickly be removed from this list. Until owners see production like that for multiple weeks, MJD remains a disappointment.
4. Jamaal Charles, RB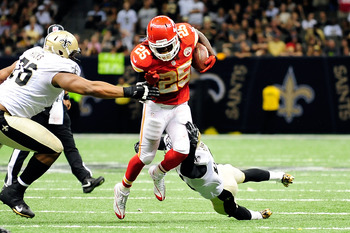 Stacy Revere/Getty Images
Projected Position Rank: 9
Current Position Rank: 42
Even after his monster Week 3 game where he ran wild over the New Orleans Saints, Jamaal Charles still lands on this list. Charles totaled 233 rushing yards and a touchdown while also adding 55 yards receiving, earning a whopping 34 fantasy points for his owners in Week 3.
However, a closer analysis of Charles' game reveals that his touchdown came on a 91-yard run. Take that away, and the yardage numbers are not as impressive.
Until Week 3, Charles owners were probably kicking themselves for wasting an early-round pick on him. Charles had just a measly nine points before Sunday's huge day.
Of course, more games like this would quickly get Charles removed from this list.
3. Larry Fitzgerald, WR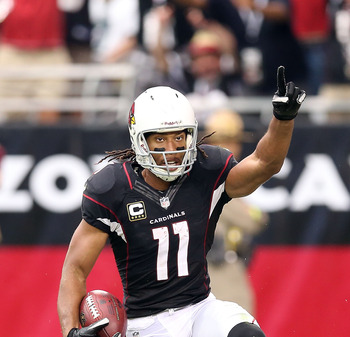 Christian Petersen/Getty Images
Projected Position Rank: 2
Current Position Rank: 73
Fantasy owners of Larry Fitzgerald have probably been regretting their decision so far this season. Through the first two games of 2012, the star receiver was limited to only five catches for 67 yards and six fantasy points.
Week 3 showed us just how good Fitzgerald can be, especially from a fantasy football standpoint. Fitzgerald hauled in nine catches for 114 yards and a touchdown against the Philadelphia Eagles. Owners enjoyed 17 points in Week 3.
That still only gives him an average of 7.6 points per game, nowhere close to what fantasy players expect from a superstar receiver.
Fitzgerald's 2012 season has to be considered a disappointment to this point. Yes, his game against Philadelphia was spectacular, but fantasy owners will need a few more monster games before being fully satisfied.
2. Matthew Stafford, QB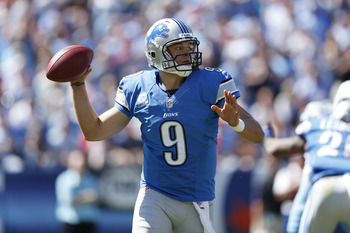 Joe Robbins/Getty Images
Projected Position Rank: 4
Current Position Rank: 22
Stafford is averaging just 14 points per game so far in 2012. Those are not numbers that fantasy owners want to see from someone drafted to be a No. 1 quarterback.
Stafford had a lot of hype heading into this season and was a first-round pick in many drafts. Helping Stafford is the fact that he has one of the best receivers in the NFL catching his passes.
Unfortunately, Stafford has yet to produce in 2012. He has just three touchdowns and four interceptions, again, not the QB1 numbers that fantasy owners expect.
Unless he turns it around, Stafford could be on his way to being the biggest fantasy disappointment of the year.
1. Chris Johnson, RB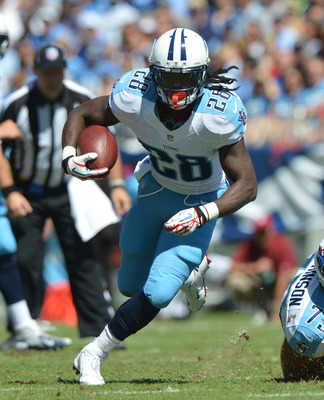 Don McPeak-US PRESSWIRE
Projected Position Rank: 4
Current Position Rank: 50
Owners who took Chris Johnson in the first round this year were hoping to receive the fantasy stud of 2010. Instead, they have ended up with a shell of a running back who looks like he's forgotten how to be an NFL running back.
Johnson has rewarded owners with a pitiful 10 fantasy points in three games. Johnson has only rushed for 61 yards and no touchdowns early on in 2012.
There's no doubt that Johnson has been the biggest fantasy disappointment so far this year. Owners who realize their mistake in drafting him so high may try to work a trade, although it'll be tough to find a taker.
It's amazing how far Johnson has suddenly fallen in the fantasy football world. There are still plenty of games for him to redeem himself, but the chances of that look right now.
Keep Reading