Following consecutive poor performances in the team's first two games of the season, optimism in the Tennessee Titans' fan base seems to be sinking with every passing day.
With a game approaching against one of the most explosive offenses the NFL has to offer, it's difficult to imagine a Titans defense that has struggled mightily early on in the year to be able to shut down the combination of Matthew Stafford and Calvin Johnson on Sunday.
Though pessimism is understandable after a pair of blowout losses, there is still reason for Titans fans to hope for a win on Sunday.
However, if the Titans hope to stay in the game late and have a chance to win, they will need to accomplish these five things.
1. Use the Passing Game to Establish the Running Game
To put it as simply and bluntly as possible, the Titans no longer feature a power-running game.
Teams do not fear Chris Johnson and they certainly don't fear the Titans offensive line, so the time has come for the Titans to utilize short passes and well-timed shots down field to establish the passing game as a threat early on. This will hopefully open up holes for a running game that has looked like the worst in the league through two games.
Jake Locker has been inconsistent throughout his first two starts, flashing the ability that made him the eighth pick in the draft while also showcasing the accuracy concerns that surrounded him in the lead-up to the 2011 NFL draft.
If the Titans can use both the passing game and rushing game effectively, they will have a chance to match Detroit drive for drive.
2. Effectively Cover the Tight Ends
Through two weeks, the Titans have been routinely abused down the seams and in the red zone by nearly every tight end that has been put on the field.
Whether it was duo of Aaron Hernandez and Rob Gronkowski in Week 1, or injury replacement Dante Rosario in Week 2, tight ends running down the middle of the field and past the safeties has occurred with shocking frequency.
Although Brandon Pettigrew may not be quite as athletic as Patriots' group of tight ends, he provides a formidable challenge for the Titans defense as they look to adjust a scheme that has left them incredibly vulnerable to larger targets.
3. Limit Calvin Johnson
Heading into a game against the Lions, its unrealistic to expect to shut down the best receiver in football for 60 minutes.
With that said, when facing a receiver that has the ability to put up over 200 yards and multiple touchdowns every time he takes the field, it's important to try to contain him as much as possible.
With two safeties that have been playing over the top much of the season and cornerbacks that can handle themselves in man coverage, the Titans should be well-positioned to keep Calvin somewhat in check.
However, it only takes one pass for Johnson to turn a mediocre game into a quality performance.
4. Win the Time of Possession Battle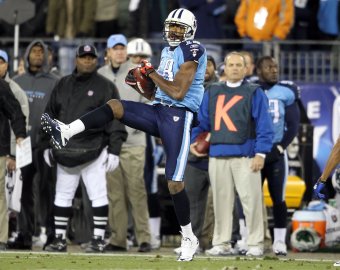 Andy Lyons/Getty Images
Through two weeks, the Titans rank dead last in the NFL in time of possession, averaging a little over 22 minutes of possession per game.
Against a dangerous Detroit Lions offense, it's important that the Titans use short passes and something resembling a consistent running game to keep Stafford and company off the field for long stretches of time.
For an offense that has struggled to stay on the field on third downs, Locker will need to make the right reads and decisions in sustaining long scoring drives.
5. Target Kenny Britt Early On
In his first game in nearly a year, Kenny Britt was limited to just once catch for five yards on two targets while playing 19 snaps.
Even if Kenny Britt is not a full 100 percent, it is important that the Titans at least work him into the game plan, as his presence alone can drive attention away from the other playmakers on the offense.
Britt has strong hands, a great build and, even if his knee isn't at a point where he has full confidence in it, has the ability to take over a game and make plays in the red zone. This is something that is imperative to Jake Locker's continued development.
Britt is a weapon that cannot afford to be ignored if the Titans hope to come away with its first win of the season.