Fantasy Football 2012: Ranking the Best WR Matchups in Week 3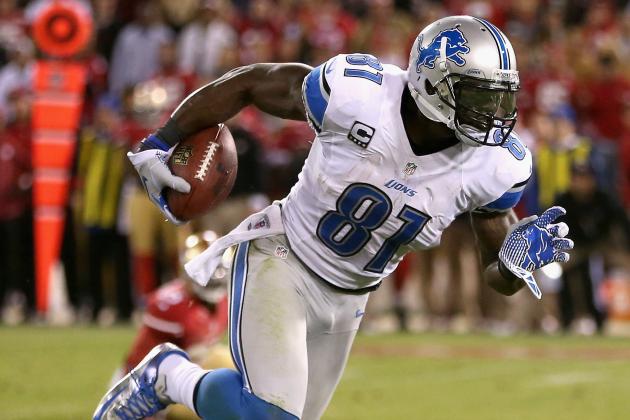 Ezra Shaw/Getty Images

Detroit Lions wide receiver Calvin Johnson is my No. 1 fantasy football wide receiver for Week 3 of the 2012 season.
Johnson isn't the only receiver with a favorable matchup this week, though.
Here are my top 10 wide receivers for Week 3—minus any receivers who played on Thursday Night Football.
Note: All fantasy points totals and stats are courtesy of Yahoo! Sports.
Begin Slideshow

»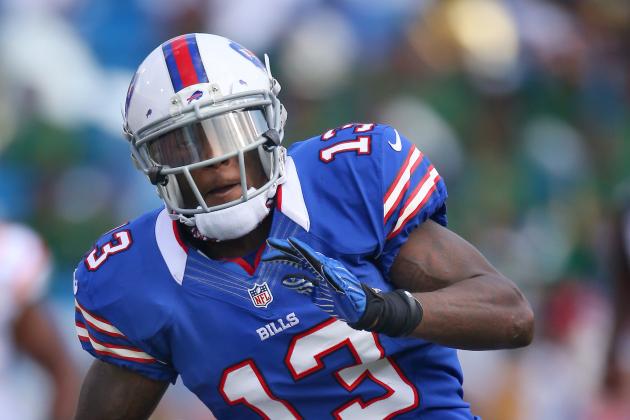 Tom Szczerbowski/Getty Images

Losing Joe Haden for four games really hurt the Cleveland Browns. Without him, the secondary isn't nearly as effective, as we clearly saw last week against the Cincinnati Bengals.
Stevie Johnson is the main weapon for Ryan Fitzpatrick and the Buffalo Bills in the passing game, and he's going to see plenty of balls come his way. He had a decent game last week against the Kansas City Chiefs, producing 11.60 fantasy points, and he will get even more opportunities to produce in Week 3.
Prediction: Johnson catches five passes for 90 yards and one touchdown.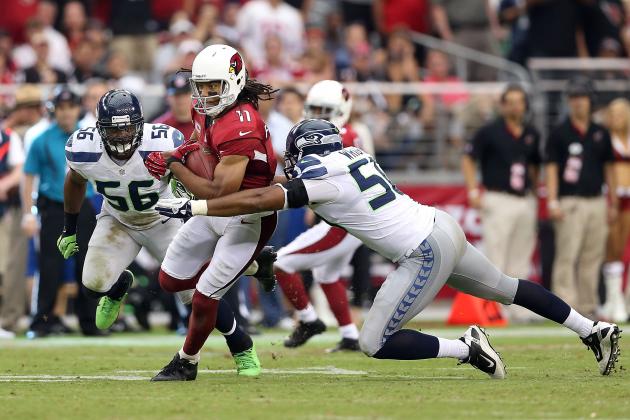 Christian Petersen/Getty Images

Larry Fitzgerald has been a fantasy bust so far in 2012, producing a total of 6.70 points in two games.
You can't keep a player of his caliber down for long, no matter how inept his quarterback situation appears. I'm expecting Fitzgerald to come up with one of his patented brilliant games when his team needs him the most in Week 3.
Prediction: Fitzgerald catches seven passes for 100 yards and one touchdown.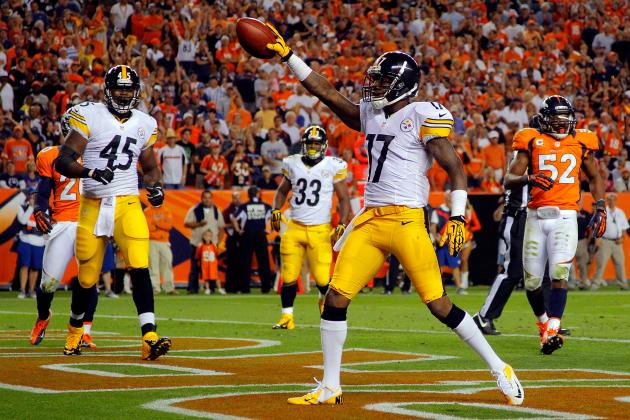 Doug Pensinger/Getty Images

The Oakland Raiders haven't been able to generate much of a pass rush so far this year against two bad offensive lines (with only two sacks). If Ben Roethlisberger is given time in the pocket, Mike Wallace is going to shred the Raiders' secondary.
His speed demon on the outside, Wallace, will be the biggest beneficiary, and I predict he'll have a monster game.
Prediction: Wallace catches five passes for 110 yards and one touchdown.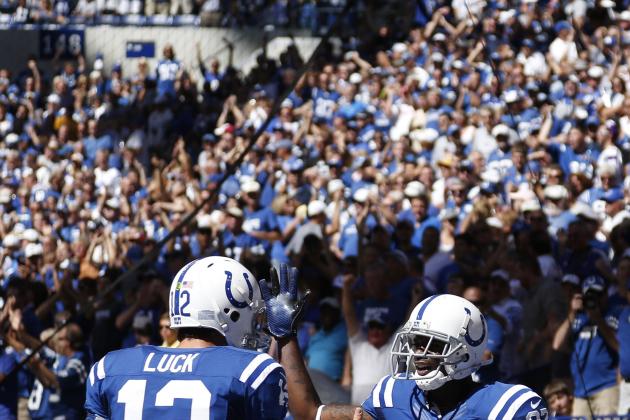 Joe Robbins/Getty Images

The Jacksonville Jaguars have only registered two sacks thus far in 2012, and if Andrew Luck has time in the pocket to scan the field, expect Reggie Wayne to have a monster game.
Luck has connected with Wayne with regularity so far this season, and rather than a drop off in production, I'm expecting more from the two of them in coming weeks.
Prediction: Wayne catches eight passes for 110 yards and one touchdown.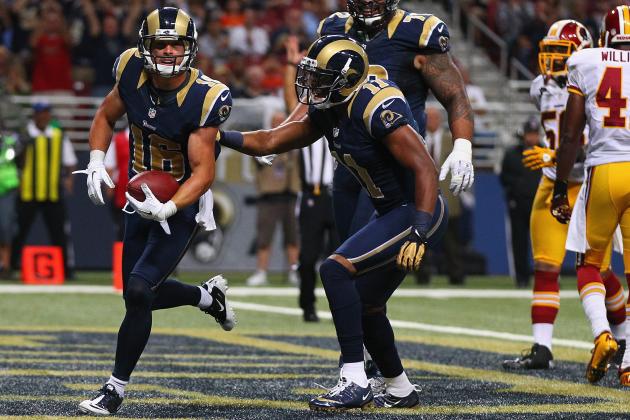 Dilip Vishwanat/Getty Images

I'm not expecting to see another 15-reception performance from Danny Amendola against the Chicago Bears, but I do expect to see him catch a high volume of passes.
Sam Bradford has regained the form that earned him the 2010 NFL Rookie of the Year award, and Amendola is his favorite target. Since the offensive line is still a work in progress, and Steven Jackson is wrestling with a groin injury (h/t StLouisRams.com), Amendola will likely see plenty of quick passes come his way on Sunday.
Prediction: Amendola catches 10 passes for 110 yards and one touchdown.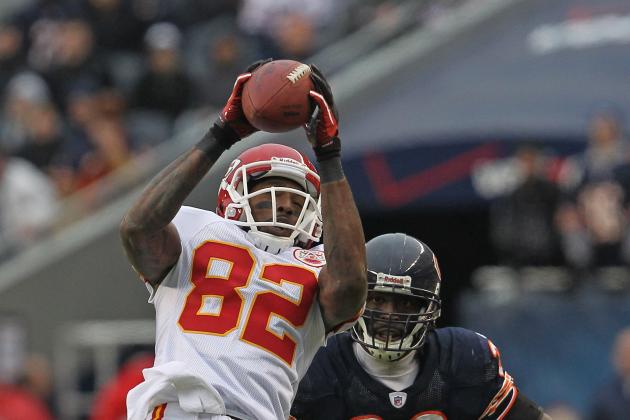 Jonathan Daniel/Getty Images

Dwayne Bowe is coming off of a monster, two-touchdown performance against the Buffalo Bills, and his next opponent has given up 12.5 yards per passing attempt.
The New Orleans Saints are lacking any semblance of a competent secondary, and Bowe is going to have success all game long. His big body and leaping ability make him a big-time red-zone threat, and I expect him to score at least once.
Prediction: Bowe will catch eight passes for 120 yards and one touchdown.
Kevin C. Cox/Getty Images

Roddy White hasn't lost a step, hasn't lost the ability to go deep and get a pass and is still as tough as ever going across the middle. Now Julio Jones has emerged as a true threat on the other side, and as a result, White is finding himself wide open at times against single coverage.
I'm predicting a huge game for Matt Ryan against the San Diego Chargers, who despite having a much-improved front seven are still weak at the cornerback position.
Prediction: White catches seven passes for 125 yards and one touchdown.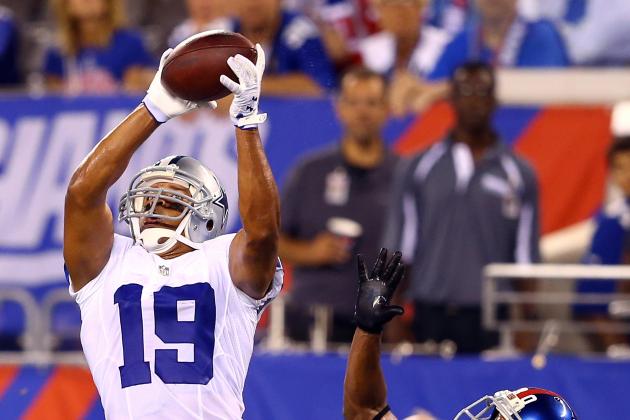 Al Bello/Getty Images

The Tampa Bay Buccaneers have some good players in their secondary, but they don't know how to play well together yet. This unit has been the worst in the NFL so far at stopping the pass.
Making matters worse for them this week is the fact that none of them can compete with Miles Austin when the ball is in the air.
Austin is going to have his first true breakout game of the 2012 season this Sunday. Romo will find him early and often, and I'm expecting them to shake off last week's embarrassing loss by wiping the floor with the Bucs.
Prediction: Austin catches eight passes for 135 yards and two touchdowns.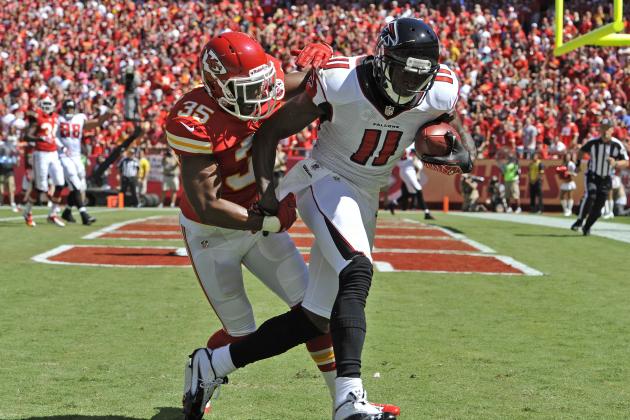 Peter Aiken/Getty Images

Sub-par cornerbacks are what Julio Jones will be feasting on during the Atlanta Falcons' Week 3 contest against the San Diego Chargers.
Jones struggled in the last game against the Denver Broncos, catching just four passes for 14 yards. He dropped an easy touchdown pass in the first quarter and never really recovered.
I expect Jones to put his case of the dropsies behind him in Week 3 and produce big numbers for fantasy owners and for his team.
Prediction: Jones will catch eight passes for 150 yards and two touchdowns.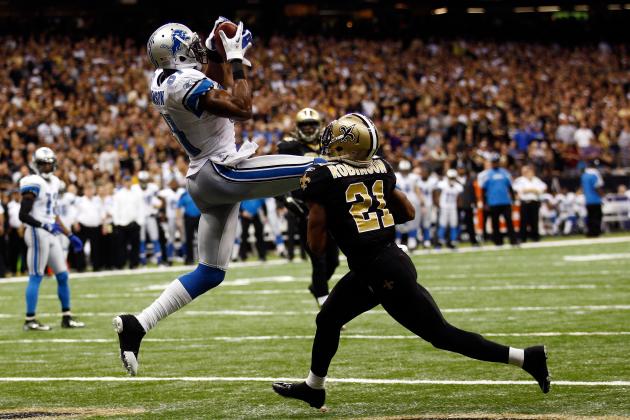 Chris Graythen/Getty Images

Calvin Johnson was clearly frustrated by the defense of the San Francisco 49ers in Week 2, and though he did manage to catch eight passes for 94 yards, he wasn't able to sniff the endzone, and his longest catch was "only" 26 yards.
He's going to come back in Week 3 with a vengeance, and I am looking for him to put up numbers like we saw from him early last year. He hasn't changed. Matthew Stafford is still as good as ever, and the Titans don't have any hope of containing the two of them this week.
Prediction: Johnson catches 10 passes for 175 yards and two touchdowns.
Follow me on Twitter @JesseReed78