Chris Johnson and 6 Other NFL Players Who Have Disappointed So Far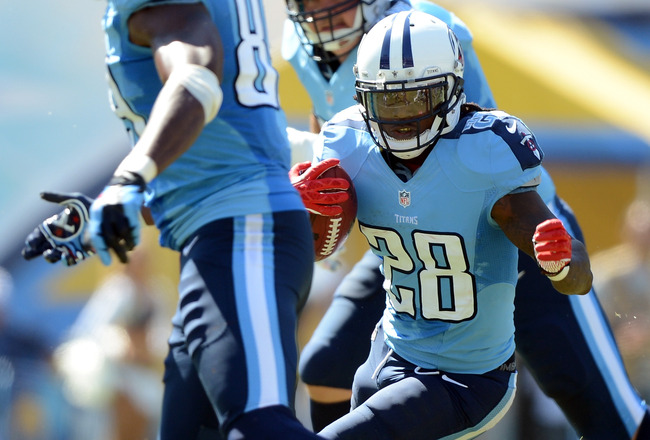 Harry How/Getty Images
In today's sports world, it seems that NFL athletes are under constant scrutiny—I blame the rise of fantasy football.
As each year passes, the smallest things can be counted as disappointments, especially to fantasy owners. The expectation for NFL players continues to grow, but every single year, there are going to be guys who don't measure up.
Take a look at guys like Steve Slaton and LenDale White—they were one-time fantasy studs who just stopped performing (also, see Shaun Alexander).
After two weeks of the 2012 season, we are already seeing guys who we probably shouldn't have expected so much from. Will they get better?
Wes Welker, WR, New England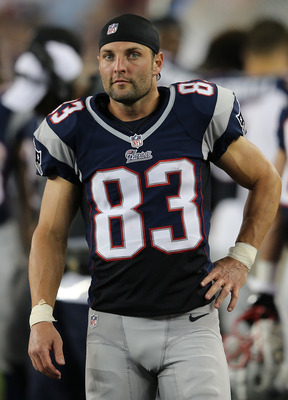 Jim Rogash/Getty Images
Let me start this slide by pointing out that this is not Wes Welker's fault—speculation has been flying all week about why he's receiving less snaps than Julian Edelman.
Welker has totaled over 100 catches for four of the last five seasons and had over 1,500 yards in 2011. It's been clear who Tom Brady's top guy has been since Welker joined the team in 2007.
All of a sudden, he's not getting as much playing time. Is it the emergence of Brandon Lloyd in New England? Maybe he's being overshadowed by Rob Gronkowski? Whatever the case, eight catches after two games isn't quite up to par for Welker or fantasy owners.
Darren McFadden, RB, Oakland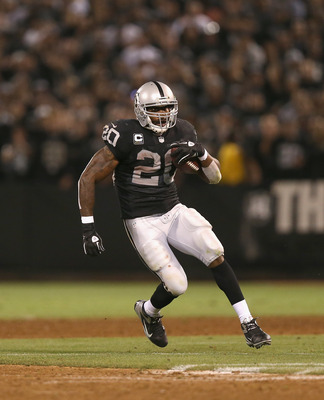 Ezra Shaw/Getty Images
Things started going south for Darren McFadden last season after he only appeared in seven games, accumulating just over 600 yards and four touchdowns.
Now, he has hit the bottom of the barrel. Through two games, McFadden has carried the ball 26 times for an abysmal 54 yards—that averages out to 2.1 yards per carry. He doesn't even look like the same guy who rushed for nearly 1,200 yards in 2010.
There was a time when McFadden was thought of as a top 10 back in the NFL, but right now, he's nowhere near such a luxury.
Mario Williams, LB, Buffalo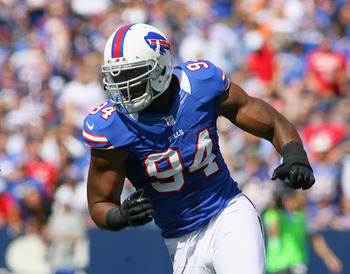 Rick Stewart/Getty Images
Super Mario hasn't quite looked right for a couple of years now, but things haven't started all that well in Buffalo. Mario Williams has only recorded three tackles in two games this season, and has a fumble recovery to his credit.
After the 2008 season, Williams has steadily decreased in production—it's worth noting that between 2007 and 2008, he recorded 26 sacks, the best such total in the two years. He has been able to put together decent seasons since then, but none quite like those.
Now in Buffalo, Williams resorted to crying about the replacement refs (we all know, Mario) instead of getting on the field and stepping up for a defense that certainly needs the old Super Mario.
Matthew Stafford, QB, Detroit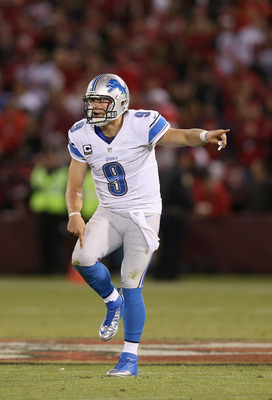 Ezra Shaw/Getty Images
To be fair, one of Matthew Stafford's opponents this season has been the incredibly tough San Francisco defense, so I'm nowhere near ready to say this will be a down year for him.
Still, though, Stafford hasn't been quite the fantasy darling he was in 2011. Through two games last season, he had seven touchdowns and two interceptions—in 2012, he has two touchdowns and four picks.
He threw for an impressive 355 yards against the Rams, but three of his four picks came against them—it's not exactly a great defense. I'd be more understanding had three come against the Niners.
In terms of yardage, Stafford isn't doing too bad, but a touchdown per game isn't what fantasy owners wanted to see from him. The Stafford-MegaTron connection isn't quite clicking yet in 2012.
Cincinnati Bengals' Secondary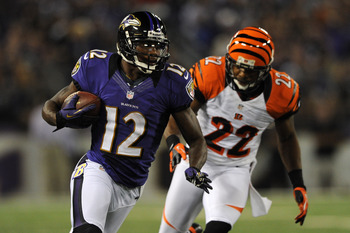 Patrick Smith/Getty Images
Yep, this slide features an entire part of the Bengals' defense. It has been embarrassing in 2012.
This is odd—defensive coordinator Mike Zimmer is notorious for putting together solid defensive units, particularly in the secondary. However, as we saw down the stretch in 2011, this secondary wasn't quite built for long-term success.
Leon Hall, a top 10 corner, went down with a torn Achilles in 2011 and hasn't gotten back to form. Rookie Dre Kirkpatrick hasn't seen the field yet. This means that Terence Newman and Nate Clements are seeing a big bulk of playing time that they shouldn't be seeing. They simply can't keep up anymore.
Amongst all of that chaos lies safety Taylor Mays. He is absolutely terrible—I'm not really a big supporter of this "it takes so much time to develop into a good defender" theory. Mays hasn't been good since he got to Cincinnati, and it's time for him to pack his bags.
This defense has allowed huge passing games to Joe Flacco and Brandon Weeden—not exactly top talent there.
Michael Vick, QB, Philadelphia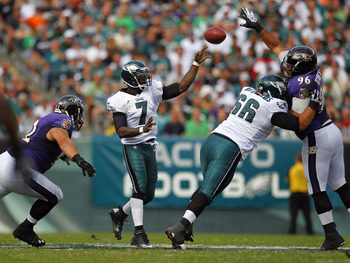 Rich Schultz/Getty Images
After a couple of decent seasons in the City of Brotherly Love, Michael Vick has looked like a terrible rookie through two weeks in 2012. How bad? Six interceptions—ouch.
He's 2-0 this season, but they certainly haven't been pretty victories. He's developing a tendency to throw into basic zone coverages and make silly passes that a veteran like himself shouldn't be making.
Being an interception-prone quarterback will not continue to earn Vick victories or support in Philadelphia. He's been able to escape unscathed for two weeks, but if he doesn't start to show improvements, last year's disappointment could repeat itself.
Chris Johnson, RB, Tennessee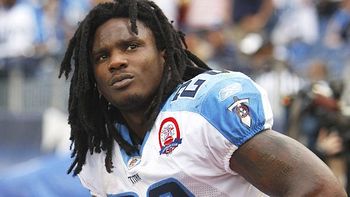 Has there ever been such a fall from grace? It's hard to imagine that this man was once a 2,000-yard rusher—it seems so long ago.
Last season, Chris Johnson got off to a slow start, but managed to break 1,000 yards and average four yards per carry. I gave him kudos for getting back on track towards the end of the 2011 season.
In 2012, it's been ugly—19 carries totaling a pitiful 21 yards. He doesn't even look like the same guy, unable to make the same moves and find the same holes he used to.
It seemed that experts had given Johnson a break coming into 2012, as he was still considered a top five running back. I don't think anyone is going to be giving Johnson any such credit anytime soon.
Keep Reading