2013 NFL Draft Projections: 5 Players Guaranteed to Become Studs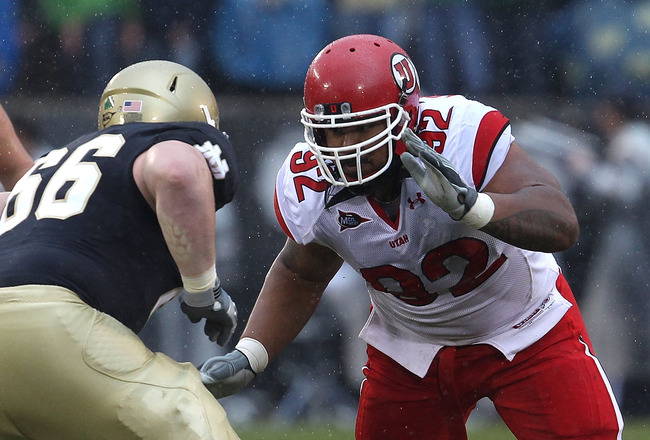 Jonathan Daniel/Getty Images
It's still really early in the NFL season, but even so, some of us whose teams aren't doing so well are already looking forward to April to see who the next stars might be.
Now admittedly, at this point in a college football season it's pretty hard to even get a look at who will be a top five pick. But still, you can just see some guys on Saturday and think "wow, it's gonna be fun to watch them on Sunday."
Those guys are your studs and let's take a look at five guys who it truly believe will be studs at the next level.
Follow on Twitter: @dsnyder34
Star Lotulelei / DT / Utah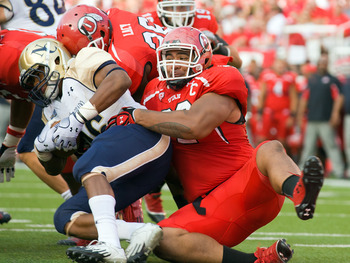 Russ Isabella-US PRESSWIRE
Just his sheer size alone makes him standout at any level of football, but Utah's Star Lotulelei is just what his name dictates.
Lotulelei is an absolute monster up front and has dominated his Pac-12 opponents over the last two seasons. The Utes' defensive backbone puts the fear into offensive linemen from the moment they step on the field.
One of Lotulelei's biggest assets heading into the NFL is his ability to play pretty much any position across the defensive line. In a 4-3, he could play either defensive tackle position, and in a 3-4, he'd be a great fit at all three linemen positions.
When you watch Lotulelei, his skill set draws memory of Haloti Ngata, and that can't be bad.
The Chiefs took a much inferior defensive line prospect, Dontari Poe, with the 11th pick in this year's draft. With that said, there's no reason Lotulelei should be outside of the top 10.
Jarvis Jones / OLB / Georgia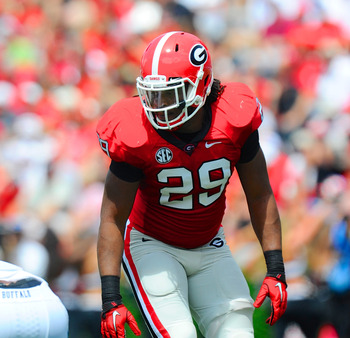 Dale Zanine-US PRESSWIRE
Will all the passing going on in football today, pass-rushers are a premium. And in the college game, there may be none better at getting to the quarterback than Georgia's Jarvis Jones.
Jones has great size and athleticism, making him a perfect fit for the rush linebacker position of a 3-4 defense.
And coaches don't have to worry about Jones being a project; his production speaks for itself. Through the Bulldogs' first two games this season, Jones has 3.5 sacks and 18 tackles. He also displayed his coverage skills hauling in an interception against Missouri.
Jones now has 17 sacks in 16 career starts and shows no signs of slowing down in 2012. Although he missed the team's game against Florida Atlantic with an injury, Jones should be back on the field by the time the Bulldogs are in the heart of their SEC schedule.
Like I said earlier, pass-rushers are at a premium in the NFL, and with more teams switching over to the athletic-based 3-4 defense, Jones has the upper hand on both fronts. If he can stay healthy this year, there's no doubt he's a top 10 pick come April.
Manti Te'o / ILB / Notre Dame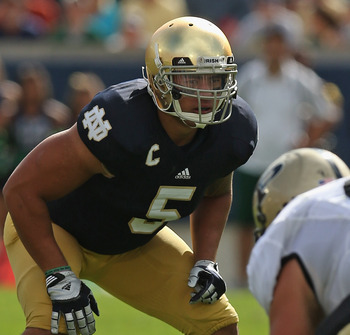 Jonathan Daniel/Getty Images
So far in 2012, we've all see the impact a good middle linebacker can have on a defense with Luke Kuechly in Carolina. I mean, just ask the Ravens where they think they'd be without Ray Lewis. Middle linebackers change the game more than we think and Notre Dame's Manti Te'o has that kind of game-changing ability.
People will forget that before Te'o declared he'd be going back to school, some analysts were having a hard time deciding between Keuchly and the Golden Domer.
Te'o has built off his 120-tackle season from a year ago and come out in 2012 with 28 stops in three games. But Te'o doesn't just make tackles against anybody. It seems he has his biggest games against the Irish's biggest opponents.
Te'o has twice recorded 12 tackles against Michigan State, 10 against USC and a career-high 14 in the team's bowl loss to Florida State.
Te'o may never have the coverage ability of Kuechly, but he's definitely better against the run and is more scheme-versatile as well. I doubt he'll be off the board in the top 10, but he can make an instant impact for a team and be a perennial All-Pro.
David Amerson / CB / North Carolina State
Streeter Lecka/Getty Images
Turnovers are the name of the game in today's NFL, and if you have a defensive back that can create a lot of them, you're one step ahead of the game. N.C. State's David Amerson is the best in the college game at doing just that.
Last season, Amerson caught everyone's eye with an astounding 13 interceptions, including two in the spotlight of the team's bowl game against Louisville. And after missing the Wolfpack's first game with an injury, Amerson picked right back up where he left off, hauling in an interception in each of his first two games of the season.
His size (6'3", 195) won't hurt him either come time for the combine.
Amerson doesn't have the lockdown cover skills of a Darrelle Revis, but he's one of the best I've ever seen at getting the football any way he can. I'd like to see him play a little better in big games, but his skills are undeniable.
Amerson may fall out of the top 10, but hey, so did Revis. That doesn't mean he's not going to be a stud in the NFL.
Geno Smith / QB / West Virginia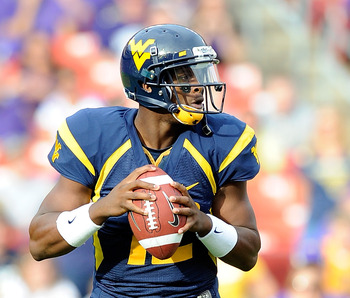 Patrick McDermott/Getty Images
That's right, I went with a quarterback to be a guaranteed stud who's name isn't Barkley or Thomas. And although I do think Barkley has a chance to become a great player in this league, the signal-caller who's caught my eye over the last three seasons is West Virginia QB Geno Smith.
A lot of people unfairly compare Smith to former Mountaineer quarterback Pat White, but that comparison couldn't be farther from the truth. Smith has better size, a better arm and is a much more polished passer than White could have ever been and yet he's not grabbing the same attention.
In 2010 and 2011 combined, Smith threw 55 touchdown passes compared to just 14 interceptions while maintaining a consistent completion percentage hovering around 65 percent.
This year, however, Smith has taken his game to a whole new level. He's utilized his legs a little more but hasn't put them at the front of his game, continuing to make great throws from the pocket. Smith currently has 734 yards, nine touchdowns, zero interceptions and has hit on 88 percentof his passes through two games this season.
Granted, Smith hasn't faced the stiffest competition, but in the same breath, people will drool over an Oregon team that's beaten Tennessee Tech, Fresno State and Savannah State.
Smith could stand to add a little bulk to his frame, but of all the quarterbacks who've played so far this season, he might have the edge over all of them. In my mind he's certainly passed Virginia Tech's Logan Thomas and is making a run at Barkley for top dog on the board.
I'm predicting by draft day, Smith is a top 10 pick if not the first QB off the board.
Keep Reading