10 High-Upside, 'Sleeper' Pitching Prospects to Follow Closely in 2013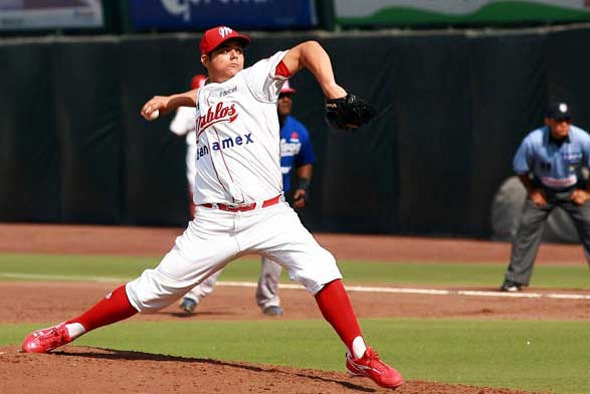 RHP Roberto Osuna // Courtesy of dplbaseball.com
One of my favorite activities as both a scout and prospect analyst is identifying potential breakout candidates—both pitching and position prospects. Typically, the process involves combing the low minors for raw, high-upside talent, as statistics don't always tell the whole story.
Often times, such players come out of nowhere and excel in a competitive league relative to their age, and, in turn, put themselves on scouts' radars. Other players involve more projection; it's important to consider how a player—in this case a pitcher—will develop as they age and gain experience.
So, with the 2012 minor league season complete, it's time to look at 10 sleeper pitching prospects to follow closely in 2013.
Begin Slideshow

»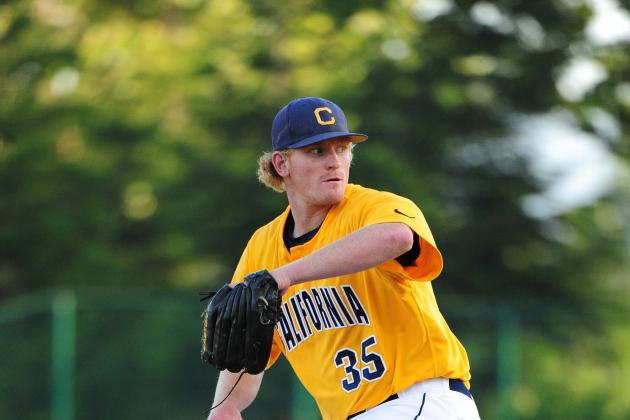 Kyle Terada-US PRESSWIRE

2012 Stats (A-, A+): 6-5, 92.1 IP, 2.53 ERA, 1.20 WHIP, .232 BAA, 87 K/29 BB (17 GS)
Selected in the second round of the 2011 draft out of the University of California, Johnson possesses an ideal frame at 6'3", 240 pounds, although it doesn't call for much projection.
The 22-year-old right-hander's fastball scrapes the mid-90s, and he'll mix in an above-average slider and solid-average changeup. He's shown above-average command of all three pitches, and as they continue to develop, Johnson could move quickly through the South Siders' system.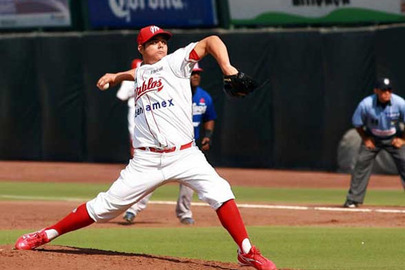 Courtesy of dplbaseball.com
2012 Stats (Rk, SS): 2-0, 43.2 IP, 2.27 ERA, 1.08 WHIP, .201 BAA, 49 K/15 BB (12 G; 9 GS)
Only 17 years old, Osuna has the potential to be something special, as evidenced by his success this season against more advanced competition.
The 6'2", 230-pound right-hander showcases above-average command of a fastball in the low-90s, and there's reason to believe he'll add a few ticks as he develops. Although his offspeed pitches aren't as advanced, both his curveball and changeup have the potential to be above-average offerings.
He's still several years away from reaching the major leagues, but has the potential to debut with the Blue Jays before his 21st birthday.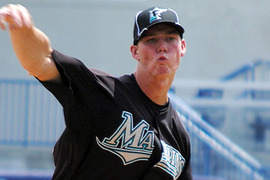 Courtesy of MiLB.com
2012 Stats (A-): 8-6, 3 SV, 109.2 IP, 4.35 ERA, 1.50 WHIP, .237 BAA, 122 K/68 BB (25 G; 19 GS)
A ninth round selection by the Marlins in 2010, the 6'4" right-hander was eased into the professional ranks with two consecutive seasons in the rookie-level Gulf Coast League. However, Brice came into this own this season in his first full-season action.
A physically strong and developed pitcher, Brice boasts a mid-90s fastball that's difficult for opposing hitters to barrel. He also features a curveball and changeup, though neither is particularly advanced.
Still, after fanning 10.0 hitters per nine innings, his prospect stock should rise quickly with the development of his off-speed pitches.
Courtesy of micubs.com
2012 Stats (Rk, A-): 3-2, 1 SV, 45 IP, 3.20 ERA, 1.36 WHIP, 2.14 GB/FB, 39 K/13 BB (13 G; 8 GS)
A 20-year-old right-hander, Wells impressed in his full season debut this season in the Midwest League. At 6'2", 220 pounds, he generates a promising mix of ground balls (lots of them) and strikeouts and is consistently around the strike zone.
His fastball works best in the low-90s, and he'll also mix in a slider and splitter. He doesn't project as a front-of-the-rotation arm, but Wells is the type of young pitcher who will demonstrate value as a back-end starter in any rotation.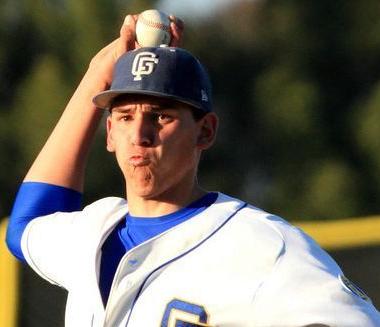 Courtesy of eastcountysports.com
2012 Stats (Rk): 0-1, 17 IP, 4.24 ERA, 1.35 WHIP, 19 K/4 BB (6 G; 1 GS)
Acquired by the Astros in July as part of a 10-player trade with the Blue Jays, Musgrove was originally drafted in the first round of the 2011 draft.
A 6'5", 230-pound right-hander, the 19-year-old right-hander has a frame built for innings and the pure stuff to match. He pounds the lower-portion of the strike zone with a low- to mid-90s fastball and complements it with a solid-average breaking ball and improving splitter.
Given his size and ability to consistently throw on a downward plane, Musgrove is poised for big things in his first full season in 2013.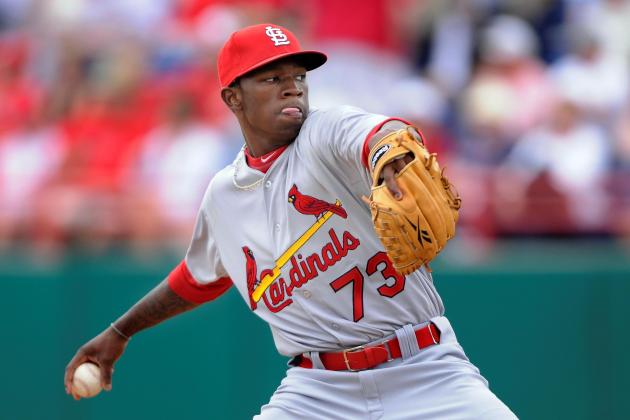 Brad Barr-US PRESSWIRE

2012 Stats (A-): 4-4, 82.1 IP, 5.14 ERA, 1.46 WHIP, 1.48 GB/FB, 80 K/36 BB (19 GS)
A highly athletic and projectable right-hander, the Cardinals lured Jenkins away from both a baseball and football career at Baylor University with a large, over-slot signing bonus.
In his age-19 season, the 6'4" right-hander possesses a lean frame and surprisingly consistent mechanics given his lack of experience. Jenkins boasts a plus fastball as well as a raw breaking ball, though it also has potential to be a plus offering.
Although he spent time on the disabled list this season with shoulder fatigue, it doesn't seem as though it'll be an ongoing issue. Now that he's focused on baseball full-time, Jenkins has a chance to take off in 2013.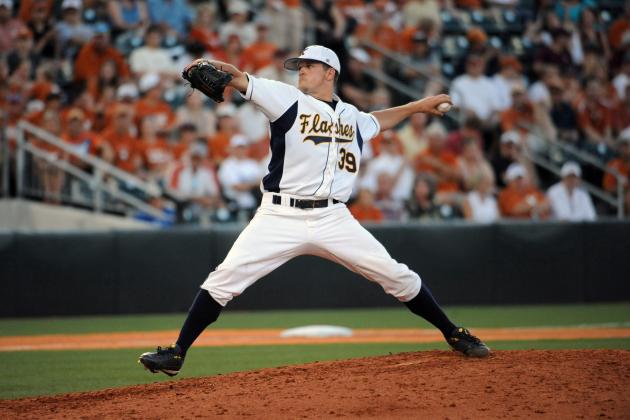 Brendan Maloney-US PRESSWIRE

2012 Stats (A+): 6-6, 122.1 IP, 4.93 ERA, 1.48 WHIP, 2.07 GB/FB, 150 K/69 BB (30 G; 22 GS)
A supplemental-first round selection by the Diamondbacks in 2011, Chafin possesses a full arsenal of swing-and-miss pitches. However, controlling them has been an ongoing issue.
His fastball works best in the mid-90s with late, arm-side life, and he's not afraid to challenge opposing hitters. The 22-year-old left-hander has a plus slider that induces whiffs from both right and left-handed hitters, as well as a curveball and changeup.
While the Diamondbacks may continue to develop Chafin as a starter, his realistic path to the majors will come as a reliever where he has the potential to post gaudy strikeout rates.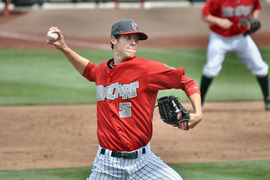 Courtesy of MiLB.com
2012 Stats (A-): 5-4, 114 IP, 2.53 ERA, 1.08 WHIP, .227 BAA, 113 K/28 BB (24 G; 23 GS)
Selected in the seventh round of the 2011 draft, Wise wasn't the sexiest prep pitcher but has developed just as the Padres hoped. The 20-year-old right-hander's fastball scrapes 96-97 mph, and he's adept to locating it to both sides of the plate. He's also demonstrated the ability to command three off-speed pitches in a curve, slider and changeup, each of which is developed relative to his age.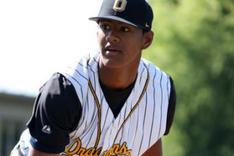 Courtesy of MiLB.com
2012 Stats (Rk, SS, A-): 0-4, 54.2 IP, 4.28 ERA, 1.34 WHIP, .249 BAA, 56 K/22 BB (15 GS)
The younger brother of A's right-hander Tyson Ross, Joe is a lean, highly projectable right-hander with a smooth delivery and fluid arm action.
At 6'3", 185 pounds, Ross' fastball flirts with mid-90s velocity at the moment, but should sit in that range once he develops. He also features a sharp, late-breaking curveball and a fairly advanced changeup. He's more advanced than most 19-year-old pitchers and has the potential to reach High-A, possibly even Double-A if he excels, in his first full professional season.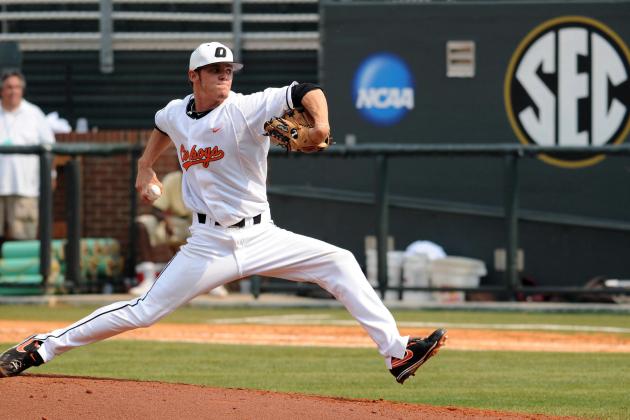 Don McPeak-US PRESSWIRE

2012 Stats (A-): 1-9, 2 SV, 83.2 IP, 4.20 ERA, 1.49 WHIP, .216 BAA, 86 K/59 BB (30 G; 14 GS)
A closer at Oklahoma State when the Giants selected him in the fifth round of the 2011 draft, he was converted to a starter prior to the 2012 season and assigned to Low-A Augusta. The 22-year-old right-hander enjoyed mix results in the rotation and was back in the bullpen by the middle of the season.
Marlowe has two plus pitches in a mid-90s fastball and a breaking ball that's a borderline plus-plus offering. But even as a reliever, he still walks too many batters and will have to refine his command moving forward.
As a full-time reliever next season, Marlowe could start rapidly ascending through the Giants' system.