Fantasy Football Stars Facing Tough Matchups in Week 3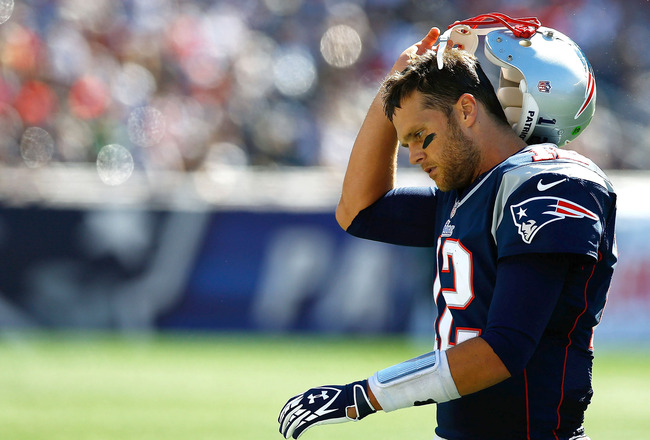 Jared Wickerham/Getty Images
Let's face it, sometimes the top-tier fantasy football players just have a weak performance.
After all, the NFL's best receive every opponent's A-game and it's quite difficult to dominate each week. Include the opponents who create rough matchups and the numbers become harder to accumulate.
Tom Brady of the New England Patriots is a prime example, because despite throwing for 316 yards against the Arizona Cardinals, he also threw a pick and only one score. By no means was this a bad performance, although we have seen much more from Brady in the past.
This week, Brady and the Pats face a stronger challenge in the Baltimore Ravens. And Brady isn't the only fantasy star facing a difficult test. Still, this isn't to say the following players will struggle in Week 3.
It is, however, to be aware of a potential down game against a formidable opponent.
Aaron Rodgers: QB, Packers (at Seahawks)
Jonathan Daniel/Getty Images
Aaron Rodgers had a tough outing against the Chicago Bears in Week 2.
Throwing for just 219 yards and one score with an interception, Rodgers was also sacked five times. Fortunately for Packers fans, Green Bay still got the win.
As for fantasy, Rodgers didn't put up the expected numbers and Week 3 is another suffocating defense. The Seattle Seahawks shut down the Dallas Cowboys and held Tony Romo to only 251 passing yards.
In addition, Big D never got the ground game working to set up the pass. DeMarco Murray totaled just 44 yards on 12 carries and Seattle won, 27-7. When the Packers visit the Great Northwest, the Seahawks will attack and lock down in man coverage.
Brandon Browner and Richard Sherman are capable of taking away their halves of the field and veteran Marcus Trufant is one reliable nickel/dime back. When in passing situations, Seattle also presents an impressive pass rush in Chris Clemons and rookie Bruce Irvin.
If the Packers can't establish the running game early on, Rodgers will struggle at darting the rock downfield.
Arian Foster: RB, Texans (at Broncos)
Doug Pensinger/Getty Images
If there's one area where the Denver Broncos have excelled, it's at stopping the run.
In Week 1, the Broncos allowed just 75 yards to the Pittsburgh Steelers and only 67 yards to the Atlanta Falcons on Monday.
Also, Denver is allowing just 2.6 yards per carry.
So, when the Houston Texans visit the Mile High City in Week 3 expect the Broncos to key in on Arian Foster. The ground game is Houston's first priority and it sets up the rest of the offense, especially Andre Johnson downfield.
That being said, Foster hasn't faced the most suffocating of front sevens. The Miami Dolphins and Jacksonville Jaguars focused on limiting his production and he still averaged more than what Denver currently allows per carry.
Not to mention he has accumulated 189 rushing yards with three scores in two games. This is certainly going to be a challenge for the Broncos as well. By comparison, though, Denver's defensive front is better with Von Miller and Elvis Dumervil on the outside and rookie Derek Wolfe on the interior.
Plus, linebacker Wesley Woodyard led the team in tackles last season and is leading the team thus far in 2012. Regardless, Foster will need to get his carries. As long as Houston doesn't abandon the running game, Matt Schaub is capable of dicing up the Broncos pass defense.
Larry Fitzgerald: WR, Cardinals (vs. Eagles)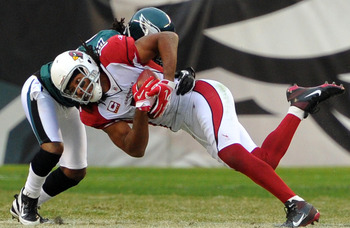 US PRESSWIRE
For as obvious as this matchup may appear, Larry Fitzgerald has actually seen stellar numbers against the Philadelphia Eagles.
Just last season Fitz caught seven passes for 146 yards and scored twice against Philly, so we know the man can exploit this defense.
His previous games against the Eagles before 2011, Fitzgerald faced them twice in 2008. There, he caught 14 balls for 217 yards and five touchdowns. In other words, Fitzgerald has had Philadelphia's number entering this Week 3 showdown.
As for the Eagles, they have performed exceptionally well on defense through two contests. After picking off Brandon Weeden four times, Philly picked off Joe Flacco once and held him to a 53.2 completion percentage.
On a more impressive scale, though, 14 of Flacco's 22 completions were to non-receivers (Ray Rice and tight end Dennis Pitta). Against the Cardinals, Philadelphia must blitz and double Fitzgerald to shorten the play's development and keep his production in check.
Although Arizona's offensive line has allowed just two sacks, getting to Kevin Kolb and maintaining pressure throughout and blanketing Fitz will force turnovers.
Adrian Peterson: RB, Vikings (vs. 49ers)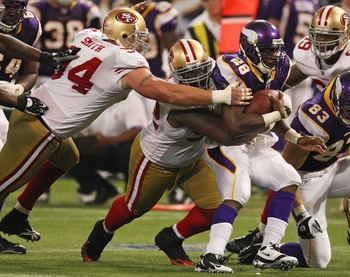 Jonathan Daniel/Getty Images
Adrian Peterson may have started the 2012 season strong, but Week 3 is an immense challenge.
Combined between Weeks 1 and 2, the San Francisco 49ers have allowed just 127 rushing yards and only 3.2 yards per carry.
It's important to keep in mind that the 'Niners have also faced the Green Bay Packers and Detroit Lions: Two teams that do not use a run-oriented philosophy.
On the flip side, Peterson is the Minnesota Vikings' best offensive weapon and he bolted through the Jacksonville Jaguars to kick off the season. So far he's compiled 144 rushing yards and has averaged 4.4 per attempt.
Hosting San Francisco this week, though, the 49ers' best odds at winning are forcing Christian Ponder to beat them. So, Peterson will see a loaded box in most down-and-distance situations and Ponder's receivers will have to win against man coverage.
San Francisco's front seven is definitely good enough to stop the run itself, but because this is Peterson, extra emphasis is required.
Tom Brady: QB, Patriots (at Ravens)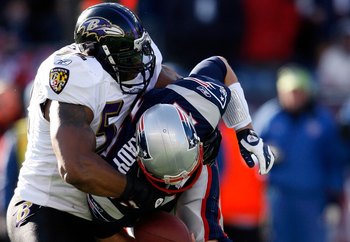 Elsa/Getty Images
The Baltimore Ravens best chance to beat the New England Patriots is by attacking Tom Brady.
The Tennessee Titans failed at it in Week 1 and Brady torched them. The Arizona Cardinals, however, were able to apply pressure and it played a big role in their upset.
Sacking Brady four times and holding him to a 60.8 completion percentage (uncharacteristic for Brady), the Cardinals also got an athletic interception from Patrick Peterson. Because of this effectiveness, anticipate the same from Baltimore.
Through two games, the Ravens have recorded six sacks, forced six turnovers and have one touchdown. Baltimore's front seven is as good as anyone in the game and at limiting the run and applying quarterback pressure, so blitzing Brady has to occur.
With Ed Reed patrolling in Covers 1, 2 and 3, the Ravens can mix up zone and man underneath and even rush heavy to play Cover 0. This is all about causing as much havoc in New England's backfield as possible, because slowing down Brady is always the key to beating the Pats.
Follow John Rozum on Twitter.
Keep Reading