10 Injured Minor League Stars Who Desperately Need a Huge 2013 Season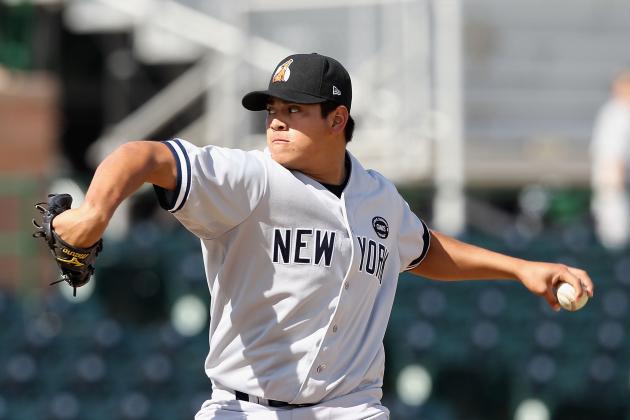 Christian Petersen/Getty Images

For every prospect that has a breakout season and takes a leap forward in their overall development, there are countless prospects who, for one reason or another, disappoint.
Sometimes, it's a result of an overly aggressive promotion, where a young player is competing in an older, more advanced league. However, a majority of the players tagged with the "disappointment" label are those who follow an impressive season with an injury-filled one.
While all of the players on this list remain intriguing and noteworthy prospects, they will all have something to prove in 2013.
Begin Slideshow

»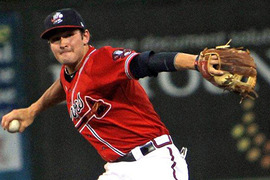 Courtesy of MiLB.com
2012 Stats (A+): .271/.335/.337, 8 XBH, 12 SB, 32 K/20 BB (51 G)
A first-round selection by the Braves in 2010, Lipka, 20, was drafted as a shortstop. However, due to an awkward arm stroke and defensive actions, he was eventually moved to center field, where he spent most of the 2012 season.
The Braves are still waiting for his bat to emerge, and he was definitely making improvements in his plate discipline before a hamstring injury prematurely ended his season in late June. He'll never hit for power—seriously, none—but with plus speed, Lipka's paramount concern should be manipulating counts and getting on base in 2013.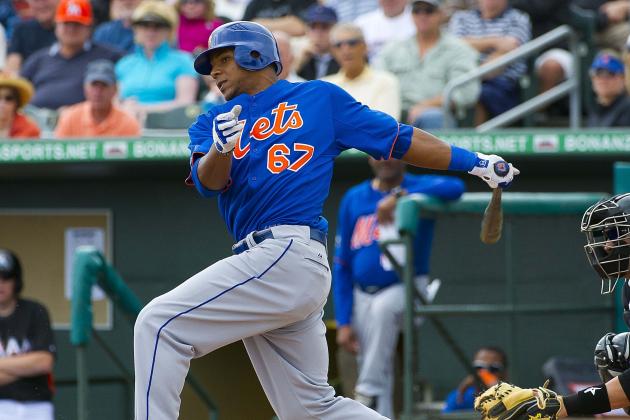 Scott Rovak-US PRESSWIRE

2012 Stats (A+): .260/.328/.423, 25 XBH, 19 SB, 58 K/7 BB (66 G)
Still only 21 years old, Puello hasn't developed as quickly as the Mets anticipated when they signed him in 2007. The 6'2", 195-pound outfielder still flashes all the tools—raw power, above-average speed and a plus arm—to one day be a dynamic player. However, his approach and long swing continue to impede his overall development.
Puello has battled through multiple injuries this season, as he missed two months after suffering a broken hamate bone in his left hand in late May and suffered a mild hamstring injury in July.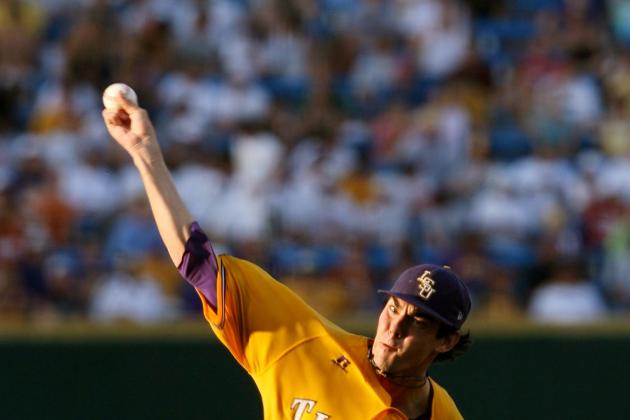 Elsa/Getty Images

2012 Stats (AA): 1-3, 37.2 IP, 6.69 ERA, 1.81 WHIP, 27 K/27 BB (9 GS)
Despite an elbow injury during his junior season at Louisiana State, the Red Sox still made Ranaudo their first-round draft pick in 2010. After a healthy 2011 season, the 6'7" right-hander logged only 37.2 innings this season due to a rash of injuries.
His sophomore campaign began later than expected after a groin injury sidelined him for most of the Spring. When he finally returned to action, Ranaudo struggled with his command, allowing 41 hits and 27 walks over nine starts. He was eventually shut down for the season at the beginning of July following ongoing shoulder fatigue.
Christian Petersen/Getty Images

2012 Stats: N/A
After an impressive 2011 campaign in which he reached the Carolina League (High-A), Solis unfortunately never took the mound in 2012. The 6'5" left-hander possesses three above-average offerings in his well-located fastball, improving breaking ball and plus changeup.
But after a jump in velocity late last season—a common precursor to an elbow injury—Solis was shut down following elbow discomfort in the Arizona Fall League. Then, at the beginning of spring training, it was determined that the southpaw needed Tommy John surgery, thus ending his 2012 season before it even began.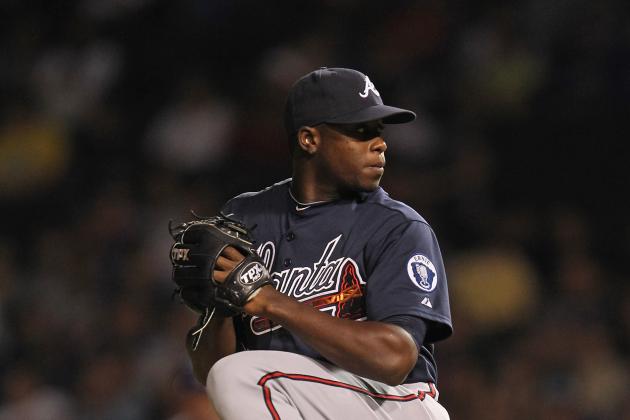 Jonathan Daniel/Getty Images

2012 Stats: N/A
It shouldn't come as a surprise that Vizcaino needed Tommy John surgery, as the right-hander was able to avoid surgery in 2010 despite a similar injury. However, the same injury resurfaced this season during spring training—this time, though, surgery was the only option.
The right-hander was traded to the Cubs at the deadline, where he'll play a major part in their ongoing rebuilding process. Although he has an arsenal of three above-average to plus pitches, Vizcaino's history of elbow problems will likely limit him to a bullpen role moving forward.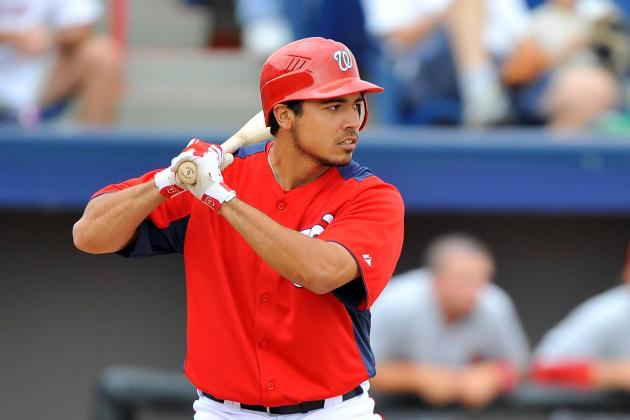 Brad Barr-US PRESSWIRE

2012 Stats (Rk, SS, A+, AA): .233/.363/.489, 18 XBH (6 HR), 29 K/23 BB (43 G)
Selected by the Nationals with the No. 6 overall pick in the 2011 draft, Rendon was regarded as the best pure hitter in the entire draft class. With the potential to move quickly through the Nats' system, the right-handed hitter began the year at High-A, but suffered a broken ankle in only his second game—his third serious ankle injury in as many years.
However, he was able to work his way back into games by the end of July and finished the season at Double-A. Considering he was already on the team's 40-man roster, one has to wonder whether he might have reached the majors in September.
Courtesy of MLB.com
2012 Stats (A-): 3-0, 24.2 IP, 4.01 ERA, 1.14 WHIP, 26 K/8 BB (5 GS)
Arguably the gem in the offseason deal that sent Michael Pineda to the Yankees, Campos was coming off a 2011 season in which he led all Northwest League (Class-A Short Season) pitchers with a 2.32 ERA and 85 strikeouts as an 18-year-old.
The 6'4" right-hander continued to dazzle in his Low-A debut this season, posting a 4.01 ERA, 9.5 K/9 and 2.9 BB/9 in his first five starts. Unfortunately, those five starts was the extent of his experience in 2012, as an elbow injury held him out of action for the remainder of the year.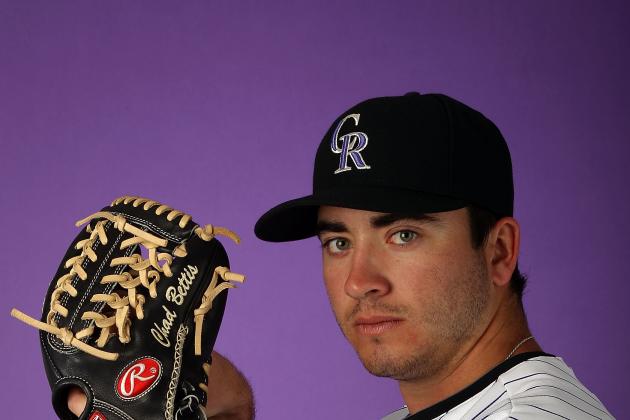 Christian Petersen/Getty Images

2012 Stats: N/A
A second-round pick out of Texas Tech in 2010, the Rockies ultimately decided to develop Bettis as a starter despite possessing a plus fastball-slider arsenal. Well, it's hard to argue with their decision after the right-hander posted a 3.34 ERA, 9.8 K/9 and 2.4 BB/9 in nearly 170 innings at High-A Modesto in 2011.
Slated to begin the 2012 season at Double-A Tulsa, Bettis never threw a pitch this season, as he was shut down in April after re-aggravating a previous shoulder strain.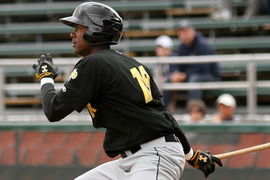 Courtesy of MiLB.com
2012 Stats (A-): .274/.288/.403, 6 XBH, 11 RBI, 21 K/2 BB (15 G)
Regarded as one of the more advanced hitters in the 2011 draft class, Bell, a switch-hitting outfielder, was headed for the University of Texas until the Pirates offered him $4 million in the second round.
Bell has the ability to hit for both average and power from both sides of the plate, but never had the opportunity to truly showcase it in 2012. In late April, he injured his left knee while running the bases for Low-A West Virginia and ultimately required season-ending surgery to repair a torn meniscus.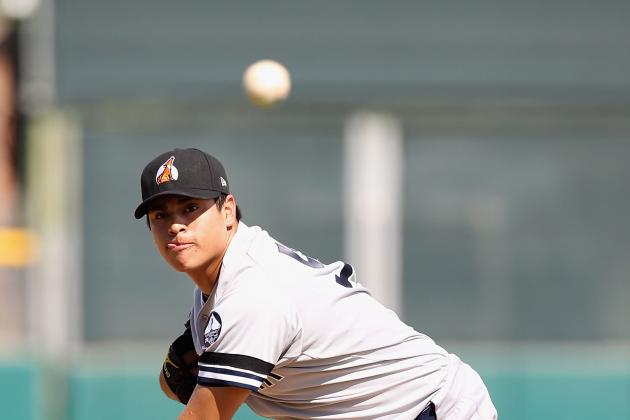 Christian Petersen/Getty Images

2012 Stats (AAA): 0-2, 24 IP, 4.50 ERA, 1.63 WHIP, 22 K/10 BB (6 GS)
After nearly pitching his way to the major leagues as a 20-year-old last September, Banuelos's 2012 has been a major disappointment. He pitched well to open the season at Triple-A, demonstrating slightly improved command of his three pitches while registering a favorable strikeout rate.
However, the young left-hander suffered a bone bruise in his elbow that, despite initial optimistic reports, ultimately ended his season in May.