NFL Players Gifted Huge Opportunities After Early Season Injuries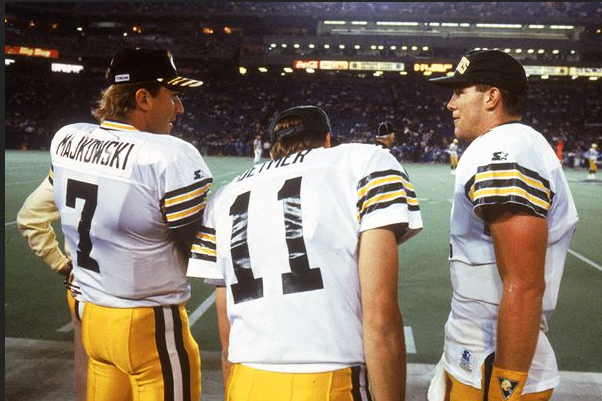 For every busted knee, every time a guy gets his head knocked off, every time an ankle is twisted or a wrist sprained there is a guy on the bench eager to seize the opportunity to play.
More often than not, that opportunity is short-lived.
But sometimes tragedy leads to the discovery of a guy like Brett Favre, who replaced Green Bay's Don Majkowski when he tore his ankle up in September 1992 and started every game for 15 years after that.
So, is there a "Magic Man" in the making this season, who, when given an opportunity, will be so good the team never looks back?
Who knows?
But, there certainly is no shortage of season-ending or long-term injuries to go around this year, and one man's bum knee spells opportunity for another. Let's take a look at some who face huge opportunities on the heels of an injury to a starter.
Begin Slideshow

»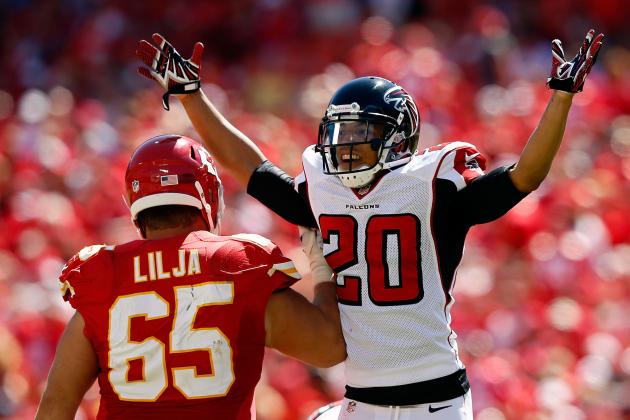 Jamie Squire/Getty Images

With Pro Bowl cornerback Brent Grimes downed by a season-ending Achilles injury, two journeyman defensive backs for the Atlanta Falcons will get their shot at a starting job in 2012.
The Falcons have tweaked the lineup to cover the cornerback slot with more experience, but that still leaves the nickel back spot open to fill by either Christopher Owens or Dominique Franks.
Owens has at least started a few games at the nickel, splitting 10 starts between cornerback and nickel back.
Franks, a fifth round pick out of Oklahoma in 2010, started four games last season but never distinguished himself.
Neither Owens or Franks can compete with a healthy Grimes, but 2012 is up for grabs; only time will tell.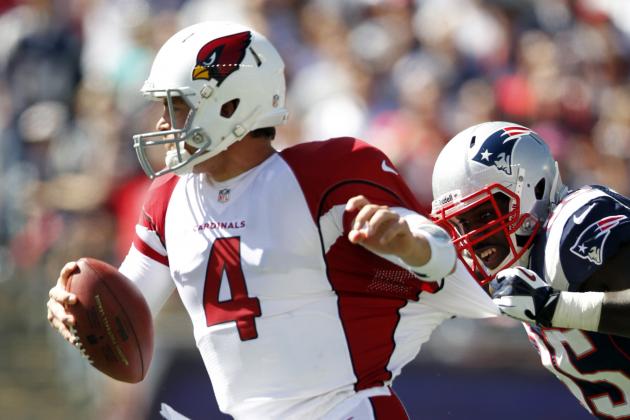 Greg M. Cooper-US PRESSWIRE

Arizona Cardinals quarterback John Skelton's Week 1 injury is not as bad as it looked, but it's still likely Kevin Kolb will get a couple of starts before he comes back.
And if Kolb delivers a couple of victories it will be hard to put him back on the bench.
Coach Ken Whisenhunt insists Skelton will return as the starter.
But if Kolb delivers another performance like he did today—upending the 14-point favorite New England Patriots in the biggest upset of this short NFL season so far—it will be hard to ignore.
Kolb's career stats are pretty pedestrian, posting 21 TDs to 22 INTS, but his 59 percent passing accuracy keeps him in the conversation.
He went 15-of-27 for 140 yards and one TD for a 82.3 QBR.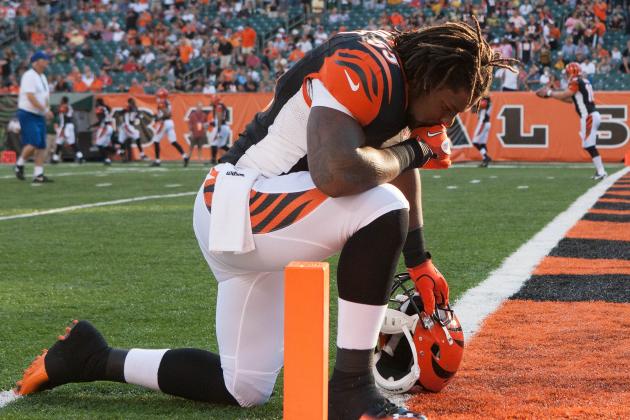 Rob Leifheit-US PRESSWIRE

Bengals' outside linebacker Thomas Howard's season-ending ACL injury may spell opportunity for one of the biggest draft dives of all time.
Undrafted free agent Vontaze Burfict, a projected first round pick at the start of the 2011 college football season, got the start today in Howard's place, ultimately sharing time with two other linebackers.
He secured three tackles, including one solo tackle, in the Bengals' 34-27 victory over the Browns.
Burfict has been described as immature, undisciplined and lacking focus, known as much for his personal foul penalties as his ability to rattle opposing quarterbacks.
He's also been described as a phenomenal athlete, excellent in pursuit, with strength and speed.
Now Burfict is where he said he said he deserved to be all along—in the starting lineup for a playoff contender. Will he capitalize?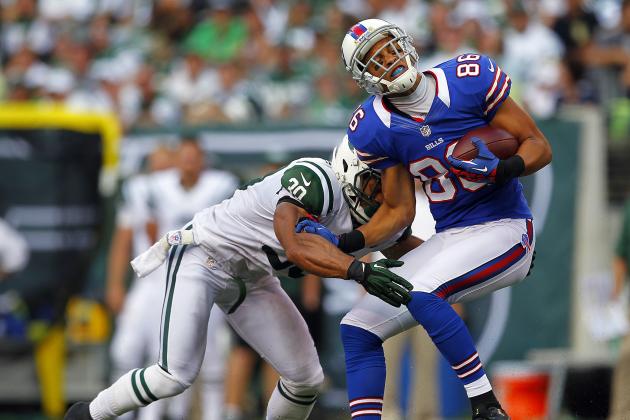 Rich Schultz/Getty Images

The Bills lost a lot in their season opening blowout loss to the Jets, chief among those losses was wide receiver David Nelson, who will miss the rest of the season after tearing a ligament in his right knee.
Nelson put together a solid, workmanlike season in 2011, finishing the year with 61 catches, 658 yards and five touchdowns, and providing a reliable target for quarterback Ryan Fitzpatrick.
Waiting in the wings is third-round draft pick, T.J. Graham, out of North Carolina State.
Graham, who was on the inactive list on opening day, has been described as "quick but raw."
On Sunday, he caught just one pass in the Bills' 35-10 rout of the Kansas City Chiefs. But he was a deep threat in college and has burner speed.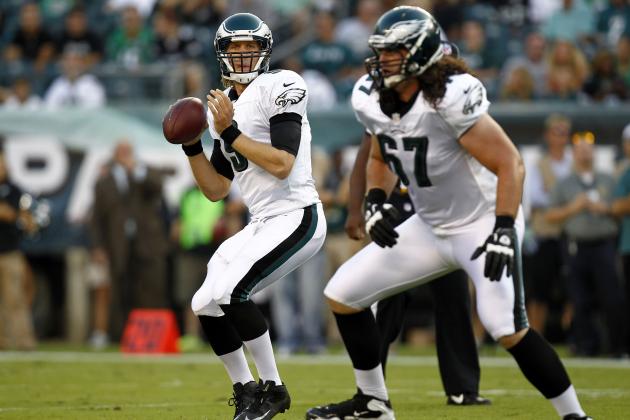 Jeff Zelevansky/Getty Images

This one hasn't happened yet. But, if history has taught us anything, it will.
Michael Vick will go down again.
And when he does, Nick Foles, who earned positive reviews for his preseason play, will be waiting in the wings, ready to step up and prove his preseason prowess was a harbinger of things to come, not just a kid who got lucky once.
Filling in for the injured Vick, Foles tossed a pair of touchdown passes in the first quarter, leading the Eagles to a 27-10 victory over the Cleveland Browns in the third preseason game of the year—the same team Vick looked terrible against in the season opener.
Vick continues to look restless in the pocket, and his reckless style of play always means more injuries and Foles will be there, to the joy of growing Vick naysayers in Philly.
If there's a Wally Pip in the NFL this year it could well be Vick to Noles' Lou Gehrig.