Indianapolis Colts' Week 2 Position-by-Position Preview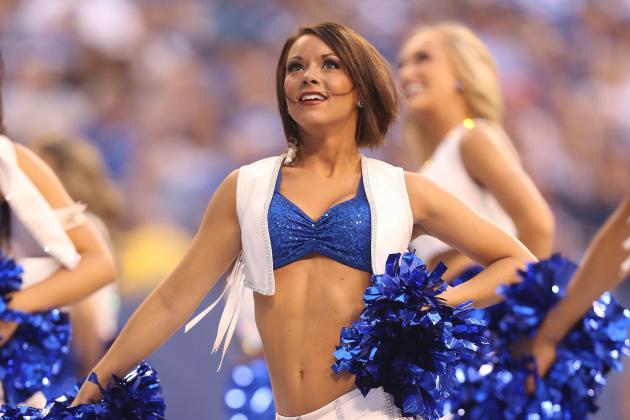 Andy Lyons/Getty Images
The crowd is key today
This week the Colts face a very winnable game, provided the coaching staff adjusts the game plan to account for severe personnel issues. The Vikings pulled out a tight win against Jacksonville last week in overtime but still will offer a hefty task behind Adrian Peterson and Percy Harvin.
Which positions are key to this battle? Who must excel to win? Who has to hold their own if the Colts are to win their home opener?
Begin Slideshow

»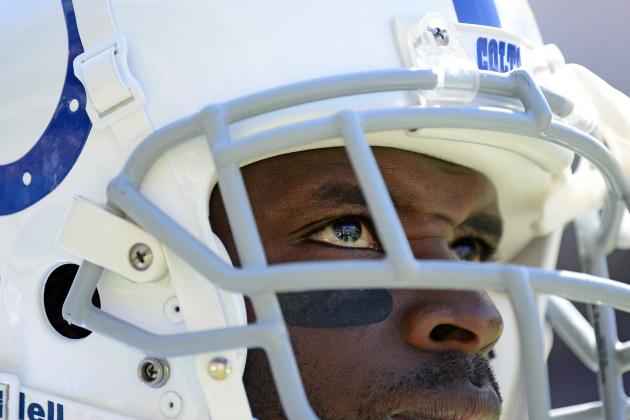 Mike DiNovo-US PRESSWIRE

Last week Andrew Luck threw 45 times, far too many if the team is to protect him with a shaky offensive line. Eighteen of those attempts targeted Reggie Wayne. Wayne had a banner day, but Luck badly needs to find more targets to trust.
Today we need to see Donnie Avery excel or removed from the lineup. His play last Sunday was a major disappointment. If Austin Collie or T.Y. Hilton play, Avery should find a cozy spot on the bench and get used to it.
Speaking of Collie, his return would certain give the team more weapons. Before his concussion, it was clear Andrew Luck had developed a strong affinity for the sure-handed veteran. Phil Richards of the Indianapolis Star reports that Collie is doubtful for today's contest, however.
No matter who takes the field, Andrew Luck needs more reliable receiving options, or else Wayne won't last the entire season.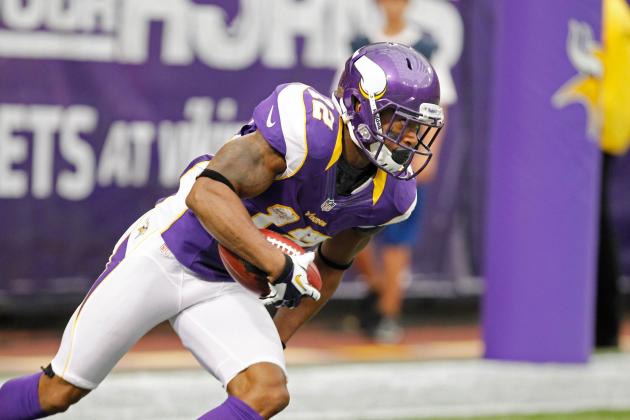 Bruce Kluckhohn-US PRESSWIRE
Harvin will test the safeties
Tom Zbikowski should spend most of the day in the box on running downs. Look for the Vikings to run lots of play action pass as a result.
The heat is certainly going to be on the safeties as Percy Harvin's speed will be a challenge. I don't expect the cornerbacks to handle the load on their own, so it's key that Antoine Bethea play centerfield well today.
Watch for the Vikings to look for early weakness in the secondary, with hopes of getting Harvin behind the safeties.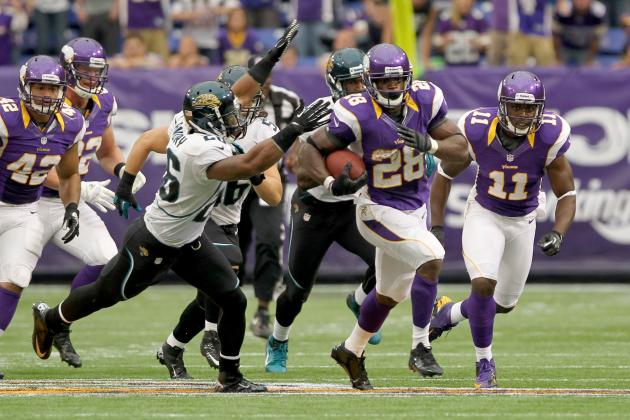 Brace Hemmelgarn-US PRESSWIRE

Losing Brandon McKinney at nose tackle is hurting the Colts defensive line badly. The resurgent Adrian Peterson will hurt them more.
Peterson eased into his return from knee injury last week with an impressive 84 yards on 17 attempts. After watching last week's film of the Colts defensive line, he's likely looking forward to this week as well.
Without a true run-stopping, two-gap 3-4 nose tackle, the Vikings would love to run between the tackles. It'll be up to the inside linebackers to plug the gaps, but I'd expect Peterson likes that matchup.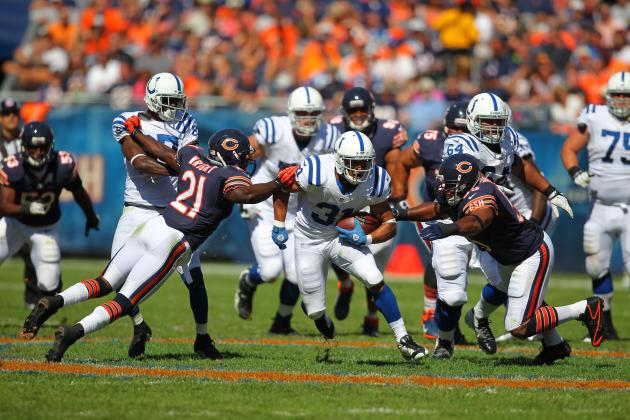 Dennis Wierzbicki-US PRESSWIRE

The Colts can't consistently run the ball. They certainly didn't do well running behind the right side of the offensive line.
Look for the Colts to split carries between Brown and Ballard. Ballard offers a nice change up to the shifty Brown, so I'd expect Arians to use him more this week than last. Used effectively, these two could bring the kind of balance the offense badly needs.
The Colts could offer up a terrific running game or refuse to show up at all—it's all up to Bruce Arians and the offensive line.
Mike DiNovo-US PRESSWIRE

It's impossible to write much about the Colts without writing about rookie quarterback Andrew Luck. He's the face and future of the franchise; their hopes built entirely around his development.
Last week he had the kind of game we should expect from a rookie expected to carry the load: uneven.
This week, the most important aspect to improve is reducing turnovers. Luck didn't get a fair shake from offensive coordinator Bruce Arians last week when asked to throw the ball on 75 percent of all offensive snaps.
When in those spots, however, he pushed a bit and under-threw a couple of balls. Those turnovers were the difference in a game that shouldn't have been that close.
Arians needs to work on offensive balance and get Luck more three-step drops to build a rhythm. Requiring less protection from the offensive line will inevitably make the game easier for Luck to manage. That confidence and lower-risk approach should reduce turnovers and lead to a better game from the rookie.
Timothy T. Ludwig-US PRESSWIRE
Trai Essex may be key to this game
The Colts needs to run the ball but cannot do so behind the right side of the offensive line. For that matter, the right side of the line looks horrible in pass protection as well.
Trai Essex, signed this week, could be a major factor given his ability to play at any position on the offensive line. The most logical spot would be at left guard, given the injury to Joe Reitz. Right tackle Winston Justice is questionable for today's matchup as well.
The key today is playing together as a unit and keeping defenders out of the backfield. They'll face a serious pass rush from the Vikings. Once again, it's imperative Bruce Arians works out a game plan featuring fewer vertical attempts and more quick strikes to minimize the pass rush.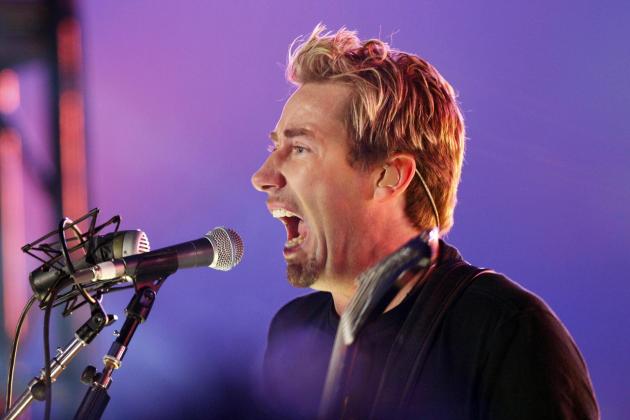 John E. Sokolowski-US PRESSWIRE
Even Chad Kroeger may be an improvement
The Colts have exactly two quality cornerbacks.
That's seemingly enough until someone gets hurt, needs a rest or the team is forced into nickel coverage. From there, it gets dicey.
Cassius Vaughn, Josh Gordy and Justin King mush step up and play better if the team is to have a shot this year. Specifically, King must not be a liability when playing nickel. The team would be wise to have a backup plan should King keep misfiring.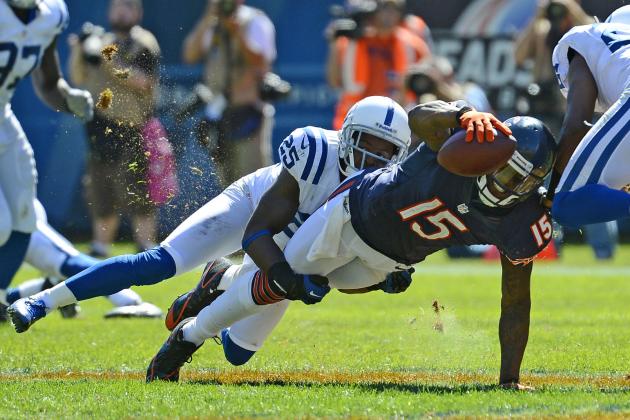 Mike DiNovo-US PRESSWIRE

While nickel is a particularly troubling situation, today could be a pretty decent day for Vontae Davis and Jerraud Powers. The only real deep threat the Vikings feature is Percy Harvin. As a group, the Vikings receivers aren't as deep nor as talented as the Bears'.
The All-22 tape showed the Colts spent more of the day in man coverage against the Bears. Last week, the Vikings receivers faced more zone concepts against the Jaguars, so this is a bit tough to predict.
If Davis and Powers hold their own in man coverage against the Vikings receivers, it should relieve the pressure on safeties, allowing Zbikowski to key on Adrian Peterson.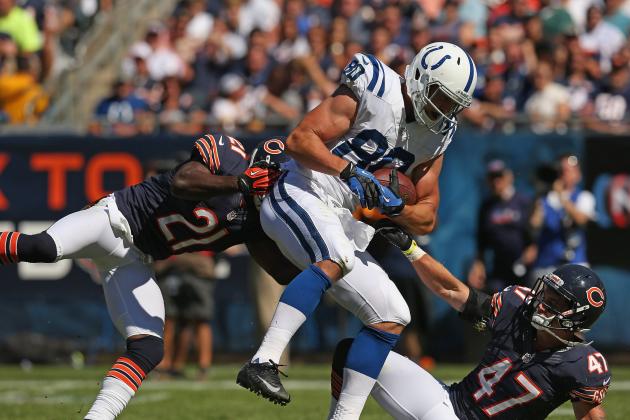 Jonathan Daniel/Getty Images

Coby Fleener exploded last week for 82 yards. It was a relief for both fans and Fleener, whose shaky preseason filled with drops had some worried.
Dwayne Allen disappeared, which was unexpected given the team's propensity to run two tight-end sets.
The key for this week is to get Allen and Fleener involved in the passing game. Both need to block well but should serve as good quick-strike options for Andrew Luck. Both are good route runners and should match up well against the Vikings linebackers.