Bears vs. Packers: Green Bay's 8 Unsung Heroes in Its Victory over Chicago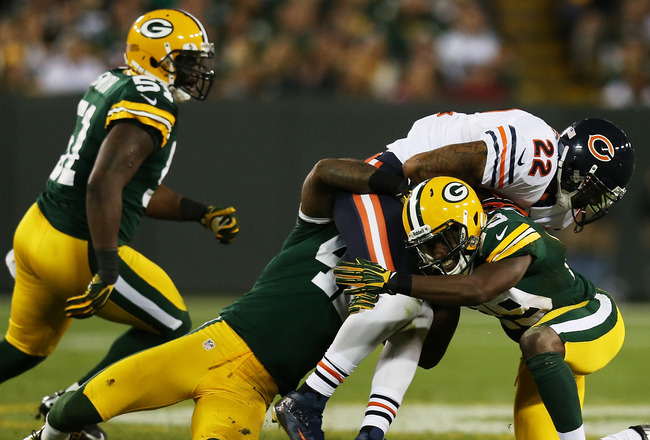 Jonathan Daniel/Getty Images
The past four days felt like an eternity for Green Bay Packers fans as they desperately awaited the Chicago Bears' arrival to Lambeau Field following a frustrating Week 1 defeat to the San Francisco 49ers.
As numerous statistics were thrown in our faces about the Packers being all but eliminated from playoff and Super Bowl contention, Green Bay desperately wanted to get back on the field and prove that Week 1 was a fluke—that its defense wasn't as bad as advertised—that its running game wasn't a lost cause.
Taunts from the Windy City echoed throughout the state of Wisconsin after the Bears dominated a two-win team from a year ago, and the Packers stuck in the NFC North cellar. It was going to take an inspired effort from several players to avoid an 0-2 start.
It wasn't pretty, but the Packers defeated the Bears, 23-10 thanks in large part to the reinforcements offered by eight, count them, eight unsung heroes. Let's give them a warm welcome.
Tim Masthay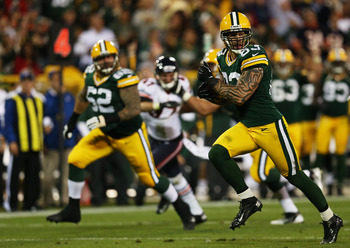 Jonathan Daniel/Getty Images
I know. That isn't Tim Masthay pictured above. But the Packers' punter was the holder on the game changing play that led to this image—tight end Tom Crabtree scampering into the endzone in the second quarter on a fake field goal to take a 10-0 lead.
Of course, Head Coach Mike McCarthy had to have some huge cojones to call this one, especially on a 4th-and-26, but as Crabtree broke off the left side of the line towards the middle, Masthay flipped him the ball and all that ensued was pandemonium at Lambeau.
It took perfect execution, and that's what the Packers got from Masthay, Crabtree and the blocking brigade leading the way.
Finally, a positive and fresh 4th and 26 memory for Packer fans.
Aside from Masthay's perfect 158.3 passer rating, his true value came as a punter. He completely eliminated the threat of Devin Hester. Masthay averaged 47.6 yards per his five punts, and his hangtime was well over four seconds for each of them. Not a bad day at the office if you ask me.
Cedric Benson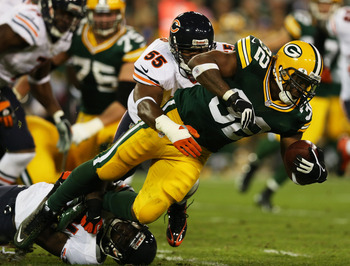 Jonathan Daniel/Getty Images
Cedric Benson had nine carries for 18 yards against a stout San Francisco run defense, and things weren't supposed to get any better against the Bears, whose front four was no pushover themselves.
But the Packers came out with the main objective of establishing a run game, and that meant Benson and the offensive line were going to have to improve in a big way compared to just four days ago.
Benson answered the call—20 carries for 81 yards is nothing to write home about, but by compiling a four yards per carry average, the Packers forced the Bears to respect the run game enough to open up opportunities in the air attack.
Speaking of the passing game, Benson also contributed in that regard, hauling in four passes for 35 yards to rank as the Packers' second most productive receiver on the night in terms of yardage.
His inside running style is a perfect fit for the Packers, as his quick bursts after finding the running lane often leads to positive yardage.
This kind of effort is all the Packers need from Benson moving forward in order to keep the Green Bay offense a well-oiled machine.
Jerron McMillian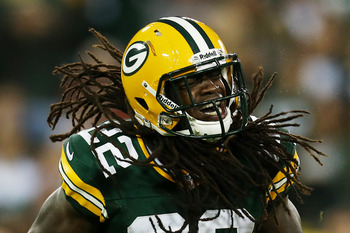 Jonathan Daniel/Getty Images
One of the multiple lineup changes on defense, safety Jerron McMillian replaced MD Jennings during the game against the 49ers and earned the start Thursday night against Chicago.
McMillian got the job done, providing adequate help over the top to help hold Bears' wide receivers Brandon Marshall (2 catches, 24 yards) and Alshon Jeffrey (1 catch, 7 yards) at bay. Chicago quarterback Jay Cutler had plenty of time to throw on multiple occasions, but McMillian's presence in the lineup over Jennings clearly had an impact, and Cutler was numerously the victim of the coverage sack.
The rookie out of Maine nearly had two interceptions on the night, dropping one early in the third quarter, but redeeming himself with a diving pick late in the game to secure the victory, even though replay showed McMillian failed to hold on all the way through.
Still, McMillian teamed up well with Morgan Burnett at safety, and you can bet on seeing plenty more of No. 22 as the season progresses thanks to his performance against the Bears.
Casey Hayward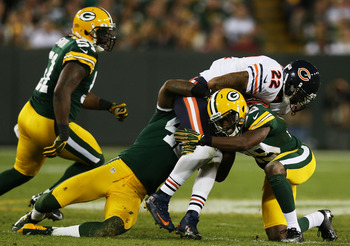 Jonathan Daniel/Getty Images
Let's make one thing clear—starting Jarrett Bush at cornerback against the 49ers was a terrible, terrible mistake.
Luckily, the Packers realized this as well, and inserted Sam Shields into the starting role, with rookie Casey Hayward entering when the Packers weren't in their base defense. The impact was immediate and the results fruitful.
Shields and Hayward both played lockdown coverage on whoever they were assigned, and while neither contributed much when it came to forcing turnovers or tackling, you didn't hear their names much Thursday night—and that's how it should be.
Hayward was in on a couple of tackles, but that was it. No big plays were allowed, and no re-insertion of Jarrett Bush was needed. Thank goodness for that. Along with McMillian, it looks like Hayward is a name we'll be hearing—if you know what I mean—for the rest of the 2012 season.
Sam Shields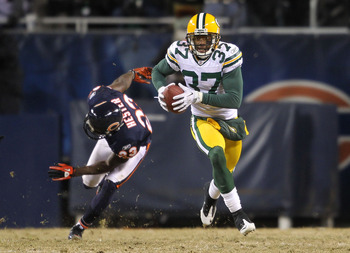 Andy Lyons/Getty Images
You may notice the picture of Sam Shields used in this slide is from two years ago when the Packers faced the Bears at Soldier Field.
That's because there weren't any snapped of him tonight, and in no way is that a bad thing.
Shields wasn't even called upon to make a tackle Thursday night, because he didn't allow jack squat in the Chicago passing game. He was likely responsible for a few of Clay Matthews' sacks of Cutler because of his suffocating coverage down field.
That's right—a player who didn't make a single tackle or have an interception is an unsung hero for the Packers. Can't argue with that logic, right?
Jerel Worthy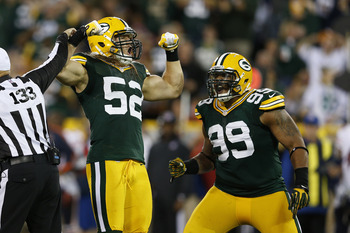 Joe Robbins/Getty Images
We'll continue with the replacements trend and throw defensive tackle Jerel Worthy a bone after his effort in place of the inactive CJ Wilson against the Bears.
Worthy provided a nice push up front and recorded two tackles for a loss, including a late sack of Cutler. While everyone clammered for the Packers to improve their pass rush this offseason, Worthy and linebacker Nick Perry were drafted to aid Clay Matthews in his quest to destroy every opposing quarterback in the NFL.
Perry was silent Thursday night, but Worthy provided a spark by pushing people around and creating lanes for Matthews and Co. to run through. Even if Wilson is active for Week 3, Worthy may be the new guy lining up with BJ Raji and Ryan Pickett thanks to his performance against Chicago.
Erik Walden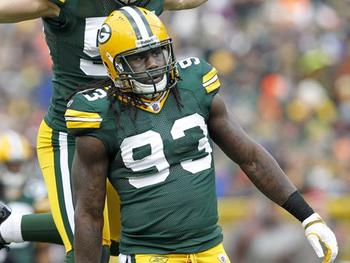 Who could have believed how much Erik Walden would be missed?
After sitting out Week 1 because of suspension, Walden returned with a vengeance against Chicago, teaming up with Matthews for much of the night and wreaking havoc in the Bears' backfield.
Aside from Matthews, Walden was the only Packer to have multiple knockdowns of Cutler and finished with three tackles and half a sack when it was all said and done.
Playing in place of rookie Nick Perry for much of the first half, it proved to be a difference as Walden provided a solid pass rush and made big plays. If he can continue to have a positive impact, it will give Perry time to develop as a linebacker so Green Bay doesn't have to rush him along.
DJ Smith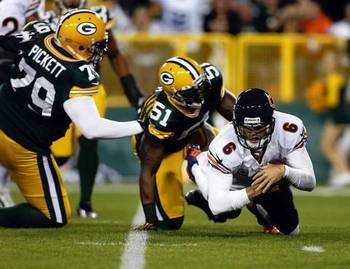 What a difference a week makes.
Smith kicked things off with a bang, sacking Cutler on the Bears' first play from scrimmage to help set the tone for the rest of the game. Smith finished tied for first in tackles with—you guessed it—Clay Matthews, and had one miscue in coverage on Chicago's lone touchdown when tight end Kellen Davis got behind Smith.
But remember where Smith was just four days ago? Missing tackles, blowing coverages and all-in-all looking like someone who wasn't prepared to start in the NFL.
Well, he couldn't have made a statement in a better way Thursday night.
Keep Reading

Green Bay Packers: Like this team?