NFL Week 2 Injury Report: Who to Play, Who to Sit for Fantasy Football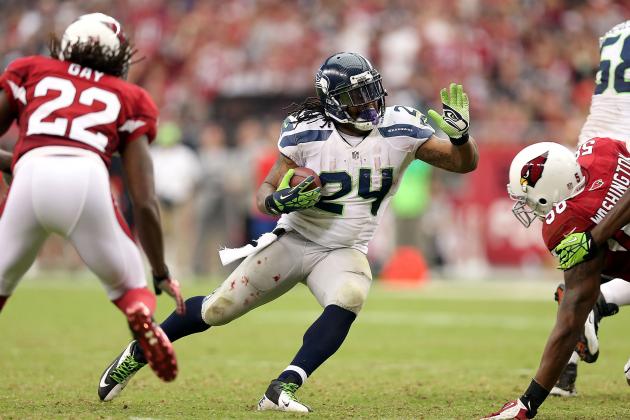 Christian Petersen/Getty Images

We saw some important players go down with injuries in the preseason prior to the NFL regular season starting. Then there was another jump in serious injuries that occurred in Week 1 play.
So here we are preparing for Week 2, and you are trying to figure out which of your injured players to start on your fantasy team.
This presentation will look at the major injuries that are sure to cause some headaches for fantasy owners. In total, we will look at 38 offensive players whose health you should closely monitor as game time approaches.
Since there are so many injured players this week, we will divide them up according to position, and each slide will have an update on who to start and who to sit.
Begin Slideshow

»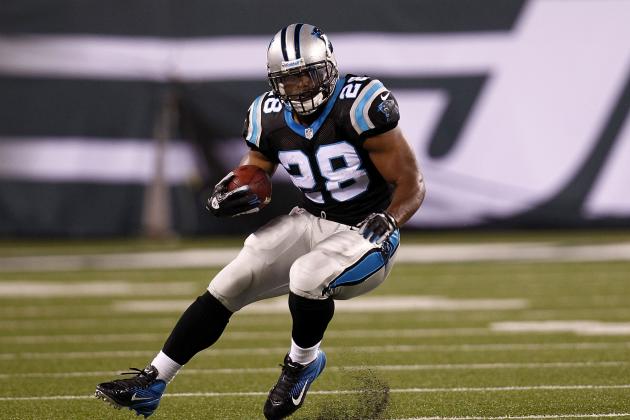 Jeff Zelevansky/Getty Images
How effective will Jonathan Stewart be if he plays in Week 2?
Here is a link to the Week 2 official injury report, courtesy of NFL.com.
Another place to check out injuries is at ESPN.com, which provides thorough updates on whether or not injured players are practicing.
Hopefully, your fantasy football team doesn't have too many players on this list, but they do allow you to have a bench for a reason.
Wesley Hitt/Getty Images

Tennessee Titans, QB, Jake Locker
Locker separated his left shoulder in Week 1, but he is able to play with it. Chris Johnson should rebound from his horrendous Week 1, and the Titans bring back Kenny Britt to give Locker one more weapon to work with.
One might wonder why you don't have a better quarterback on your fantasy team to start than Locker, but that is another story altogether.
Cincinnati Bengals, QB, Andy Dalton
Dalton is listed as probable this week with an arm injury, but from all indications, he looks good to go.
Since the Bengals are facing the Cleveland Browns and their young, inexperienced offense, you would have to think that the Bengals defense should provide Dalton with some great field position.
Christian Petersen/Getty Images
John Skelton's ankle injury will sideline him this week.
Arizona Cardinals, QB, John Skelton
Skelton will not be starting this weekend due to an ankle injury he suffered in Week 1. The Cardinals will be going with Kevin Kolb for at least two weeks.
It's a light week for quarterbacks on the injured list. Figure that this list will grow as the season rolls on.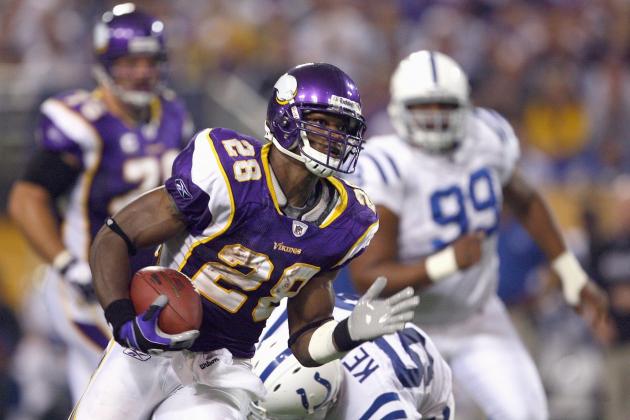 Jeff Gross/Getty Images

Minnesota Vikings, RB, Adrian Peterson
Peterson came out of Week 1 healthy and ready to go for Week 2.
His knee injury has progressed to where he can practice during the week, another sign that he is getting closer with every passing week to being most of the way back.
Start him with confidence this week, as Minnesota faces the Indianapolis Colts.
Seattle Seahawks, RB, Marshawn Lynch
Lynch is still dealing with a back injury that kept him limited in practice this week.
He will probably be a focal point of the Seahawks offense this weekend against the Dallas Cowboys, as establishing the running game will take heat off of rookie QB Russell Wilson.
Lynch was upgraded from questionable to probable, which is another positive sign to play him.
Pittsburgh Steelers, RB, Jonathan Dwyer
Dwyer got some time off this week to rest his foot injury, but he is expected to be the main ball-carrier this Sunday against the New York Jets.
He will share some carries but probably will run the ball enough to be a potential flex player for your fantasy lineup.
Carolina Panthers, RB, Jonathan Stewart
Stewart is now able to run effectively on his bad ankle to the point where the Panthers believe he can play this week.
The Panthers will be looking to throw the ball on New Orleans with Cam Newton and then mix in enough runs by Stewart to keep the Saints defense honest.
If you are trying to figure out who to start at your flex roster spot, and you own Stewart, you can do worse than him.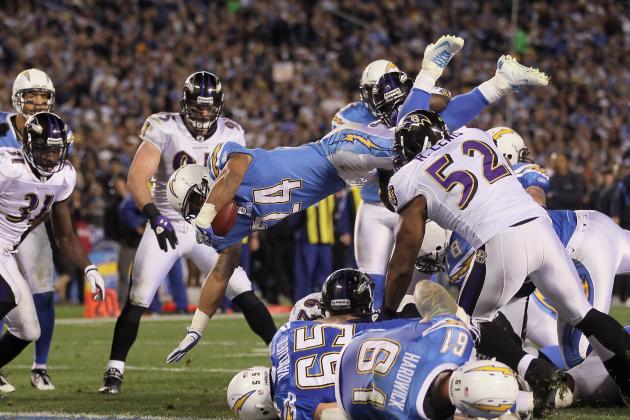 Jeff Gross/Getty Images
Keep Ryan Mathews on your bench in Week 2.
Arizona Cardinals, RB, Beanie Wells
Wells didn't have a great start to the year with knee and hamstring injuries, but he is deemed healthy enough to play in Week 2.
He faced the New England Patriots this week, who did a number on Chris Johnson last week, so sitting Wells is the correct move.
San Diego Chargers, RB, Ryan Mathews
Mathews looks like he will be inactive this week, according to a tweet from Michael Gehlken of the San Diego Union-Tribune.
Mathews finally put on pads in practice this week but was still limited in practice. I don't feel very strongly about him starting this week, as he needs to get his feet wet.
Check back on Sunday to see if the Chargers have declared him as active or inactive.
New England Patriots, RB, Shane Vereen
Vereen has a foot injury and is listed as questionable.
With Stevan Ridley being the top dog in New England, continue to let Vereen sit on the bench until there is evidence that he will be gaining more touches.
Cincinnati Bengals, RB, Bernard Scott
Scott is listed as questionable against the Cleveland Browns due to a hand injury.
He is not healthy enough yet to be counted on for enough touches to think about taking him off of your bench.
Buffalo Bills, RB, Fred Jackson
Jackson is out three to eight weeks with a sprained knee ligament suffered in Week 1.
Miami Dolphins, RB, Daniel Thomas
Thomas is out this weekend due to a concussion.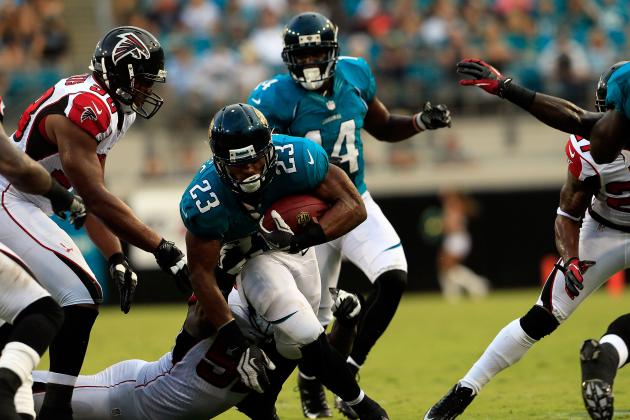 Sam Greenwood/Getty Images
Put Rashad Jennings on your bench in Week 2.
Jacksonville Jaguars, RB, Rashad Jennings
Jennings needed to sit out at least two practices this week due to his knee injury.
With Maurice Jones-Drew now back with the team, the Jaguars will turn the ball over to him, and Jennings will be the forgotten man going forward.
If Jones-Drew gets hurt, then you can think about starting Jennings again.
Tennessee Titans, RB, Javon Ringer
Ringer was hospitalized this week due to an elbow infection. It looks like he will be declared out this week.
If you were thinking about benching Chris Johnson due to his terrible effort in Week 1 and starting Ringer in place of him, you need to come up with a different plan.
Tampa Bay Buccaneers, RB, LeGarrette Blount
Blount has a neck issue due to an injury he suffered in Week 1.
Since the main man in Tampa is Doug Martin, Blount's role has been reduced enough that he should be firmly planted on your bench.
San Francisco 49ers, RB, Brandon Jacobs
Jacobs is listed as questionable for this week due to a knee injury.
According to this tweet from Matt Barrows, it sounds like if you have a healthy option on your bench, you might want to start him rather than risk it with Jacobs, who might wind up being inactive against Detroit.
Pittsburgh Steelers, RB, Rashard Mendenhall
Mendenhall has been practicing this week, but the Steelers haven't gone out of their way to announce if he will play or not.
It seems that with Jonathan Dwyer set to start, you should at least want to watch Mendenhall carry the ball in a real game to see how well his knee is holding up before you opt to start him.
For now, the advice is to keep him on your bench for Week 2.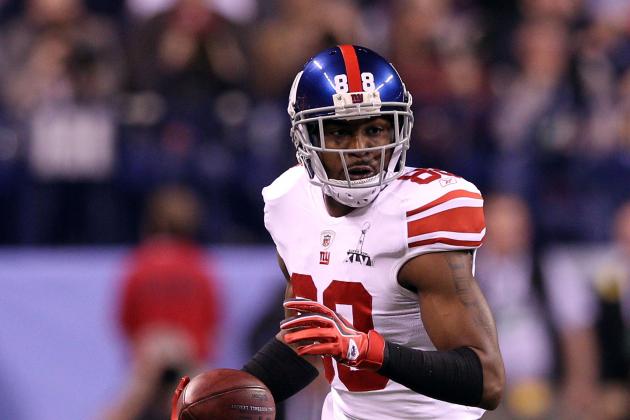 Elsa/Getty Images
Plan to start Hakeem Nicks in Week 2.
Detroit Lions, WR, Calvin Johnson
Johnson has a foot injury that results in him showing up on injury reports as probable for this week.
The Lions are facing a very formidable defense in the San Francisco 49ers, and since the Lions have so much trouble running the ball, what else can they do but try to air it out?
Expect Matthew Stafford to be looking for Megatron early and often, no matter how many 49ers are trying to defend him.
New York Giants, WR, Hakeem Nicks
Nicks was limited in practice this week, but he expects to be a full go for this week against the Tampa Bay Buccaneers.
He feels that he will be at full speed by Sunday, which is good enough for me.
Oakland Raiders, WR, Denarius Moore
Moore has been dealing with a hamstring injury but is now well enough that he will play this week at the Miami Dolphins.
If you need either a flex player or a No. 3 WR, consider playing Moore. The Raiders should be able to throw the ball against Miami this weekend.
Carolina Panthers, WR, Steve Smith
Smith has been experiencing some pain in his knee, but he will play this week against the New Orleans Saints.
Since both NFC South teams are 0-1 to begin the year, the Panthers need all their weapons on board to try to prevent an 0-2 start.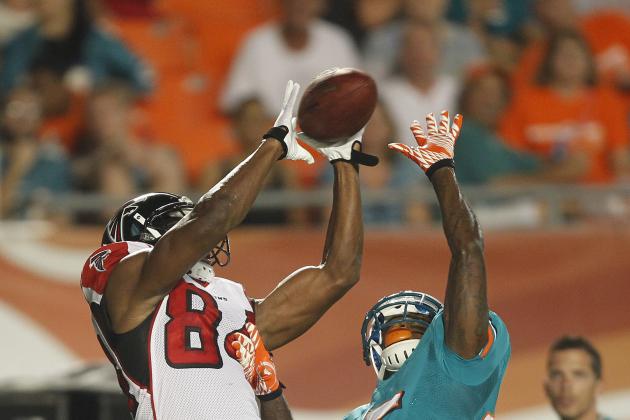 Joel Auerbach/Getty Images
Start Roddy White in Week 2 against the Denver Broncos.
Philadelphia Eagles, WR, DeSean Jackson
Jackson is on the fence for me this week, mostly because of his tough opponent.
He has a hamstring injury that caused him to miss practice this week, and he is going up against the Baltimore Ravens, who have one of the best secondaries in the NFL.
Still, who else will Michael Vick be throwing the ball to? Jeremy Maclin is hurt too.
Dallas Cowboys, WR, Miles Austin
Austin was dealing with a bad hamstring, but his injury has improved to the point where he was able to practice every day this week.
Go ahead and start him this week when the Cowboys face the Seattle Seahawks.
Atlanta Falcons, WR, Roddy White
White has a groin injury and was not a full participant in practice on Friday, but the Falcons don't play until Monday Night Football, so that still gives him a few extra days to get healthy.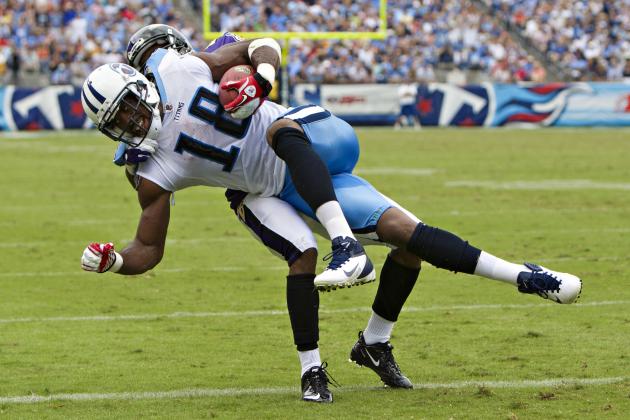 Wesley Hitt/Getty Images
Kenny Britt belongs on your bench in Week 2.
Tennessee Titans, WR, Kenny Britt
Britt's knee is finally getting healthy enough to play, but for his first game back, he will see limited snaps this week.
As a result, you are advised to sit him and see how well he is running. He hasn't had much practice time to develop great chemistry with Jake Locker yet, either.
Seattle Seahawks, WR, Sidney Rice
Rice has been dealing with a knee injury and is supposed to play this week against the Dallas Cowboys.
If you consider that Rice isn't 100 percent, and with rookie QB Russell Wilson continuing his sharp learning curve and going up against a good Dallas secondary, this all adds up to sitting Rice on your bench this week.
Seattle Seahawks, WR, Golden Tate
Tate will be starting in Week 2 for Seattle against Dallas. He is replacing Braylon Edwards in the starting lineup.
Tate missed Week 1 due to a knee injury. Just because Seattle wants to start him doesn't mean you have to.
Wait to see the Seahawks passing game produce. Leave him on your bench for now.
New Orleans Saints, WR, Devery Henderson
Henderson has been dealing with a concussion this week, and it has kept him out of practices.
As a result, the Saints will have him sit out the Week 2 contest, so you need to find another WR for him in your starting lineup.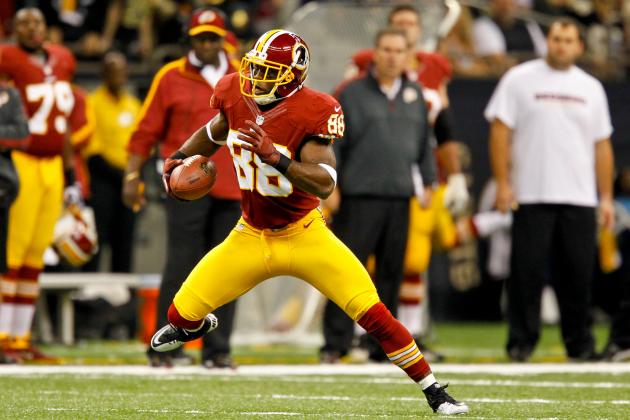 Derick E. Hingle-US PRESSWIRE
Pierre Garcon is a game-time decision on Sunday.
Washington Redskins, WR, Pierre Garcon
Garcon had a great game in Week 1 with rookie sensation Robert Griffin III throwing him the ball, but he hurt his foot and has been in pain all week as a result of the bruise.
A story in the Washington Examiner says this is shaping up to be a game-time decision. If you have a healthier option, go ahead and bench Garcon.
Tennessee Titans, WR, Nate Washington
Washington has a leg injury that forced him to miss practice this week.
Since he is not at 100 percent and will be splitting reps with Kenny Britt this week, we advise you to sit Washington against the San Diego Chargers.
Oakland Raiders, WR, Jacoby Ford
Ford is dealing with a painful Lisfranc injury that might eventually force the team to put him on injured reserve, so you should keep him on your bench until further notice.
Buffalo Bills, WR, David Nelson
Nelson went on injured reserve after Week 1 and is gone for the year with a torn ACL.
Indianapolis Colts, WR, Austin Collie
Collie is another WR that could be a tough decision for Week 2.
He had a concussion which caused him to miss practice this week, even though he already received medical clearance to play.
You will have to monitor his status to see if the Colts make him active or inactive.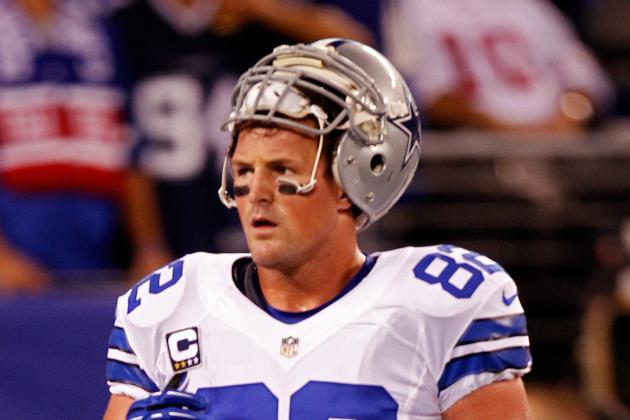 Jeff Zelevansky/Getty Images

Dallas Cowboys, TE, Jason Witten
Witten feels better and has returned to practice.
The spleen injury definitely limited him in the season opener, but he appears to be ready to play, and you know that he is a favorite target of Tony Romo.
The Cowboys are at Seattle this weekend.
San Diego Chargers, TE, Antonio Gates
Gates is dealing with a rib injury suffered in Week 1, which was bad enough to keep him out of multiple practices this week.
For many fantasy owners, they would start Gates if he was at 75 percent. I would start him unless the Chargers came out and said he would be inactive.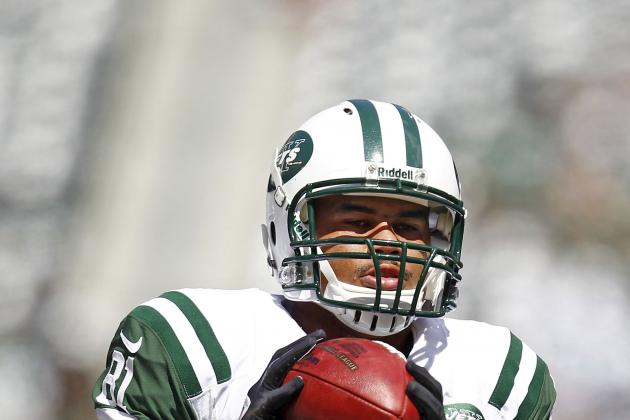 Jeff Zelevansky/Getty Images
Dustin Keller was declared out for Week 2.
New York Jets, TE, Dustin Keller
Keller was declared out for Week 2 due to his hamstring injury. You will need to find a replacement if he was your clear starter.
Seattle Seahawks, TE, Zach Miller
Miller needed to sit out of practice this week due to a foot injury.
As we advised with the other Seahawks' injured receivers this week, you should sit Miller against the Dallas Cowboys secondary, especially since he is hurting.
Thanks for checking out the presentation, and good luck to you in your Week 2 fantasy matchups this weekend.