Robert Griffin III: 3 Observations from Week 1 That Prove RGIII Is the Real Deal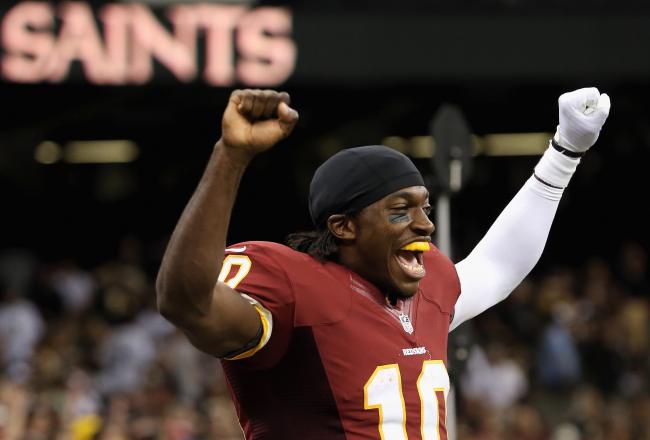 Ronald Martinez/Getty Images
The saying goes that the stats don't lie. In this case, they most certainly tell the truth. Robert Griffin III was simply spectacular in his NFL debut, posting a quarterback rating of 139.9 and playing mistake-free football in one of the toughest venues in the NFL.
Football, though, is as unpredictable a sport as any. Good stats in Week 1 doesn't mean that those numbers will translate for the rest of the season, and they definitely don't mean that the Hall of Fame is on the horizon.
Don't enshrine RG3 in Canton just yet. But look past the stats, and you'll see a performance that hints there's more to this quarterback than just great numbers. Here are three things I saw in Week 1 that convinced me that Robert Griffin is well on his way to a superb career.
1. The "packaged play" concept.
The general consensus following the win was that Mike and Kyle Shanahan had designed a game plan that focused early on quick, short throws and screen passes so that their rookie quarterback could ease into the action. Surprisingly, there were many more factors at play. Here's what Mike Shanahan had to say when asked about the play-calling in the first quarter (h/t Dan Graziano, ESPN.com):
No he has options on those plays. He decided to run it that way.
This doesn't mean that Griffin simply called audibles at the line of scrimmage. It means he was calling his own shots using a concept very similar to what he used in college at Baylor—the "packaged play" concept. Chris Brown of smartfootball.com explains packaged plays in great detail here.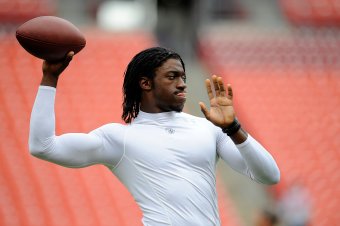 Patrick McDermott/Getty Images
In general, a packaged play set is something that offenses in the NFL are starting to utilize more often. Instead of simply coming to the line of scrimmage with a single set play, the quarterback is given a set of plays within the play. For example, a run play could be called, but the receivers on the outside will run a screen or some other route. It's the quarterback's job to identify whether or not it's a better idea to run the ball, or to pull it back and throw it.
It's all based on how the defense is aligned and how they react at the snap.
Packaged plays are very popular at the college level and Griffin ran many of these sets at Baylor. While he is familiar with them, it's incredibly impressive how effectively he ran them.
But to me, this speaks to something bigger. Coach Shanahan was willing to open up the playbook for RG3's first-ever start. He allowed his rookie quarterback to direct an offense completely on his own. That tells me that Shanahan has the utmost trust in Griffin. It also tells me that if Griffin was able to run these plays so well against an NFL defense in his first NFL start, then watch out. The sky is the limit.
2. His footwork was impeccable.
Size and arm strength are two things that NFL scouts love to see in an NFL prospect. But no quarterback is complete without proper footwork. A 6'6" quarterback with mobility and a rocket arm is great, but if he can't set his feet correctly, then it all goes for naught.
Footwork is something that takes time to learn and develop, but RG3 seems to have it naturally. Countless times, he was able to set his feet and move around effectively. On the 88-yard score to Pierre Garcon, he ran a play-action fake and set himself in the face of pressure to deliver a perfect strike over the middle of the field.
On another play, he rolled left, dodged a tackler, turned, set his feet and threw the ball across his body to the other sideline where tight end Fred David hauled it in for 26 yards. And on yet another play, Griffin scrambled left, dodged defenders and set his feet in order to hit Santana Moss for 27.
Will Robert Griffin III make the Pro Bowl?
There's reason to be excited about this, and it's mostly because footwork is not easy. But Robert Griffin III makes it look easy. He makes it look natural. That speaks volumes to his natural ability, and his maturity. He rarely threw a pass off of his back foot and consistently drove the ball threw the air with power by stepping up into the pocket.
For a mobile quarterback, footwork is everything—and Robert Griffin looks to have it down pat.
3. No Pierre, no problem.
Take a rookie quarterback's No. 1 option away, and it could throw off his rhythm for the rest of the game. This is especially true when said No. 1 option hauls in four passes for over 100 yards in the first quarter alone.
Yet when Pierre Garcon was lost to a foot injury after the first quarter, RG3 continued working as if nothing had happened. After going 7-of-7 for 123 in the first quarter (imagine what might have been had Garcon played the whole game), Griffin completed 12-of-19 in the final three. There was no hesitation in his throws; it seemed as though he only played with more confidence. In all, eight receivers caught passes in a well-balanced air assault.
This tells me that RG3 trusts his abilities more than anything. He doesn't need a No. 1 option; he just needs guys who can run down the field and catch. It's almost impossible to think that this was his first NFL game and the loss of Garcon had absolutely zero effect on him. If that doesn't speak to him being an absolute stud, I don't know what does.
In his debut, Robert Griffin III faced adversity on the road. He faced tough challenges beset upon him by his coaches. And he went up against one of the most celebrated quarterbacks of the last several years in Drew Brees.
And Robert Griffin III came out on top, convincingly. He's not a Hall of Famer—not even close—but from the one-week sample that I saw, there is a lot to like beyond the spectacular statistics.
This article is
What is the duplicate article?
Why is this article offensive?
Where is this article plagiarized from?
Why is this article poorly edited?

Washington Redskins: Like this team?