Fantasy Football: 12 Players to Sit for Week 2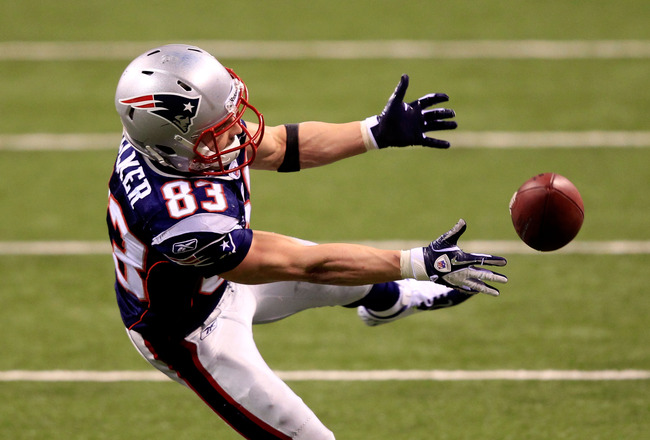 To start him or to sit him, that is the question.
Chris Trotman/Getty Images
With one week of NFL action in the books, fantasy football owners finally have a small sample size to base their future lineups on.
That doesn't mean it will be any easier to pick 'em in Week 2.
Continue to start quarterbacks Tom Brady, Aaron Rodgers and the better Manning brother, as if there were any questions. Tony Romo impressed in the league's season opener, so stick with him. And how about that Matt Ryan having the highest quarterback rating in Week 1?
Darren McFadden's prospects of dominating fantasy leagues is even more promising now that he appears to be Carson Palmer's go-to receiver. While Arian Foster and Le'Sean McCoy surprised no one with their output, backs like CJ Spiller, Doug Martin and Alfred Morris thoroughly impressed.
Now that Stephen Hill and Kevin Ogletree have been claimed in just about every fantasy league after big performances last week, questions still remain about other wide receivers who will emerge in Week 2.
Such is the allure of fantasy football.
Now begs the question of who to sit in Week 2. Here are some easy answers.
Matthew Stafford, QB, Detroit Lions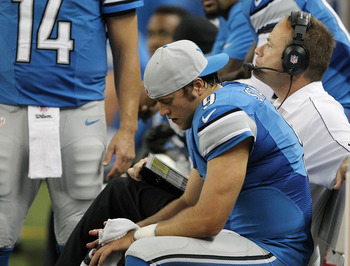 Matthew Stafford is a great quarterback to own; but if you have a solid backup, start him in Week 2.
Leon Halip/Getty Images
Stafford is a great player for fantasy owners to have, despite his tendency for turnovers.
But not this week.
He struggled in Week 1 against Houston, throwing three picks to one touchdown, though managing 355 yards in the air. He will struggle again in Week 2.
The San Fransisco 49ers' defense is a force. Had it been another quarterback under center in Green Bay, the result of the game would have been much worse. As it was, Rodgers was made to look human, as opposed to the machine that he is.
Rule of thumb should be this: bench any offensive players matched up against the Niners' defense.
Mark Sanchez, QB, New York Jets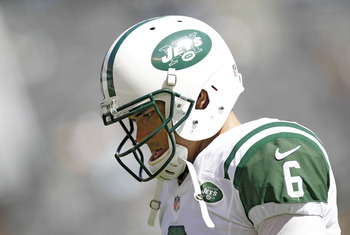 Mark Sanchez played the Buffalo Bills in Week 1. Enough said.
Jeff Zelevansky/Getty Images
Chalk up Sanchez's Week 1 performance to a terrible Buffalo Bills defense. In a Week 2 matchup against the Pittsburgh Steelers, do not expect Shonn Greene to rush for 94 yards. Expect Sanchez to throw the ball more.
As a result, he will prove to be less efficient, especially with defensive back Ryan Clark in action.
Michael Vick, QB, Philadelphia Eagles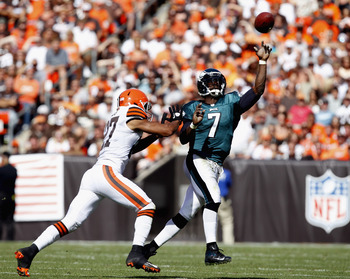 Since Michael Vick threw four interceptions against the Browns, expect him to throw eight against the Ravens. Okay, that's an exaggeration.
Matt Sullivan/Getty Images
Despite earning a come-from-behind victory on Sunday, Vick deserves to be on your fantasy bench in Week 2.
Vick's 317 passing yards came on 56 pass attempts and included four interceptions. His quarterback rating is fifth-worst in the NFL after one game (25.4 QBR).
Now, he faces the ball-hawking Baltimore Ravens defense which recorded four sacks against the Cincinnati Bengals and returned an interception for a touchdown.
DeAngelo Williams, RB, Carolina Panthers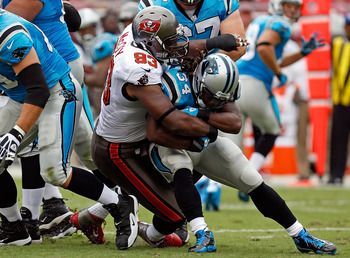 DeAngelo Williams' lousy performance in Week 1 could been credited to a pass-firtst Carolina offense. Regardless, he should be benched.
J. Meric/Getty Images
With Jonathan Stewart on the bench with an ankle injury, Williams was a lock to have a productive day in the starting role.

He rushed six times for -1 yards, including four rushes for no gain or negative yards. Williams, who isn't known for his pass-catching capabilities, had one catch for five yards.
Now, with Stewart expected to be active against New Orleans according to head coach Ron Rivera, Williams' prospects, at least for Week 2, look bleak.

The Panthers' offense looked static for most of the day in all facets. Whether Williams' production ends up plummeting in his seventh season or he bounces back to prove successful, Week 2 is not the time to take a risk on him.
Isaac Redman, RB, Pittsburgh Steelers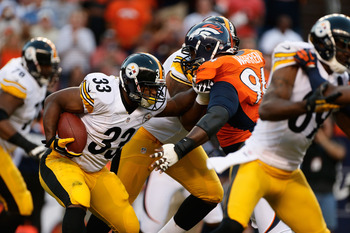 Isaac Redman is not your pick this weekend. Jonathan Dwyer is.
Doug Pensinger/Getty Images
Redman, who appeared to be a solid pick in Week 1, did not pan out that way for fantasy owners.

With Mendenhall out, Redman was outdone by Jonathan Dwyer who spent more time in the backfield by a count of 42 plays to 24.

Don't expect Redman's minutes or touches to increase, especially as Mendenhall's health improves. Week 2 should continue to be unfavorable for Redman, so if Dwyer is still hanging around the free agent pool, snatch him up.
Kevin Smith, RB, Detroit Lions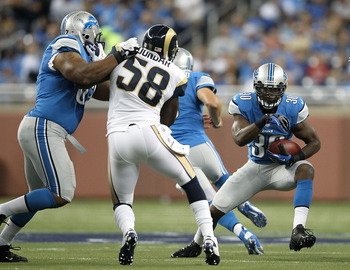 Don't test the 49ers defense. At least, not with Kevin Smith.
Leon Halip/Getty Images
Good luck starting Smith against the San Fransisco 49ers.
That pretty much sums it up.
Darius Heyward-Bay, WR, Oakland Raiders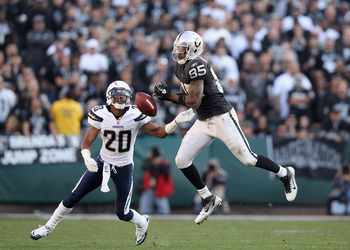 With Denarius Moore expected to return to the Raiders' lineup, you can consider Darius Heyward-Bey expendable.
Ezra Shaw/Getty Images
It was apparent that Carson Palmer and Heyward-Bey lacked chemistry in Monday night's loss against the San Diego Chargers.

Rod Streater was Carson Palmer's go-to receiver, as the rookie wideout was targeted 11 times, making five grabs including a late touchdown and two-point conversion. DHB was thrown to five times, making three catches for 43 yards.
Before you get to thinking that it was the result of the Chargers defense putting its attention on the more experienced wide receiver, know that there are communication problems between the two teammates. Following at least one play, a deep, third-down throw, Palmer and DHB did not seem to be in agreement exchanging words in the huddle.

The two are simply not clicking right now. Besides, Darren McFadden looks to be the go-to guy with 18 targets and a career-high 13 catches for 86 yards. Not to mention, Denarius Moore is likely to play at Miami, according to head coach Dennis Allen.
Wes Welker, WR, New England Patriots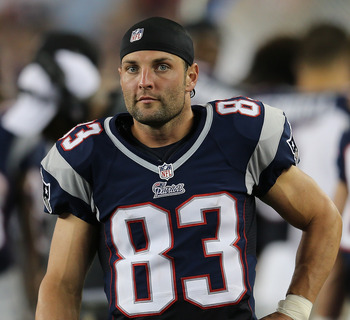 Does this look like a guy you should start in Week 2? Okay, forget his looks. Just bench him.
Jim Rogash/Getty Images
The addition of Brandon Lloyd did not seem to be a big deal for a wide receiver as efficient as Welker. Between Lloyd and tight ends Rob Gronkowski and Anthony Hernandez, Welker's fantasy production will be taking a big hit in Week 2 and for the rest of the season.
Those three aforementioned receivers caught 17 passes for 188 yards and two touchdowns. Welker finished with three grabs for 14 yards.
The Arizona Cardinals allowed 139 yards in the air with an interception and three sacks; granted it was against a rookie quarterback in Seattle.
Stevan Ridley appears to be this year's featured back in the rushing carousel that characteristic of New England. His emergence can only hurt Welker's production.
Miles Austin, WR, Dallas Cowboys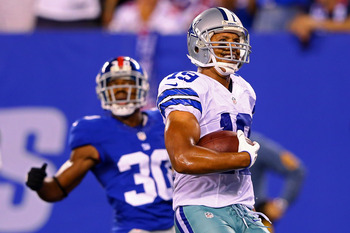 Miles Austin was one catch away from being a major fantasy disappointment in Week 1.
Al Bello/Getty Images
Don't let Austin's four catches for 73 yards and a touchdown in Week 1 against the New York Giants fool you. Austin was targeted once in the first half. The majority of his total yards came on a 34-yard pass play on a first-and-30 in Giants territory that was the product of blown coverage.
It could be that Kevin Ogletree is a one-game-wonder (eight receptions, 114 yards, two touchdowns). More likely in this case, quarterback Tony Romo is clicking with the young wideout, now in his fourth season.
Jason Witten and his healing spleen are only going to get more looks on Sunday against Seattle, so acquire a better alternative to Austin.
Michael Turner, RB, Atlanta Falcons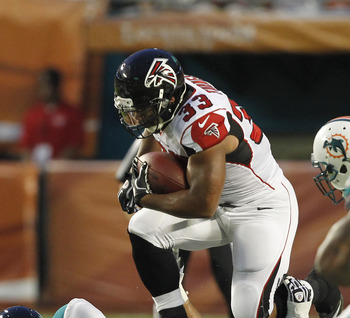 Jacquizz Rodgers will replace Michael Turner as the go-to back for the Falcons. This will happen sooner, not later.
Joel Auerbach/Getty Images
Turner is on the downslide in fantasy production. He is a bulky, power runner in an uptempo Falcons offense and his role will likely be diminished when backup Jacquizz Rodgers gets more touches, which could happen as soon as Week 2.
Regardless of how many touches Rodgers gets, Turner will not optimize his carries and is not good for catches out of the backfield.
There is little upside to Turner for Week 2, let alone the remainder of this season.
Beanie Wells, RB, Arizona Cardinals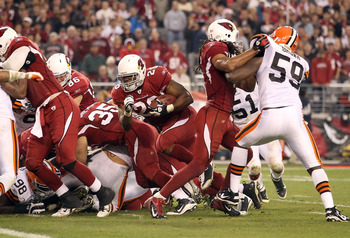 Whether it is Beanie Wells or any other Cardinals running back, he should not be in the lineup against the Patriots.
Christian Petersen/Getty Images
New England's defense held the Tennessee rushing attack to 14 yards on nine carries. Yes, the same Tennessee Titans who have Chris Johnson as their starting running back.
Put simply, Jake Locker (two rushes, 10 yards) ran for more yards than Johnson (11 carries, four yards). This is to say nothing of Johnson's prospects for Week 2, but rather the Cardinals' backfield.
The entire Cardinals team managed 43 yards in a home win against the Seattle Seahawks, including two rushing first downs.
A questionable Arizona offensive line makes for a questionable start for Wells and any other Cardinal back.
Marcedes Lewis, TE, Jacksonville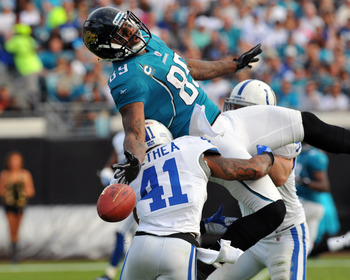 At the risk of saying that Marcades Lewis's Week 1 performance was an aberration, Marcades Lewis's performance was an abberation.
Al Messerschmidt/Getty Images
Lewis's numbers in Week 1 against the Minnesota Vikings were uncharacteristic.
Give him credit for being opportune, hauling in each of the five targets Blaine Gabbert afforded him, including scoring a touchdown. However, don't expect a repeat performance against the Houston Texans.
If you claimed Lewis already, put him back in the free agent pool.
Keep Reading