1 Thing Each 2012 Top 15 MLB Draft Pick Must Improve Significantly for 2013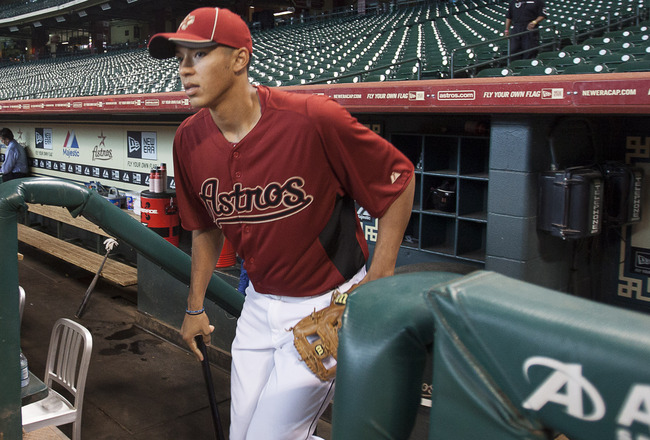 Bob Levey/Getty Images
Thanks to the accelerated, July 13 signing deadline that was imposed by Major League Baseball's new collective bargaining agreement, the Class of 2012 draft picks have logged more professional experience than ever before and, in turn, offered more than merely a small sample size for evaluation purposes.
For some of the top 15 draft picks, signing early and beginning their professional career allowed them to reach a more advanced level in their first season. Essentially, every player received an opportunity to flash their potential this season. More importantly, the additional month of experience gave them a chance to identify weaknesses, respectively, and immediately begin to improve upon them.
So, here is a look at the top 15 picks from the 2012 draft and what they need to improve upon for the 2013 season.
15. Tyler Naquin, OF, Cleveland Indians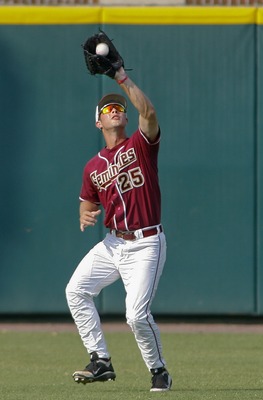 Phil Sears-US PRESSWIRE
2012 Stats (SS): .270/.379/.380, 13 XBH (11 2B), 13 RBI, 4 SB, 26 K/17 BB (36 G)
Naquin's selection was regarded as an overdraft by the Indians given his status as a tweener, meaning that his overall game doesn't quite profile at one specific outfield position.
He showed a decent hit tool this season as well as solid plate discipline, but the left-handed hitter will have to hit for some power in order to ascend in the Indians' system.
14. Nick Travieso, RHP, Cincinnati Reds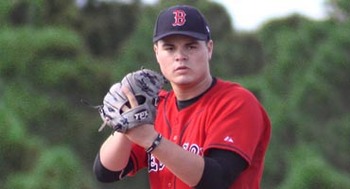 Courtesy of perfectgame.org
2012 Stats (Rk): 21 IP, 4.71 ERA, .250 BAA, 14 K/5 BB (8 GS)
Considered an overdraft by the Reds, there's no denying that Travieso possesses one of the top fastballs among the 2012 high school draftees. His arm angle is slightly lower than I'd like to see, which, at times, makes it difficult for the right-hander to throw and locate his offspeed pitches with consistency.
Next season, the right-hander will need to prove he's more than just a quality fastball, as professional hitters feast on even the best of them.
13. Courtney Hawkins, OF, Chicago White Sox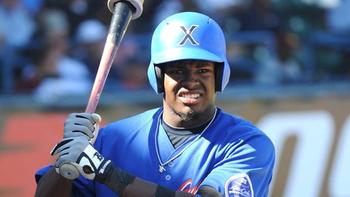 Courtesy of ESPN.com
2012 Stats (Rk, A-, A+): .284/.324/.480, 26 XBH (8 HR), 33 RBI, 11 SB, 56 K/11 BB (59 G)
Considered somewhat of a wild-card draft pick given his sheer size and ridiculous athleticism, Hawkins exhibited surprisingly advanced baseball skills this season in his professional debut.
Although he amassed 65 hits (26 extra-base hits) in 59 games, the 6'3", 220-pounder also registered 56 strikeouts compared to only 11 walks. His ability to exploit lesser pitching will only last so long, and there will come a point when his plate discipline becomes the utmost priority.
12. Gavin Cecchini, SS, New York Mets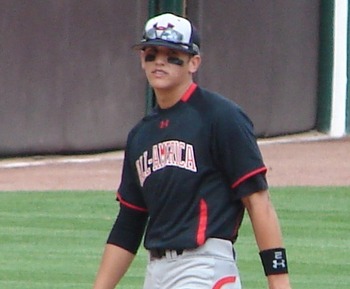 Courtesy of baseballfactory.com
2012 Stats (Rk, SS): .240/.307/.321, 12 XBH (9 2B), 22 RBI, 5 SB, 44 K/18 BB (58 G)
A surprising underperformer in his professional debut, Cecchini lacked consistency at the plate all season. A selective hitter in high school, the right-handed proved to be somewhat strikeout-prone in the Appalachian League, often chasing pitches out of the zone while trying to force hits.
His swing, more so his weight transfer, is inefficient, as his lower body stiffens when he whips the bat through the zone and often casts his hands around the baseball.
Therefore, Cecchini will have to make more mechanical than mental adjustments to be successful moving forward.
11. Addison Russell, SS, Oakland Ahtletics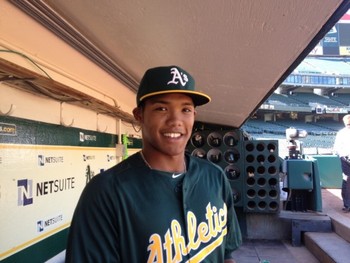 Courtesy of sfgate.com
2012 Stats (Rk, SS, A-): .369/.432/.594, 80 H, 26 XBH (7 HR), 45 RBI, 16 SB (2 CS), 48 K/23 BB (55 G)
The one player who rivaled Dahl for the most impressive professional debut at the plate, Russell raked his way to the Midwest League. His defense was much better than expected (at every level), and his offensive numbers speak for themselves.
Despite drawing 23 walks in 55 games, the 18-year-old could stand to coax more in the future. His hit tool has proven to be surprisingly advanced, and better plate discipline will only distinguish it further.
10. David Dahl, OF, Colorado Rockies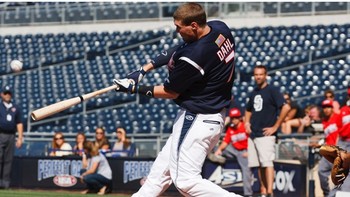 Courtesy of ESPN.com
2012 Stats (Rk): .379/.423/.625, 106 H, 41 XBH (9 HR), 57 RBI, 12 SB, 42 K/21 BB (67 G)
Dahl enjoyed arguably the most impressive professional debut of all the 2012 draft picks, as the left-handed hitter collected a whopping 106 hits (41 extra-base hits) in only 67 games on his way to Appalachian League Player of the Year honors.
In fact, his debut was so impressive that it's hard for me to criticize the left-handed hitter. One facet of his game that I'd like to see improve is his ability to steal bases. Considering how often he gets on base, being a viable stolen base threat will only make him a more dangerous player at the top of the Rockies' lineup.
9. Andrew Heaney, LHP, Miami Marlins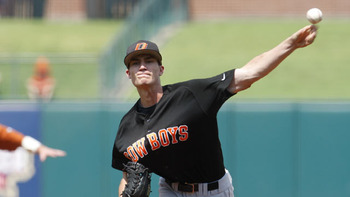 Courtesy of US Presswire
2012 Stats (Rk, A-): 1-2, 27 IP, 4.33 ERA, .281 BAA, 30 K/6 BB (6 GS)
After only two starts in the Gulf Coast League, the Marlins promoted Heaney to Low-A where he flashed his true potential. He was especially impressive over his final two outings, giving up four earned runs on nine hits and zero walks with 16 strikeouts in 10.2 innings.
Heaney established himself as a top draft pick due to his ability to consistently locate his fastball to both sides of the plate against both right and left-handed hitters. While that continued in his professional debut, the southpaw must do a better job of keeping his off-speed offerings down in the zone.
7. Max Fried, LHP, San Diego Padres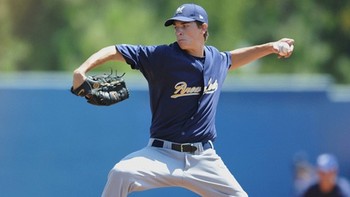 Courtesy of ESPN.com
2012 Stats (Rk): 17.2 IP, 3.57 ERA, .215 BAA, 17 K/6 BB (10 G; 9 GS)
Few pitchers had as much helium headed into the draft as Fried, a left-hander with advanced command of four pitches.
After hitting a rough patch in mid-July in which he allowed seven earned runs on seven hits in five innings, Fried finished his professional debut in a dominant manner. The southpaw did not give up an earned run over his final four outings, allowing four hits with seven strikeouts and zero walks over 7.2 innings.
The left-hander will have to avoid catching too much plate, as he quickly learned that he couldn't get away with the same mistakes made in high school.
6. Albert Almora, OF, Chicago Cubs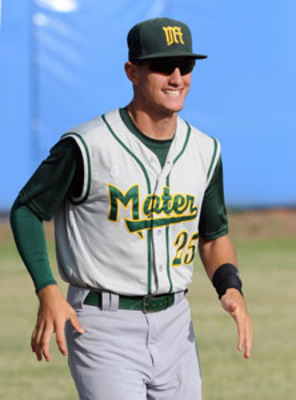 Courtesy of ESPN.com
2012 Stats (Rk, SS): .321/.331/.464, 45 H, 15 XBH (12 2B), 19 RBI, 5 SB, 13 K/2 BB (33 G)
One of later signings of the 2012 draftees, Almora proved to be slightly more advanced than the Cubs expected. He didn't flash a lot of power outside of his knack for shooting gaps, and never seemed eager to manipulate counts and coax walks.
So, moving forward, Almora will need to work on getting hitter's counts—especially as he faces better pitching down the road.
5. Kyle Zimmer, RHP, Kansas City Royals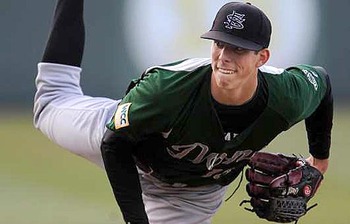 Courtesy of usfdons.com
2012 Stats (Rk, A-): 3-3, 39.2 IP, 2.04 ERA, .267 BAA, 42 K/8 BB (9 GS)
Another college arm who moved quickly following the draft, Zimmer's professional debut ended prematurely when the right-hander underwent season-ending surgery to remove bone chips in his pitching elbow.
Zimmer still managed to log almost 40 innings, allowing 39 hits with 42 strikeouts and eight walks.
Considering he's less experienced on the mound than most college pitchers— his career as a gunslinger began in his sophomore year—Zimmer must continue polishing his arsenal and working on locating all of his offerings rather than letting hitters get themselves out.
4. Kevin Gausman, RHP, Baltimore Orioles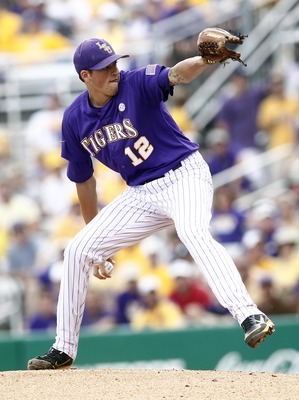 Crystal Logiudice-US PRESSWIRE
2012 Stats (SS, A+): 15 IP, 3.60 ERA, .200 BAA, 13 K/1 BB (5 GS)
Due to his heavy workload at Louisiana State, the Orioles were cautious with their development of Gausman this season. Still, he reached Double-A before the end of the season (for the playoffs) after pitching in the New York-Penn (Short Season) and Carolina Leagues (High-A).
Although he has a solid arsenal already in place, the right-hander will have to further develop his offspeed pitches as they'll be essential towards his success at more advanced levels.
3. Mike Zunino, C, Seattle Mariners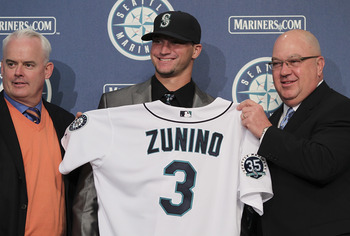 Otto Greule Jr/Getty Images
2012 Stats (SS, AA): .360/.447/.689, 27 XBH (13 HR), 43 RBI, 33 K/23 BB (44 G)
Of all the 2012 draft picks, Zunino obviously enjoyed the strongest professional debut as he raked his way all the way to Double-A.
After posting a 1.210 OPS with 10 doubles and 10 home runs in 20 games at Class-A Short Season, Zunino was handed an aggressive promotion to Double-A where he continued to impress (.974 OPS in 15 games).
Zunino must continue to shorten his swing, as he's bound to be increasingly challenged during his rapid ascent to the major leagues. But if any of the 2012 draftees can handle change, it's Zunino.
2. Byron Buxton, OF, Minnesota Twins
Courtesy of ESPN.com
2012 Stats (Rk): .248/.344/.448, 19 XBH (5 HR), 20 RBI, 11 SB, 41 K/19 BB (48 G)
After enduring a horrible slump to begin his professional career, Buxton came into his own halfway through the season as his plate discipline steadily improved and he began driving the ball with consistency.
The toolsy outfielder must continue to emphasis developing his hit tool, as his power should naturally emerge as he fills out physically. He'll need to further improve his plate discipline as well, something that made him successful following a midseason promotion to the Appalachian League (.796 OPS in 21 games).
1. Carlos Correa, SS, Houston Astros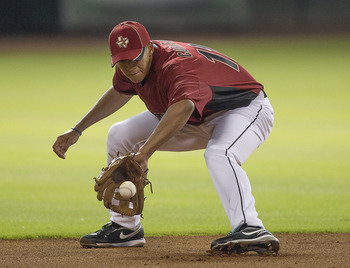 Bob Levey/Getty Images
2012 Stats (Rk): .258/.305/.400, 49 H, 19 XBH (14 2B), 12 RBI, 6 SB, 44 K/12 BB (50 G)
After posting a .625 OPS in the Rookie Gulf Coast League, the Astros promoted Correa to the Appalachian League while in the midst of a hot streak—and it only continued at the higher level (1.050 OPS in 11 games).
While he noticeably turned the corner and became comfortable over the course of the season, Correa must continue to refine his plate discipline after fanning 44 times compared to only 12 walks.
Keep Reading