NFL Week 2 Predictions: Rookies Who Will Steal the Show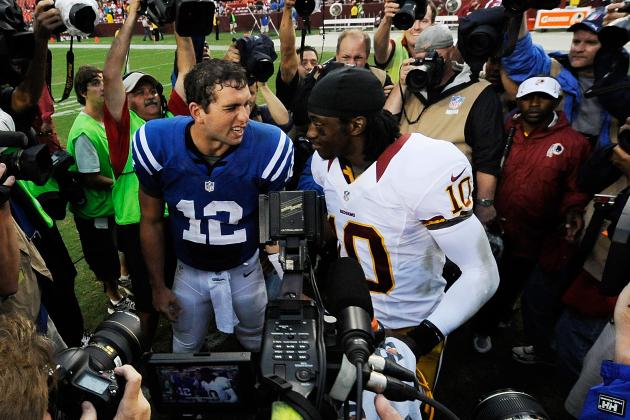 Patrick McDermott/Getty Images
Top rookie quarterbacks Andrew Luck and Robert Griffin III are guaranteed highlight players, but there are others that should get the nod.
Both Andrew Luck and Robert Griffin III had spectacular performances in Week 1, but Week 2 will showcase other rookies that will steal the spotlight.
Don't get me wrong, Luck and RGIII are amazing football players, but there are other guys that are shadowed because of all the attention being on the two quarterbacks.
Here's a list of six other guys that could soak up spotlight in the upcoming week.
Begin Slideshow

»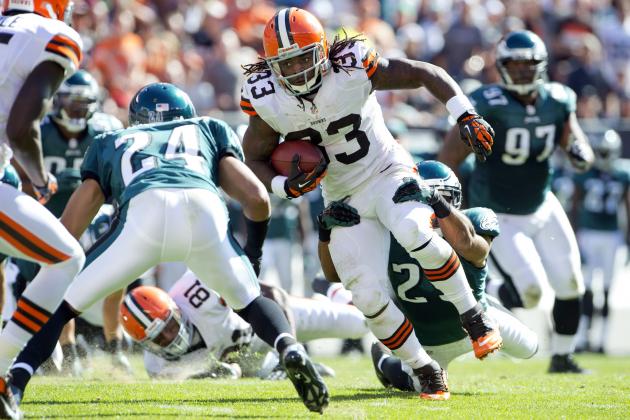 Jason Miller/Getty Images
You can expect Trent Richardson to have a big game in Week 2 against the Bengals.
Trent Richardson was the best running back selected in this year's draft, and he's going to make an attempt to have an incredible season like no other before him.
Listed at 5'9" and 230 pounds, Richardson is a big, strong back that can have his way with opposing defensive lines. Add to the fact that he's speedy, with the ability to find a hole and power through for some extra yards.
In Week 1, the running back didn't do too much to boost his stock. He finished with only 39 yards on 19 carries against the Philadelphia Eagles.
However, Richardson will be pitted against a much weaker defensive line in the Cincinnati Bengals—the same Bengals that Baltimore's Ray Rice did as he pleased with just the other day for 68 yards on 10 attempts.
Trent is surely playing with a chip on his shoulder after last week, so expect him to do his thing. He'll be looking to make a name for himself, and now will be the time.
Trent Richardson will have a big game in Week 2—big enough to steal the show from other rookies.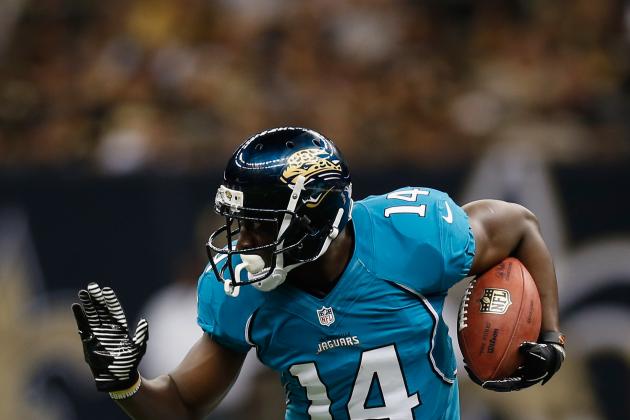 Chris Graythen/Getty Images
Justin Blackmon will make a huge difference for the Jacksonville franchise.
Jacksonville Jaguars wide receiver Justin Blackmon didn't have quite the effect on his team as other rookie wide receivers, but it was enough to keep the fans wanting some more.
Blackmon caught three passes for 24 yards in Sunday's loss to the Minnesota Vikings.
Although it was a rather quiet debut, the Jags passing game was still effective. They're ranked 17th in passing yards with 242, which means that quarterback Blaine Gabbert is looking good.
If he can stay effective, especially this Sunday against a Super Bowl-favorite Houston Texans, then you can expect Blackmon to shine.
There's nothing like being an underdog and coming out victorious; both Blackmon and the Jags are hoping for just that.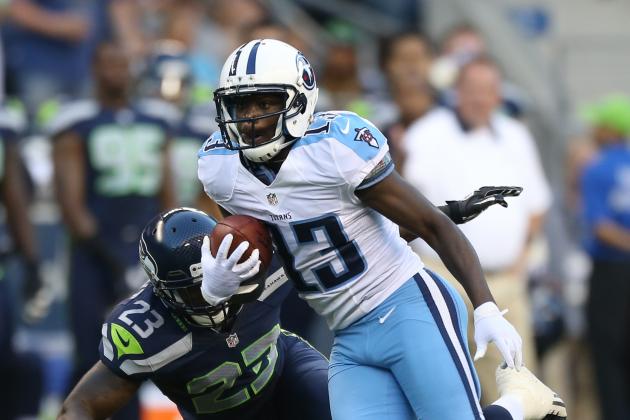 Otto Greule Jr/Getty Images
The Titans will take on the Chargers in Week 2, and Kendall Wright will do what needs to be done for his highlight reel.
Kendall Wright will lead the Tennessee Titans into battle this Sunday when they're in San Diego to meet the Chargers.
He has the ability to make big plays because of his explosive speed.
With Jake Locker manning the quarterback position, Wright will get a lot of looks, and that will certainly benefit both player and team.
He caught five passes on six targets in their loss this past Sunday to New England. However, he did average 7.4 yards per reception.
With the Chargers ranking 21st in opponents' passing yards, expect Locker to try and connect with Wright whenever possible, which is sure to be more than six times.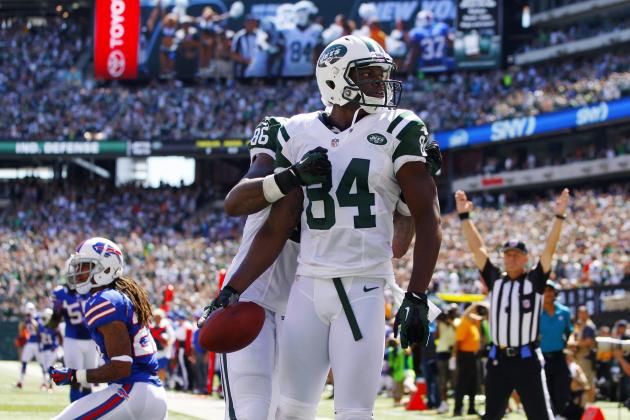 Rich Schultz/Getty Images
Rookie wide receiver had a great game in Week 1, and he'll look to build upon that great start in Week 2.
Stephen Hill looked like the New York Jets legitimate No. 2 receiver in Sunday's game against Buffalo. He finished with five catches for 89 yards and two touchdowns—-not bad for a rookie debut.

He's averaging 17.8 yards per catch, so it's easy to see why the guy has the potential to steal the spot light in this Sunday's upcoming game against the Steelers.

Hill is very fast, especially when lined up on the outside, and he's a perfect complement to Santonio Holmes.
Stephen Hill could possibly steal the show this Sunday as the New York Jets square off against the Pittsburgh Steelers.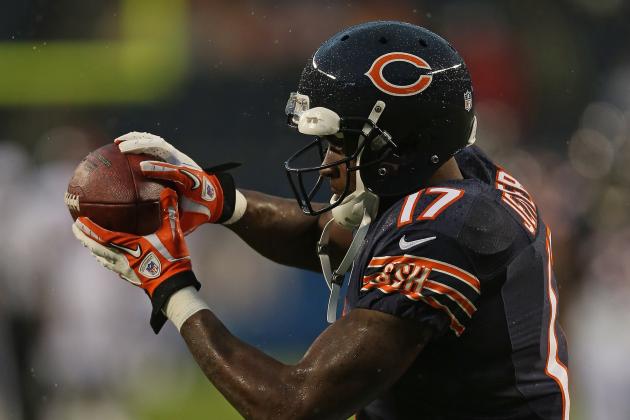 Jonathan Daniel/Getty Images

Bears' wide receiver Alshon Jeffery had an excellent debut on Sunday by performing above and beyond against the Indianapolis Colts. Although he was only target five times, the wide receiver made the best of it.
Jeffery had three receptions for 80 yards and a touchdown—the touchdown coming on a 42-yard pass from quarterback Jay Cutler. It is evident that No. 17 will be a weapon for the opposition to recognize, and take, as a seriously big playmaker.
Currently averaging 26.7 yards per reception—which should decrease in no time—after Week 1, Alshon is a legitimate target for this Bears' offense. If Cutler utilizes him correctly (when Brandon Marshall is in double coverage), I can see this team becoming a real problem for others in the NFC.
And although he won't be catching 42-yard passes every week, you have to correct the rookie for setting the bar high for other wide receivers.
Keep an eye on this man in Week 2.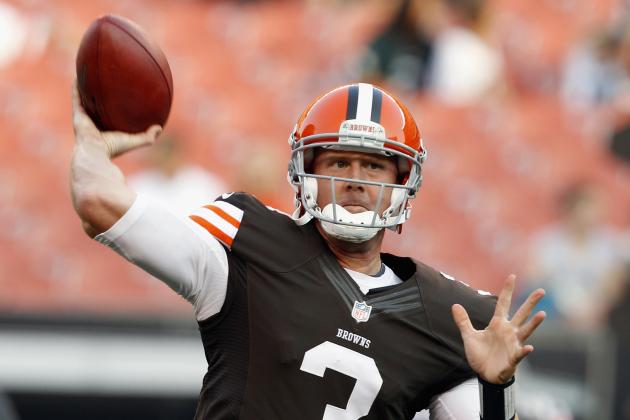 Matt Sullivan/Getty Images

"Rookie Brandon Weeden's four interceptions, 5.1 passer rating and general ineptness in his NFL debut Sunday against Philadelphia has some Browns fans worried."—ESPN.com
Brandon Weeden was horrible in his debut against the Eagles, but he'll have a chance to redeem himself this upcoming Sunday against the Cincinnati Bengals.
Against Philly, Weeden threw 35 passes and only completed 12, well 16 if you count the four interceptions he threw to Eagles' players. Not a good look for someone drafted 22nd.
As I mentioned with Trent Richardson, the Bengals aren't really a defensive-oriented team. Hopefully, Weeden watched the film and saw what he did wrong, and maybe he'll make some adjustments needed to have a great game.
Don't expect the kid to come out looking like Tom Brady, but when you're passer rating is at 5.1, the only way to go is up, so he could steal the show with a big game and a win.