Fantasy Baseball 2012: Top 10 Waiver-Wire Pickups for Week 24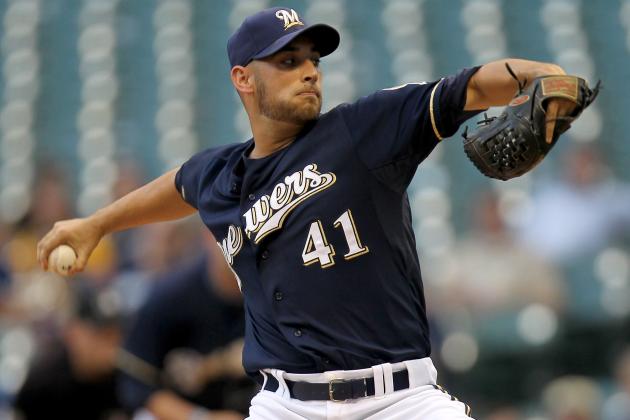 Mike McGinnis/Getty Images
Brewers pitcher Marco Estrada (3.99 ERA, 1.19 WHIP, 119/24 K-BB for the season) has surrendered two or less runs in five of his last eight outings.
The following slideshow touts the top 10 waiver-wire pickups right now, recognizing the best free agents from the majority of 12-team roto leagues.

For the most part, this list rewards players who have already fostered productive starts to the 2012 season.

Savvy readers will notice the rankings are different from last week's offering. These changes can be attributed to the waiver-wire graduations of Tyler Skaggs, Patrick Corbin, Tyler Colvin, Cameron Maybin and John Mayberry, Jr.—forgotten (or largely ignored) assets on draft day, but now contributing pieces with their current teams.

That's how it should be with this countdown: Here today, gone tomorrow.

Enjoy the show!
Begin Slideshow

»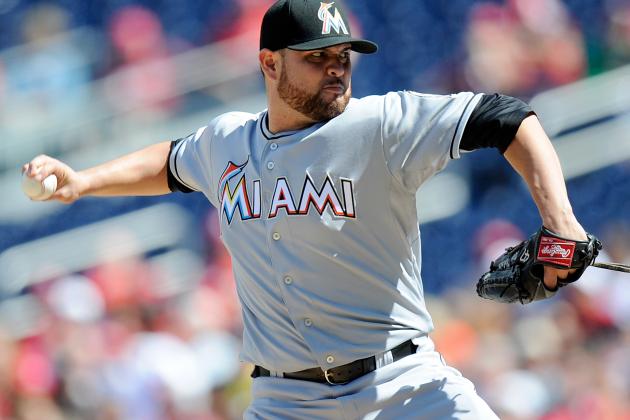 Greg Fiume/Getty Images

Skinny: Forget about Ricky Nolasco's prolonged rough patches during the 2012 campaign.

At this point in the season, fantasy owners are only concerned with riding the hot hand for another four weeks.

Enter Nolasco (12-12, 4.40 ERA, 1.35 WHIP), who boasts a 3-0 record, 0.36 ERA, 0.76 WHIP and superb 16/1 K-BB ratio in his last three outings.

On waivers, it doesn't get any hotter than that.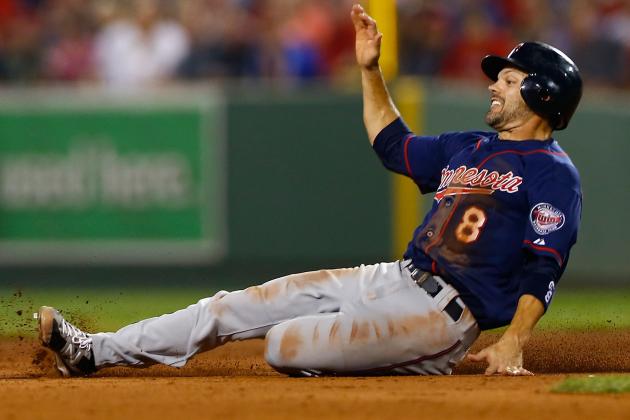 Jared Wickerham/Getty Images

Skinny: For a .258 seasonal hitter, it seems like Jamey Carroll has had a slew of 15-day windows of .300 batting this year.

His latest turn at hitting greatness is especially pleasing: Since Aug. 26, Carroll boasts a .368 average, with one homer, two steals, three RBI and 10 runs.

Throw in his dual-position versatility, and Carroll makes for an ideal middle infielder in 12-team roto leagues.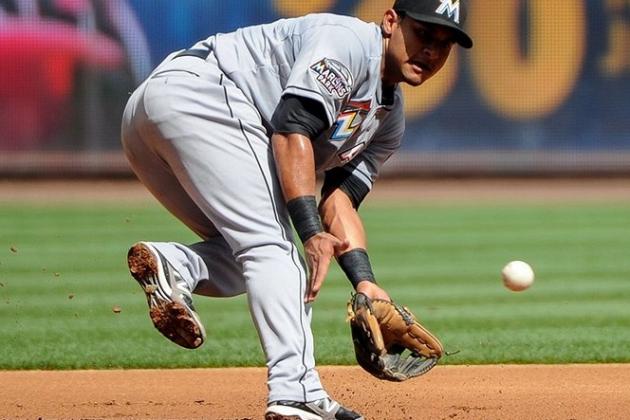 Skinny: Looking for a reason why the underachieving Marlins will finish this season on a high note—aside from the amazing Giancarlo Stanton and his red-hot August (10 HR/22 RBI/.313 BA/1.100 OPS)?

Donovan Solano, the three-position fantasy asset, has been a real gem of late. Since Aug. 11, Solano has been hitting at a .340 clip with three steals and 15 runs.

In other words, Miami hasn't really skipped a middle-infield beat with the absences of Emilio Bonifacio (injuries) or Omar Infante (traded to Detroit).

Solano's consistent production shouldn't be much of a surprise to fantasy owners who dig for minor league stats on a weekly basis. In 36 Triple-A games before his mid-May call-up to the majors, Solano hit safely in 22 of 36 games.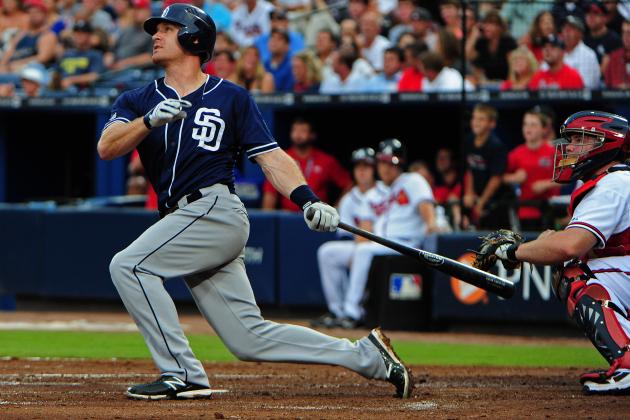 Scott Cunningham/Getty Images

Skinny: Since Aug. 27, Logan Forsythe has posted six multiple-hit games while hitting safely in 10 of his 11 starts.

But that's only scratching the surface of Forsythe's red-hot hitting pace.

In the last 30 days, Forsythe has a .351 batting average with two homers, eight RBI, 13 runs and three steals.

Like we stated before, momentum at the plate carries far greater weight than name recognition down the stretch.
Harry How/Getty Images

Skinny: Since joining the Padres rotation last month, Andrew Werner (2.59 ERA, 1.03 WHIP) is a perfect 4-for-4 in allowing two runs or less.

He also has one win and 21 strikeouts in his last three starts.

One more thing: Werner has apparently licked his control problems from his inaugural start of the season.

Since Aug. 28, spanning three outings and 18.1 innings, Werner has surrendered a harmless total of four walks.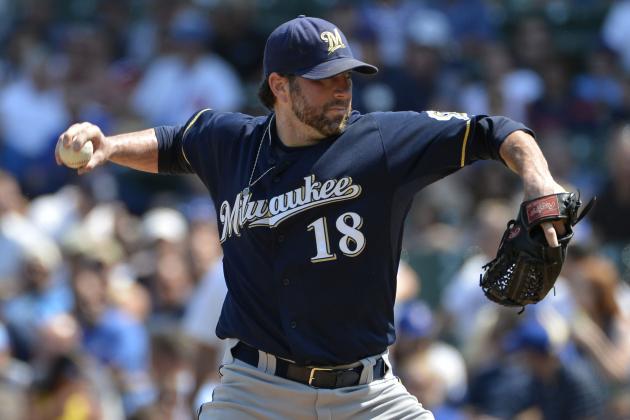 Brian Kersey/Getty Images

Skinny: It's been a good but hardly great season for Shaun Marcum.

The seasonal marks in ERA (3.71) and WHIP (1.25) are acceptable, but it's still hard to pinpoint a chunk of this season when Marcum was running at peak efficiency.

Hence, his universal standing on waivers in 12-team leagues, along with a middling weekly ranking here. Was it just six months ago that Marcum was a top-40 starting pitcher heading into the season?

Here's hoping for a strong finish to temporarily justify that ambitious ranking.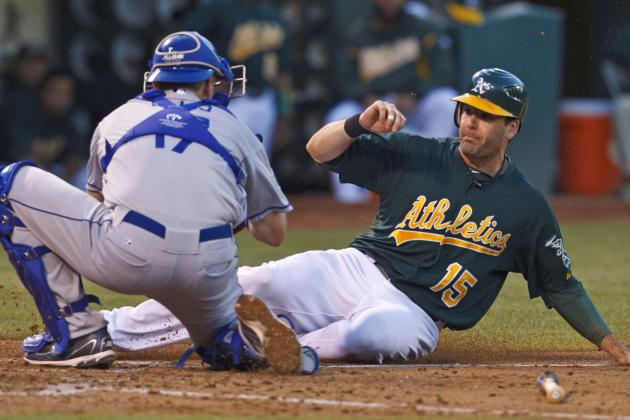 Jason O. Watson/Getty Images

Skinny: If Seth Smith (13 HR, 45 RBI, 50 runs, .253 batting) was a no-brainer selection to start against tough lefties in the Oakland lineup, he may have garnered a higher ranking.

But the platoon aspect of Smith brings down his value a little bit this week, simply because fantasy owners don't have time (or patience) for non-starters during September.

The big-picture numbers are pretty good, though. Since Aug. 11, Smith is hitting at a .340 clip with two homers, six RBI and 12 runs.

That's solid production for a No. 6 outfielder, especially one whose MLB team is in the middle of a white-hot pennant chase.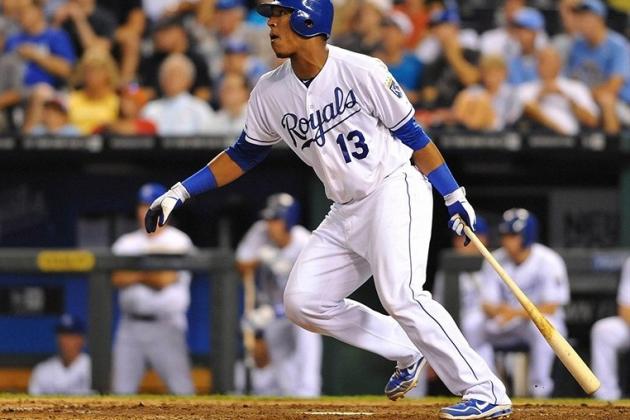 Photo Credit: US PRESSWIRE
Skinny: Salvador Perez (9 HR, 30 RBI, 32 runs, .314 BA) has been tabbed as my one and only playoff catcher for a CBS head-to-head league—barring a massive meltdown over the next seven days.

(The playoffs start next week.)

That alone should serve as a rock-solid endorsement for Perez's services in roto leagues, and not necessarily those in dire need of a replacement catcher.

Since Aug. 26, Perez is hitting .388 with one homer, seven RBI and eight runs. But in a curious twist, his batting average has actually gone down throughout Perez's current hitting streak of 14 games.

Assuming Perez maintains a hot bat for the final few weeks, I fully expect that glitch to be corrected.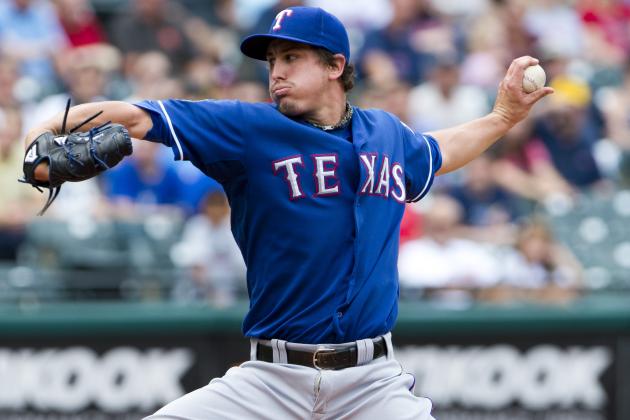 Jason Miller/Getty Images

Skinny: Here's all you need to know about Derek Holland's waiver-wire candidacy from this point forward:

In his last four starts, spanning 28 innings, Holland boasts three wins, a 2.57 ERA, 0.96 WHIP and 27/7 K-BB ratio.

Of equal importance, Holland is coming off his most decorated start of the season—a one-run, two-hit, 11-strikeout gem over eight innings against the Rays (Sept. 7).

Think Holland's ready for the stretch run? He picked the perfect time to finish on a major high note.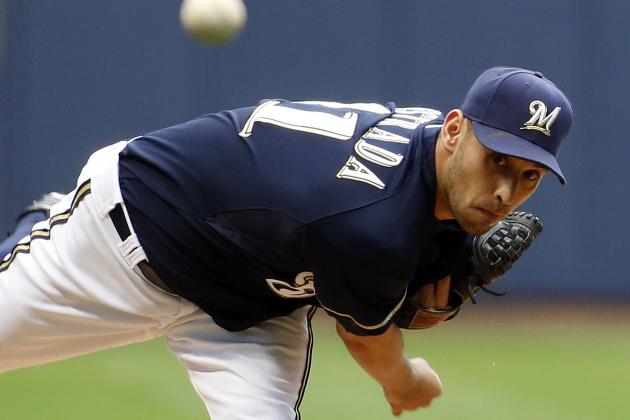 Mark Hirsch/Getty Images

Skinny: As razor-sharp as Derek Holland has been of late, he still might be no waiver-wire match for Marco Estrada—when everything's rolling.

Of his last eight outings (dating back to July 30), Estrada has surrendered two or less runs five times. And in that span, he's a perfect 8-for-8 in allowing three or less walks.

Estrada garners even more separation on the strikeouts front. He has 32 strikeouts in his last four outings, and he's a candidate for double-digit strikeouts whenever taking the mound.

One more carrot: Estrada (3.99 ERA, 1.19 WHIP) has two juicy matchups against the reeling Pirates and anemic Astros before the regular season ends.