Miami Dolphins:  5 Things We Learned About Ryan Tannehill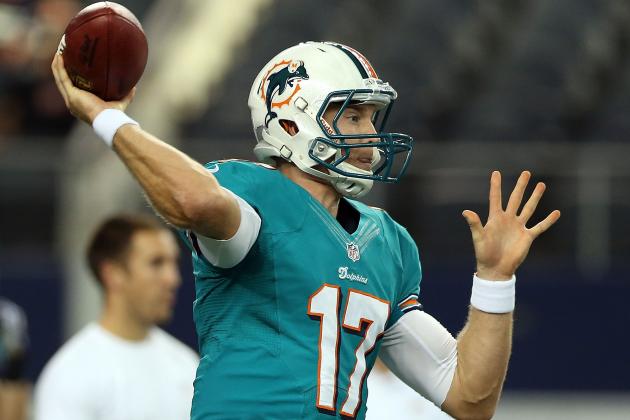 Ronald Martinez/Getty Images

Controversy has followed Ryan Tannehill's very short career considering he was the eighth overall pick in the 2012 NFL draft.
Being drafted eighth overall brings a lot of pressure, especially when critics thought he would be picked much later. But, like all rookies, Tannehill has a lot to learn, and Week 1 is just a start.
Here are five things we learned about Ryan Tannehill in Week 1.
Begin Slideshow

»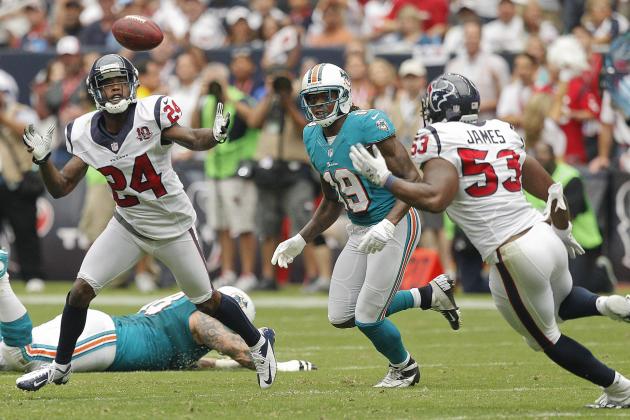 Bob Levey/Getty Images

Usually, a rookie quarterback has some pieces to work with in order to adjust to the pros.
Unfortunately for Ryan Tannehill, the Dolphins have traded away productive players in order to improve in the future. Dolphins management may be making a wise decision considering that the other AFC East teams are poised for more wins, but this does not translate into great productivity from Tannehill.
The Dolphins traded wide receiver Brandon Marshall to the Chicago Bears in exchange for two undisclosed draft picks early in the offseason. More recently, the team waived wide receiver Chad Johnson and traded offensive lineman Ryan Cook to the Dallas Cowboys for a 2013 late-round draft pick, according to ESPN.
Despite the current trend of rookie quarterbacks immediately succeeding in the NFL, these players are the exceptions to the rule. Having less pieces to work with makes Ryan Tannehill's job more of an uphill battle.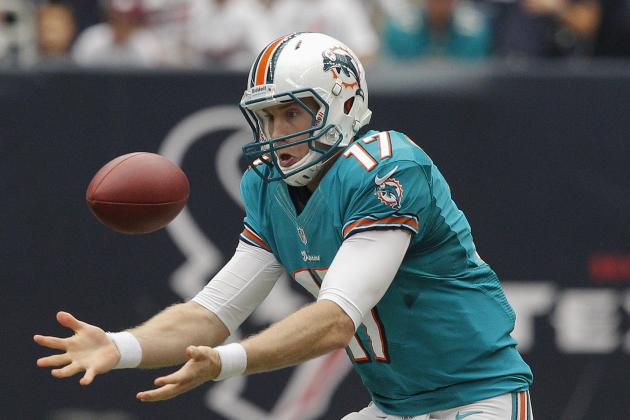 Bob Levey/Getty Images

The Miami Dolphins are clearly in the transition, which doesn't help out Tannehill's progress as starting quarterback.
Tannehill lacks the solid go-to receiver, which makes passing the ball more difficult. This led to indecisive plays against the Houston Texans. Of course, the chemistry between quarterback and receiver takes some in-game experience.
Tannehill clearly showed he can pass the ball—albeit to the Texans defenders, as he had three interceptions and no touchdowns against Houston. His time playing wide receiver in college may have hurt his decisions at quarterback, as he may have overestimated their routes.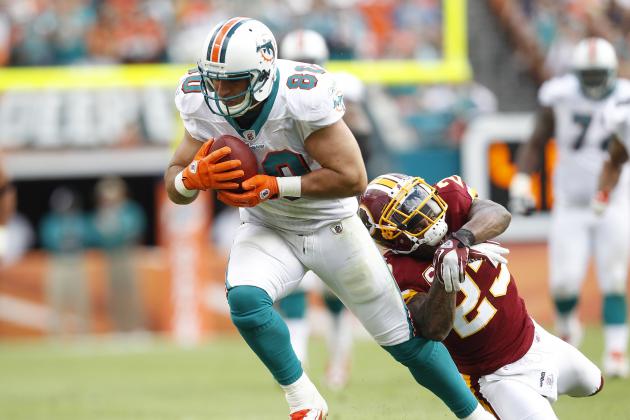 Joel Auerbach/Getty Images

Even when the rookie quarterback struggles, as Ryan Tannehill did against the Houston Texans, there is always a safety blanket. In most cases, this is the tight end, who the quarterback can easily pass to. Often, the short completions are what fuel a rookie quarterback's confidence and later allows them to make big plays later on in the drive.
Anthony Fasano was nowhere to be found in Sunday's game. The tight end was covered for most of the passing plays, but did manage to catch for 19 yards.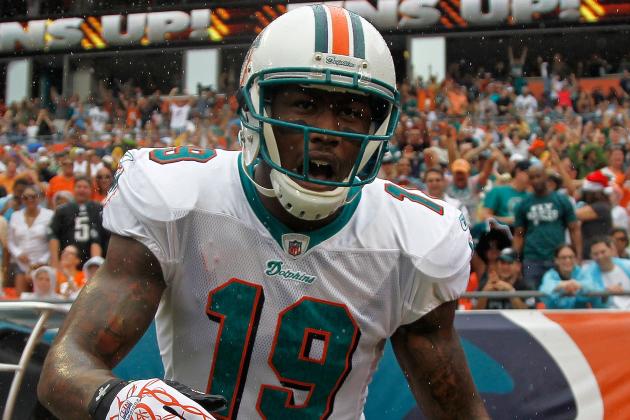 Mike Ehrmann/Getty Images

With the departures of Brandon Marshall and Chad Johnson, Ryan Tannehill lacks a legitimate receiver to throw the football to when he is pressured.
Instead, Tannehill has to rely on a squad composed of average receivers.
According to the Dolphins' depth chart, the two starting receivers are Davone Bess and Legedu Naanee. Sunday's game against Houston, however, had Brian Hartline as the team's leading receiver. The Dolphins' second leading receiver was running back Reggie Bush, who had six receptions for 46 yards.
For the most part, Tannahill found it difficult to throw to his receivers. Even when Tannehill was able to find his receivers, his bad luck continued to struggle with a flurry of dropped passes.
Thomas B. Shea/Getty Images

Although three interceptions and a loss sound like a bad way to start your rookie season, there is still some hope for Tannehill.
Two of Tannehill's interceptions came off of tipped passes in the second quarter, which hardly happens at all. At some point, everything that could have gone wrong, did. Those small mistakes can be easily fixed, and with a long season, Ryan Tannehill will surely improve on minimizing those errors.
It is simply a learning process for the rookie from Texas A&M.