Week 1 Fantasy Football Rankings: How Rookie QBs Stack Up Heading into Week 2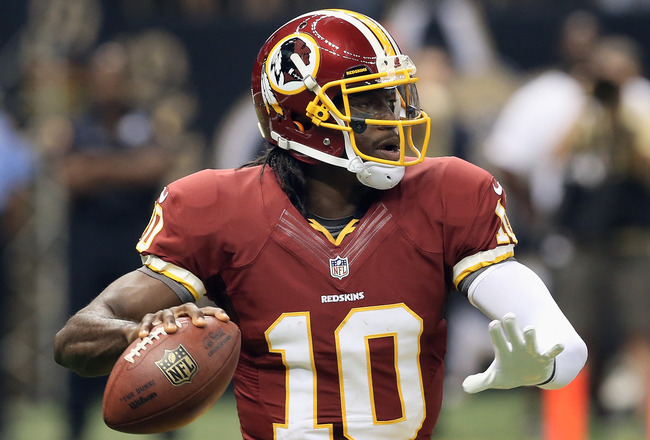 Ronald Martinez/Getty Images
Fantasy football owners who stuck their necks out for Washington Redskins quarterback Robert Griffin III are in heaven after the rookie made the New Orleans Saints defense look like a college squad in his first career start.
Life wasn't so easy for some of the other rookie starting quarterbacks in Week 1, though.
Here are your fantasy football rankings for the five rookie quarterbacks who started in Week 1 of the 2012 season as they head into Week 2.
5. Brandon Weeden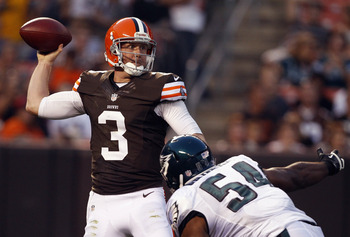 Matt Sullivan/Getty Images
Brandon Weeden didn't look good in his first start as a pro against the Philadelphia Eagles.
For the day, Weeden only completed 12-of-35 passes for 118 yards (34 percent and only 3.4 yards per attempt) with zero touchdowns and four interceptions. This effort garnered him minus-one fantasy points, and he won't fare much better in Week 2 against the tough defense of the Cincinnati Bengals.
Weeden is a must-sit if you have him on your fantasy team, and if you're smart you'd be better off ditching him for another quarterback altogether.
Projected Week 2 stats: 180 yards with one touchdown and two interceptions.
4. Ryan Tannehill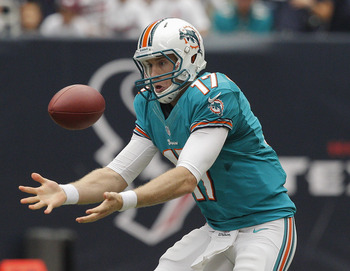 Bob Levey/Getty Images
Ryan Tannehill looked like a rookie more than any of his peers on Sunday. He was so bad it's almost comical. Thankfully for him, the Miami Dolphins can console themselves with the fact that he was terrible against one of the league's best defenses in the Houston Texans.
Tannenhill completed over 50 percent of his passes against the Texans in his pro debut, but he threw three interceptions and zero touchdowns. His Week 2 opponent will be the Oakland Raiders who will be travelling to the east coast for the game, and I expect Tannehill to improve at home.
Still, I'm expecting to see more of the same in terms of turnovers from Tannehill throughout the season, as he doesn't have any reliable receivers to throw to and doesn't have a great offensive line.
Projected Week 2 stats: 200 yards with one touchdown and two interceptions.
3. Russell Wilson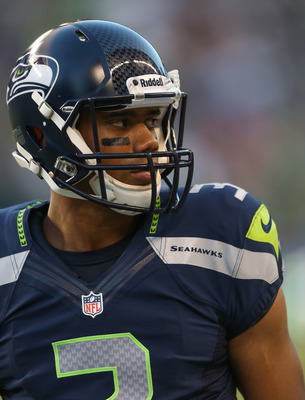 Otto Greule Jr/Getty Images
Russell Wilson was electric for the Seattle Seahawks during the preseason, but he had a hard time finding his rhythm against the Arizona Cardinals in Week 1.
He didn't make many pivotal mistakes, but it was tough sledding on offense all game long. For the game, Wilson completed 18-of-33 passes for 153 yards with one touchdown and one interception. Not a bad day, but not good enough for a win.
The Seahawks will host the Dallas Cowboys in Week 2, and it's going to be another tough game for Wilson and his offense.
Projected Week 2 stats: 190 yards with one touchdown and one interception, with another 45 yards rushing.
2. Andrew Luck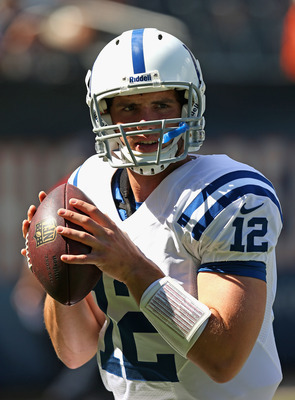 Jonathan Daniel/Getty Images
I'm not surprised that Andrew Luck struggled against the Chicago Bears. He still managed to show some good things against a tough defense, and his opponent in Week 2, the Minnesota Vikings at Indy, won't be nearly as difficult to overcome.
For the day, Luck completed 23-of-45 passes for a whopping 309 yards with one touchdown and three interceptions. The Bears harassed him all game long, yet still Luck was able to keep moving the chains, passing for 16 first downs.
He'll do much better against a suspect Vikings secondary that gave up 260 yards and two touchdowns to Blaine Gabbert and the Jacksonville Jaguars.
Projected Week 2 stats: 300 yards with two touchdowns and one interception.
1. Robert Griffin III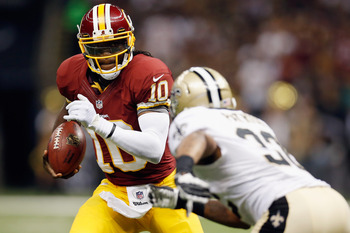 Chris Graythen/Getty Images
Is there anything Robert Griffin III didn't do on Sunday against the Washington Redskins besides turn the ball over?
RG3 was brilliant in his pro debut. He outplayed Drew Brees and led his team to a stunning opening-week road win against the New Orleans Saints.
For the game, RG3 completed 19-of-26 passes for 320 yards with two touchdowns and zero interceptions. He also chipped in 42 yards on the ground, keeping the Saints defense off-balanced for the entirety of the game.
The Redskins and RG3 will face the St. Louis Rams on in St. Louis next week, and I expect another huge performance from this remarkable rookie.
Projected Week 2 stats: 300 yards with three touchdowns and one interception and 50 rushing yards.
Follow me on Twitter @JesseReed78
Keep Reading