MLB Prospects: 10 Strikeout-Prone Prospects from the 2012 Minor League Season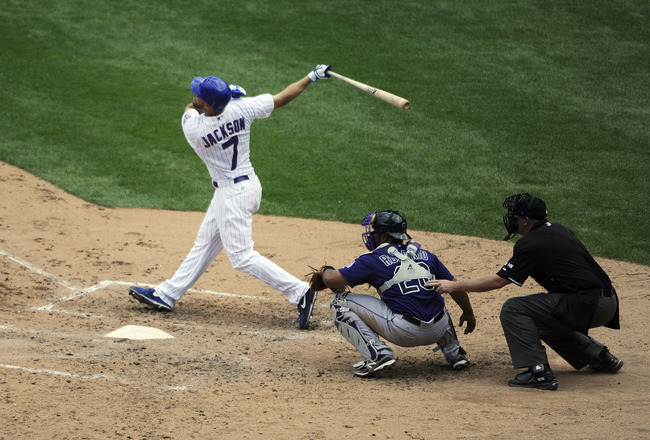 Brett Jackson: Seemingly after making contact.
David Banks/Getty Images
With the 2012 minor league regular season now complete, it's time to start reflecting on many of the noteworthy performances this season—both good and bad.
Considering that I've extolled the virtues of prospects like Jurickson Profar, Dylan Bundy, Oscar Taveras and Wil Myers extensively this season, the wake of the regular season offers an opportunity to provide a more comprehensive analysis of lesser-known prospects as well.
So, as a change of pace from the standard September call-up articles, here's a look at 10 of the more strikeout-prone prospects from the 2012 season.
Joe Dunigan, OF, Seattle Mariners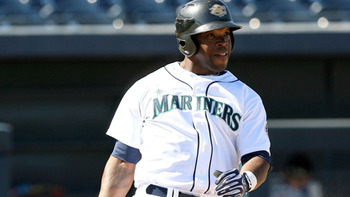 Courtesy of MiLB.com
A 26-year-old playing in Double-A, Dunigan played in over 100 games for the first time since the 2009 season. Although he possesses plenty of raw power, he's an incredibly streaky hitter with substantial swing-and-miss tendencies.
Dunigan fanned a career-high 175 times this season, or 37 percent of the time, and has now struck out 784 times in 589 minor league games.
I actually played with Dunigan in a few high school showcase events, and his swing is just as long now as it was then.
Jared Mitchell, OF, Chicago White Sox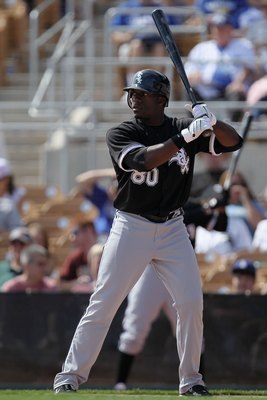 Chris McGrath/Getty Images
After a hot start to the 2012 season at Double-A, it seemed as though Jared Mitchell's once-promising career might be back on track. However, by the All-Star break, it was clear that the 2009 first-rounder's success was a product of small sample size. As they tend to always do, his ratio stats normalized as the strikeouts piled up.
Between Double-A (126 strikeouts in 94 games) and Triple-A (51 strikeouts in 35 games), Mitchell has fanned 177 times this season in 129 games—or 32.5 percent of the time.
Telvin Nash, 1B, Houston Astros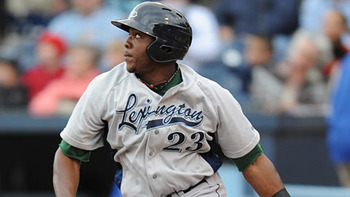 Courtesy of MiLB.com
No conversation about strikeout-prone minor leaguers is complete without the mighty Telvin Nash. He does, however, get bonus points for having a solid baseball name.
Playing for High-A Lancaster this season, the 21-year-old struck out 198 times in 105 games, but he still managed to blast 29 home runs.
Despite his robust power, it's hard to look past a 6'1", 250-pounder who strikes out 44.6 percent of the time.
Jarrett Parker, OF, San Francisco Giants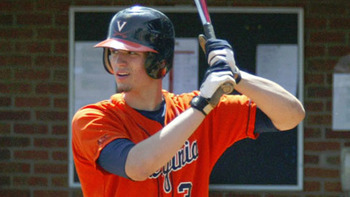 Courtesy of MiLB.com
After posting a .757 OPS with 13 home runs, 20 stolen bases and 144 strikeouts last season at High-A San Jose, Parker increased his totals across the board in 2012—including strikeouts.
As a 23-year-old repeating the level, the 6'4", 210-pound outfielder produced an .813 OPS with 15 home runs, 27 stolen bases and 173 strikeouts (35.5 percent strikeout rate) in 120 games.
Jason Martinson, SS, Washington Nationals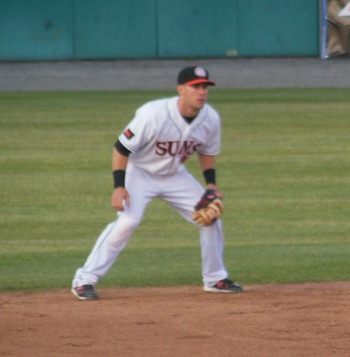 Courtesy of MLBProspectPortal.com
Like many players on this list, Martinson has a high ceiling due to his raw power, speed and ability to play a premium position. However, up until this season, his baseball skills lagged well behind his overall athleticism.
He still has a ways to go, but he made noticeable improvements this season—just not in regard to his strikeout total.
After striking out 144 times in 129 games last season at Low-A Hagerstown, the right-handed hitter fanned 167 times in 134 games between Hagerstown and High-A Potomac.
For the record, Martinson also hit 22 home runs and swiped 31 bases while driving in 105 runs.
Jordan Akins, OF, Texas Rangers
Courtesy of MiLB.com
Take whatever I said about Martinson's combination of elite athleticism and raw baseball skills and multiply it by 100. That's Jordan Akins in a nutshell.
Still only 20 years old, the toolsy outfielder has the natural talent to be a Matt Kemp-like player. However, his lack of adaptability and plate discipline may forever prevent him from reaching Double-A.
In 119 games this season for Low-A Hickory, Akins batted .199/224/.324 with 11 home runs, 13 stolen bases, 12 walks and 161 strikeouts (36.3 percent of the time).
Wagner Mateo, OF, Arizona Diamondbacks
Courtesy of scout.com
Another high-ceiling, low-floor prospect, Mateo fanned 88 times in 54 games last season for the Diamondbacks' rookie-level Arizona League affiliate.
This season, playing 58 games between Class-A Short Season Yakima and High-A Visalia, the left-handed hitter batted .207/.275/.266 with zero home runs and 96 strikeouts in 58 games (39.3 percent of the time).
Brett Jackson, OF, Chicago Cubs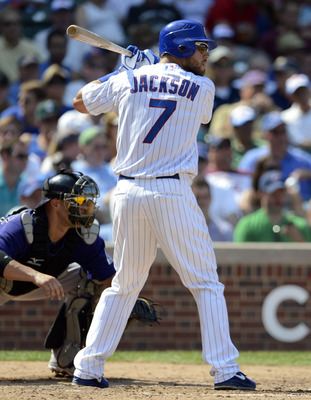 US PRESSWIRE
Given Jackson's strikeout totals over his minor league career, it's not surprising that the left-handed hitting outfielder has fanned 47 times in 29 big league games (45.6 percent of the time).
He posted the highest strikeout total and rate of his career at Triple-A this season, striking out 158 times in 106 games, or 33.8 percent of the time.
Bobby Borchering, 3B/OF, Houston Astros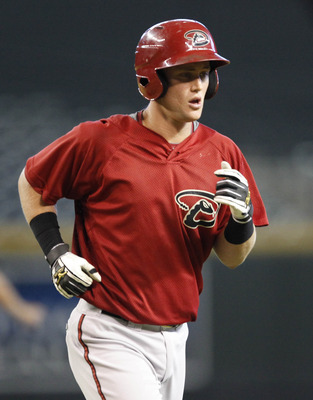 Rick Scuteri-US PRESSWIRE
Despite a midseason trade to Houston in exchange for Chris Johnson, Borchering's propensity for whiffing only worsened this season by playing 50 games at Double-A.
After registered a 27.5 percent strikeout rate at High-A Visalia last season (162 in 135 games), the 2009 first-rounder struck out 29.5 percent of the time this season—or 157 times in 131 games.
Kyle Skipworth, C, Miami Marlins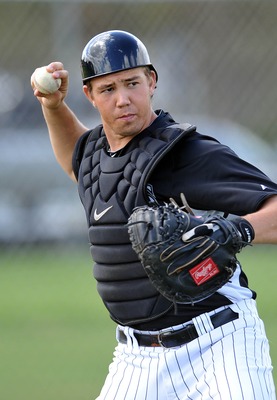 Steve Mitchell-US PRESSWIRE
After batting .207/.273/.331 with 11 home runs and 143 strikeouts last season at Double-A Jacksonville, Skipworth repeated the level this season as a 22-year-old.
While improving upon his 2011 OPS by more than .100 points—.604 in 2011 to .708 in 2012—Skipworth somehow cut down his strikeout total from 143 to 138.
However, compared to only 35 walks, such a lofty total is anything but encouraging. Don't be surprised if he begins the 2013 season at Double-A, again.
Keep Reading