Fantasy Football Start 'Em, Sit 'Em: Week 1 on the Fence QBs
Jonathan Daniel/Getty Images
You can never be too cautious when it comes to fantasy football.
And this holds especially true for quarterbacks, because with the NFL becoming a pass-happy league a lack of points here makes a big difference.
Even if your league starts two quarterbacks and one is a stud like Tom Brady or Aaron Rodgers, finding that second starter is key. Obviously, depending on how deep your league runs will also determine which quarterbacks are on the fence.
So from an all-encompassed perspective regarding league size and format, let's view quarterbacks to start and sit in Week 1.
Josh Freeman, Buccaneers (vs. Panthers)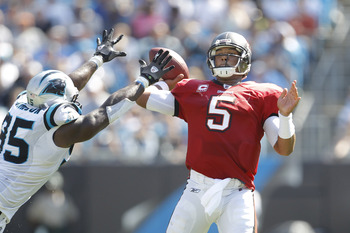 US PRESSWIRE
For the Tampa Bay Buccaneers to win against the Carolina Panthers, running the rock is vital.
The Cats present a well-balanced, yet explosive, offense capable of really lighting up the scoreboard, so the best way to counteract is on the ground.
In short, the Bucs have to keep Cam Newton and Co. off the field.
With a young and inexperienced defense, albeit talented, Tampa won't win in a shootout right now. That said, Doug Martin is a complete ball-carrier and he's the Bucs best hope for controlling the game tempo.
Carolina does have an improved defense with rookie linebacker Luke Kuechly and veteran Jon Beason. Still, Tampa Bay must attack the Panthers between the tackles to then set up play-action for Vincent Jackson.
Josh Freeman won't be attempting a ridiculous number of passes and Tampa needs a slower game pace to helps its defense. It's the Bucs best shot at winning an important early season divisional game.
Sit Josh Freeman
Matt Schaub, Texans (vs. Dolphins)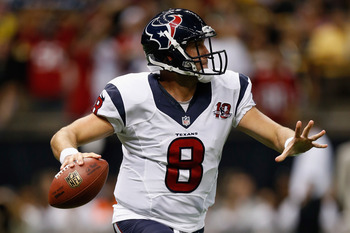 Chris Graythen/Getty Images
The Miami Dolphins are in a rebuilding process and the Houston Texans have the opportunity to get up quickly.
With a strong defense capable of totally blanking Miami's offense, the Texans balanced attack will prove effective versus the Dolphins defense.
Last season, Matt Schaub threw for 230 yards and two touchdowns against Miami on the road, so 2012 can presumably be an even better performance. The running game will force an extra defender into the box and Andre Johnson is still threatening enough to draw double coverage.
In other words, Miami's approach to shutting down Houston is limited.
Either stack the box to isolate the run and leave the secondary vulnerable against the pass, or shield in coverage and hope the front line can restrict the ground game. No matter what the case, Schaub has proven to be a legit NFL quarterback when healthy and the talent around him will inflate the numbers.
Start Matt Schaub
Ben Roethlisberger, Steelers (at Broncos)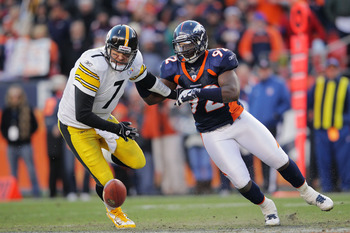 Doug Pensinger/Getty Images
Ben Roethlisberger is going to get pressured quite a bit.
Against the Denver Broncos in the AFC Wild Card game, he was sacked five times, fumbled once and threw a pick.
Well, the Pittsburgh Steelers offensive line hasn't proven to be any better since then and the running game will get stuffed as well. Yes, the presence of Mike Wallace out wide certainly is a threat to the Denver secondary.
However, guys like Tracy Porter and Champ Bailey are dependable and won't always need help against him when in man coverage. With Von Miller and Elvis Dumervil applying constant pressure, this game has the potential to be worse for Big Ben than last January.
Plus, the Denver offense, even with Peyton Manning at the helm, can't abandon the ground game. Defending the run was an issue for Pittsburgh in 2011 and reducing the Steelers' offensive possessions by controlling the clock only helps Jack Del Rio's defense.
To that end, don't anticipate much production from the Steelers offense.
Sit Ben Roethlisberger
Jay Cutler, Bears (vs. Colts)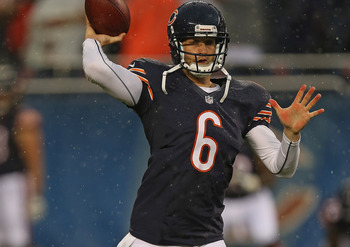 Jonathan Daniel/Getty Images
Jay Cutler can most definitely be flaky at times.
He's certainly a gunslinger that's not afraid to force a throw, but that unfortunately also can mean a significant number of turnovers and/or sacks.
After all, he did only play in 10 games last season and passed for over 300 yards only two times.
The opening of 2012, however, provides a greater opportunity. He's reunited with Brandon Marshall and rookie receiver Alshon Jeffery is a great downfield playmaker. Each receiver's size alone bodes well for the fade route against man coverage anywhere on the field.
Chicago also presents a strong two-back tandem in Matt Forte and Michael Bush. Both are also dual-threat backs and it's safe to say Cutler has more talent around him than ever before. Include the Indianapolis Colts as the Bears' Week 1 opponent and you can't go wrong here.
The Colts remain in a rebuilding process and, despite the upgraded defense, Chicago's offense has the players capable of moving the chains consistently throughout.
Start Jay Cutler
Follow John Rozum on Twitter.

Keep Reading