Fantasy Football 2012: Breaking Down the Top Running Back Matchups for Week 1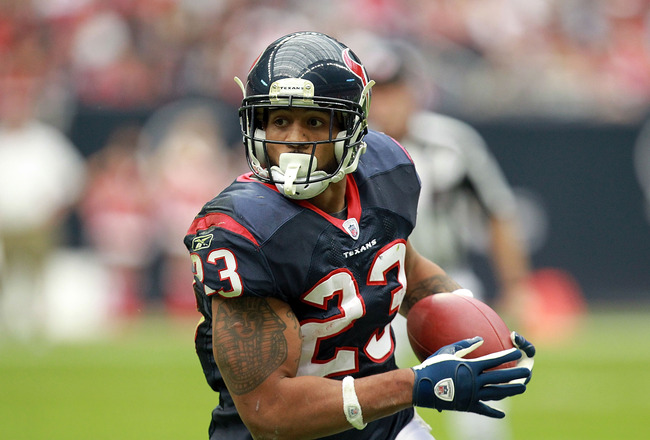 Ronald Martinez/Getty Images
Week 1 of the NFL means the start of fantasy football, and there are no shortage of intriguing matchups between running backs and defensive front sevens to get the season kicked off.
Arian Foster vs. the Miami Dolphins, Marshawn Lynch vs. the Arizona Cardinals, Darren McFadden vs. the San Diego Chargers—these are just a few examples.
How will these top running backs fare against their Week 1 opponents?
Let's find out.
Matt Forte vs. Indianapolis Colts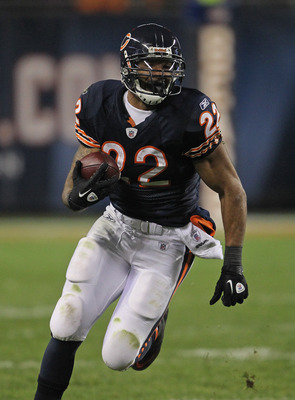 Jonathan Daniel/Getty Images
The Indianapolis Colts didn't look good against starting running backs during the preseason. Between Stephen Jackson of the St. Louis Rams, Jonathan Dwyer of the Pittsburgh Steelers and Alfred Morris of the Washington Redskins, the Colts surrendered 158 yards on 26 carries for an average of 6.08 yards per carry.
Matt Forte is one of the NFL's premier running backs. Not only will he gash the Colts in the running game, but he'll also have a big day as a pass-catcher out of the backfield.
Forte should rack up the yards, making fantasy owners happy.
Prediction: Forte will rush for 100-plus yards and catch five passes for 60 yards and one touchdown.
LeSean McCoy vs. Cleveland Browns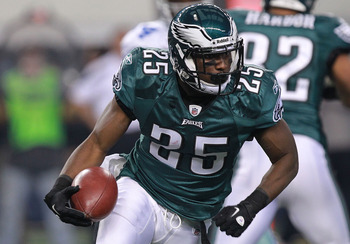 Ronald Martinez/Getty Images
This is one of the more interesting matchups of Week 1.
The Cleveland Browns feature a feisty defense—especially against the run. During the team's first three preseason games, it only relinquished 44 yards on 15 carries against the opposing team's starters for an average of 2.93 yards per carry.
LeSean McCoy is dangerous on the ground and as a pass-catcher, but he'll find this defense tough to handle. That said, one of the best things about Shady from a fantasy perspective is that he scores touchdowns.
So, even if he struggles to gain a ton of yards he'll give you some nice production.
Prediction: McCoy will rush for 75 yards and one touchdown, pitching in six catches for 75 yards and one touchdown.
Arian Foster vs. Miami Dolphins
Chris Graythen/Getty Images
Arian Foster is a fantasy football scoring machine.
And, while the Miami Dolphins aren't bad on defense, the team's offense isn't going to be effective on third downs this year—let alone in Week 1 against the ferocious Texans' defensive unit. This means that the defense of the Dolphins will spend way too much time on the field and will lose steam in the second half.
Foster will have a field day.
Prediction: Foster will rush for 125-plus yards and one touchdown and catch five passes for 80 yards and one touchdown.
Chris Johnson vs. New England Patriots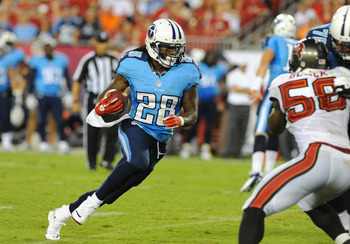 Al Messerschmidt/Getty Images
Chris Johnson is going to struggle against the New England Patriots.
Johnson faced two teams with good front sevens during the preseason (Seattle Seahawks and Arizona Cardinals) and only managed 35 yards on 18 carries. His only good performance came against the Tampa Bay Buccaneers—a team still trying to find its way.
The Patriots are stacked up front. Between Vince Wilfork, Dont'a Hightower, Brandon Spikes and Jerod Mayo, they have a good chance to slow down any rushing attack.
Prediction: Johnson rushes for 55 yards with zero touchdowns and catches three passes for 18 yards and zero touchdowns.
Marshawn Lynch vs. Arizona Cardinals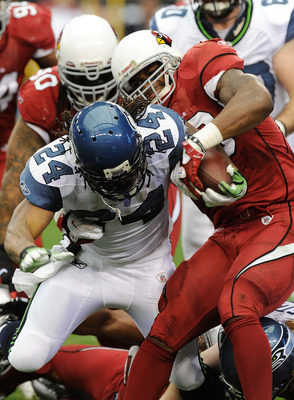 Norm Hall/Getty Images
Marshawn Lynch's Week 1 matchup against the Arizona Cardinals will not be pretty.
Beast Mode is coming back from missing time this preseason due to back spasms, which is bad enough. Making matters worse is that Lynch struggled against the Cards in 2011, rushing for just 159 yards on 38 carries (an average of 4.18 yards per carry) and catching just three passes for seven yards.
Lynch didn't score a single touchdown against the Cardinals, either, and he's going to struggle again in Week 1.
Prediction: Lynch will rush for 80 yards with zero touchdowns and catch one pass for eight yards and zero touchdowns.
Ray Rice vs. Cincinnati Bengals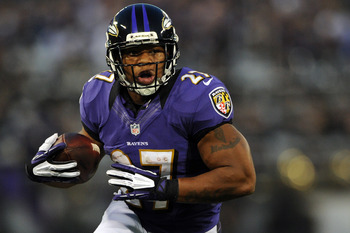 Patrick Smith/Getty Images
Ray Rice lives to destroy the Cincinnati Bengals, or so it seems.
During the course of the past two years, Rice has rushed for 459 yards on 80 carries (an average of 5.74 yards per carry) and five touchdowns.
The Bengals' defensive front is stout, but Rice always seems to find his way into open space.
Prediction: Rice will rush for 100-plus yards and two touchdowns and catch three passes for 25 yards and zero touchdowns.
Darren McFadden vs. San Diego Chargers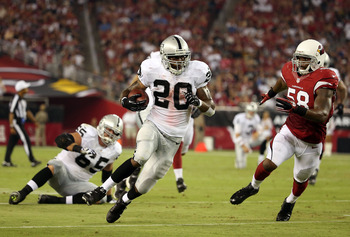 Christian Petersen/Getty Images
When healthy, Darren McFadden is one of the NFL's most electric and complete running backs. The trouble is that he's hardly ever healthy.
Thankfully for McFadden and the Oakland Raiders, he's healthy right now, and I expect him to have a monster day against the San Diego Chargers.
The Chargers' front seven had looked brilliant against the running game throughout the preseason until the San Francisco 49ers steamrolled them in the final game. The 49ers proved that the Chargers are vulnerable to a consistent power-rushing attack, and the Raiders will pound away until the dam breaks in Week 1.
Prediction: McFadden rushes for 130-plus yards and one touchdown and catches four passes for 64 yards and one touchdown.
Keep Reading