Chicago Bears: Analysis and Predictions for All 8 Players on Practice Squad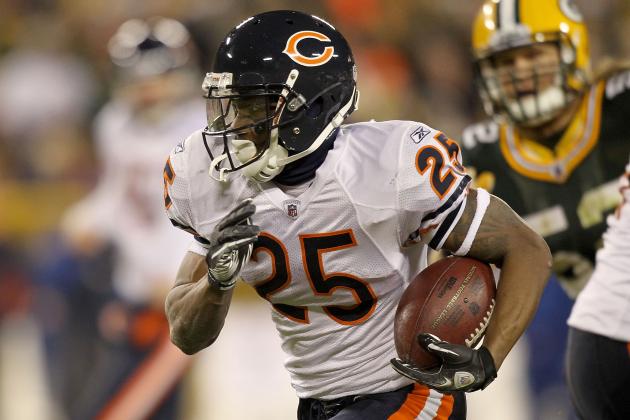 Matthew Stockman/Getty Images

The Chicago Bears have arguably one of the best teams on paper that they have ever had this season. That means that finally, the team has some depth at positions that they never had depth at before.
This affects more than just Jay Cutler, who is getting more weapons, or Lovie Smith, who can use his new toys on defense to do more schemes and trick plays. Players that, in the past, used to be a lock to make the roster are now being cut. Players like Josh McCown who played great this preseason and still ended up getting cut because the Bears needed the room on the roster for other players.
When some players get cut, they get signed by the Bears again to the team's practice squad, eight players in all. These eight players do exactly what their job description is, they play on the team's practice squad against the players for the Bears and get a chance to stay and work with the team in hopes of being lifted from the practice squad to a position on the 53-man final roster.
With more depth at certain positions, that means that the Bears can have better quality players on the practice squad to help out because they don't need them on the final roster. Better practice squad players means that the team will play better, having to face good football players every day. Here are all eight players on the practice squad and how they can personally help the team win.
Begin Slideshow

»
Aston Whiteside was an undrafted rookie free agent out of Abilene Christian. He was picked up by the Cowboys and then waived on August 6. By August 11, he had been signed by the Chicago Bears.
Whiteside is a 6'2", 260-pound defensive end. This means that he has some size to him, and can use it to his advantage. However, he still needs to develop his skills and awareness of the game to make it off of the practice squad and into real games.
The practice squad is the best place for Whiteside to be right now. He can develop his skills and learn the plays while staying in shape. Then next season, he may be available for other teams to take him and let him play on the 53-man roster.
Whiteside will help the offensive line get better because he will be learning with them. He is a young, talented player who is going to make them pay if they get lazy, but he will also be developing as they do so he won't be blowing every play up because he can read them so well.
Harvey Unga is a player who has had his share of trouble staying on the Chicago Bears roster.
Last season, after being signed to a 4-year deal with the Bears, Unga was forced to leave the team for personal reasons twice. After this, the Bears placed him on the reserve/left squad list.
This season, after playing in the preseason with the team, Unga was waived to make room for other players on the roster and then signed back with the Bears to be on the practice squad.
Unga is a player who has a lot to offer a team. In college, Unga had a successful run at BYU before being removed from the team for violating its honor code. In just his freshman year, Unga rushed for over 1000 yards. In total, he became the school's all-time leading rusher with 3,455 yards.
Unga is a fullback who can rush very well, as well as be a blocker for running backs. He is a player who is going to make the defense work because he can rush as well as block for Armando Allen, who is also on the practice squad.
Unga is going to make other players on the team better and he has a good shot at making it back onto a team next season, even if it is not with the Chicago Bears.
Isaiah Frey is a cornerback out of Nevada who was selected by the Chicago Bears in the sixth round of the 2012 NFL Draft. In college, he was named to the first-team All-WAC, with 141 tackles and seven interceptions in his career, and also recorded 21 pass breakups in his senior year.
Frey is ideal for the Chicago Bears. It's no secret that the team looks a bit thin in the secondary, and Frey was drafted to build some depth in the lineup.
While on the practice squad, Frey will be able to learn the cover-two system better, and learn how to utilize his talents and speed to help the Bears. He will also make the receivers work harder and exploit their weaknesses so that they must be ready and on their game in practice.
Frey has a great chance to come off of the practice squad this season and help the Chicago Bears. If he continues to develop like he did in the preseason, Frey shouldn't have a problem getting work done on the practice squad and even on the regular 53-man roster.
James Brown is a player who could end up making the final roster at some point in the season very easily.
Brown is a very skilled player. In fact, he was ranked as high as 54th overall in the 2012 NFL Draft, however, he had a "substance abuse issue" that kept him from being drafted at all. Because of the concern about the offensive line, especially the left tackle position, the Bears brought him in, hoping that he would get help for his issues and could end up contributing very much to the team.
Brown is going to force his opposition to work hard. Players won't be able to just go easy. Plus, if he performs well, he is going to light a fire in the offensive line, especially Chris Williams and J'Marcus Webb, the current left tackles.
Brown is going to make the line better both on offense and defense, and don't be too surprised if he is called off the practice squad to be put on the actual roster this season.
Cory Brandon is another tackle who could move off the practice roster, but unlike Brown, whom the team is waiting on to clean up his issues, for Brandon it is all up to him.
Brandon is a player who has made noise around the NFL just based on his size alone. Cory Brandon stands at 6'7" and weighs 324 pounds. Just based on his size, it would be hard for players to get around him. However, he does have some issues that he needs to work out.
First of all, he needs to be quicker. Just like J'Marcus Webb, he is big but his size doesn't guarantee that he'll be great.
Also, he needs to develop a better awareness of the game going on around him. Being on the practice squad will help him, and help the other linemen just like Brown will help light a fire under the offensive line.
Having extra linemen is never a bad thing, especially for the Chicago Bears. Brandon will be able to develop, and if he gets ready or the Bears needs extra help on the line this season, he will be able to step in and help.
Just a word of warning, the video above was the best I could find for Cory Brandon.
Joe Anderson is a wide receiver from Texas Southern University, or TSU. While there, he played in 34 games and caught 154 balls for 2010 yards and 13 touchdowns, four of them coming in his senior year.
Anderson was an undrafted free agent and signed by the Chicago Bears after the draft.
Anderson really just got unlucky with the timing of his signing. Had he come in at any other season for the Bears, he would have been signed to the 53-man roster. But because the team finally has some depth at the position, something that they haven't had in quite a long time, Anderson wasn't able to outlast names like Jeffery, Marshall, Hester and Bennett.
If a receiver goes down, Anderson may move up on the roster. But other than that, the team is just too talented in the position to bring him up.
Anderson, because he has such a high skill level, makes the defensive backs work harder, and that is always a good thing. A talented practice squad makes an even more talented team, and Anderson definitely has plenty of talent.
Matt Blanchard is a very talented quarterback, one that will not be with the Chicago Bears next season.
Blanchard is simply too skilled and too talented to be on the practice squad his entire life, and he may not even make it past this season.
The Bears cut Blanchard before Week 4 of the preseason, trying not to put anything he can do on tape for opposing teams and then sign him to the practice squad. However, their plan almost backfired when the Miami Dolphins called him down for a workout, before the Bears had a chance to finalize anything with Blanchard. The Bears are lucky Blanchard is a fan of Chicago, because if he wasn't, he could be down in South Beach right now.
Blanchard did not play Division I college football, however, that doesn't mean that he isn't a good quarterback. He played for the University of Wisconsin-Whitewater, a team that has won the DIII National Championship for three years in a row. Blanchard is big, strong and has a strong general awareness that can't be taught in a quarterback.
Blanchard will make the defense better because he is so skilled that he will make the throws to embarrass the defenders at some points, which will light a fire in the defense and force them to play better. Let's just hope that he lasts through the entire season to help the Bears.
Armando Allen is perhaps the most talented player that the Chicago Bears have on their practice squad.
Allen was in strong contention to make the roster, fighting for the final running back spot with the man who eventually won the job, Lorenzo Booker.
In the final preseason game against the New York Giants, Allen rushed for 83 yards on 16 rushes and caught five receptions for 51 yards, the leader on the offensive side of the ball.
Allen is another player who could easily make the roster on another team, but because the Chicago Bears have Michael Bush, Matt Forte and Lorenzo Booker, Allen was the odd man out. On offense for the practice squad, Allen along with Blanchard will force the defense to be on their toes because of how elusive and fast Allen can be.
The role of the practice squad is one that is often overlooked, however, one of the most important. The better that they play, the more it forces the rest of the team to perform at a high level, and that's what Armando Allen and the rest of the practice squad will be doing in preparation for Week 1, as well as every single week throughout the 2012 NFL season.