NL Rookie of the Year Rankings: Has Wade Miley Gained Edge over Todd Frazier?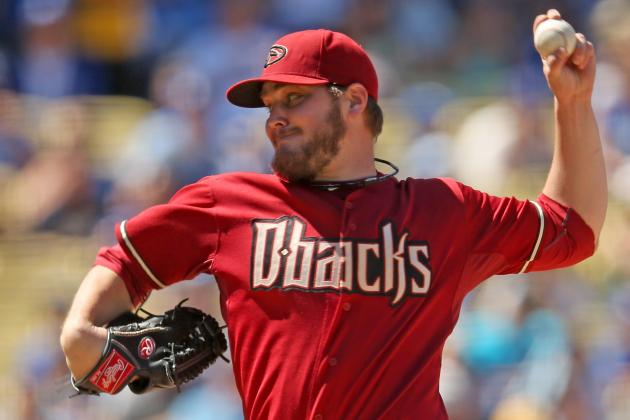 Stephen Dunn/Getty Images
Wade Miley's 2.90 ERA is fifth among NL starting pitchers.
The two-man race between Cincinnati Reds infielder Todd Frazier and Arizona Diamondbacks pitcher Wade Miley continues for yet another week as the two remain locked in a duel that should last through September.
As mentioned previously, this sets up a classic debate over whether a position player is more valuable to his team than a starting pitcher? Though the Rookie of the Year award isn't a Most Valuable Player award, that's how this race might ultimately be determined. Is Miley more valuable to his team, or is Frazier?
Two other questions worth discussing in this week's rankings: Is the Milwaukee Brewers' Mike Fiers catching up to the Houston Astros' Lucas Harrell for a spot in the top five? And though Reds shortstop Zack Cozart looks to be sliding as the schedule moves into September, should his overall season keep him ahead of Wilin Rosario, who keeps slugging home runs for the Colorado Rockies?
As of this week, these five players look like the leading contenders for the NL Rookie of the Year award. Please leave your responses and suggestions in the comments. (You can also reply to me on Twitter. My address is at the end of this article.) That feedback factors into these rankings every week. Just ask @KevinWill96.
All statistics cited here are current as of Sept. 4.
Begin Slideshow

»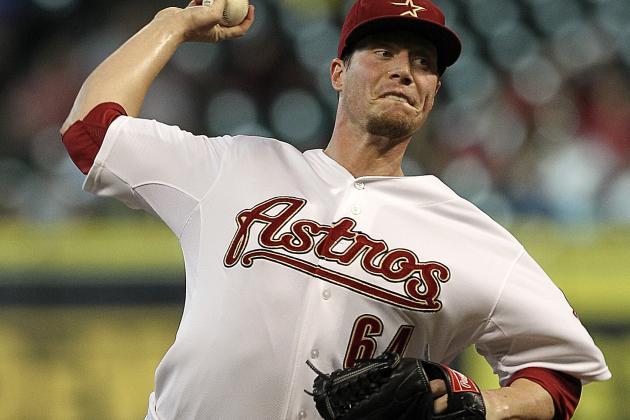 Bob Levey/Getty Images

Last week: No. 5.
Lucas Harrell didn't earn a win in his past two starts despite allowing only one run in each of those appearances.
The Astros' rookie right-hander didn't hold down the Miami Marlins and Chicago Cubs either. (Unfortunately for Harrell, he doesn't get to face the Houston lineup.) The Cincinnati Reds and New York Mets are both in the middle of the pack in team runs scored.
For the season, Harrell is 10-9 with a 3.61 ERA. He's struck out 116 batters in 165.1 innings. With those 10 victories, Harrell has 24 percent of the Astros' wins by himself. Harrell also has the second-lowest home ERA among NL starting pitchers at 2.06, trailing only teammate Bud Norris (1.90).
Some fans might call for the Milwaukee Brewers' Mike Fiers in this spot instead of Harrell. I'm giving Harrell credit for starting 10 more games to this point than Fiers and accumulating his numbers despite pitching for the worst team in baseball.
But Fiers definitely has a case. With 106 strikeouts, he only has 10 fewer than Harrell despite pitching 61 fewer innings. Fiers has been inconsistent lately, however, getting knocked around in three of his past five starts.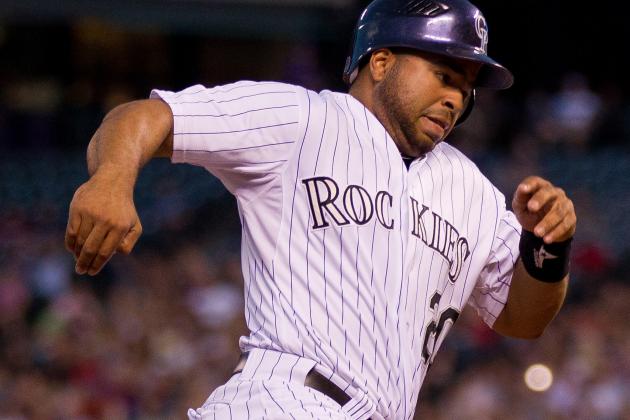 Justin Edmonds/Getty Images

Last week: No. 4.
The Colorado Rockies rookie catcher played in only four games since last week's rankings, as the team continues to give veteran Ramon Hernandez some playing time down the stretch.
But when Wilin Rosario is in the lineup, he keeps cranking baseballs out of the park. Rosario hit home runs in three consecutive games between Aug. 27-31, also driving in six runs.
Considering he plays for the Rockies, it probably should be noted that Rosario has nearly twice as many home runs at Coors Field than on the road. His OPS is also almost 90 points higher at home as well. (You can see Rosario's home-road splits at Baseball-Reference.)
Compare that to Todd Frazier, who has an even home-road split in home runs and RBI. He's also hitting better on the road this season.
Nonetheless, Rosario leads all NL rookies with 23 home runs and ranks second with 58 RBI. His .833 OPS places him third among the league's first-year players.
As the Denver Post's Patrick Saunders reported, Rosario has already set the Rockies record for most home runs by a catcher in a season, surpassing Charles Johnson's 20 homers in 2003. Todd Helton's rookie franchise record of 25 homers—set in 1998—is definitely within reach.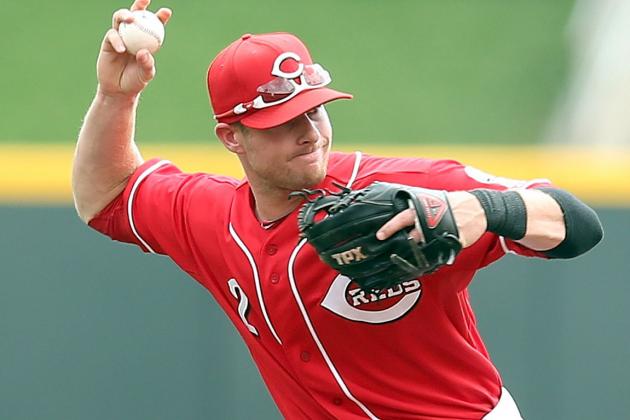 Andy Lyons/Getty Images

Last week: No. 3.
Zack Cozart had a bit of a rough week at the plate, batting 4-for-26 (.154) in his past six games. He did manage one double, a home run and two RBI during that span.
That skid dropped Cozart's batting average to .243 and his OPS to .686, the lowest those numbers have been since Aug. 2. That batting average ranks 14th among NL rookies while his OPS places him 12th.
With 127 hits, Cozart has the most hits among NL rookies. But he also has the most at-bats with 523 and played 127 games, trailing only Yonder Alonso of the San Diego Padres. So he's obviously had many more opportunities to succeed—and fail—than his rookie peers.
Cozart has made up for his offense with outstanding defense at shortstop, however. According to Fangraphs' Ultimate Zone Rating, he's currently the second-best defensive player at that position in the NL. Only the Pittsburgh Pirates' Clint Barmes has more Defensive Runs Saved than Cozart's 11.
There is definitely something to be said for earning a starting job at the beginning of the season and hanging on to it throughout the year. Cozart isn't playing for a rebuilding team either. He's the starting shortstop for the NL Central leaders who have the second-best record in baseball and are readying for a postseason run.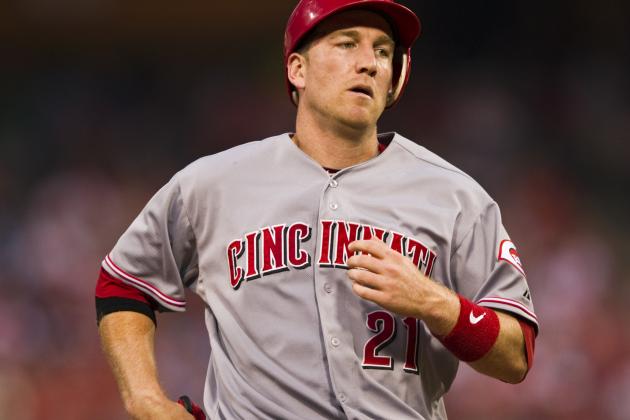 Howard Smith-US PRESSWIRE

Last week: No. 1.
As we said last week, it's a virtual tie between Todd Frazier and Wade Miley for front-runner status in the NL Rookie of the Year race. So this shouldn't necessarily be seen as Frazier "losing" the No. 1 spot and Miley taking it over, though the rankings obviously work out that way.
Over the past week, Frazier had a solid six games for the Reds. He batted 7-for-25 (.280) with a double, triple and two RBI. He continues to fill in reliably at both first and third base for Cincinnati, giving creaky Scott Rolen a rest when needed and subbing for Joey Votto, who's been out since July 15 with a knee injury.
Frazier is second among NL rookies with 18 home runs, but Wilin Rosario keeps cranking out homers and doesn't look like he'll be giving up that lead anytime soon.
With 62 RBI, Frazier does have the NL rookie lead in that category, however. With Brandon Phillips and Jay Bruce (and Votto, once he returns) hitting in front of him, he'll have plenty of opportunities to add to that total.
Frazier could get more attention during September with the Reds in the playoff race. It could also be argued that his numbers will come under more pressure than experienced by Miley now that the D-Backs have fallen out of playoff contention.
Those considerations could end up being the difference in the NL Rookie of the Year race.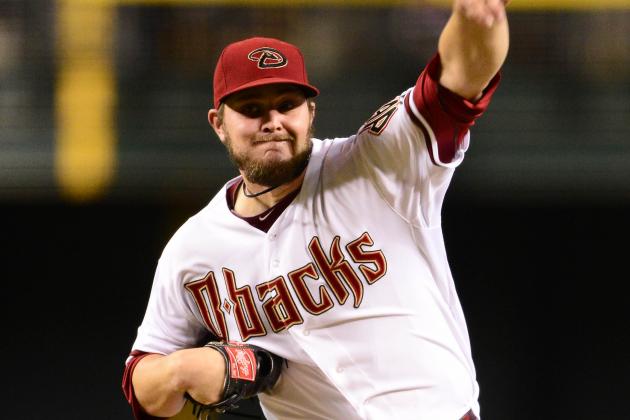 Mark J. Rebilas-US PRESSWIRE

Last week: No. 1.
As said in the previous slide, it's not necessarily that Todd Frazier lost the No. 1 spot to Wade Miley. But putting him on top is sort of an answer to myself for what I wrote last week.
The Arizona Diamondbacks' left-hander had two excellent starts against the Houston Astros and Miami Marlins, allowing one total run in 14 innings. But how would Miley fare against some tougher competition, I wondered. We now have the answer to that question.
Over the past week, Miley faced the Cincinnati Reds and Los Angeles Dodgers, two of the NL's playoff contenders. He gave up three runs in each of those appearances, but didn't earn a victory in either game thanks to lack of run support from the D-Backs' lineup.
Obviously, those weren't shutdown performances by Miley. But he gave Arizona a chance to win each game against two teams that need to keep winning games to maintain a division lead or stay in the playoff hunt.
With a 2.90 ERA, Miley currently ranks fifth among NL starting pitchers and his 1.12 WHIP (walks and hits per innings pitched) is the sixth-lowest in the league.
While his .245 opponents' batting average might not look as impressive alongside his peers, Miley's game is to pound the strike zone, not walk any batters and let his defense make outs behind him. The approach is clearly working well for him.
Now that the D-Backs have fallen out of the playoff race (currently 11.5 games back in the NL West and 7.5 behind in the wild-card standings), Miley might be judged differently down the stretch than Frazier.
But the Rookie of the Year award isn't a Most Valuable Player award, so their respective performances should be judged on their own merits. Hopefully, award voters stick to that philosophy.
Follow @iancass on Twitter