Fantasy Football 2012: 5 Bench Players You'd Be Smart to Have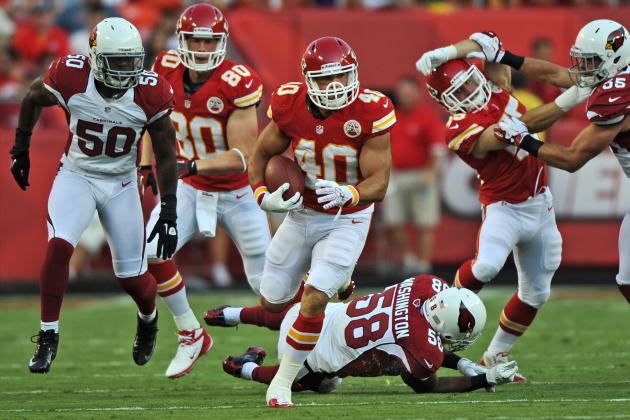 Peter Aiken/Getty Images
From overvalued to far undervalued
With the start of the fantasy football season upon us (oh yeah!), smart fantasy owners know the importance of drafting a solid bench to compliment the skills, strengths and weaknesses of their starting players.
The also know how to effectively use the waiver wire to find players who could factor into their fantasy equation. Whether it is a matchup issue or dealing with an ill-timed bye week, finding and identifying up-and-coming players is essential to the success of the aforementioned fantasy team.
Some of these players have yet to make a real name for themselves in the NFL, while others have seen their value over the years meteorically rise and fall at the drop of a hat. The point is, whether these players are selected in your fantasy draft or not, they should be accounted and perhaps stowed away for reference down the line. They all stand a great chance at gaining fantasy value early on into the season.
So while the novice owner thinks about who to draft in the first round and who will have a better season between Roddy White and Julio Jones (Hint: it's White), the smart, savvy fantasy vet will know where the most importance lies—bench players with high upside.
Begin Slideshow

»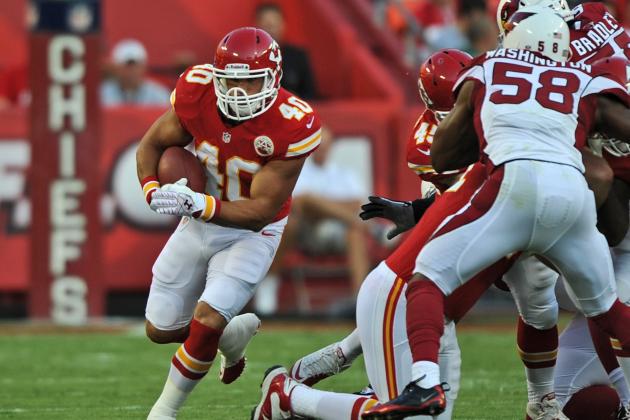 Peter Aiken/Getty Images
Flashes of his old self
Peyton Hillis has been running like a man possessed during the preseason. He seems to have found the speed and power he lacked a season ago.
He was the personification of overrated heading into last season, and he did not surprise. The Madden 12 cover-boy didn't even show glimpses of his 2010 form, producing nearly one-third of what he did the year prior.
Many predicted he would lose some of his shiny luster, but no one predicted a complete drop from fantasy relevancy. Owners who took him early on, expecting some semblance of his touchdown-posing self were simply asking for trouble and probably found it.
But times have changed.
Hillis got his way and left Cleveland to find the greener pastures of Kansas City. Sure, the Chiefs have a superstar running back named Jamaal Charles ruling the roost, but Hillis has the big factors that help his stock exponentially: Charles is coming off a torn ACL. We all know the "Two-Year Rule" for NFL running backs coming back from ACL surgeries.
The results? They need a full year to rehabilitate and get back to their former selves (if they ever do).
Also, Charles' best season came in '10, two years ago. What happened then? He split time with Thomas Jones. A platoon of sorts. One that drove fantasy owners of both backs crazy.
Jones had 245 carries, totaling 896 yards and six TDs. Charles (who came off the bench predominantly), had 230 carries for an eye-popping 1,467 yards and five TDs. Yes, I know Hillis and Charles are very different backs, but so were Jones and Charles. Both still remained fantasy-relevant to say the least.
The biggest factor into Hillis' upcoming success with Kansas City?
The Chiefs have put together a very formidable offensive line, headlined by veteran right tackle, Eric Winston. You know, the guy who helped Arian Foster tally 2,840 rushing yards over the past two seasons. They also have Jon Asamoah, who was simply terrific at left guard last year and a promising young center in Rodney Hudson.
The Chiefs are a run-heavy, pass-sketchy team. Matt Cassel cannot be depended on, which leaves endless amounts of pressure on the run-game, namely Peyton Hillis to perform. They will be a clock-controlling team that will look to slow down the pace of the game.
Enter Peyton Hillis.
The 'Thunder and Lightning' backfield of Charles and Hillis will speed by and also steamroll through opposing teams' defenses. While Charles is sure to account for the majority of the yards, expect Hillis to vulture a good handful of touchdowns this year.
There is no way Peyton Hillis does not land in the top 30 fantasy backs this season. That is, unless he has another bout with a "scratchy throat".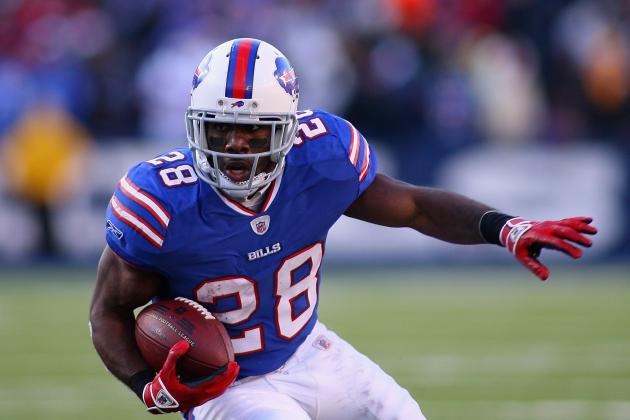 Rick Stewart/Getty Images
Still second fiddle in Buffalo?
Probably the most obvious of the "bench backs".
Spiller was completely outperformed by his counterpart Fred Jackson last season. Then Jackson went down, which gave Spiller the chance to show his worth. Spiller didn't tantalize, but was solid, averaging 74 yards rushing in the final six weeks of the season.
Now remember the biggest point: Jackson is 31 years old. I feel the "running backs lose everything after 30" and "he has fresh legs since he entered the league only five years ago" perception are both overplayed, but there is small truth to an extent.
Jackson is a "young" 31. He didn't get bruised up by huge NFL defensive men in his early 20s, but did still play the game, however. He spent some time in NFL Europe in addition to time spent in a couple of arena leagues.
Therefore, the age factor is simply a misnomer.
Finally, remember that Spiller's backfield partner is coming off a broken leg. Jackson has never been an injury-prone back, but a broken leg is pretty serious, especially with the cuts and change in speed a running back needs to be successful.
While I believe Jackson will be the primary back in Buffalo, expect Spiller to show off his sprinter-like speed on third downs and as a change of pace back.
Spiller averaged a measly 3.1 offensive touches per game before Jackson's injury. But look for that to change, as Spiller finally found himself in time for the fantasy playoffs, scoring a TD in four of the season's final six weeks.
Both backs will have plenty of time in the Bills' backfield, but if Jackson goes down again, Spiller would give fantasy owners as top-10 type of talent for the price of a sixth- or seventh-round pick.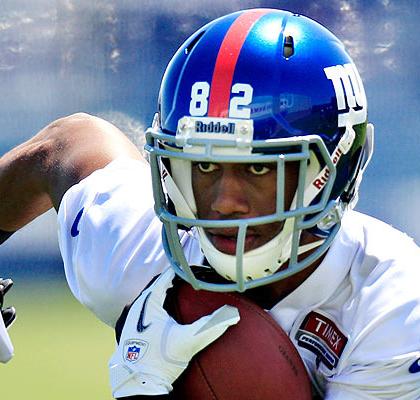 AP Photo / Mel Evans
For some reason, the Giants have a knack for finding unheralded talent to fill the third wide receiver spot for them every year.
Tell me if any of these names ring a bell?
Steve Smith, Hakeem Nicks, Mario Manningham, Victor Cruz.
I think a couple do.
In 2008, Steve Smith played behind Plaxico Burress and Amani Toomer. What did he do? Put up 57 catches for 574 yards.
Can't complain about that production from a third wideout.
In 2009, Hakeem Nicks' rookie year, he played the fiddle to Mario Manningham and Steve Smith. He played to the tune of 47 receptions for 790 yards and six TDs in 14 games. There's no need to highlight Cruz's numbers because they speak for themselves.
Going into this season, Nicks and Cruz are the clear-cut No. 1 and No. 2. That allows Randle to secure the opening to the three spot due to the exiling of Steve Smith last year and Manningham's departure to San Francisco.
It doesn't necessarily mean Randle will have the No. 3 spot handed to him on a silver platter, but it is pretty damn close. Domenik Hixon is also going for the all-important role, but he is coming off multiple knee surgeries, both of which required work on his ACL.
The other two candidates, Ramses Barden and Jerrel Jernigan, are more likely to have special teams roles or just depth at the wide receiver spot.
Randle arguably holds the most upside value in fantasy. Randle has great size and athleticism and should become Eli's favorite target when opposing defenses are locking down the more heralded Nicks and Cruz.
Randle isn't draft-worthy in standard leagues yet (unless it is a 12- or 14-team league), but will definitely become a hot waiver-wire pick a few weeks into the season.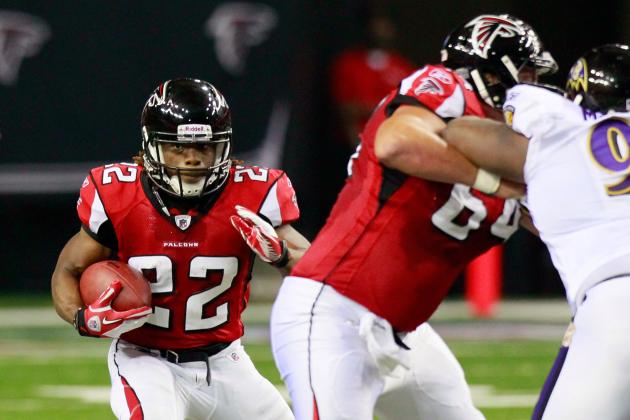 Kevin C. Cox/Getty Images
Expect plenty of touches this year
Rodgers was a true workhorse during his time at Oregon State. When drafted by the Falcons in the fifth round of last year's draft, his role became dramatically reduced due to the production of Michael "The Burner" Turner.
Now, as Turner approaches his geriatric stages, Rodgers' youth, low center of gravity and quirky shiftiness will help to usher in a new era in Atlanta.
He has the ability to handle a full-time load should Turner go down. Hell, even if Turner doesn't, Rodgers will have a bigger share of the carries than last year. Head coach Mike Smith has already gone on record saying Turner's load will be slightly reduced since the back has rushed the ball more times than any other back since 2008 (via Fox Sports).
The Falcons now rely on a pass-happy offense, slowly shifting away from the up-and-down, butterfingered Turner. Turner did, however, achieve a personal high on receptions last year, gathering in a whopping 17.
Rodgers? 21.
The Falcons have said they would lessen the workload on Turner in the past, which they have.
Slightly.
But now that he has reached the dreaded age of 30, they'll be sure to add Rodgers' dynamic style of play into the offense. Whether it is catching screen passes when White and Jones are fully covered, or taking a third-down run away from Turner, Rodgers will be an important part of the Falcons' offense.
Jacquizz Rodgers will make a nice fourth running back on draft day/waiver-wire pickup, with upside to highly surpass that.
Dilip Vishwanat/Getty Images
Big TE is a big threat
A little bit of a surprise pick here, Kendricks will look to be Sam Bradford's top guy in an offense that looked lost last season.
Good news Rams fans, times are changing!
The Rams have a new head coach in Jeff Fisher and a new offensive coordinator in Brian Schottenheimer, both of whom are pass-friendly to the tight end. This alone will essentially help Bradford and give him a nice check down read that simply was not there in 2011.
The Rams' offense will still, of course, be centered around Father Time, Steven Jackson, especially given the lack of proven wide receivers on the team right now. But, Schottenheimer's offenses in the past have been somewhat conservative, giving the tight end a healthy handful of touches. And evidence shows it.
Dustin Keller led the Jets in targets last season with 115, and he also had over 100 targets in 2010, giving Kendricks a fighting chance at obtaining a similar output.
Kendricks had just 28 receptions for 352 yards without a touchdown as a rookie last season, but was hampered with a foot issue and a concussion for a good chunk of the season. The good news is, eight of his 28 catches came in the final three games of the season, giving positive vibes heading into this season.
The ankle issue flared up a tad again in the preseason, but it looks to be a non-issue as the season approaches.
Kendricks' fantasy potential lies in the hands of Bradford and his overall health. The Rams need better pass-blocking this season to keep Bradford upright and for any chance at offensive success.
With all that said, Kendricks hinges on draft-worthy as of right now. After a few weeks into the season, he will be gobbled up in almost every standard league.
Watch out.
Now, watch each player carefully, as they may not produce right away, but all will carry strong fantasy value as the season evolves.