Green Bay Packers Dodge a Bullet with Raji's Ankle and More NFC North News
Jonathan Daniel/Getty Images
There is—and always will be—much debate about preseason. Both the meaningless nature of the games and the risk to players in such a meaningless game.
We can start talking about it again, as the Packers' BJ Raji left the game on the very first snap with an ankle injury.
According to Tom Silverstein and Tyler Dunne of the Journal-Sentinel, the injury isn't serious, and the Packers have to be breathing a sigh of relief.
They've already lost Desmond Bishop for the season and are thin in several spots both offensively and defensively, most notably offensive line.
The larger question again becomes, is four preseason games too much? A sub-question might be "what the hell was Raji—a starter—in there for anyway?"
The fourth preseason game is basically one where players who are on the bubble—sometimes not even on the bubble—get a chance to make a last case for themselves landing on the team.
So it's not useless, though if there were three games, the meaningless game of all meaningless games would end up the third game.
The League's answer to this was to cut two games—and add them to the regular season. I'm not sure that really addresses the problem, but it does push their 18-game agenda which, like the London games and future team is an Ahab/White Whale obsession with them.
As it stands, Raji, while heavily taped, seemed happy on the sidelines, so more than likely he is fine and they were just being cautious.
The Packers and their fans should be happy—they don't need to thin out another position anytime soon.
Here's the rest of what goes on around the Division.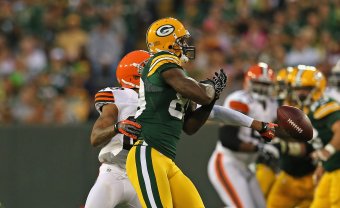 Jonathan Daniel/Getty Images
Moonlighting at his other job at CheeseheadTV.com, B/R's Aaron Nagler (this guy is NUTS) gives you his gut reactions to the Thursday night game.
ESPN's John Clayton is speculating that the Miami Dolphins could be interested in James Jones for the right price.
Adrian Peterson will be a Week 1 game time decision.
Jeremy Fowler recaps Thursday night's action at the Pioneer-Press, including a solid game by rookie Jarius Wright.
Dan Wiederer gives you his thoughts at the Star Tribune about how he would carve out the final 53-man roster.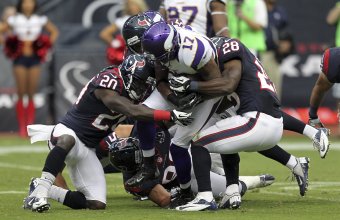 Bob Levey/Getty Images
ESPNChicago's Jeff Dickerson gives you five things we learned from the preseason finale.
The Sun-Times' Mark Potash says Dane Sanzenbacher knows he's not guaranteed a roster spot and works accordingly.
Over at Windy City Gridiron, Steven Schweickert recaps the preseason finale with a sigh of relief.
Chris McCosky of the Daily News talks about the status of safety Louis Delmas and his knee.
MLive.com's Justin Rogers reports that, not only did rookie quarterback Kellen Moore have a great final game, he had more than a few Boise fans in the house.
Carlos Monarrez reports in the Free Press about Mikel Leshoure great finale performance.
Normally I list the twitter handles of the writers down here but with the new format am thrown off. I'll get back to it next Tuesday when we reconvene.
Check out the B/R NFC North Facebook page—like us and keep up with everything NFC North on Bleacher Report! Follow me on Twitter at @andrew_garda.

This article is
What is the duplicate article?
Why is this article offensive?
Where is this article plagiarized from?
Why is this article poorly edited?