What You Need to Know About Each MLB Team's Top Projected Sept. 1 Call-Up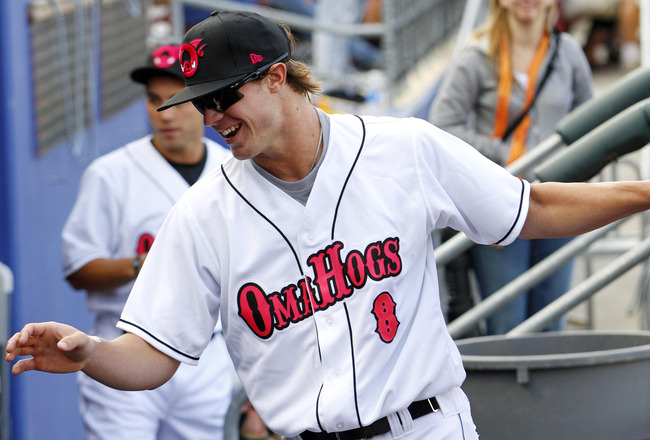 Matt Ryerson-US PRESSWIRE
On Saturday, September 1, be sure to check back with Prospect Pipeline throughout the day for analysis on all the call-ups and how it impacts the team for the remainder of the season.
It's always tough to predict which prospects will receive promotions, as their respective status in relation to the 40-man roster is always a key determinant. Furthermore, it's always important to consider a player's depth of experience; oftentimes, it's the organizational players—the guys who have the upside of a role player, at best—who receive the first promotions.
Here is a quick look at each team's most likely September call-up.
Boston Red Sox: OF Bryce Brentz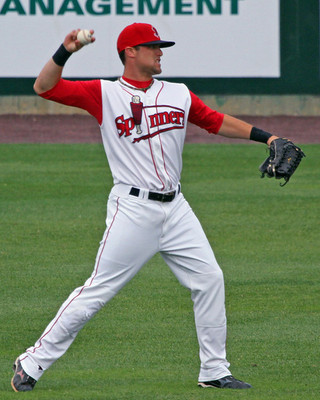 Courtesy of MLBProspectPortal.com
Now that SS Jose Iglesias and C Ryan Lavarnway are on the 25-man active roster, it's really a toss-up as to who will be the Red Sox's first September call-up. Given the weakened and depleted state of their corner outfield spots, it may be worth giving Brentz moderate exposure to see if he'd be ready for a starting role in 2013.
Personally, I think he needs more seasoning in the minors. However, plus power and high strikeout totals may always be part of his game.
Tampa Bay Rays: RHP Chris Archer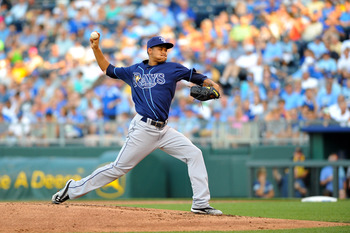 Denny Medley-US PRESSWIRE
In any other rotation, Archer may have earned a few more starts after he posted a 3.86 ERA with 14 strikeouts in 11.2 innings in two starts for the Rays in June. Notorious for his strikeout and walk rates, the right-hander's command was better than expected in those starts and definitely warrants a follow-up look in September.
With 132 strikeouts and a career-best 59 walks this season, the 6'3", 200-pounder has vastly improved his command and may not be destined for a bullpen role after all.
Baltimore Orioles: OF L.J. Hoes
J. Meric/Getty Images
If the Orioles ultimately choose not to recall the game's top pitching prospect, RHP Dylan Bundy, there are few players that can aid their playoff drive.
Hoes, on the other hand, offers above-average speed, defense and on-base skills and could have a significant role in September as the team periodically rests Adam Jones and Nick Markakis.
Toronto Blue Jays: OF Anthony Gose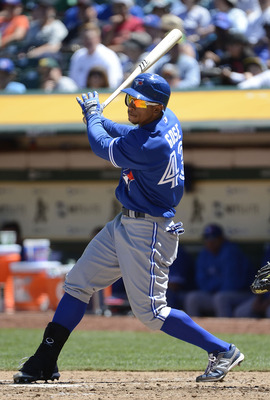 Thearon W. Henderson/Getty Images
Round one of the Anthony Gose trial went poorly, as the toolsy outfielder batted .183/.256/.244 with 10 stolen bases and 36 strikeouts in 28 games. His recent demotion back to Triple-A will give him a chance to regain some confidence before seeing more time in the Blue Jays outfield in September.
New York Yankees: OF Zoilo Almonte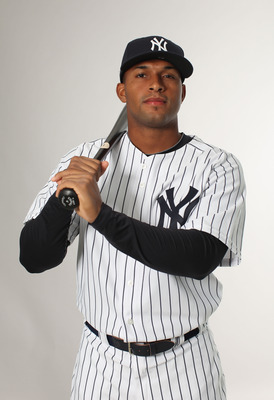 Nick Laham/Getty Images
Almonte's performance during spring training left a lasting impression on manager Joe Girardi, as well as the rest of the coaching staff. He's still too much of a free swinger, but his power-speed combination (20 HR, 15 SB) and ability to play both corner outfield spots could earn him a reserve role beginning September 1.
Chicago White Sox: LHP Charlie Leesman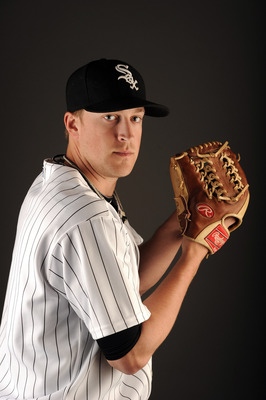 Harry How/Getty Images
Like so many other teams, the White Sox have very few prospects capable of making an impact in September. But with Gavin Floyd's recent trip to the disabled list with elbow inflammation, Leesman's 2.46 ERA and .259 BAA against this season at Triple-A could earn him a few September starts.
Detroit Tigers: RHP Bruce Rondon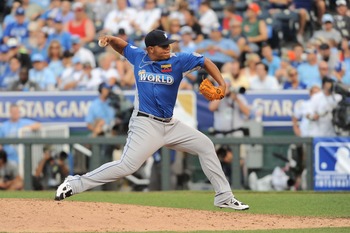 Denny Medley-US PRESSWIRE
With a fastball that regularly sits in the 99-102 mph range, Rondon has refined his command this season and has the potential to be the Tigers' future closer. He's been fast-tracked to the majors this season, as he began the year at High-A and now owns a 3.00 ERA at Triple-A Toledo.
Cleveland Indians: INF Cord Phelps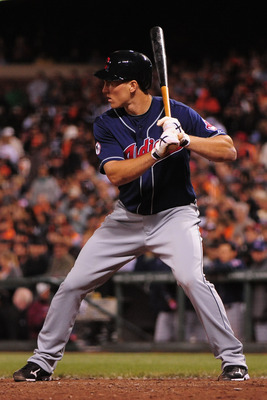 Kyle Terada-US PRESSWIRE
If you recall, Phelps and Jason Kipnis were promoted around the same time, with Kipnis obviously earning the position for the foreseeable future. However, Phelps has stated his case for a September look on the Tribe's infield after posting an .819 OPS in 130 games.
Kansas City Royals: OF Wil Myers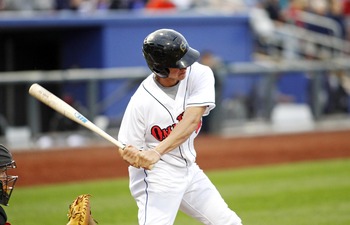 Matt Ryerson-US PRESSWIRE
Despite the continuous cries from the masses for a Wil Myers promotion, the Royals have remained patient with the slugging outfielder.
With a .973 OPS this season between Double-A and Triple-A, including 35 home runs, Myers has nothing left to prove in the minor leagues. However, the Royals would rather he finish the Pacific Coast League playoffs before making things official.
Minnesota Twins: OF Oswaldo Arcia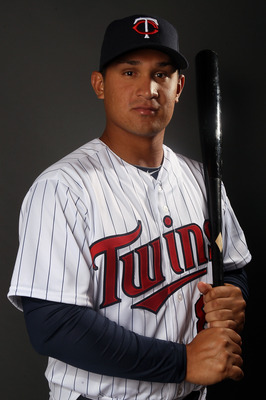 Elsa/Getty Images
Already on the Twins' 40-man roster, the left-handed-hitting outfielder has posted a .932 OPS since a midseason promotion to Double-A New Britain. The Twins were willing to call up Joe Benson last season, so there's no reason to believe they won't do the same with Arcia.
Texas Rangers: SS Jurickson Profar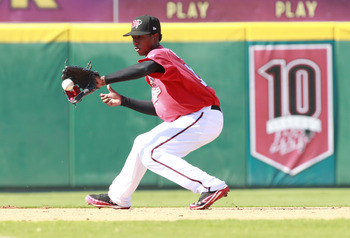 Tim Heitman-US PRESSWIRE
Ranked by Prospect Pipeline as baseball's No. 1 overall prospect at the midseason mark, Profar has the potential to be the biggest September call-up in the game. I'd expect him to see some playing time at second base and serve as a pinch-hitter, but at the same time, you don't promote a player of that caliber to sit two out of three games.
Los Angeles Angels: 3B Luis Jimenez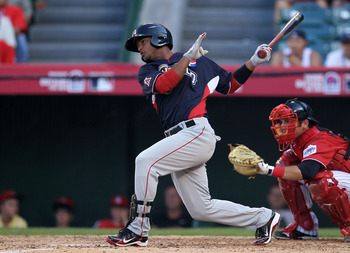 Stephen Dunn/Getty Images
The 24-year-old third baseman has posted an .845 OPS with 16 home runs and 17 stolen bases for Triple-A Salt Lake this season and deserves a look at third base. In my opinion, he may surprise some people too.
Oakland Athletics: RHP Dan Straily
Ed Zurga/Getty Images
He wasn't the strikeout machine that he's been in the minors (181 in 146 innings), but Straily was solid in his three big league starts (3.18 ERA, 12 strikeouts in 17 innings).
He was recently optioned back to Triple-A when Brett Anderson returned from the disabled list, so the team decided to wait until rosters expand to recall the right-hander.
Seattle Mariners: LHP Danny Hultzen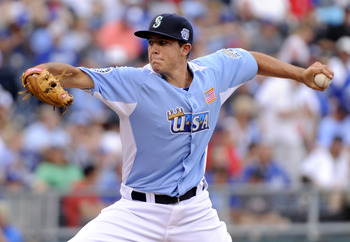 H. Darr Beiser-USA TODAY
It feels as though Hultzen has been on the brink of a call-up since mid-July. However, the No. 2 overall selection in last year's draft has pitched terribly this month, posting a 8.49 ERA with 10 hits and 14 walks in 11.2 innings. He'll have to right the ship—which he will—in order to receive a September promotion.
Atlanta Braves: RHP Julio Teheran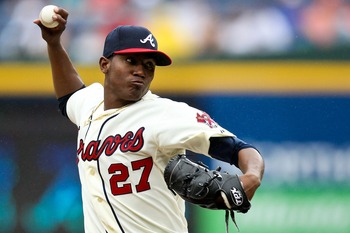 Daniel Shirey-US PRESSWIRE
Having one of the most disappointing seasons of all top-ranked pitching prospects, Teheran is yet to make the adjustments necessary for a return to major leagues. He's still primarily a two-pitch pitcher, and his command has been inconsistent all season. But perhaps the Braves offer a vote of confidence and give the 21-year-old a few starts in September.
Philadelphia Phillies: RHP Justin De Fratus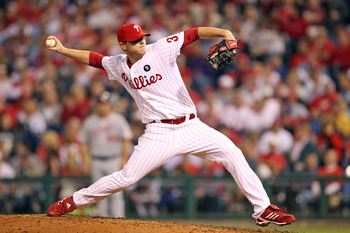 Hunter Martin/Getty Images
The 6'4" right-hander has missed most of the 2012 season with an elbow injury but has returned to log nearly 20 innings out of the Triple-A bullpen. De Fratus has swing-and-miss stuff and could even get a look at closer in a few games down the stretch.
Washington Nationals: 3B Carlos Rivero
Brad Barr-US PRESSWIRE
If the Nationals continue to pull away with the National League East title, Rivero could spell Ryan Zimmerman down the stretch so as to be fully healthy for the postseason. The right-handed hitter could also see some starts against left-handed pitching, which he's hitting at a .372/.430/.566 clip.
Miami Marlins: LHP Dan Jennings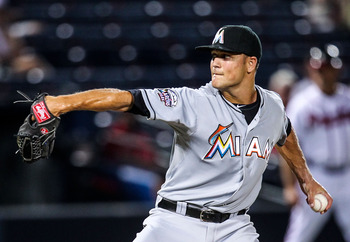 Daniel Shirey-US PRESSWIRE
Despite a strong season at Triple-A, Jennings has yet to find his groove over multiple big league opportunities. He'll likely receive another one on September 1 and may see most of his work as a lefty specialist.
New York Mets: RHP Jeurys Familia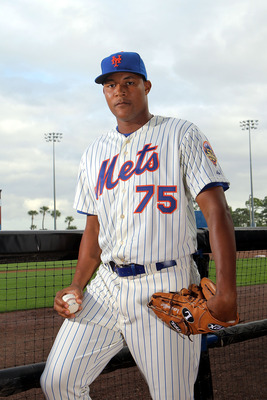 Marc Serota/Getty Images
After posting a 2.90 ERA with 132 strikeouts in 124 innings, Familia has taken two steps back this season with a 4.78 ERA and 72 walks in 130 innings for Triple-A Buffalo. Still, he's on the 40-man roster and has the swing-and-miss stuff to at least warrant a few bullpen appearances in September.
Chicago Cubs: LHP Chris Rusin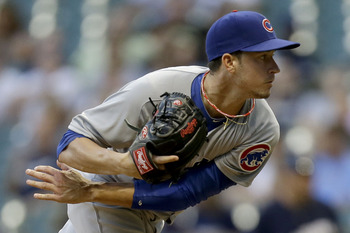 Mike McGinnis/Getty Images
OK, so Rusin isn't much of a prospect, but after an impressive big league debut (5 IP, H, ER, 4 K/2 BB), I'm curious to see how he fares over a few more starts.
St. Louis Cardinals: RHP Shelby Miller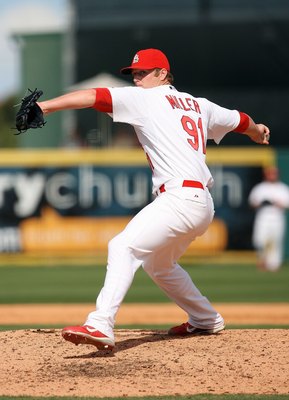 Doug Benc/Getty Images
It seemed highly doubtful that Miller would reach the major leagues this season after posting a 6.17 ERA in the 77.1 innings before the All-Star break. Since then, though, he's registered a 3.04 ERA with 61 strikeouts and seven walks in 53.1 innings, and he could make a few starts for the Cardinals in September.
Houston Astros: RHP Jarred Cosart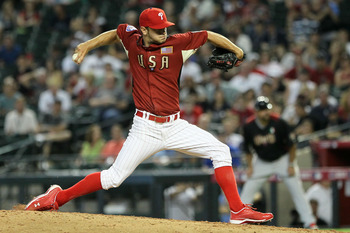 Jeff Gross/Getty Images
Cosart has been the epitome of a prospect tease. While his 3.48 ERA between Double-A and Triple-A is a step in the right direction, I'm always left wondering: Where did the strikeouts go?
Regardless, he does a tremendous job keeping the ball in the park (three home runs allowed this season) and induces plenty of ground balls (1.99 GB/FB).
Pittsburgh Pirates: RHP Gerrit Cole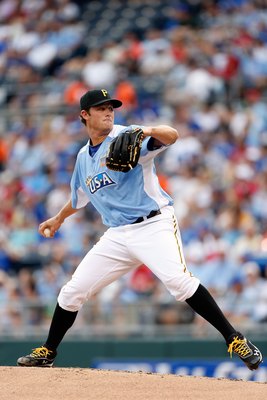 Jamie Squire/Getty Images
Despite GM Neal Huntington's statement that Cole will not be a September call-up, the right-hander's recent promotion to Triple-A has me thinking otherwise. He's only thrown 126 innings this year and in general can handle a heavy workload.
Milwaukee Brewers: RHP Wily Peralta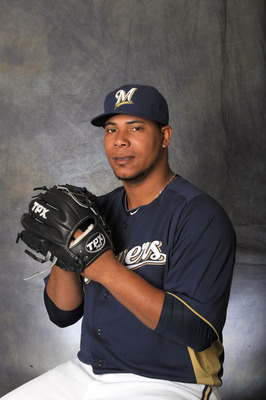 Rich Pilling/Getty Images
After making a one-inning, unimpressive big league debut earlier this season—he allowed one run on three hits with one strikeout—Peralta has been pitching to return to the major leagues. Although he gives up too many hits and has bouts of command issues, the right-hander still generates ground balls at a favorable rate (1.99).
Cincinnati Reds: SS Didi Gregorius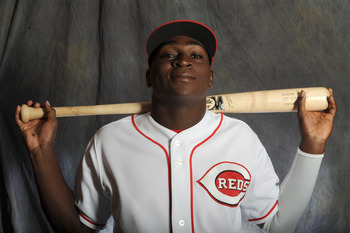 Rich Pilling/Getty Images
So the Reds won't be calling up Billy Hamilton. But Gregorius has could still provide up-the-middle depth as well as a left-handed bat. If he plays well, it only boosts his trade value headed into the offseason.
Los Angeles Dodgers: 2B/OF Alex Castellanos
Rich Schultz/Getty Images
Another system with a rather barren farm system, the Dodgers are more likely to trade for a player than promote from within, as we've quickly come to learn. A versatile defender who's also capable of playing a corner outfield spot, Castellanos ultimately could spell many of the regulars in the Dodgers lineup.
San Francisco Giants: RHP Heath Hembree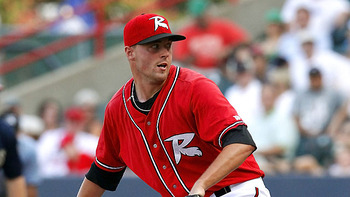 Courtesy of MiLB.com
There simply aren't many prospects in the Giants system with the potential to contribute this season. However, Hembree has notched 14 saves at Triple-A while holding opposing batters to a .211 average. His stat line may not be the most appealing, but the right-hander has good enough stuff to pitch in the big leagues during September.
Colorado Rockies: LHP Edwar Cabrera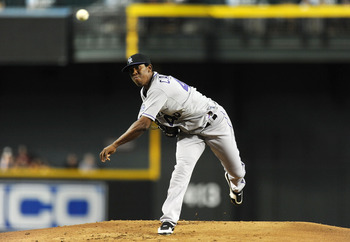 Norm Hall/Getty Images
Cabrera allowed nine earned runs and seven walks in two unimpressive starts for the Rockies earlier this season. However, after returning to the minor leagues and enduring a brief stint on the disabled list, he figures to get another look in September.
Arizona Diamondbacks: RHP Trevor Bauer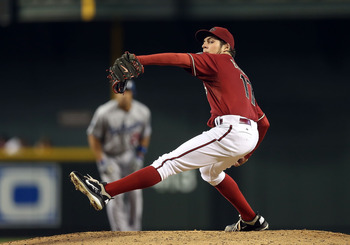 Christian Petersen/Getty Images
Since allowing 14 hits and 13 walks over four starts (16.1 IP) with the Diamondbacks, Bauer has walked only four batters over his last 22 innings while registering 26 strikeouts. Expect him to join fellow pitching prospects Tyler Skaggs and Pat Corbin in the rotation shortly.
San Diego Padres: 2B Jedd Gyorko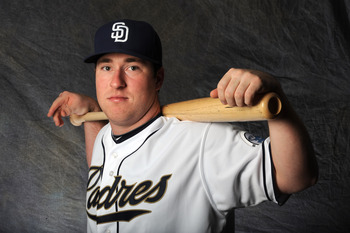 Rich Pilling/Getty Images
After leading all of the minors last season with 192 hits, Gyorko has posted a .931 OPS between Double-A and Triple-A while learning a new position (second base). The only question is if the Padres can make room on their 40-man roster for him.
Keep Reading