Buying or Selling Carson Palmer as the Oakland Raiders' Franchise QB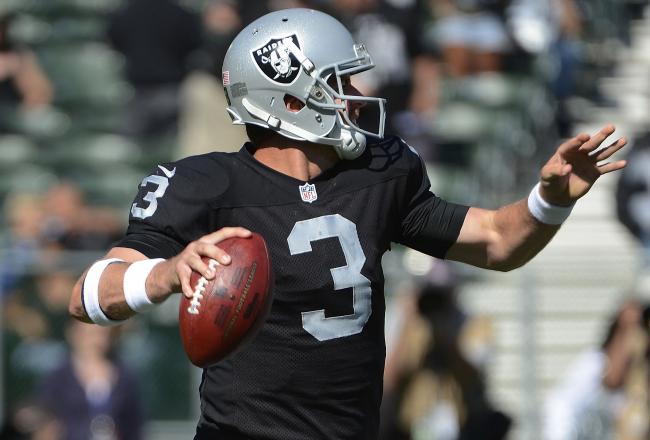 Thearon W. Henderson/Getty Images
The Oakland Raiders enter the 2012 NFL season with the intention of contending in what appears to be a very winnable AFC West, and a great deal of their hopes for their upcoming campaign rest on how quarterback Carson Palmer fares in his second year with the team.
However, Palmer and the Raiders first-team offense have struggled in the preseason, calling into question not only the 32-year-old's ability to lead Oakland into the playoffs, but the wisdom of the deal that brought him to Oakland in the first place.
First, let's just get this out of the way. In sending a first-round pick in 2012 and a second-round pick in 2013 to the Cincinnati Bengals for Palmer, the Raiders badly overpaid. It was a panic trade made in the power vacuum caused by Al Davis' passing after starting quarterback Jason Campbell broke his collarbone. There's really no other way to look at it.
That said, it's water under the bridge and the Raiders can't un-ring the bell, so the more pressing question becomes what does having Carson Palmer under center in Oakland mean moving forward?
Unfortunately, the 10th-year veteran hasn't done a whole lot to inspire the warm and fuzzies in that regard either. Granted, Palmer showed some flashes last year in throwing for 2,753 yards and 13 touchdowns.
However, for every needle that Palmer threaded he inspired a cringe, making multiple poor decisions with the football that resulted in 16 interceptions. More importantly than the picks, the Raiders push for the postseason came up short, making the trade seem that much more ill-advised in hindsight.
Palmer hasn't taken any better care of the football this year. In three preseason starts, Palmer hasn't posted a passer rating of over 55, he has yet to throw a touchdown pass and he's been intercepted four times. Palmer was quick to dismiss those struggles when speaking with Jerry McDonald of The San Jose Mercury-News.
"That's what (preseason) is for, really, unless you're a young guy that hasn't played and just wants to get acclimated to the speed of the game," Palmer said. "I've been around long enough, and that's not something I'm trying to do. There are things we'll work on and plays we'll put in we normally wouldn't put in, or if we want to see if this guy can run by that guy. There are a ton of situations that come up where you do things you wouldn't do in a regular-season game."
That may well be true, and at least part of the problem can likely be laid at the feet of a banged-up Oakland wide receiver corps. Both Denarius Moore and Jacoby Ford have missed significant time this summer, and Palmer expressed concern about not getting reps with those players in another interview with The Mercury-News' Steve Corkran.
"We need a ton of work together," Palmer said Monday as the Raiders returned to the team facility for practice. "You can never get enough work with a guy, even if he's played every rep and you've played every rep. When they're back, it's not easy to get up off the couch, or a walking boot, or off crutches and show up and play."
With that said, lack of timing isn't the biggest problem facing Carson Palmer. It's a perception problem, both in what Oakland fans and even Palmer himself perceive him to be.
Frankly, Carson Palmer just isn't the same player that went to consecutive Pro Bowls and threw for over 4,000 yards twice in Cincinnati. He's older, and in all honesty his right elbow has (whether he or anyone else wants to admit it or not) never fully recovered from the injury he suffered in 2008.
He should have had Tommy John surgery, but he didn't. Much like the trade that brought him to the Bay Area, it's water under the bridge.
So, Carson Palmer enters the preseason finale Thursday against the Seattle Seahawks as a capable, but by no means elite, veteran quarterback. If the Raiders are going to make any noise this year he needs to realize that, because he can't keep trying to fit the square peg in the round hole.
I'll buy Carson Palmer as the Oakland Raiders quarterback in 2012, if only because the backup options in Oakland aren't taking the team anywhere. However, it's a question that's going to have to be revisited after the season, and at that point the answer may be much different.
Which just makes the trade that much worse.
This article is
What is the duplicate article?
Why is this article offensive?
Where is this article plagiarized from?
Why is this article poorly edited?

Oakland Raiders: Like this team?