MLB's 10 Best Under-the-Radar Players Expected to Be Called Up on Sept. 1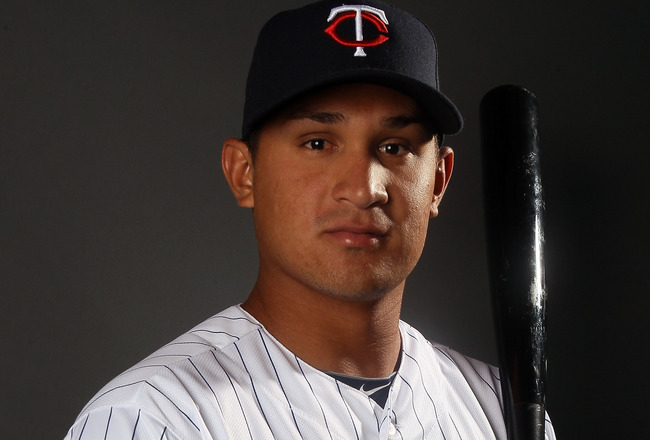 Elsa/Getty Images
As we get closer to the roster expansion September 1—when teams are allowed to carry 40 active players rather than the standard 25—there will be ongoing speculation over which prospects will be promoted.
Everyone has an opinion on the prospect who could potentially make an impact down the stretch of the season. But it's not simple. Sure, under some circumstances, it may be as easy as releasing an expendable big leaguer to make room for the youngster on the active roster. Typically, an organization values a player already on the 40-man roster, preferring not to start the clock on a prospect's service time in the major leagues.
So, taking that into consideration, I've composed a list of 10 under-the-radar prospects that I believe could debut in September—if not sooner.
10. Jon Pettibone, RHP, Philadelphia Phillies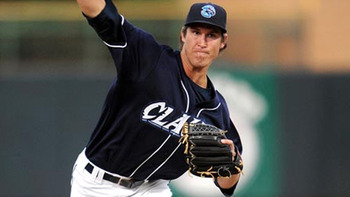 Courtesy of MiLB.com
Age: 22
Level: Triple-A
40-man roster: No
Other than Tyler Cloyd, Pettibone arguably has the best command of all the Phillies' young pitching prospects. Despite standing 6'5" with a wiry frame, the 22-year-old right-hander's fastball doesn't touch higher than 92 to 93 mph, though he commands both sides of the plate.
His changeup serves as his best secondary offering with excellent fade, while the shape of his slider has improved considerably over the course of the season.
9. Marc Krauss, OF, Houston Astros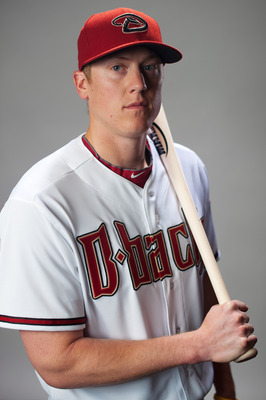 Rob Tringali/Getty Images
Age: 24
Level: Triple-A
40-man roster: No
Selected in the second round of the 2009 draft, Krauss is a physically strong 6'2", 235-pound outfielder whose offensive game compares to Adam Dunn's. A 24-year-old in his third full professional season, he was recently traded to the Astros at the end of July along with Bobby Borchering for Chris Johnson.
Although his defense in left field is fringy at best, Krauss' three-outcome (home run, walk or strikeout) approach should garner opportunities in the major leagues over the next two seasons, and there's a strong chance that he receives most of his at-bats against left-handed pitching.
It's also worth noting that to avoid the Rule 5 draft next season, Krauss will need to be added to the Astros' 40-man roster, so don't be surprised if he receives a September call-up.
8. Zoilo Almonte, OF, New York Yankees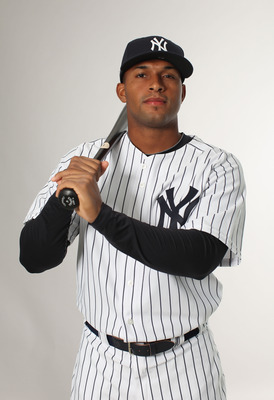 Nick Laham/Getty Images
Age: 23
Level: Double-A
40-man Roster: Yes
The 23-year-old switch-hitter isn't particularly toolsy, but does possess slightly above-average power and speed. He's a free swinger from both sides of the plate, preferring to use his hand-eye coordination and quick bat to drive the ball rather than manipulate counts.
Almonte's a solid defender capable of playing all three outfield positions, but has primarily played either right or left field over the last two seasons. He made a strong impression on Joe Girardi during spring training, and I highly doubt that's been forgotten.
7. Tyler Cloyd, RHP, Philadelphia Phillies
Courtesy of MiLB.com
Age: 25
Level: Triple-A
40-man Roster: No
Cloyd certainly doesn't have overpowering stuff, but he has above-average command of his three-pitch mix. His fastball sits in the 86 to 90 mph range with moderate arm-side run. He's been cutting his fastball more frequently this season, at times even getting late sinking action.
The 25-year-old has a pretty good changeup in the low 80s with fade and sink and throws it with consistent arm speed. His slider is just an average pitch, as he gets around it too often and makes it slurvy. He trusts his secondary pitches and throws them in all counts.
6. Grant Green, UTIL, Oakland Athetlics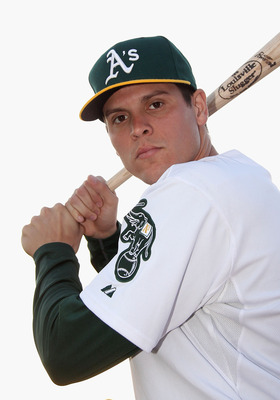 Christian Petersen/Getty Images
Age: 24
Level: Triple-A
40-man Roster: No
Drafted as a shortstop in 2009, Green has played just about every position this season; basically, he's done everything but pitch, catch or play first base. His power hasn't developed as hoped, but he still has a decent bat. He'll likely see time at multiple positions this September.
It's possible that Green could be the team's second or third baseman next season—both positions where they've been especially weak in 2012. And given his lack of power, second base would be the more logical fit of the two and offer the most value.
5. Rymer Liriano, OF, San Diego Padres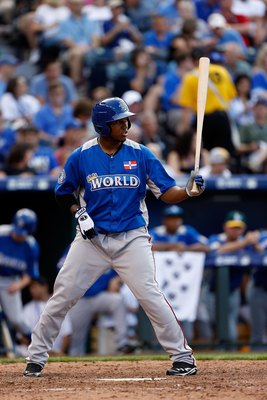 Jamie Squire/Getty Images
Age: 21
Level: Double-A
40-man Roster: Yes
A toolsy outfielder with tons of upside, Liriano possesses average power and plus speed as well as a decent understanding of the strike zone. His ability to hit for a high average remains suspect, but that shouldn't detract from his overall game. He just needs more experience.
His ability to cover ground and his above-average arm should allow him to stay in center field for the time being, but his thick build suggests he might get bulky over time and require a move to right field.
4. Bruce Rondon, RHP, Detroit Tigers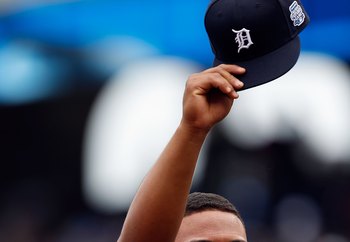 Jamie Squire/Getty Images
Age: 21
Level: Triple-A
40-man Roster: No
Recently promoted to Triple-A, Rondon has the potential to make significant impact out of the bullpen—immediately. Boasting a fastball that works in the 99 to 102 mph range, the right-hander was designed for a late-inning relief role.
The Tigers will need Rondon in their 2013 bullpen, as he's a cheap power arm capable of closing. And I would imagine that if he performs well in September, they could even look to deal Jose Valverde this offseason and instate Rondon as closer.
3. Shelby Miller, RHP, St. Louis Cardinals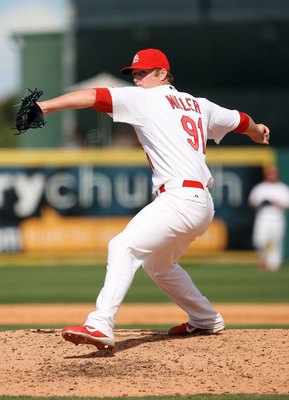 Doug Benc/Getty Images
Age: 21
Level: Triple-A
40-man Roster: No
Miller typically throws a heavy 93 to 97 mph fastball with arm-side run that generates a healthy mixture of swing and misses and weak contact. However, for most of this season, reports placed the right-hander's fastball in the low- to mid-90s that is often up in the zone.
To complement his heater, Miller throws two above-average off-speed pitches: a sharp, downer curve and a fading changeup. He has already shown the ability to work deep into games while sustaining his velocity and has a frame built for innings.
The right-hander has allowed 133 hits and 24 home runs in 130.2 innings and is learning that he can't get away with working up in the zone or rely on velocity. However, he's pitched better as of late, registering a 6-3 record, 3.40 ERA and 65 K/11 BB rate over his last 10 starts.
2. Danny Hultzen, LHP, Seattle Mariners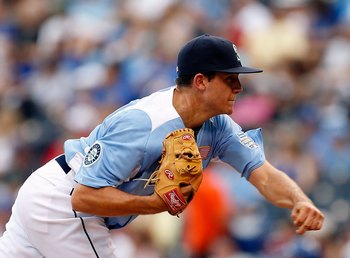 Jamie Squire/Getty Images
Age: 22
Level: Triple-A
40-man Roster: Yes
The top left-hander in the highly impressive 2011 draft class, Hultzen was also the most polished. He already demonstrates advanced command of three pitches—a low 90s fastball, a slider (technically his out pitch) and a changeup—and is effective against right- and left-handed hitters.
Hultzen's success is based upon his ability to locate his fastball on both sides of the plate, especially working inside against right-handed hitters. When he fails to do so, his secondary pitches aren't set up as well and are generally far less effective. Similarly, if they catch too much of the plate, their velocity still provides hitters with enough time to throw their hands at the ball and scatter bleeding hits across the field.
1. Oswaldo Arcia, OF, Minnesota Twins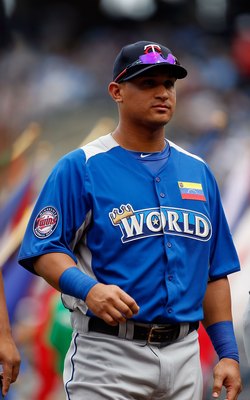 Jamie Squire/Getty Images
Age: 21
Level: Double-A
40-man Roster: Yes
Already on the Twins' 40-man roster, Arcia's lightning-quick wrists and a lofty left-handed swing allow him to go yard to all fields. Although his swing can be a bit long at times, the barrel whip is excellent, as he stays behind the baseball and generates extension after contact.
Arcia is raw defensively, and his bulkiness has made him a corner outfielder exclusively and even raises some concerns about that. He profiles best in right field, as his plus arm is a clean fit at the position. After the Twins promoted Joe Benson last September, it's hard to rule out a call-up for Arcia.
Keep Reading