Ranking Top 5 Minor League Player of the Year Candidates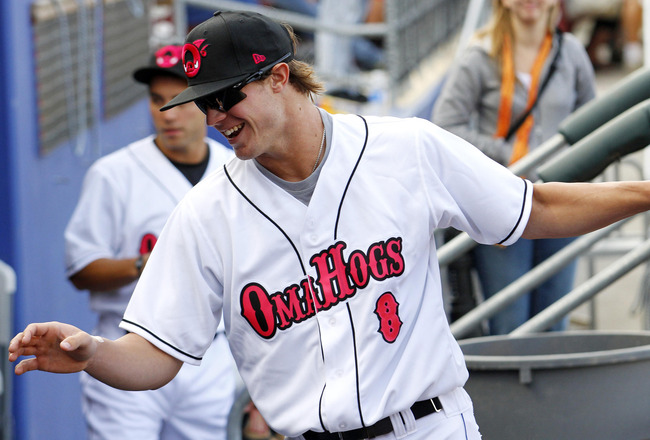 Matt Ryerson-US PRESSWIRE
As the minor league regular season comes to end, speculation increases regarding which players may be September call-ups. This season, we were spoiled by the early-season promotions of Bryce Harper, Mike Trout and Will Middlebrooks. And after Manny Machado's unexpected call-up, anything seems possible over the final month of the season.
It's not a coincidence that many of the prospects at the forefront of September call-up rumors are among the best in the minor leagues—both position and pitching prospects—not to mention the youngest.
As we look at some of the high-profile talent that could be on the scene in less than a week, it also lends to the discussion of which position prospect is more deserving of Minor League Player of the Year honors.
Here is my take on the five players who could garner such a prestigious honor, as well as several more deserving of consideration.
Nick Castellanos, 3B/RF, Detroit Tigers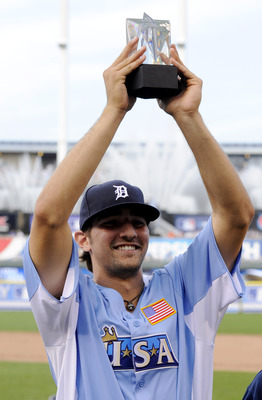 H. Darr Beiser-USA TODAY
Position: 3B/RF
Height/Weight: 6'4", 210
DOB: 3/4/1992 (Age: 20)
Bats/Throws: R/R
Drafted/Signed: 2010, first round (HS: Archbishop McCarthy, Fla.)
2012 Stats (A+, AA): .336/.382/.475, 46 XBH (10 HR), 105 K/36 BB (126 G)
A supplemental-first round selection in 2010, Castellanos is one of the top offensive prospects in the game. After an anemic start to the 2011 season at Low-A, he went on to ultimately slash .312/.367/.436 while playing in 135 games.
Even though he swatted only seven home runs, the right-handed hitter did tally 36 doubles. And considering his ability to barrel the baseball, adding a little loft to his swing and being more selective at the plate should yield more home runs.
He struck out 130 times last season compared to 45 walks and has posted a similar rate through 126 games this season of 105 K/36 BB. His plate discipline has been especially challenged in his 71 games at Double-A, where he's fanned 63 times and coaxing only 14 walks.
Castellanos is still learning how to play at third, but his range, instincts and above-average arm work well there. He's tall (6'4") with wiry strength and lots of room to fill out, and having such a phenomenal season only raises his ceiling. Blocked at third base in Detroit by Miguel Cabrera for the foreseeable future, Castellanos has been playing right field almost exclusively since the bump to Double-A.
The 20-year-old was the star of the XM Futures Game, going 3-for-4 with a home run, three runs scored and three RBI as he was named the contest's Most Valuable Player.
Wil Myers, OF, Kansas City Royals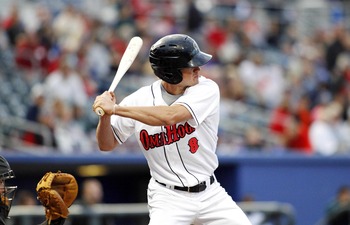 Matt Ryerson-US PRESSWIRE
Height/Weight: 6'3", 205 lbs.
DOB: 12/10/1990 (Age: 21)
Bats/Throws: R/R
Drafted/Signed: 2009, third round (HS: Wesleyan Academy, N.C.)
2012 Stats (AA, AAA): .309/.387/.546, 66 XBH (35 HR), 103 RBI, 6 SB, 136 K/61 BB (127 GS)
Since entering the Royals' system in 2009, Wil Myers has absolutely raked at every stop—excluding his injury-plagued 2011 campaign. Exploding from an upright, balanced stance, the right-handed hitter has quick wrists with outstanding bat control as well as plate coverage that allows him to effortlessly drive the ball to all fields. He has considerably more power to the pull side, but keeps his weight back long enough to still jump the yard to the opposite field.
At the same time, when he's looking for a pitch to get his hands extended, Myers certainly isn't afraid to take a healthy cut.
Myers' plate discipline is advanced beyond his years, and he's comfortable hitting any pitch in any count. Although he's capable of drawing walks, Myers has focused on driving the ball this season, and the results speak for themselves. He'll be nothing more than an average defensive outfielder, although the plus arm that made him a highly-touted catching prospect is still there.
He's had his share of highs and lows this season, especially since the promotion to Triple-A earlier this season. He's endured a few slumps over the last month, but nothing that detracts from his overall season.
Myers has been knocking on the door all season, but will likely remain at Triple-A Omaha for at least another week as the team battles through the Pacific Coast League playoffs.
Jurickson Profar, SS, Texas Rangers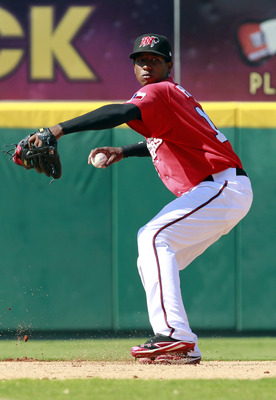 Tim Heitman-US PRESSWIRE
Position: SS
Height/Weight: 5'11", 165
DOB: 2/20/1993 (Age: 19)
Bats/Throws: S/R
Drafted/Signed: 2009, Curacao
2012 Stats (AA): .284/.369/.458, 47 XBH (14 HR), 62 RBI, 16 SB, 78 K/64 BB (122 G)
Profar has shown exactly why he's the top prospect in all of baseball. The youngest player in Double-A all season, the 19-year-old has thrived, making easy adjustments without showing any concerning holes in his game. He possesses an above-average hit tool from both sides of the plate that's highlighted by quick wrists and an advanced feel for the strike zone.
As we all saw in the XM Futures Game, Profar has surprising pop for his size that, when bundled with his quick wrists, could yield 15-20 home runs in his prime—possibly even more.
Although his speed only grades out as above-average, Profar is an adept base-stealer who has been successful in 16 of 20 attempts this season. His quickness is more noticeable on defense, as Profar has excellent range at shortstop and clean actions through the baseball. He is a plus defender with soft hands and also possesses a strong arm that will allow him to remain at the position.
The top position prospect in the minor leagues, Profar has the potential to be a superstar given his natural ability as a switch-hitter and defensive prowess at short. While he's still young and would benefit from more experience, Nolan Ryan has suggested that they may recall him this season—possibly even in the near future.
A 2012 big league debut would be a fitting end to what has been a spectacular season.
Oscar Taveras, OF, St. Louis Cardinals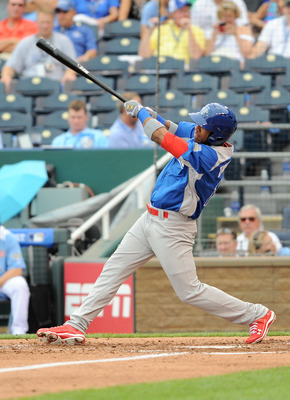 Denny Medley-US PRESSWIRE
Position: OF
Height/Weight: 6'2", 180
DOB: 6/19/1992 (Age: 20)
Bats/Throws: L/L
Drafted/Signed: 2008, Dominican Republic
2012 Stats (AA): .322/.380/.575, 64 XBH (22 HR), 89 RBI, 10 SB, 56 K/40 BB (118 G)
Taveras, a left-handed hitter, takes forceful hacks but retains the ability to generate consistent, hard contact thanks to his ridiculous hand-eye coordination and knowledge of the strike zone. Albeit a violent one, the swing is balanced and simple, as he uses exceptional torque to unload on inner-half offerings.
There's nothing more encouraging than a 20-year-old developing his power at Double-A while retaining a high batting average. It's hard to predict which of Taveras' offensive tools will ultimately be the best: hit or power. In my opinion, his power is a byproduct of his natural ability as a hitter.
His above-average speed has allowed him to play all three outfield positions in the minors, but his highest ceiling comes as a corner outfielder. Given his strong arm, he'll likely stick in right field.
Taveras is arguably the best pure hitting prospect in baseball, and the fact that he still has so much time to mature gives him superstar upside.
Billy Hamilton, SS, Cincinnati Reds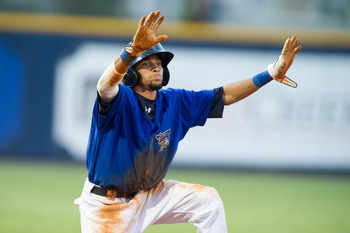 Michael Chang/Getty Images
Position: SS
Height/Weight: 6'1", 160
DOB: 9/9/1990 (Age: 21)
Bats/Throws: S/R
Drafted/Signed: 2009, second round (HS: Taylorsville, Miss.)
2012 Stats (A+, AA): .318/.418/.431, 108 R, 155 H, 37 XBH (14 3B), 150 SB (36 CS), 106 K/83 BB (126 G)
The first minor leaguer to steal 100 bases in over a decade in 2011 when he stole 103 for Low-A Dayton, Hamilton is hands-down the fastest player in baseball.
But what's even more impressive is the fact that he's made enormous strides this season learning the intricacies of the game, as his skill set seems to be finally catching up with is outstanding athleticism.
As a switch-hitting shortstop, the improvement in his plate discipline this season has already boosted his prospect stock. Overall, however, his hit tool is still suspect. But as long as he can make consistent contact and find his way on base, it shouldn't matter.
The little power he has is more apparent from the right side of the plate due to more lift in his swing and better extension after contact. He's also done a better job utilizing his speed this season, hitting ground balls at a favorable rate (44.6 percent) and putting pressure on the opposing defense.
Outside of his range—his best defensive tool—Hamilton's arm and hands can be fringy, which has some scouts thinking that he'll wind up in center field or perhaps at second base. His arm stroke is unnatural at shortstop and has led to increased throwing errors, as his lower half often moves too quickly to execute fluid arm action.
Last Tuesday night, playing for Double-A Pensacola, Hamilton broke Vince Coleman's 1983 stolen base record with his 146th in the third inning.
He's likely two years away from reaching the big leagues, but given his speed, the Reds are forced to considering using him as a base-stealing threat off the bench over the final month of the season.
Honorable Mentions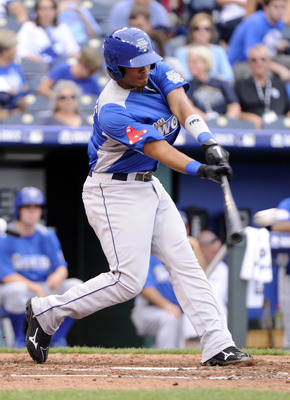 H. Darr Beiser-USA TODAY
Jackie Bradley, OF, Boston Red Sox
2012 Stats (A-, AA): .319/.427/.486, 145 H, 54 XBH (41 2B), 24 SB, 84 K/82 BB (124 G)
Xander Bogaerts, SS, Boston Red Sox
2012 Stats (A+, AA): .306/.375/.529, 137 H, 57 XBH (20 HR), 76 RBI, 5 SB, 96 K/44 BB (120 G)
Adam Eaton, OF, Arizona Diamondbacks
2012 Stats (AA, AAA): .373/.452/.519, 128 R, 193 H, 57 XBH (45 2B), 43 SB, 76 K/57 BB (127 G)
Kaleb Cowart, 3B, Los Angeles Angels
2012 Stats (A-, A+): .283/.364/.468, 141 H, 53 XBH (16 HR), 99 RBI, 14 SB, 106 K/63 BB (127 G)
Jed Gyorko, 2B/3B, San Diego Padres
2012 Stats (AA, AAA): .318/.381/.560, 151 H, 57 XBH (29 HR), 96 RBI, 86 K/48 BB (120 G)
Keep Reading