What David DeCastro Injury Means For Steelers Offensive Line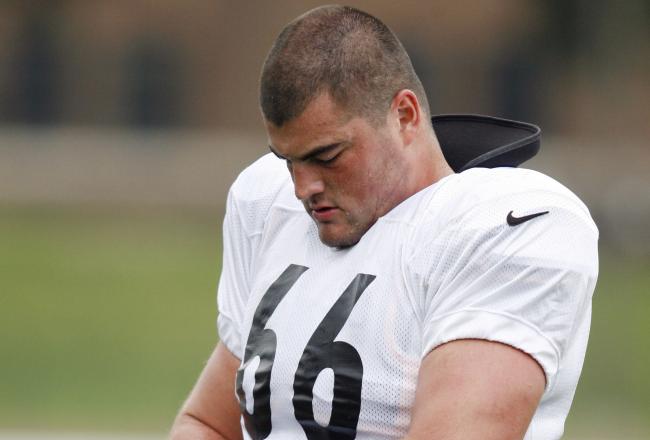 Charles LeClaire-US PRESSWIRE
David DeCastro was one of the best selections any team could make in Round 1 of the 2012 NFL Draft.
Unfortunately, the Pittsburgh Steelers' rookie offensive lineman was injured against the Buffalo Bills on Saturday. Per Adam Schefter of ESPN:
Pittsburgh Steelers right guard David DeCastro dislocated his knee cap, tore his medial collateral ligament and suffered some damage to his patellar tendon. But his anterior cruciate ligament is intact, according to sources.

The team is unsure if the 2012 first-round draft pick will be able to return this season after receiving the results of his MRI on Sunday.
This is a huge blow to the Steelers' offensive line, mainly because this unit allowed 42 sacks during the regular season and five against the Denver Broncos in the AFC Wild Card game.
So that's 47 sacks in 17 games—roughly one sack for every 11 pass attempts by Ben Roethlisberger.
And things haven't gotten much better during the 2012 preseason. Pittsburgh's offensive line has allowed 12 sacks through three exhibition games. Against a brutal schedule this fall, defenses will bring the pain more often.
To that end, let's break down what DeCastro's injury means to the Steelers up front, and how the offense can adjust accordingly.
Anticipate More Defensive Aggression
How confident are you in the Steelers' OL for 2012? (1=Least, 5=Most)
After allowing so many sacks in 2011, Pittsburgh had to address the offensive line during the offseason. Well, even with rookie Mike Adams and a healthy DeCastro, the Steelers were still vulnerable up front in their first two preseason contests.
Now it's simply a matter of defenses capitalizing on a greater weakness with DeCastro out.
Opponents were able to attack from all over last season with great success. This time around, blitzes will come much more often, thus making them more difficult to handle and prepare for. Defensive line crashes to the right and left will open lanes for pass-rushers and linebackers. And that's just the beginning.
Any time a strong safety rolls down into the box or the nickel/dime back presses the slot receiver, expect at least one linebacker darting toward the line. For as obvious as that may seem to read, any non-blitzing linebacker can spy the running back while zoning off over the middle.
In turn, the additional rushers won't be as obvious to spot until after the snap, and receivers will see more jams to give the blitzers that little extra time to apply pressure. Every second counts, and unless Big Ben becomes a better escapist than Harry Houdini, 2012 will expose this line even more.
Window Shop in Free Agency For Depth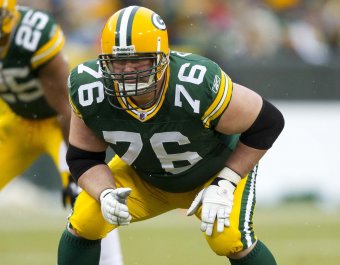 Jeff Hanisch-US PRESSWIRE
Just for the 2012 season, the Steelers need to consider adding a veteran lineman from free agency.
Regardless of the position, talented depth across the board is needed to fend off opponents until DeCastro returns. Chad Clifton is not a bad option right now, because despite his age, the man has started 160 games throughout his career.
No, he won't be able to contribute for the next three-plus years. Still, experience and proven success is what he provides to an offensive line for at least the 2012 campaign. Plus, Clifton was part of the 2010 Packers team that defeated Pittsburgh in Super Bowl XLV.
So in short, the man knows how to protect in a pass-oriented offense—which is what Pittsburgh must employ this year. Regardless of Clifton's effectiveness, the Steelers have to consider free agency as a backup plan.
If not, that just leaves less room for error among those contributing and more pressure against one of the NFL's roughest schedules.
Adapt Faster-Developing Play Calls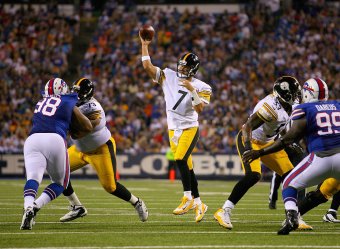 Rick Stewart/Getty Images
We're talking a large majority of one and three-step drops for Big Ben to reduce the number of potential sacks and hits taken.
And because of this, the Steelers line has to sell each play as a running play with their stances. Any defense will pick up on the slightest of tendencies regarding hand position and placement once lined up, so not giving any pre-snap hints will be crucial.
If a team can't apply pressure within two seconds, then linebackers and defensive ends alike will be anticipating the quick release to bat the ball down. Or, at the very least, they'll get into Big Ben's line of vision to disrupt timing.
Therefore, selling the run pre-snap and getting defenses to move laterally will open up the intermediate passing game for a quick tight end pop-pass or receiver slant. This allows for more fade routes on the outside against man coverage before the safety can help over the top.
All this said, everything still begins and ends with the line not giving away the quick plays pre-snap and putting the Steelers' skill players in more favorable positions to make plays. Controlling the line of scrimmage is the most important aspect of any game, which then makes the offensive line the most important unit to any team.
Pittsburgh must adjust and develop the offensive line sooner than later, otherwise it's going to be a long season.
Follow John Rozum on Twitter.
This article is
What is the duplicate article?
Why is this article offensive?
Where is this article plagiarized from?
Why is this article poorly edited?

Pittsburgh Steelers: Like this team?