Los Angeles Dodgers-San Francisco Giants Rivalry Entering a New Golden Age
Kevork Djansezian/Getty Images

The rivalry between the Los Angeles Dodgers and San Francisco Giants is the second-most high-profile grudge match in Major League Baseball, trailing only the New York Yankees and Boston Red Sox (all apologies to the Chicago Cubs and my hometown St. Louis Cardinals).
But after years of not fielding contenders at the same time, the battle for NL West supremacy is going through a renaissance.
The Dodgers haven't won the World Series since 1988, and they've struggled to field a consistently competitive team since the O'Malley family sold the franchise to Fox Entertainment Group in 1998. Meanwhile, the Giants have won three National League pennants since 1989, capped off by a World Series title in 2010.
With Los Angeles and San Francisco locked in a tightly contested race for the division crown, there are a number of reasons to believe that the rivalry is headed toward a new golden age, one that could force the media to get over its perceived East Coast bias.
Begin Slideshow

»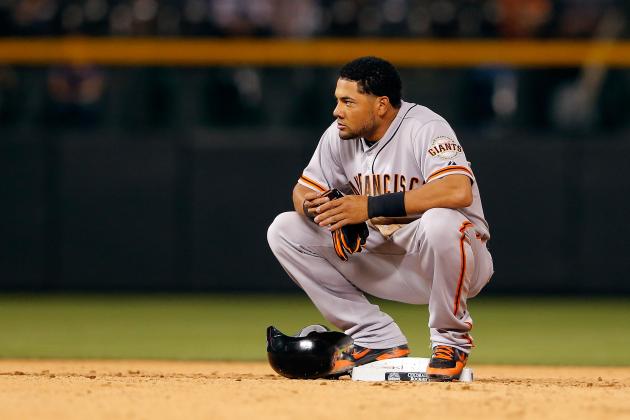 Doug Pensinger/Getty Images
Recently suspended San Francisco Giants LF Melky Cabrera
The Dodgers and Giants' battle for headlines has been almost as entertaining as their fight for the NL West crown. Both teams have been plenty good on the field, but Los Angeles and San Francisco have both been prominently featured on SportsCenter for reasons other than their play.
The Dodgers stayed in the news throughout the MLB offseason as a resolution to their ownership situation played out in bankruptcy court. Former majority owner Frank McCourt was forced to sell the team following a messy and public divorce from his wife Jamie.
Fortunately, McCourt's blatant disregard for the sanctity of the Dodgers brand didn't affect the final sale price, as Guggenheim Baseball Management purchased the team with a winning bid of $2.15 billion, a record price for any professional sports franchise.
The Giants enjoyed a few years of relative anonymity since deciding not to re-sign legendary slugger and MLB's single-season and all-time home run king Barry Bonds after the 2007 season.
San Francisco was in the news for all the right reasons after winning the World Series in 2010, but four-and-a-half years of peace and quiet in the post-Bonds era ended when 2012 All-Star Game MVP Melky Cabrera was suspended for 50 games after testing positive for elevated levels of testosterone.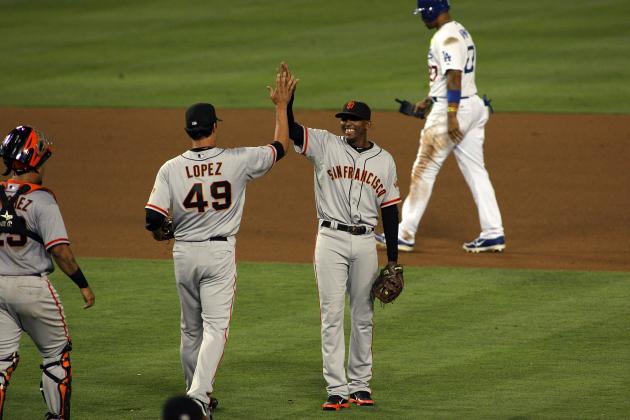 Jeff Golden/Getty Images
San Francisco Giants celebrating a recent victory over the Los Angeles Dodgers
Off-field issues aside, the Dodgers and Giants have stayed relevant by engaging in the best division race in Major League Baseball this season.
The Dodgers led the race through mid-June. But Matt Kemp's hamstring injury—which caused him to miss 58 games earlier in the season—opened the door for the the Giants to get back into contention.
The bitter rivals have spent the last two months going back and forth in the NL West standings before San Francisco's three-game series sweep earlier this week gave it a three-game lead over the Dodgers. That marked the third straight series between the two that saw one team sweep the three-game series, with the Giants achieving the feat twice.
Both the Dodgers and Giants have 36 games left, including six head-to-head matchups. If the first five months of the season are any indication, the NL West title could come down to the final weekend, when San Francisco heads to Los Angeles for a three-game set.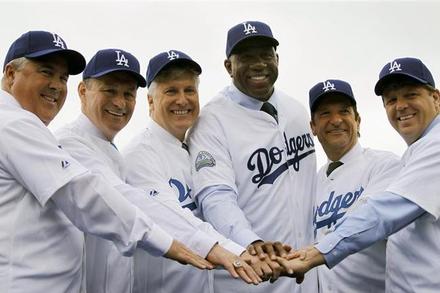 Members of Los Angeles Dodgers ownership group Guggenheim Baseball Management
The on-field battle between the Dodgers and Giants has thrived because both franchises are serious about winning.
While the Giants' success is more directly attributable to a long-term plan finally coming to fruition, the Dodgers' new ownership group has tried to play catch-up fast. They are intent on bringing a winner to Los Angeles sooner rather than later. Every move they've made since the day the sale was announced has proven as much.
San Francisco has primarily benefited from the maturation of homegrown talent such as two-time Cy Young winner Tim Lincecum, Matt Cain, Madison Bumgarner and 2012 NL MVP candidate Buster Posey. General manager Brian Sabean has complemented that by making smart trades (Melky Cabrera, Hunter Pence and Angel Pagan) and signing key free agents (Ryan Vogelsong).
The Dodgers, meanwhile, have been the most active franchise in the trade market, both before and after the July 31 non-waiver deadline. Los Angeles made three trades in July, adding 3B/SS Hanley Ramirez and LHP Randy Choate from the Miami Marlins, RHP Brandon League from the Seattle Mariners and LF Shane Victorino from the Philadelphia Phillies.
Those deals were followed by the early August waiver claim that sent RHP Joe Blanton from Philadelphia to Los Angeles and today's blockbuster between the Dodgers and Boston Red Sox that, once finalized, reportedly will put 1B Adrian Gonzalez, RHP Josh Beckett, LF Carl Crawford and 3B Nick Punto in Dodgers uniforms.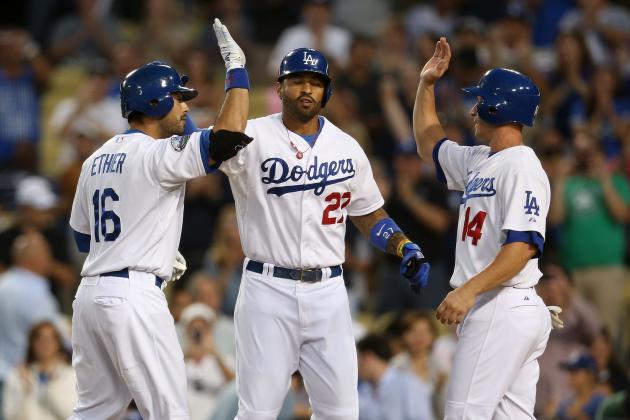 Stephen Dunn/Getty Images
Los Angeles Dodgers Andre Ethier, Matt Kemp and Mark Ellis
If Dodgers and Giants fans are enjoying the 2012 fight for the NL West title, this year is simply a preview of what's to come
Both teams have made several moves geared toward building winners this season, but a closer look reveals that Los Angeles and San Francisco are both built for long-term success.
The Dodgers have been hunting for devalued stars with hefty contracts, implementing a strategy that was designed to create a winner immediately without jeopardizing the franchise's future by gutting an already thin minor league system.
With money no longer an issue, Los Angeles took advantage of bad situations in Miami and Boston to acquire premium talents like Hanley Ramirez and reportedly Adrian Gonzalez without giving up too much talent in return.
In the five trades the Dodgers have made this year (assuming the deal with the Boston Red Sox goes through), Los Angeles has only had to give up two of its best prospects (RHPs Rubby De La Rosa and Allen Webster). It would normally take two prospects of that caliber to get one major league All-Star in his prime.
Assuming the deal with the Red Sox gets done, the Dodgers now have a core of eight players (2012 All-Stars Clayton Kershaw and Matt Kemp, plus former All-Stars Andre Ethier, Carl Crawford, Josh Beckett, Chad Billingsley, Ramirez and Gonzalez) who are between 24 and 32 years of age. Add SS Dee Gordon (24), Cuban OF Yasiel Puig (21) and top pitching prospect Zach Lee (20) to the mix, and Los Angeles is well positioned to contend for the foreseeable future.
The Giants are in a similarly strong position with great players like Pablo Sandoval (26), Buster Posey (25), Tim Lincecum (28), Matt Cain (27) and Madison Bumgarner (23) setting the foundation for a long run of success.
If Brandon Belt (24) can continue his development and top prospect Gary Brown (23) can win the starting job in center field next season, San Francisco will be in even better shape going forward.
With a great combination of youth and experience, both the Dodgers and Giants should be feared by National League foes for a long time.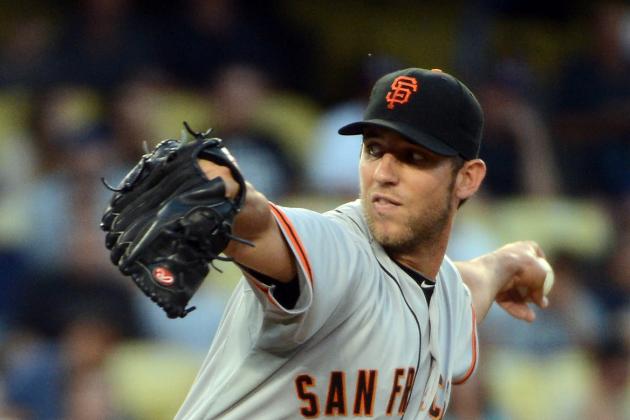 Harry How/Getty Images
San Francisco Giants LHP Madison Bumgarner
Both the Giants and Dodgers have well-balanced rosters, but the outcomes of their head-to-head matchups will largely be determined by the answer to this question: Does great pitching always trump great hitting?
No disrespect to the Washington Nationals, but the Giants may have the most talented starting rotation in Major League Baseball. Two-time NL Cy Young Award winner Tim Lincecum has been off his game for most of 2012, but his performance since the All-Star break suggests that he may be getting his groove back.
Lincecum, still just 28, may now be the third-best pitcher on San Francisco's staff. RHP Matt Cain pitched well enough to be named the National League starter in this year's All-Star game, and Madison Bumgarner has already established himself as one of MLB's best left-handers.
Not to mention fourth starter Ryan Vogelsong, who revived his career in San Francisco after a three-year stint in Japan. The 35-year-old journeyman has posted an ERA under 3.00 in 52 starts dating back to last season.
Vogelsong may not be able to maintain his surprising, late-career run too much longer. But against the Dodgers, the trio of Lincecum, Cain and Bumgarner will now face perhaps the best middle-of-the-lineup hitters in all of baseball.
Matt Kemp, Andre Ethier, Hanley Ramirez and Adrian Gonzalez (should the deal go through) have a combined 11 All-Star appearances and six Silver Slugger awards between them, and none of the four is older than 31. They would also all be under contract with Los Angeles through at least the end of the 2014 season, so San Francisco's young guns will be earning their checks over the next few years.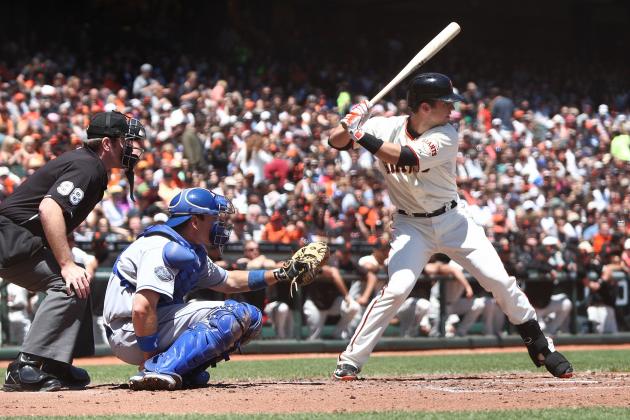 Tony Medina/Getty Images
San Francisco Giants All-Star C Buster Posey
The rivalry between the Dodgers and Giants is entertaining enough when both teams are fighting for their playoff lives. The war becomes more interesting when it's waged by some of Major League Baseball's brightest stars.
The 11 All-Star game appearances made by Los Angeles Dodgers stars Matt Kemp (2), Andre Ethier (2), Hanley Ramirez (3) and Adrian Gonzalez (4), when the deal goes through, is impressive. But that doesn't even cover all the big names and fancy hardware on the Dodgers roster.
2011 NL Cy Young Award winner and two-time All-Star Clayton Kershaw, at just 24 years old, is already the best left-handed pitcher in the game. RHP Josh Beckett, who is included in the still-to-be-completed deal with the Red Sox, may not be the pitcher he once was, but he's still a former All-Star and two-time World Series champion.
The San Francisco quintuplet of Pablo Sandoval, Buster Posey, Tim Lincecum, Matt Cain and Madison Bumgarner have 10 All-Star game appearances between them, but more than that, they all have the one thing that the group in Los Angeles is yearning for: a World Series ring.
Giants RF Hunter Pence was an All-Star in 2009 and 2011 with the Houston Astros and may have a chance to get back with San Francisco, assuming the Giants are able to sign him long-term. As well, the return next year of colorful and highly effective closer Brian Wilson should add a bit of eccentricity to the mix.
With players of this stature delivering big hits and recording timely strikeouts over the next few seasons, the Dodgers and Giants are sure to provide memorable moments that remind some of the days when both teams called New York home.