Nomar Garciaparra: Former Major Leaguer Talks Johnny Pesky, Red Sox and More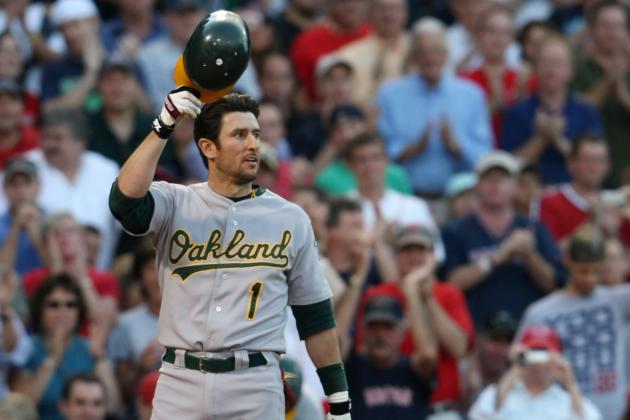 Elsa/Getty Images
A shot from Nomar's return to Fenway Park as a member of the Oakland A's in 2009.
Nomar Garciaparra knows what the 2012 Boston Red Sox are going through. He was there the last time the team had a losing season in 1997, and he too had to endure intense scrutiny from the notoriously ravenous Boston media during his time in a Red Sox uniform.
Nomar also knows better than most (and certainly better than the current members of the team) what the passing of Johnny Pesky means to the Red Sox. Just as he was to numerous Red Sox players over the years, Pesky was a dear friend to Nomar during his days in Boston. The two remained close friends even after Nomar left the Red Sox in 2004.
By virtue of his partnership with Subway and his role with its "Buddy Badge" Logo Contest promotion for the Little League Challenger Division, the former All-Star shortstop and current ESPN analyst was able to spare a few minutes from his duties covering the Little League World Series in Williamsport to share a few words with B/R about Pesky and the Red Sox.
He also opened up about some other trending topics around Major League Baseball, including the recent PED busts and his ageless former rival, Derek Jeter.
Start the show whenever you're ready for his comments.
Begin Slideshow

»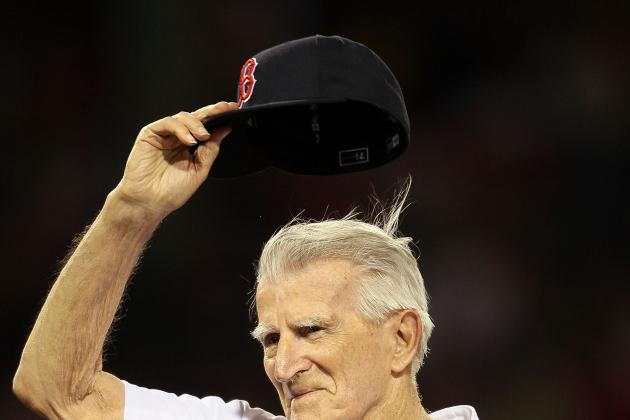 Elsa/Getty Images
A shot of Pesky from 2010.
They don't make 'em like Johnny Pesky anymore.
Though Pesky officially only played eight seasons with the Red Sox in the 1940s and early 1950s, he may as well have been born with the Red Sox hat on his head. He was an ambassador for the organization and a fan favorite right up until the day he passed away at the age of 92 last week.
Nomar first met Pesky when he signed with the Red Sox out of college in 1994. Like something out of a sentimental baseball movie (redundant?), Pesky just sort of appeared.
"I remember sitting in the dugout looking at Fenway, and he was sitting next to me, and he was talking to me," said Nomar. "He took the time to talk to me, introduced himself, and just started talking about baseball and the Red Sox."
It was Pesky who set Nomar straight about the Red Sox. Because, really, what did Nomar know about the Red Sox? He grew up in Southern California, where Fenway Park is basically as distant as the moon.
In talking to Pesky and listening to his stories, Nomar came to understand what being a Red Sox is all about:
"Once I signed with the Boston Red Sox and got to be around him and seeing what that uniform meant to him, that [influenced] what that uniform meant to me. That's why I retired as a Red Sox. That's why that was the last uniform I wanted to put on. I recognized the tradition. I recognized what it meant. And it's because of Johnny telling all the stories and representing that uniform the way he [did]."
Needless to say, Nomar found a way to make it to Pesky's funeral this week. If only the same could be said of most of the current Red Sox team.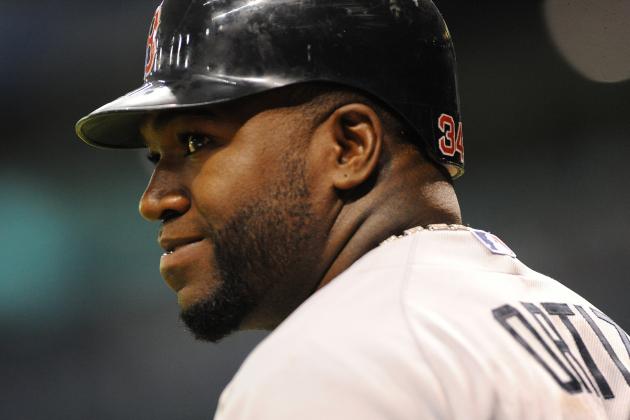 Al Messerschmidt/Getty Images
David Ortiz is one of only four Red Sox players who made it to Pesky's funeral.
It's been a season of negative buzz in Boston. The latest storyline may actually be the most damning one yet, as the Boston Herald and other media outlets reported that only four members of the 2012 Red Sox bothered to show up at Pesky's funeral.
Given all that Pesky meant to the organization and will continue to mean to the organization even after his passing, many have chosen to view all the no-shows as the ultimate slap in the face.
Nomar was there, and he admitted that the poor showing was less than ideal.
"It was a little disappointing that there weren't more," he said.
However, he also said that he wasn't really focused on looking around for familiar faces. That's not why he was there, and he said that the no-shows shouldn't be the main focus of Pesky's funeral.
"To me, that shouldn't be the story," he said. "[The story should be] mourning the loss of a baseball icon and a person who represented the Red Sox so well, and a celebration of an amazing man's life."
He added: "It was time to appreciate what this man meant to me and what he meant to all of baseball."
Pesky was an icon, no doubt about that. And going forward, there may not be many more icons like him to go around. Players don't tend to stick around with their first teams, and loyalty in baseball has become as rare as an unassisted triple play or a straight steal of home.
Baseball is just as much a business as it is a game nowadays, and Nomar realizes as well as anyone that this just wasn't the case back in Pesky's playing days.
"When they played, there was no way one team was going to let one of their players or a guy who represents them go to a rival," he said. "There was no way that was going to happen. Nobody was going to let it happen."
It happens to everyone now, and it happened to Nomar too. Apparently, much to his chagrin.
"I was shocked. I wanted to put on one uniform in my entire career, and the business side jumped in. That's a part of it, unfortunately."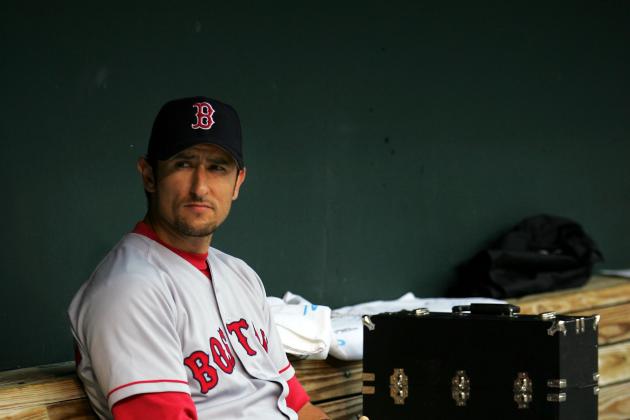 Jamie Squire/Getty Images
A photo from Nomar's final days in Boston.
The media has had a field day with the 2012 Red Sox, in large part because the club has simply made it too easy. They've provided an endless supply of drama and headlines, and they've seemingly gone out of their way to appease a local press corps that appears to want nothing more than to make a mockery of this year's club.
Nomar went through the same thing when he was with the Red Sox. As far as he's concerned, dealing with it is part of every Red Sox player's job description.
"It comes with the territory when you play there," he said. "It's escalated even more when you're not playing well. If you're not playing well, the [negativity] exists. That's what comes with it."
It's not easy to brush aside the pressure that comes with the territory in Boston. Nomar said it's "taxing" for a player to deal with it, and dealing with it can often leave a player more exhausted than the actual games themselves.
But don't worry, Red Sox fans. You guys are alright.
As tough as Red Sox Nation can be on players that it deems to be weak links, Nomar says that the energy that Red Sox fans bring to Fenway Park on a daily basis makes a big difference:
"It's not taxing from the fans coming out there and wanting you to perform well on a daily basis. That's not taxing. That's actually motivating more than anything.

"There are times when you'll feel real tired, and you step on that field and you're like, 'Gosh darnit, I hope I have it today.' Then those fans are screaming and stuff and you're like, 'Oh, I've got it today. These people just picked me up and motivated me to find that something deep down.'"
As if he didn't make it clear enough when he decided to retire with a Red Sox jersey on his back, Nomar still insists a couple years into his retirement that he very much enjoyed his time in Boston.
"I loved playing there. [I loved] the environment and what was asked of me to go out there and do every day when the fans are there supporting us, and giving my all every single day for them."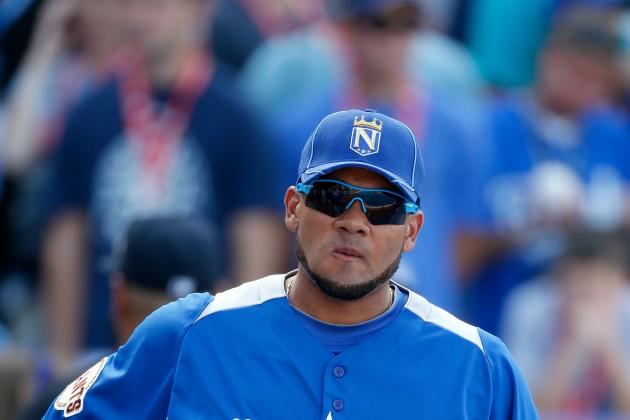 Jamie Squire/Getty Images
Giants All-Star Melky Cabrera is one of two players to get suspended for 50 games in the last two weeks.
The "Steroid Era" is over, but Major League Baseball may have already entered the "Testosterone Era."
In the last two weeks, San Francisco Giants All-Star outfielder Melky Cabrera and Oakland A's veteran right-hander Bartolo Colon have been suspended 50 games apiece for testing positive for testosterone. Some, such as BALCO founder Victor Conte in an interview with USA Today, have said that the use of testosterone is much more rampant than MLB wants to believe.
During his playing days, Nomar says he didn't worry all that much about who may have been using what. He heard "rumblings" about other players, but he said he mainly focused on getting himself ready to play on a daily basis.
Looking at the state of Major League Baseball today from the outside, Nomar chose to look on the bright side. He says that "part" of MLB's testing protocol is working.
But only "part?" He explained:
"And when I say 'part of it,' I hope that they're constantly looking at it and trying to be proactive and know that what's in place has to continually evolve. They can't just say, 'Okay, we have something in place. Let's turn around and leave it be.' It's too big of an issue, and it's something that constantly has to be looked at. So that's why I say 'part of it.'

"Obviously, there are people getting caught. So part of it is working. That's it's job, and it's doing that."
One thing he says he doesn't understand either way is why players are putting themselves in a position to get caught. Sure, there are gains to be made both on the field and financially by juicing, but the notion that cheating is the best means for players to get what they want is baffling.
"I think it's unfortunate," said Nomar. "I don't know why anybody would choose to go through that and do that. That's beyond me. Why anybody would choose to cheat in this game makes no sense to me."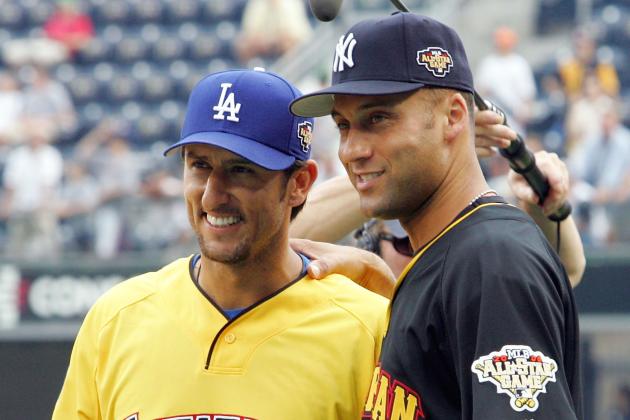 Jim McIsaac/Getty Images
Nomar and Jeter at the 2006 All-Star Game.
There was a time not too long ago when shortstop was the undisputed king of baseball positions, and that was largely thanks to three men: Nomar Garciaparra, Derek Jeter and Alex Rodriguez.
The three of them were the best shortstops in the world back in the late 1990s and early 2000s, and each of them revolutionized the position in his own way.
This now seems like ancient history. Nomar is retired, and A-Rod has been a third baseman ever since 2004. He's also a shell of the hitter he used to be, in part due to his age and the fact that his body has been wrecked by injuries.
But Jeter? He's still going strong, hitting .324 and leading baseball in hits at the age if 38. He's just one year younger than Nomar himself.
Nomar still has nothing but respect for his old on-field rival, though he was also quick to point out that Lady Luck has been on Jeter's side during his career in pinstripes:
"He's been very fortunate from an injury standpoint. That comes with the territory in baseball; the wear and tear of this game…He's very fortunate to not have had major injuries and stuff throughout his career, which is great.

"But the talent we all obviously knew was there, and it continues to be. He's a hard worker, and he's a tremendous individual as well outside of being a hard worker. He respects his craft. Seeing what he's doing doesn't surprise me because of the type of person [he is] and the work ethic he has."
Since Jeter has managed to avoid catastrophic injuries throughout his career, the question is how much longer he's going to be able to keep playing.
Long enough to break Pete Rose's hit record, perhaps?
"I think it's going to be very, very hard to do," said Nomar, adding: "I don't think that's a priority for him. I don't think he's worried about it."
However...
"If he set his mind to it, if he said, 'This is my party, and I am going to do that.' If I was you, then I'd be like, 'Oh oh, I'd watch out,'" said Nomar of Jeter. "He's one person I'd be worried about, because if he set his mind to it I'm sure he could if he really did set that as his focus."
We'll see. Jeter is 999 hits away from tying Rose. Anything is possible, and goodness knows it's never a good idea to underestimate ageless Yankees captain.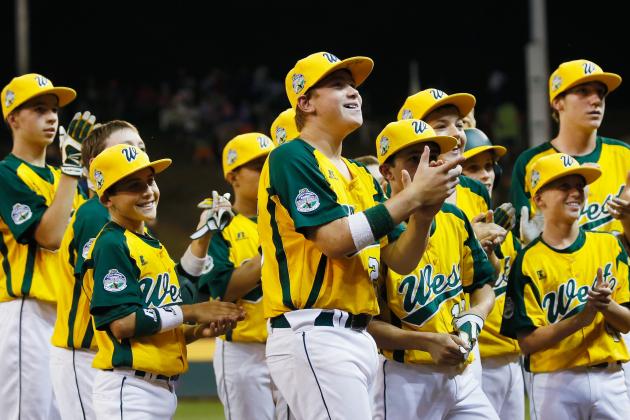 Rob Carr/Getty Images
The Petaluma little leaguers have done California proud.
In longtime Red Sox catcher Jason Varitek, Nomar had the pleasure of playing with a former Little League World Series star both in college at Georgia Tech and in the major leagues with the Red Sox.
Nomar himself never got to experience the Little League World Series as a kid, but he is getting to experience it now as an analyst for ESPN. In listening to him talk, you can tell that he couldn't be having more fun.
Said Nomar:
"It's just an amazing event. Talk about peoples' bucket lists. This should be on everyone's bucket list, to come to Williamsport and watch the Little League World Series. Especially if you're a baseball fan.

"I call it the Disneyland of Baseball. Just because of the kids, the environment, the fun people are having. Just watching these kids go out there and play a sport we all love. That's why I love to be a part of it."
If Nomar is to be believed, the little league mentality never really goes away even when the best of the best go on to play in the major leagues. Players at the big league level have "amazing talent," but he says the desire to play ball "stems all the way back to little league."
Teams from California have won the Little League World Series two out of the last three years. Does Petaluma have a shot at making it three out of four?
"Yes, they do. Especially after the game they had the other day when their bats came out...It always seems like teams from California have pitching depth. If they have that, they definitely have a shot."
The Petaluma little leaguers will play the Goodlettsville, Tennessee little leaguers in the U.S. Championship Game on Saturday.
Naturally, Nomar will be there to call the action.
If you want to talk baseball, hit me up on Twitter.