New York Yankees vs. Cleveland Indians August 24-26 Series Preview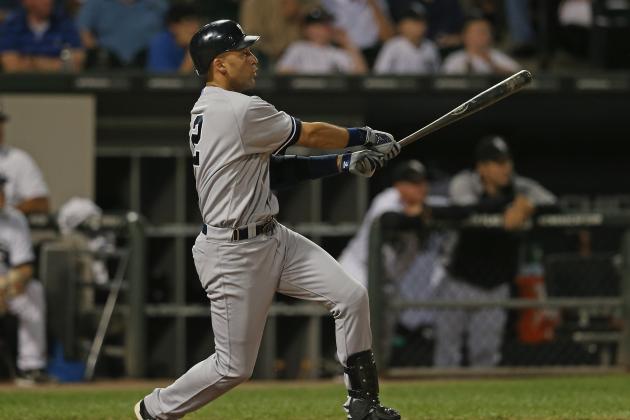 Jonathan Daniel/Getty Images
Derek Jeter has been scorching hot. Can the Yankees get hot in Cleveland?
The New York Yankees suddenly look vulnerable coming off a three-game sweep in the Second City but they hope that a visit to Cleveland will be the elixir that they need to start rebuilding their once-big lead over the Tampa Bay Rays.
New York is 12-9 so far in August and isn't exactly playing terrible baseball. Just a few days ago, they were finishing off a dominant 5-2 home stand against the Texas Rangers and Boston Red Sox.
But even in a sporting season that lasts six months and features 162 games, in a city like New York, being on the losing end of a three-game sweep can feel like the season's suddenly ending. But Joe Girardi won't do anything drastic:
"I don't think I'm going to go jump off a bridge or anything like that," Girardi said. "It's baseball. I've been through it before."
The Yankees remain on top of the majors in home runs and they're currently first in team OPS. They've improved their batting with runners in scoring position, going from the 24th ranked team to the 16th ranked team over the last three-and-a-half weeks.
The story lines in Chicago were two consecutive nights of poor pitching performances and, ultimately, a lack of hitting in the finale against White Sox ace, Chris Sale. The Yankees hope to get the bats moving against Cleveland and the series will feature a return of their big-money pitcher, CC Sabathia.
New York and Cleveland last met in late June at Yankee Stadium for a three-game set and the Yankees swept Cleveland right out of town. Hiroki Kuroda, Phil Hughes and Freddy Garcia all got wins and Robinson Cano helped power the Yankees' lineup with two home runs and multiple hits.
The Indians come in having lost their final eight games on a nine-game west coast swing. Cleveland's pitching has struggled mightily and all the wheels appear to be coming off of their season. Their hitting has been anemic as well, as they've scored only five runs in their last four games.
Every series is now a vitally important one for the Yankees as the calendar is just one week away from flipping over to September. The stretch run is upon us. Tampa is playing like the 2001 Seattle Mariners.
The Yankees have their work cut out for them and they hope their big "hoss" can get them moving on another winning streak tonight.
By the Numbers (Major League rank through games played on August 24th):
Team OPS (On Base + Slugging Percentage):
Yankees: 1st
Indians: 17th
Team Home Runs:
Yankees: 1st
Indians: 20th
Runs Scored:
Yankees: 2nd
Indians: 20th
Batting Average:
Yankees: 7th
Indians: 18th
Batting Average with Runners in Scoring Position (RISP):
Yankees: 17th
Indians: 25th

Top Hitters:
Yankees: Robinson Cano (.304 BA, .902 OPS, 25 HR, 68 RBI); Curtis Granderson (.240 BA, .823 OPS, 32 HR, 73 RBI); Derek Jeter (.324 BA, .815 OPS, 13 HR, 43 RBI)
Indians: Shin-Soo Choo (.286 BA, .838 OPS, 15 HR, 49 RBI); Asdrubal Cabrera (.279 BA, .773 OPS, 13 HR, 52 RBI); Michael Brantley (.292 BA, .759 OPS, 5 HR, 52 RBI)
Begin Slideshow

»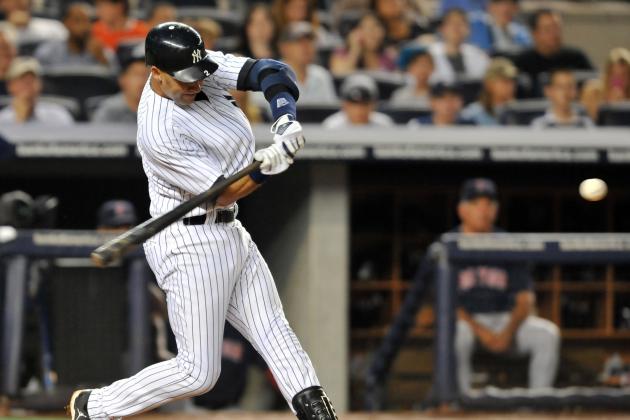 Jason Szenes/Getty Images
Derek Jeter is red-hot.
There isn't one player for Cleveland that's hot but Carlos Santana enters the series on a six-game hitting streak. Santana has 13 homers and 54 RBI on the season.
Derek Jeter is scalding hot and has raised his OPS from .783 to .815 over the past ten games. Jeter has also hit a home run in three consecutive games and has passed Eddie Murray recently on the all-time hits list.
And oh yeah, there's now MVP talk surrounding Jeter for his brilliant season.
While Jeter likely won't finish close to Mike Trout or Miguel Cabrera at the top, would you really ever count him out?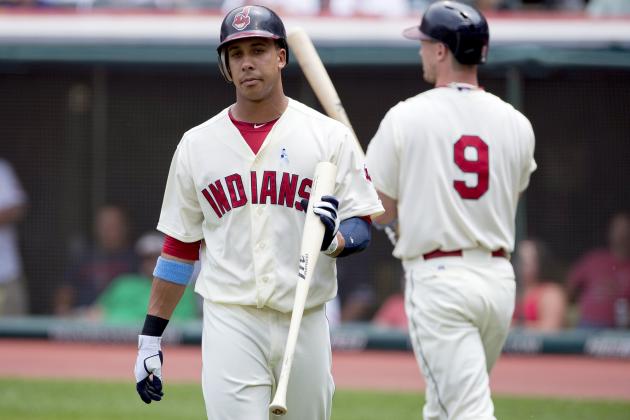 Jason Miller/Getty Images
It's been a disappointing season for the Tribe.
How 'bout the whole Cleveland Indians team? They come in on an eight-game losing streak, even getting swept by the lowly Seattle Mariners in the Emerald City. It's been a rough go of it lately for Cleveland and their weaknesses must be exposed by the Yankees.
Robinson Cano picked up two hits on Wednesday night and the Yankees hope that is the beginning of a monster late-season resurgence for their best hitter. The fact is, Cano has been quietly slumping since mid-July.
The high point of Cano's season came on July 16th when his OPS was at a booming .969. It's now .902. He hasn't been terrible but there's no coincidence that the Yankees aren't surging the way they were in June and July. Cano is held to a higher standard and the Yankees need him to get back to that level.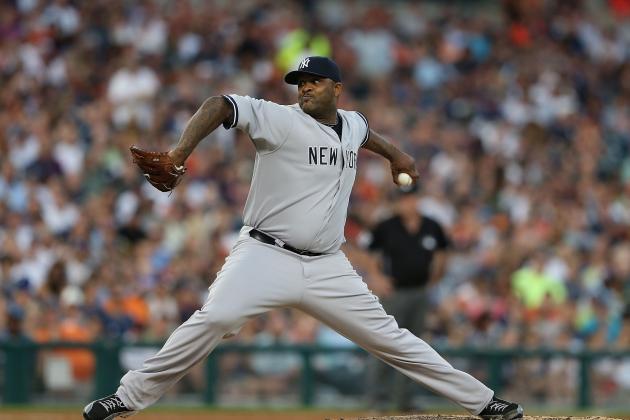 Leon Halip/Getty Images
All eyes will be on CC Sabathia tonight in Cleveland.
Friday August 24th, 7:05pm
CC Sabathia returns from the disabled list on Friday night ready to rejuvenate the Yankees and jump-start their stretch run in the Midwest. Sabathia is 3-0 with a 3.89 ERA in five starts since the All-Star break but he's missed approximately 4-5 starts over the last two months.
The Yankees are likely just being very cautious with Sabathia, but rest assured that many a watchful eye will be on the 6'7" 290-lb behemoth who holds the Yankees' championship dreams and fate in the tight grip of his left hand. Sabathia returns home to where he was drafted and pitched for eight MLB seasons.
Opposing Sabathia is Corey Kluber who is making his fifth career major league start tonight. Interestingly, Kluber was the player called up to the Indians on the same day that the Tribe designated now-Yankee Derek Low for assignment.
Kluber pitched a quality start in his second game with the Indians, allowing three earned runs in six innings against Minnesota. Otherwise, Kluber has struggled and taken his rookie lumps, which include allowing four homers in four games.
The Yankees hope to jump on him early with their classic patient hitting and power swings to make him uncomfortable.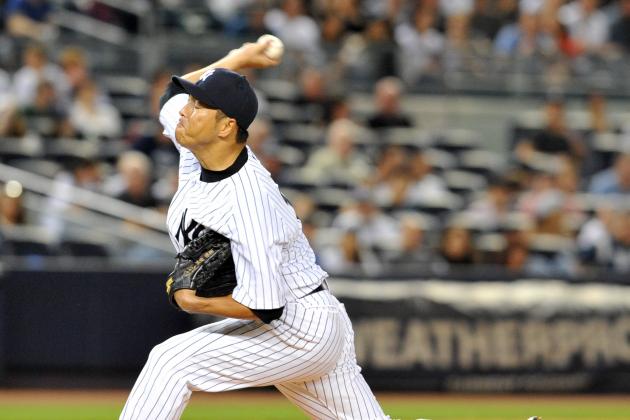 Jason Szenes/Getty Images
Hiroki Kuroda hopes to get another Win for the Yankees.
Hiroki Kuroda has been the Yankees' best starting pitcher this season and a vital part of the team's success. He leads Yankees starters in quality starts, innings pitched and wins above replacement (WAR). Kuroda has been absolutely sensational and downright dominant of late.
Justin Masterson has had some brutal outings lately, including three of five that have resulted in seven earned runs allowed or more. Yikes. Masterson is 27 years old and should be a major league pitcher for quite a while, but this season has undoubtedly been a disappointment.
Masterson is hoping to get back to the form that he showed in 2011 where he had a 3.21 ERA, 1.28 WHIP and 12 wins for the Tribe.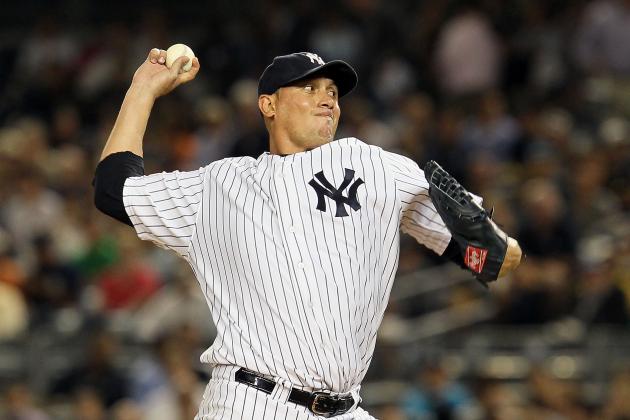 Jim McIsaac/Getty Images
The Yankees hope Garcia can return to his midsummer form.
Freddy Garcia continues to hang onto his spot in the Yankees rotation, one he's held since rejoining the rotation in early July. Length has hardly been his forte though he has twirled five quality starts over his last six.
He struggled in the fifth inning of Monday night's loss in Chicago, though he had been great in the four innings prior. Garcia could sure use a victory and a solid, lengthy performance to help settle some of the fears in Yankees Universe.
Ubaldo Jimenez has been really lousy in 2012 and there's just no way around it. For all the talk about how prized Jimenez was during last year's trade deadline, he's been a dud for Cleveland. Jimenez is second in the AL in walks and he's allowed 23 home runs.
The Yankees need to feast on this wobbly right-hander.