Texas Rangers News: Is It Time to Give Up on the Roy Oswalt Project?
Brad White/Getty Images

Roy Oswalt made it known—early and often—that he was a starter, and solely that. When the Rangers were kicking the tires on Oswalt during spring training, his unwillingness to come out of the bullpen was one of the main reasons they didn't sign him at that point.
Aside from his last two appearances—last week in Toronto when he started for the absentee Dempster, and on Friday when he got the spot start to buy Yu Darvish some time to rest an achy quad—Roy Oswalt has worked out of the bullpen since July 30.
It's readily apparent that despite the two consecutive starts, that Rangers manager Ron Washington wants Oswalt as a reliever rather than a starter.
Whether it be a sarcastic roll of the eyes, dismissive comments on the topic or just good old-fashioned bad body language, Oswalt has made no attempts to disguise his disgust on the matter.
There are plenty members of Ranger Nation that are ready to pull the plug on the "Roy Oswalt Experiment."
Is it time for the Rangers to part ways with the man once affectionately (now sardonically) named "The Wizard of Os"?
Here's a look at five reasons why Roy must go, as well as five reasons why he needs to stay...
Begin Slideshow

»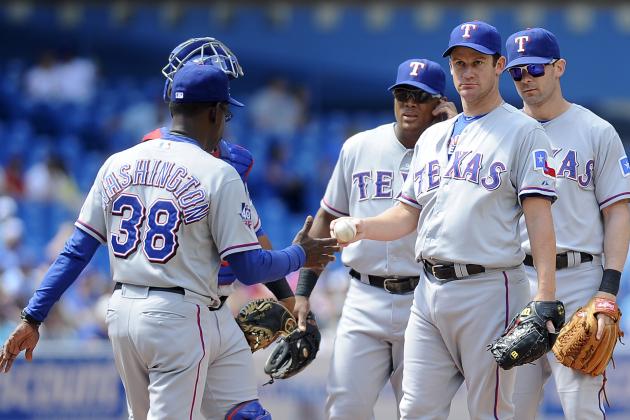 Brad White/Getty Images
That's the great thing about Roy Oswlat. He'll always you look you in the eye.
Roy Oswalt is a seasoned veteran, and is currently the only pitcher on the Texas Rangers' roster that has ever been a true ace in the big leagues—apologies to Yu Darvish, who hasn't mastered the big leagues yet.
He is not an ace anymore. Remember Cliff Lee? Ace. Lee, like Oswalt, struggled during the regular season with the Rangers. Was he ever in danger of being moved to the bullpen?
Nope.
So, now that Oswalt's ace status has been rescinded, where does he most benefit the Rangers?
Where he's at right now—the bullpen. Naturally, Roy hates it there, and it's why he's a bad fit for the Rangers.
Perhaps it's time to give up on him now before he becomes a negative distraction as the Rangers ready themselves for a possible third-straight playoff run.
Jason O. Watson/Getty Images

In 2010 Oswalt was traded from the Houston Astros to the Philadelphia Phillies. It's been well chronicled, as this trade brought together the much ballyhooed "four aces."
Oswalt was quite terrific for Philadelphia down the stretch in 2010, as he compiled a 7-1 record with a sparkling 1.74 ERA over 82 2/3 innings pitched. Over that time period, Roy averaged 7.9 K/9 and just 2.3 BB/9. In his 50 innings pitched so far this year with Texas, he's actually bested those ratios. Oswalt's striking out 8.5 per nine innings pitched and walking just 1.8.
So why has he been demoted to the bullpen, only starting once in a while due to an injury?
Simple. Oswalt has become unbelievably easy to hit.
During that aforementioned time period with Philly in 2010, Oswalt surrendered a measly 5.8 hits per nine innings. This year with Texas? 12.2!
Yowzer.
Pitching coaches always preach the importance of not allowing walks. And in this aspect Oswalt should be praised. However, if you are that prone to giving up base knocks, it really doesn't matter so much that you're not walking anyone.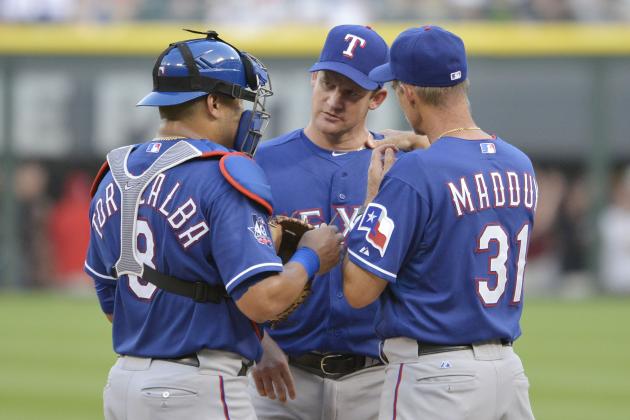 Brian Kersey/Getty Images
Sometimes the calming effect of the Mike Maddux shoulder rub just isn't enough.
When the Texas Rangers signed Roy Oswalt in May, he was upfront about his occasional back issues.
Thus far there has been only one issue.
After his July 17 start against the Oakland Athletics, he required a cortisone shot and was scratched from his next start.
He ended up just missing the one start and was back on the hill against the Los Angeles Angels of Anaheim on July 30.
So, what's the issue?
Well, pre-injury, during the July 17 start at Oakland, Roy put together his finest start of the season, as he went 6.1 innings, allowing just three hits, with no walks, while notching six strikeouts.
On July 30, after his extra time off, he had his worst start of the season. He lasted just 5.1 innings, was blasted for three home runs and allowed eight earned runs.
This leads me to believe that Roy Oswalt was/is still hurting, and his solid start in Oakland was more of a statistical anomaly—stats aided by his pitching in a pitcher's park.
Obviously, both of these assumptions are speculative, but if either of them are marginally true, he's best left in the bullpen or off the team entirely.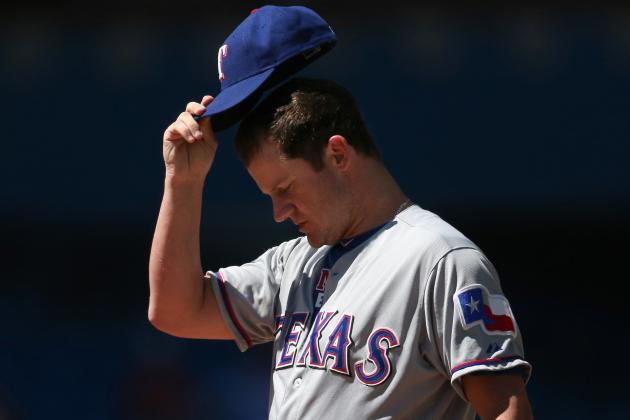 Tom Szczerbowski-US PRESSWIRE

The Texas Rangers are known for their solid team chemistry. This is often overlooked from outside of the DFW area as their is no statistic to quantify how well a team gets along.
It's why manager Ron Washington is such a great fit for this collection of personalities. Wash is truly a "player's manager."
Over the last few weeks, it's become increasingly obvious that Roy Oswalt and Ron Washington are probably not ever going to be bosom buddies. Nope, there will be no Christmas Cards exchanged between the two during the holiday season.
So, might Oswalt's position cause a rift in the team's chemistry? Stranger things have happened, and perhaps it's best just to move Oswalt and his bad body language the heck on out of Arlington before things get really nasty.
Greg M. Cooper-US PRESSWIRE

I have limited management experience, but to me, the No. 1 thing I would look for in an employee is if they like the job, and want to be there.
Now, obviously, if they love the job and love being there because they are robbing you blind, well that's definitely an exception to the rule.
But all kidding aside, Oswalt's made it pretty obvious that he is not only unhappy with his role in the bullpen, but that he just isn't happy being on this team.
Trust me, this is not just my opinion. There is plenty of vitriol being spewed towards Oswalt on his seemingly apparent distaste for being a Ranger.
I feel that this is not unwarranted. Look, if you're not happy here, unless you're just the kind of guy that always looks upset even when they're not, it's time for you to mosey on out of here, pronto.
And I won't even get into the fact that he's making $4 million ($5 million if incentives are reached) just to pitch for half of a season, on a team that has just as good of a chance of going deep in the postseason as they have over the last two seasons.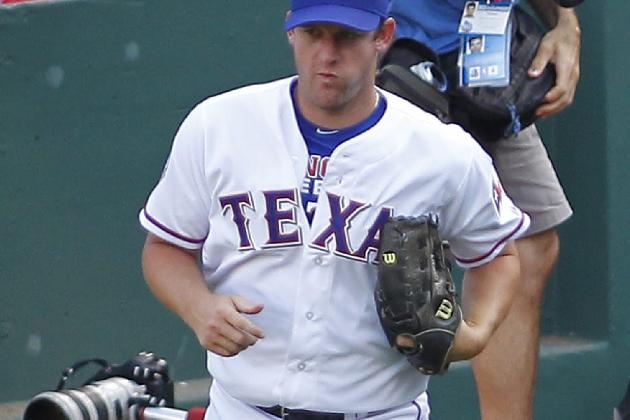 Rick Yeatts/Getty Images

Last night's spot start by Oswalt is a prime example of his value to the Texas Rangers. For better or worse, Oswalt would have had had a quality start had he not given up back-to-back singles in the sixth inning (and if reliever Michael Kirkman hadn't allowed those inherited runners to score.)
It was a very Roy Oswalt start. He looked great early on, until suddenly—usually it's in the fifth or sixth inning—he didn't look so great.
Anyways, if the choice were mine to make, I'd take Roy Oswalt over Scott Feldman as a spot starter in the playoffs.
Oswalt's value for Texas is heightened when he comes out of the bullpen in relief or as a spot starter. With the Rangers occasionally inconsistent starting staff, it's always nice to have a bullpen that includes: Roy Oswalt, Alexi Ogando and Scott Feldman (he'll probably be in the bullpen for the postseason) as viable spot-starting options should the need arise.
Tom Szczerbowski-US PRESSWIRE

Playoff experience: Roy Oswalt's got it.
Sure, so does just about every other player on the Rangers' current roster. Still, Oswalt has been an ace on a World Series team. In 2005, he was the Houston Astros' numero uno.
Overall in the postseason, Oswalt has gone 5-2, with a 3.73 ERA. You can never have too many guys with postseason success on your roster, especially pitchers. Sure, Oswalt might not be the same guy he was back when the Astros didn't suck, but he's still a gritty competitor and that's always an asset.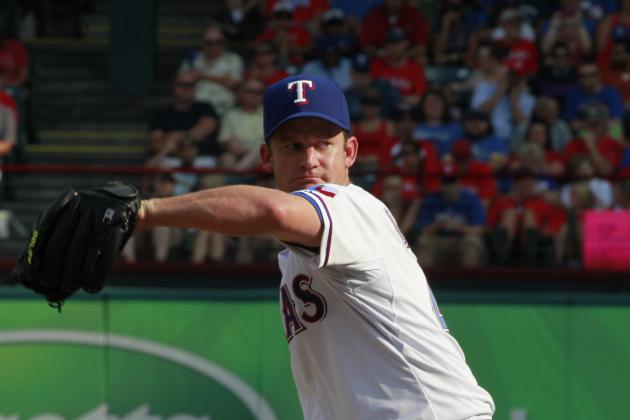 Tim Heitman-US PRESSWIRE

Bad body language aside, Roy Oswalt is not a diva.
Oswalt was born and raised in Kosciusko, Mississippi. Yeah, I'd never heard of it either, but I'm fairly certain that it's a city so deep in the boonies that you'd need a machete to find it. Look, they don't produce divas in Kosciusko, Mississippi friends! No freaking way.
(Author's note: Okay, I pulled a Ron Washington and went with my guy instincts on the whole there's no divas from Kosciusko, Mississippi thing. Whoops. I've come to find that the city is the birthplace of Oprah Winfrey, so I'll take a mulligan on that botched hypothesis.)
Even if he's not 100% immune to diva-ness, I still don't feel that Oswalt is going to quit on this team. He's going to want to contribute in whatever roll he's handed. Granted, he's NOT pleased with being in the bullpen, but when his number is called, he's going to go out there and give it his all.
Plus, like the truly great ones, Oswalt can ratchet it up a notch when the playoffs roll around. I'm telling you, don't be surprised if Oswalt is named part of the Rangers' four-man rotation come October.
Obviously, in order for him to pull this off, he's going to have to put together some solid numbers. I think he's up for the challenge.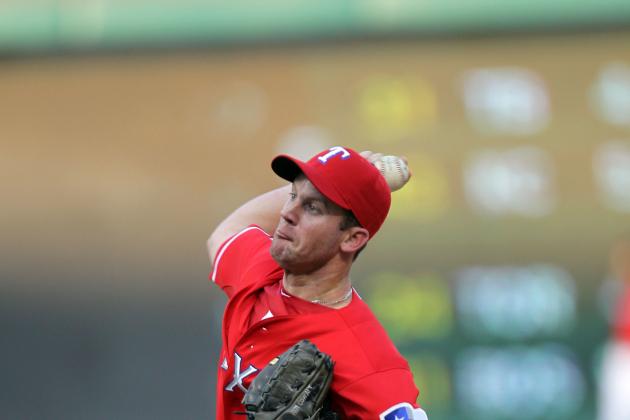 Layne Murdoch/Getty Images

The Texas Rangers were unbelievably lucky last season in terms of injury to their starting pitchers. I never truly appreciated their gift of health in 2011 until this season rolled around.
Neftali Feliz, and Colby Lewis are done for the season. Derek Holland had a stint on the disabled list. Alexi Ogando did, too.
Matt Harrison has been removed from a start due to a lower back issue last month, and now Yu Darvish is feeling the effects of a balky quadriceps.
The old baseball adage of "you can never have too much pitching" has never rang truer than it has for the 2012 Texas Rangers.
Yet, throughout it all, the Rangers have battled their way to a high-water mark of 23 games above .500, and have been in first place in the A.L. West for 121 days.
Their success despite injury speaks to the outstanding depth this team possesses.
Believe it or not, Roy Oswalt is a key part of that depth. Last night he started in place of Darvish, and last weekend it was Ryan Dempster. You just never know who might be hit with an injury next, and it's great to have Oswalt there when you need him.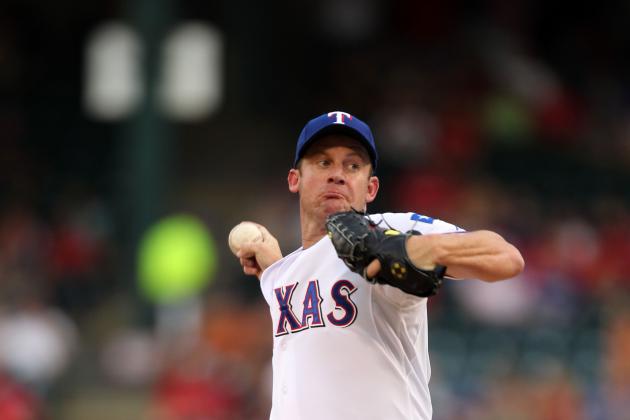 Layne Murdoch/Getty Images

Whatever you see on television and read in the papers about Roy Oswalt you have to take with a grain of salt.
An unhappy ballplayer tends to make for a better story than a honky-dorry down in the bullpen narrative. Hey, the Internet digs sensationalism.
Oswalt probably isn't as asinine as he seems. One recent example of what can be perceived as this unsavory behavior is the look he did/didn't give Ron Washington when Wash asked for the ball after Oswalt was just one out away from qualifying for a win last weekend in Toronto.
By comparison, can you imagine what the Angels' Jered Weaver would have done had Mike Scioscia pulled him in the same situation? it wouldn't have been pretty. No one likes to watch a grown man drop down into the fetal position while wailing like a banshee. Actually, I'd kind of like to see Weaver go into a full-on teething tantrum.
Anyways, if Oswalt was as big an a-hole as it seems then I seriously doubt that he'd still be on the team. After all, an unhappy former starter is one thing, but a Sidney Ponson-type of situation is an entirely different matter.
Oswalt is no Ponson. Heck, Terrell Owens is no Ponson.
Roy Oswalt does have value to the Texas Rangers, and it's most certainly in their best interest to not abandon the "Roy Oswalt project."