NFL Training Camp Stars Who'll Come Down to Earth in Preseason Week 3
Drew Hallowell/Getty Images
Every NFL head coach puts important emphasis on having their team play well in the third preseason game, as they slowly begin to prepare for this game almost as if it were a regular season contest. Coaches will schedule less time on the practice field and more in the film room to dissect an opponent.
This approach helps the younger players to get more accustomed to how a game week is conducted in the NFL.
Team starters will play more in this game than probably the other three preseason games combined, as they must get a true feel for the pace of an NFL game before beginning the regular season. And it's the last opportunity for training camp stars to make one last good impression on the coaching staff before major roster cuts begin.
Here are training camp stars who'll come down to earth in preseason week 3:
Washington Redskins QB Kirk Cousins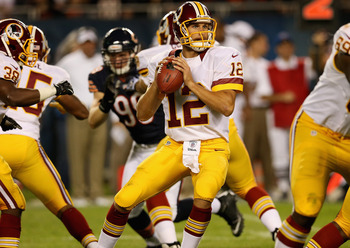 Jonathan Daniel/Getty Images
The Chicago Bears outlasted the Washington Redskins 33-31 in a thrilling preseason game, as Redskins rookie quarterback Kirk Cousins was the star after completing 18-of-23 passes for 264 yards with three touchdown passes in the contest.
Do the Skins have a quarterback controversy on their hands?
Not quite, as Robert Griffin III has officially been anointed the star of the franchise since the Redskins drafted him last April.
Yes, Cousins had a very good game against the Bears second-stringers and players who will be waived after third preseason game. Unfortunately, no Redskins fans are hoping that he succeeds, as that wasn't written in the script for this upcoming season.
Philadelphia Eagles QB Nick Foles
Jim Rogash/Getty Images
The Philadelphia Eagles drafted University of Arizona quarterback Nick Foles in the third round of last April's NFL draft, thinking he was an excellent long-term investment for the future.
But, the future could be now, as backup quarterback Mike Kafka fractured his non-throwing hand. That, coupled with two impressive preseason performances, could make Foles the backup to Michael Vick in the season opener.
His on-field play has earned Foles the opportunity to work with the first team offense. The coaches have been very impressed with his knowledge and looking comfortable in the offense, but now Foles must show how sophisticated his reading of complex defensive schemes can be.
Seattle Seahawks QB Russell Wilson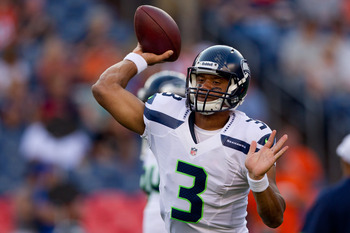 Justin Edmonds/Getty Images
Earlier this week, Seattle Seahawks head coach Pete Carroll announced that rookie quarterback Russell Wilson would start their third preseason game against the Kansas City Chiefs.
Right away, red flags were raised all throughout the Emerald City.
From Wilson's perspective, this might be his lone shot at a starting quarterback position in the NFL and he better take full advantage of this opportunity. If Wilson shows some chemistry with wide receiver Sidney Rice, then he could be starting in Week 1 of the regular season.
If not, then it's back to the drawing board.
Carroll could be pushing him too soon, as Wilson's inexperience might be spotlighted going against a defense like the Chiefs. Plus, he's allowing quarterback Matt Flynn to get his feet underneath himself by playing against the second team. The fans in Seattle might have more concerns over the decision-making process than the player's effort.
Keep Reading