Roger Clemens' Disgraceful Comeback to Baseball and Timeline of Shame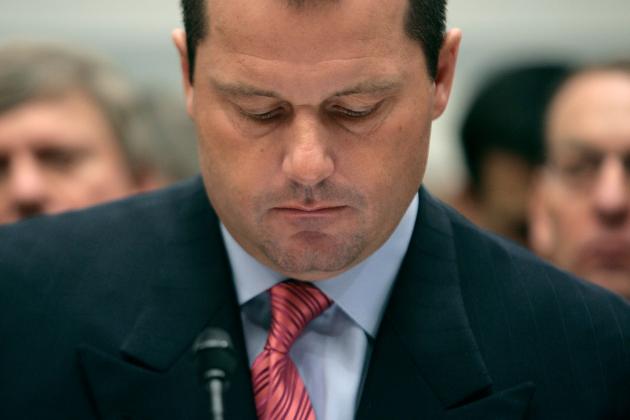 Chip Somodevilla/Getty Images
Roger Clemens' comeback is an attempt to win the fans back.
Roger Clemens isn't just coming back to play baseball for the love of the game. His image has been damaged to a point that Clemens himself can't stand being associated with the likes of Mark McGwire and Barry Bonds over steroid allegations.
And if that's not enough, he's coming back with a big smile on his face like nothing ever happened.
This is almost identical to the situation of the old ex who's resurfacing in one's life in an attempt to show their former partner how much they've changed, and how it will be much different this time around.
The only problem is that baseball fans already dumped Roger despite his recent acquittal on perjury charges, and I think they're cool with where they're at and who they're talking to now.
Who needs Clemens? Stephen Strasburg is 15-5 and even struck out 10 batters last Tuesday night, and looking at his physique, he likely did it without the aid of HGH or another banned substance.
But Clemens and his supporters will be quick to say that the past is the past. Well, not so fast; (allegedly) cheating in baseball is one thing, but after (allegedly) lying about it, you're attempting to come back and play as if nothing happened?
Clemens has crossed the bridge from having the reputation of an alleged cheat, liar, etc., into the realm of a downright narcissist. He will have to face the fact that no one will see things the way he does, and although he feels like he's full of nothing but "change," the same Roger Clemens who still ignores the fans is about to get a huge reality check from the ex he's attempting to re-court.
Begin Slideshow

»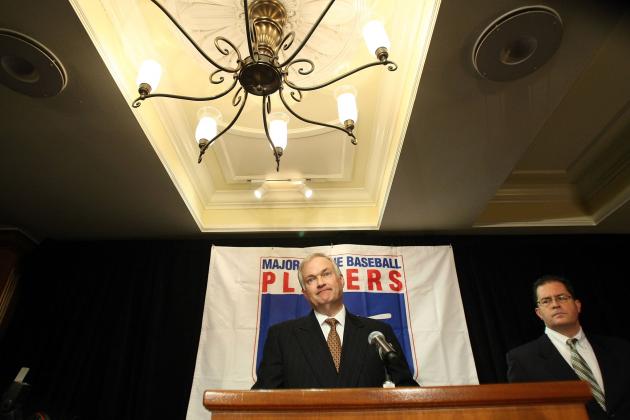 Mario Tama/Getty Images
Former U.S. Senate majority leader George Mitchell releases the findings of his report which names specific players who he found evidence of their use of performance-enhancing drugs.
Speculation turned to accusation in mid-December 2007. Fans, players and politicians wanted the asterisk removed, and the steroid era ended.
Clemens, as expected by Mitchell, came out and denied the use. But Mitchell had put together an investigation that was pretty thorough.
"Several of the witnesses were interviewed in the presence of federal law enforcement agents who informed the witnesses that if they made false statements they would subject themselves to possible criminal jeopardy. So there was very strong incentives to tell the truth," said Mitchell of the investigation.
ESPN's own Egghead Jr., Buster Olney, came out on June 19 of this year and bashed the Mitchell Report on his blog, saying among other things that Clemens' inclusion was "unfair," and that the "indictment of Clemens [was] based on the word of one person: trainer Brian McNamee."
I'm sorry, Buster, but I'm far more inclined to believe a professional who's under oath and those who brought perjury charges than 12 jurors who were falling asleep during the recent nine-week trial that they simply wanted to end.
Dave Einsel/Getty Images
Roger Clemens hold a press conference on January 7, 2008, the day after filing a defamation lawsuit against his former trainer Brian McNamee in a Houston court.
After seeking legal counsel, Clemens decided it was time to fight back.
Citing 15 different statements that McNamee made to Mitchell, Clemens' defends himself from the accusations by saying they are all "untrue and defamatory" in an interview on CBS' 60 Minutes.
But McNamee's attorney, Earl Ward, met with ESPN's T.J. Quinn the next day with some stunning news.
Ward claimed to have total proof that Clemens knew about the allegations beforehand, a complete contradiction to the claim from the Clemens camp.
Clemens sent investigators to speak with McNamee to find out what he'd told George Mitchell for his report. McNamee complied, giving Clemens an advantage he still denies to this day.
Ward believed that Clemens' filing this suit was more of a political time-wasting move than anything else.
"[The lawsuit is an] amateur and transparent attempt to try to avoid testifying before Congress," Ward told Quinn.
So we can add conspiracy to lie to a federal grand jury to this list.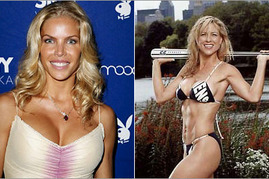 Jessica Canseco: Getty Images Photo / Chad Buchanan | Debbie Clemens: Sports Illustrated Photo
At the time, these were simply allegations.
But at the 2012 trial, something that Buster Olney must have forgotten to mention while he's kicking and screaming about how "unfair" Roger's inclusion in the Mitchell report was, Debbie Clemens admitted partially to the allegations brought up by McNamee.
McNamee said that Roger was present when his wife was injected with HGH between 2002-04. What she admits to is that Roger was not present during the injections that purportedly took place in 2000.
Good thing that is all cleaned up now.
The freakishly unfeminine body of Clemens' wife shows anyone with half a brain that she was doing something unnatural...as far as her muscle mass was concerned, something she felt could not be totally lied about.
So not only did Roger Clemens know about the content of the Mitchell Report beforehand by sending his own goons to interrogate McNamee, but his own wife lied about the same man injecting her with HGH in their home, something she would later come clean about.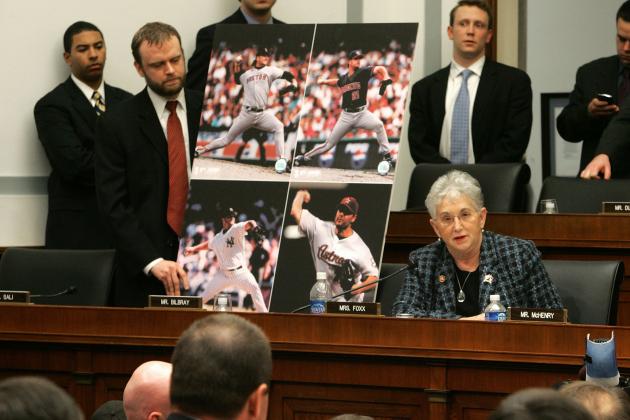 Mark Wilson/Getty Images
Visual aids in the case against Roger Clemens' steroid use.
It was a pretty simple day to sum up in all the hoopla.
Roger Clemens appeared before a congressional panel to deny that his trainer Brian McNamee injected him with human-growth hormone.
McNamee, likewise appeared and upheld all of his previous statements.
Among other talking points at this parade of lies, Clemens claims that his former teammate Andy Pettitte "misremembered" a conversation that the two had in either 1999 or 2000.
Exactly two weeks later, the Department of Justice would receive the case to discern whether or not Clemens lied under oath.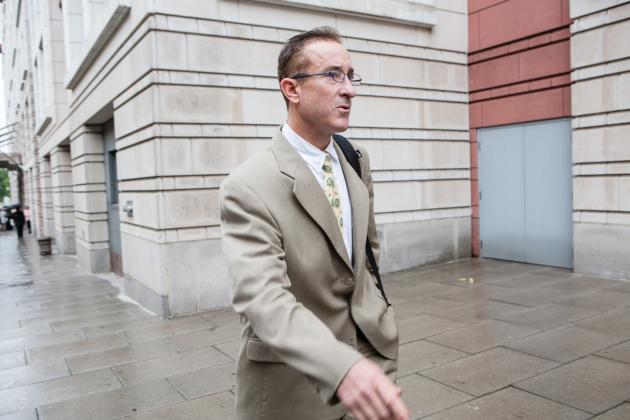 Brendan Hoffman/Getty Images
Clemens' former trainer Brian McNamee
After dealing with allegations that he simply fabricated the details of injecting Clemens, some accusing him of succumbing to "Cold War era tactics" by George Mitchell and other investigators, Brian McNamee had enough.
He filed for, among other claims, libel, slander, intentional infliction of emotional distress and negligence against Clemens.
Despite the fact that former teammates Andy Pettitte and Chuck Knoblauch admitted that McNamee was correct about their drug use, Clemens still attempts to deny his.
The suit was filed to the New York Supreme Court in Queens.
Both defamation suits that each filed against the other were eventually dropped.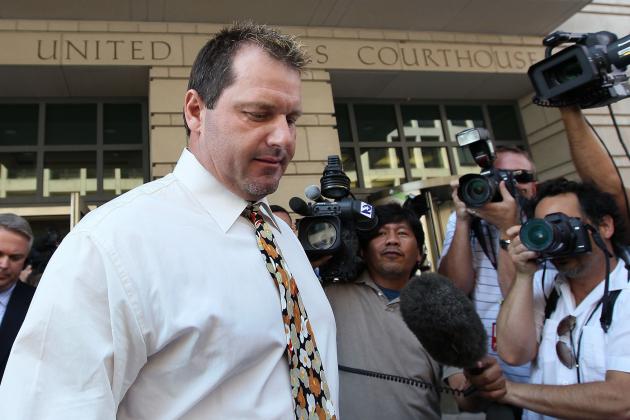 Mark Wilson/Getty Images

It was the day that fans who were seeking justice in the Roger Clemens scandal had been waiting for.
Just 11 days previous, Clemens was indicted on one count of obstruction of Congress, three counts of making false statements to Congress and two counts of perjury.
On August 30, Clemens appeared in Washington D.C., where he was formally arraigned on these charges.
In a move that shows Roger's level of concern for the incident, he then immediately flies to Myrtle Beach, S.C., where he participates in a golf tournament.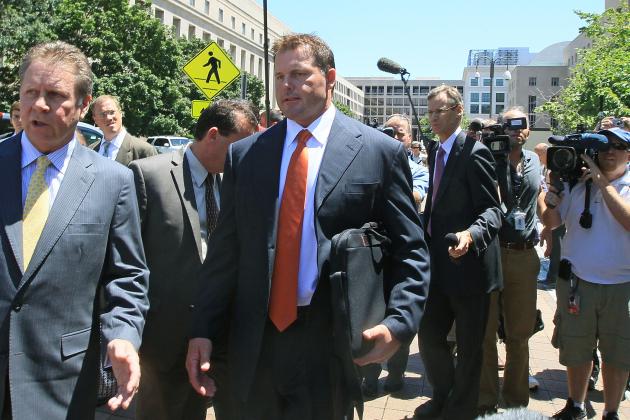 Mark Wilson/Getty Images
Roger Clemens is found not guilty in a mistrial that was aided by a legal technicality.
The perjury trial had finally begun for Clemens. But in the second day of witness testimony, the prosecution totally dropped the ball.
Video shown by prosecutors that referred to Laura Pettitte's affidavit was evidence that had previously been ruled as inadmissible.
U.S. District Judge Reggie Walton had no choice but to declare a mistrial, a huge and unexpected victory for Clemens.
Walton didn't stay silent on the ruling.
"Mr. Clemens has to get a fair trial," Walton said. "I think that a first-year law student would know that you can't bolster the credibility of one witness with clearly inadmissible evidence."
It was a huge blunder by the government that ultimately enabled Clemens to feel like he had beaten the system.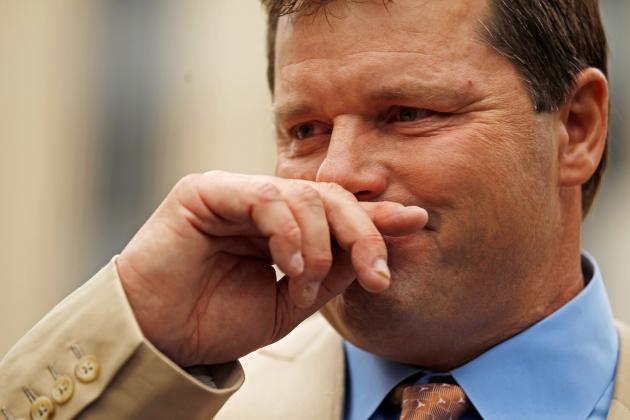 Chip Somodevilla/Getty Images
Clemens reacts outside the courthouse to the not guilty verdict of his final perjury trial.
After over two months since jury selection, there was finally an end to the almost four-year-long drama that had unfolded for all of baseball.
After closing arguments were made that involved weeks of testimony from 46 witnesses, William Roger Clemens was amazingly found not guilty on every count that faced him.
The same man many have went on record to say has cheated, lied about it, attacked former friends and teammates, whose own wife admitted to being injected with HGH by McNamee...was found not guilty on serious charges that would have put him away for several years.
The next day, Buster Olney had all the fuel he needed to bash the Mitchell Report and defend the "credibility" of the seven-time Cy Young Award winner.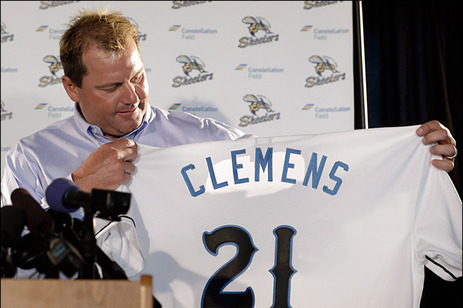 Roger Clemens sports his new jersey. (AP Photo/David J. Phillip)
Roger Clemens seemingly got one of the luckiest breaks in American criminal history since Dan Cooper jumped out of a plane with millions of dollars in cash never to be found.
But the thing about Cooper is that he likely died, since much of the money was recovered; his body, however, was not.
Clemens' escape is similar; being able to weasel his way out of the first trial, and to make the jury toss in the towel after weeks away from their families in the second, the product of what happened should have been more the result of Clemens using a "Get out of Jail Free" card.
And then there's Buster Olney, whom, personally, I have lost all respect for as an analyst. I understand wanting to go against the mainstream, as being "different" will attract attention. But in this case you have insulted the very thing every fan in baseball was wanting in 2007 by attempting to illegitimize the Mitchell Report.
I don't care about the goofy bow-tie; Ken Rosenthal just passed you as the most credible baseball analyst in my book.
And now, this coming Saturday, Roger Clemens will put on a baseball uniform and attempt to confront fans for the first time as if he's done no wrong.
I hardly ever say this because I believe sporting events should be about competition...but in all sincerity, I hope the "boo-birds" are out in force for you, Roger. You've at least earned that.