2012 NFL Predictions: Picks for MVP and Top Postseason Awards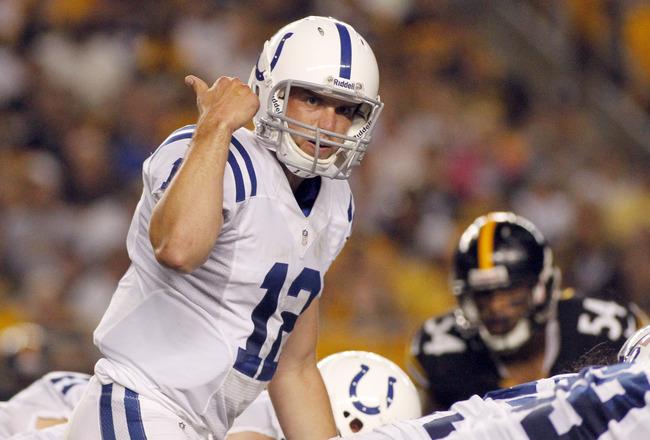 Justin K. Aller/Getty Images
As the NFL preseason enters its final stretch and position battles come to an end, there's no better time to take a look at the favorites for the postseason awards.
What's that? A better time would be after an actual regular-season game has been played?
Nah.
If pundits out there can start making 2018 NFL mock drafts, I can predict the awards for the 2012 season. Besides, it's much more satisfying to nail the picks this early on, and it's much easier for me to get the picks wrong, allowing you to berate me.
Everybody wins.
NFL Head Coach of the Year: Pete Carroll, Seattle Seahawks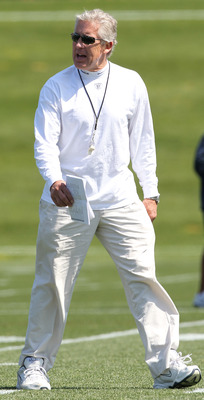 Otto Greule Jr/Getty Images
Also known as the "Head Coach of the Team That Improved the Most" Award.
Carroll and the Seahawks went 7-9 last year, meaning there are plenty of teams that have a better chance of making a more significant jump in the standings, but don't be surprised if Seattle is the 2012 version of San Francisco.
The quarterback situation isn't ideal, but with the way this team is built, it doesn't have to be. Marshawn Lynch not only enjoys the decor of Applebees, but he leads one of the more underrated running attacks in the league.
Matt Flynn is more than capable of playing the Alex Smith role of "game manager," and Russell Wilson looks like the real deal early on.
Of course, this is reliant on having a menacing defense. Are the Hawks defenders "49ers good"? Certainly not, but the young, huge secondary is full of playmakers and the front seven has improved. It's a scary unit.
And Pete Carroll reaps the benefits.
Comeback Player of the Year: Peyton Manning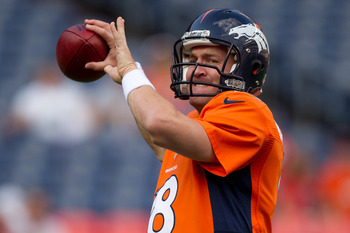 Justin Edmonds/Getty Images
Hmm. I feel like this one just isn't all that fair.
Of the players who will be "eligible" for this award—there's no set rule, but it's not like Aaron Rodgers is making a comeback from "only" 45 touchdowns—not many can hold Manning's, uh, helmet.
Eli's brother (bet he's never been called that) came into the league in 1998, then yadda yadda yadda, he was one of the best QBs of all time. The transitional year with Denver might be rockier—hey oh!—than he's used to, but even a down year for this guy will win him this award.
Add another to the collection.
Defensive Rookie of the Year: Chandler Jones, New England Patriots
Jim Rogash/Getty Images
Of the last nine Defensive Rookie of the Years, eight have been linebackers and one has been a freak defensive tackle who walks over anyone in his way, both literally and figuratively.
This year will be no different, even though the linebacker class isn't nearly as impressive as the past few years.
Panthers rookie Luke Kuechly, who was the first LB taken in the draft, is a good bet to lead all rookies in tackles, but it will take someone who can make plays in the backfield to win this award.
See Miller, Von.
So far this preseason, the man who has looked capable of doing that is Jones. He was dubbed a bit of a project coming out of Syracuse, but he has been disruptive in the backfield, reports out of camp are glowing and there is plenty of room for playing time on that defense.
Offensive Rookie of the Year: Andrew Luck, Indianapolis Colts
Because I would be downright silly to pick anyone else.
Robert Griffin III and some others could challenge, but Andrew Luck just doesn't look like a rookie at this point.
Moving on.
Defensive Player of the Year: Patrick Willis, San Francisco 49ers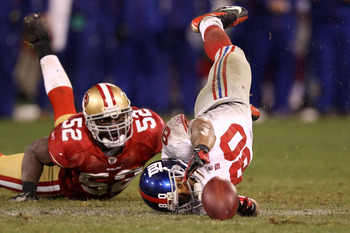 Ezra Shaw/Getty Images
This is the award that is most up in the air.
It usually goes to a DB or a linebacker, but as Jason Taylor and Michael Strahan have proved, a defensive end can win it every so often, too. Oh, and Warren Sapp won in 1999.
So, yeah, that's pretty much every position. Great.
One thing that does usually stay constant with this award, however, is that the player comes from one of the top defenses in the league.
So, to be safe, why don't we just go with the best player on the best defensive team in the NFL? Besides, Patrick Willis is too good to go much longer without winning this award.
Offensive Player of the Year: Tom Brady, New England Patriots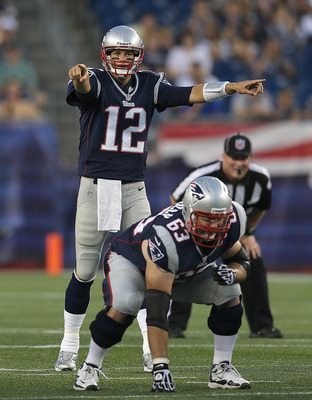 Jim Rogash/Getty Images
During the late 1990s and early 2000s, the running backs dominated this award. Terrell Davis, Barry Sanders and Marshall Faulk won it so much they probably don't even know where all their trophies are.
But in the last five years, Tom Brady and Drew Brees have changed that, each taking home the honor twice.
Passing league, indeed.
As long as we continue to see three guys throw the ball over 600 times and another 14 throw it over 500 times, this will only continue to be a quarterback award.
It also makes it hard to predict when everyone and their sister is out there gunning the ball like it's going out of style.
Of the obvious top three gunslingers, Aaron Rodgers and the Packers get ahead too quickly, limiting his attempts, and I see a slight step back for Drew Brees without Sean Payton running the show, opening the door for Brady.
There's also the fact that Brady has four All-Pro targets—up from three from a year ago—to throw to, the running backs are as inexperienced as ever and the defense is far from a finished product. Yeah, that's going to be fair.
MVP: Aaron Rodgers, Green Bay Packers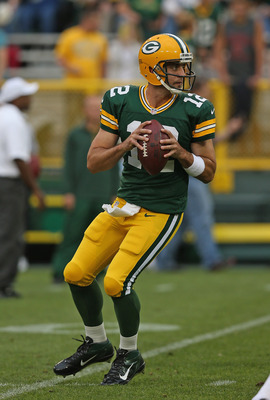 Jonathan Daniel/Getty Images
He's so good, there should be three A's in his first name. He's so good, the video game should be called "Aaron Rodger's Creed." He's so good, a legend like Steve Novak stole his celebration.
OK, I'm done, but all you really need to know is that Aaron Rodgers is downright unstoppable. There will be other contenders for the award, but none will carry their team as well as A-Rod carries the Packers.
Keep Reading